New restaurants in LA: Lulu, 1010Wine, and more
For those who have had enough of their favorites, and those looking to eat & drink at a new restaurant or bar, LA has quite a few new places on offer.
There are never enough places in Los Angeles when it comes to grabbing a drink or having a bite. If you have grabbed a pint at some of LA's best rooftop bars, the bars in Downtown LA, or enjoyed lip-smacking food at LA's tucked-away speakeasies, there are a few new places that have opened up in the city that are well worth your time and your bucks.
These places are home to truly delightful dishes, employ folks trained in the arts of modern mixology, and combine culinary passion and drinks with contemporary decor and amazing vibes.
The Wyman Bar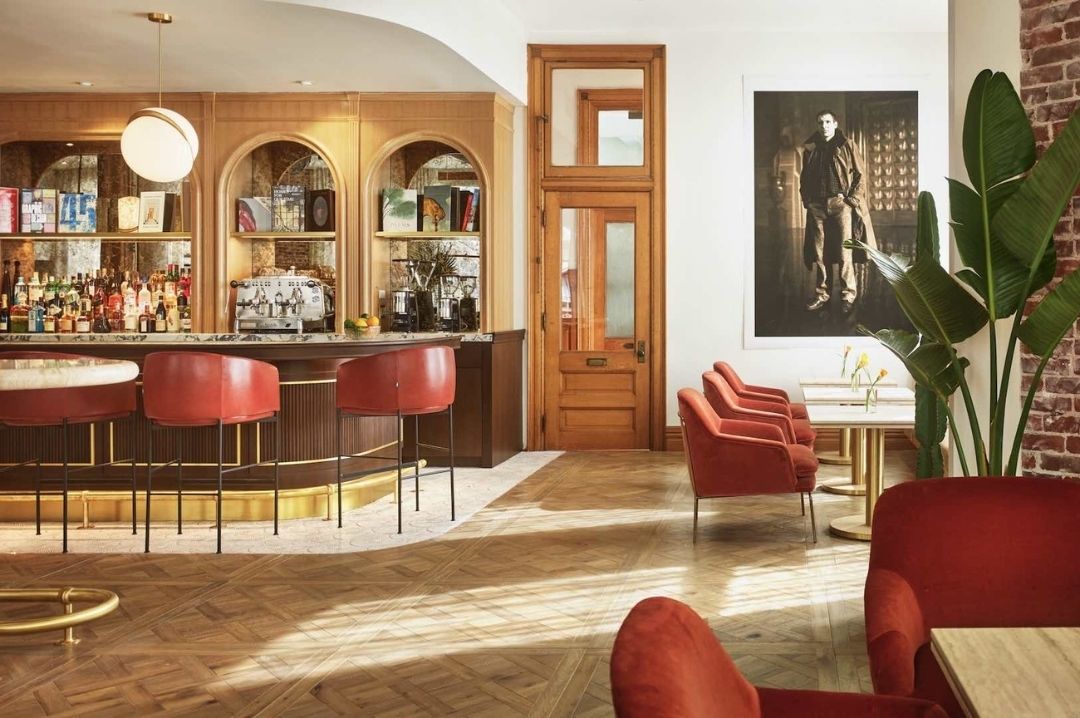 Wyman Bar NeueHouse Bradbury, Source Website
NeueHouse's latest addition, their third overall and second in Los Angeles is The Wyman Bar. The bar opened in Downtown LA and is welcoming people with open arms to come and enjoy an otherwise member-only social club. The daytime menu at The Wyman Bar includes freshly brewed coffees, light bites, and teas to recharge your energy levels. It is one of the bars that shifts seamlessly from a work and meeting place to a peppy scene perfect for a gathering of groups looking to have some fun.
On the menu, you can also find exquisitely crafted cocktails from The Wyman Bar's team along with beer and wine selections.
Hours-
Monday- 8 am to 4 pm
Tuesday to Saturday- 8 am to 10 pm
Location- 304 South Broadway, Los Angeles, CA 90013
Caboco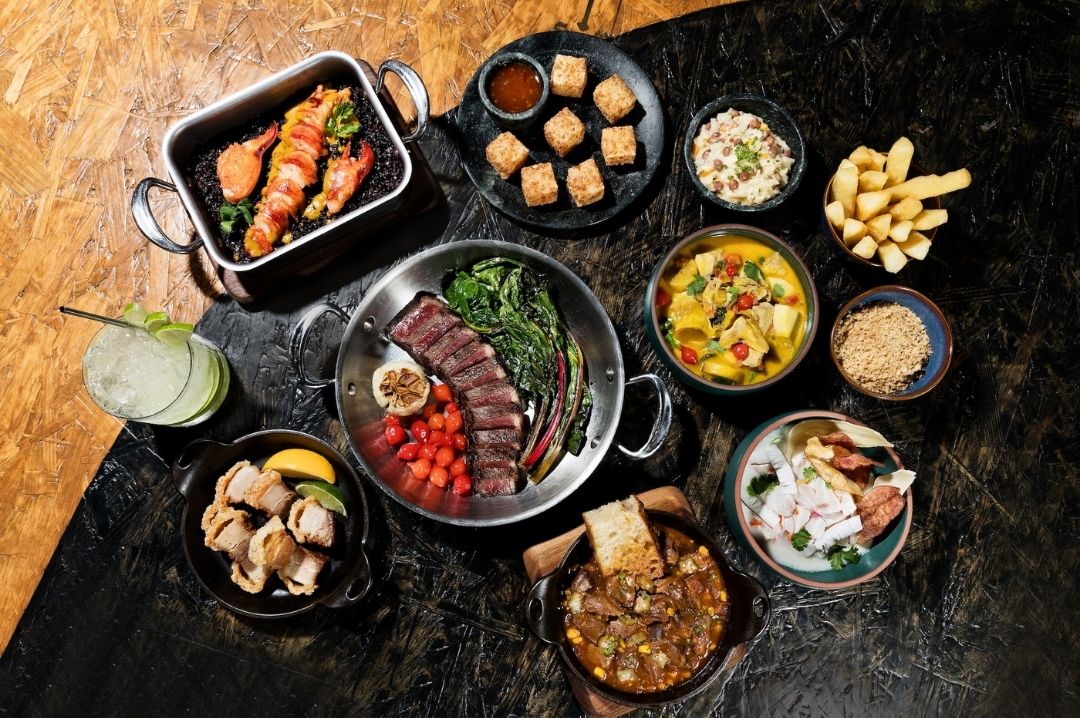 Caboco Los Angeles, Source Facebook
The Caboco Project began in 2014 when restaurateur Bill Chait sent renowned food writer Bill Esparza to South America to find a talented chef to bring his vision to life. Bill posted his research and enlisted Rodrigo Oliveira, chef at Mocoto restaurant in Brazil. Rodrigo, however, wasn't sold on leaving his popular Brazilian outlet for the beaches of Los Angeles. Upon persistence, he finally decided to go all in on The Caboco Project and came to Los Angeles.
After some delays in finding a suitable location that matched their ideas, Caboco was finally opened in the Art District of Los Angeles where it now serves delectable treats and lively cocktails to the local residents and travelers who come to the city. On the food menu at Caboco, there are dishes like Cuscuz Paulita and Bolinho on the entrees, small bites like Pupunha and Moela and Joelho de Porco as the mains that bring a Brazilian tinge on the tongues. The drinks menu has everything from cocktails like caipirinhas to beer and kombucha choices along with a few non-alcoholic alternatives.
Hours-
Wednesday and Thursday- 5 pm to 10 pm
Friday and Saturday- 5 pm to 10:30 pm
Sunday- 5 pm to 9 pm
Location- 1850 Industrial St, Los Angeles, CA 90021
Tatel Beverly Hills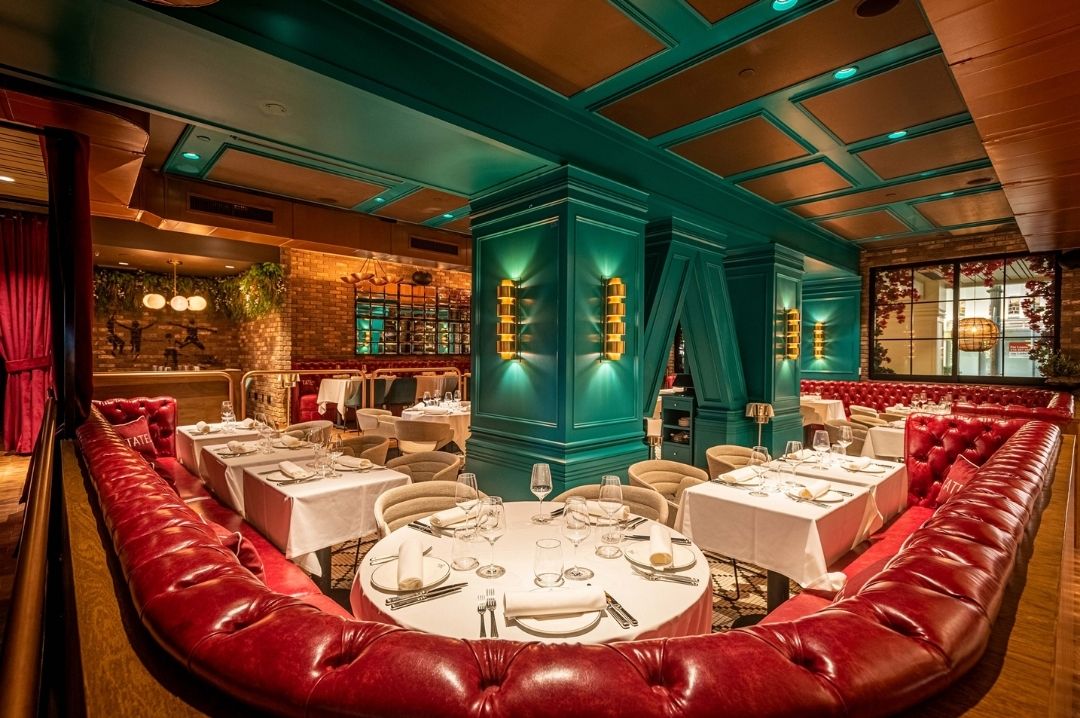 Tatel Restaurants, Source Facebook
While the name gives away the location, it doesn't give away Tatel's biggest attraction. Tatel attracts the biggest celebrities in Los Angeles like moths to a flame. A Mediterranean restaurant bar with its roots in Madrid and Ibiza, Tatel Beverly Hills has become an immensely popular joint in Los Angeles very quickly.
Bringing a quintessential, contemporary Spanish culinary experience with a modern twist to Beverly Hills, Tatel is the place where music, cocktails, and food all blend into one to create an unforgettable experience. A gastronomic concept of the highest order, Tatel Beverly Hills has live music shows daily. It is the place for champions to dine, with the Tatel name co-owned by Grand Slam champion Rafael Nadal, one of the greatest soccer players Cristiano Ronaldo, and Los Angeles Lakers' own Pau Gasol.
If you are aching for celebrity spotting, great food, and amazing drinks, or all of them, Tatel Beverly Hills is the spot to head to without any second thoughts.
Hours-
Monday to Thursday- 12 pm to 1 am
Friday and Saturday- 12 pm to 2 am
Sunday- 11 am to 11 pm
Location- 453 North Canon Drive, Beverly Hills, Los Angeles, CA 90210
Lulu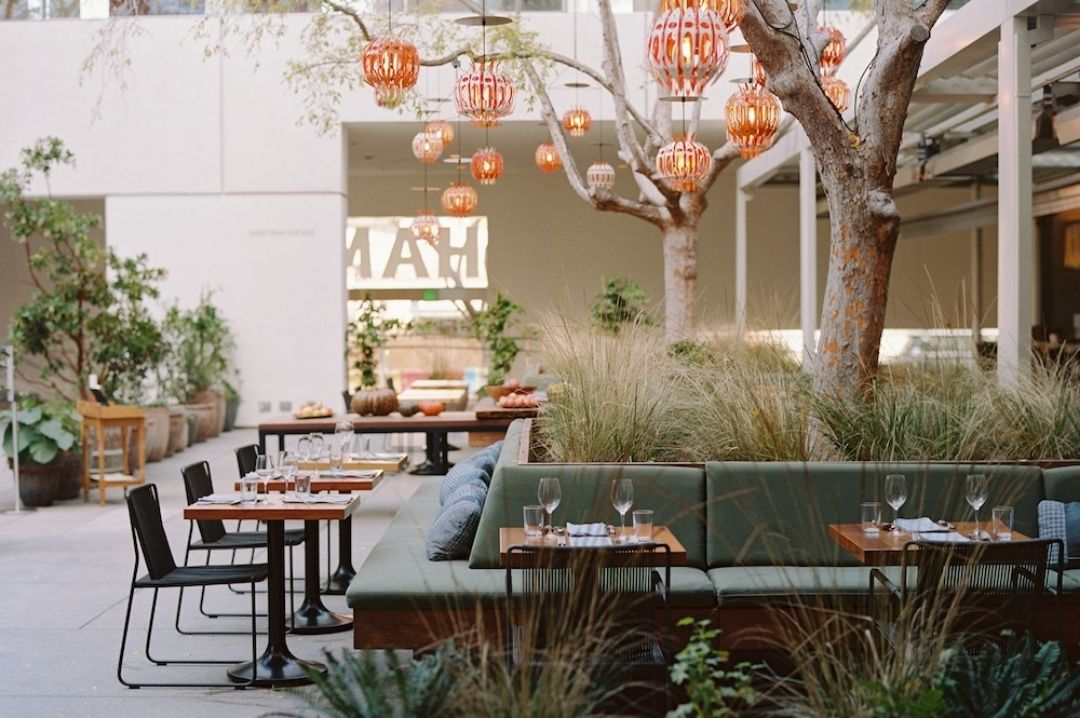 Lulu at Hammer Museum, Source Facebook
Acclaimed chef and cookbook author David Tanis joined hands with legendary chef and food activist Alice Waters to conceive Lulu, which opened its doors to the public at the beginning of November. Lulu was started by the pair to bring importance to two things. The first is the celebration of food that is good for our planet. The second, Lulu is a restaurant that is committed to bringing light on local, regenerative food sourcing and design.
Open during lunch hours at the moment, at Lulu, people can feast on dishes like Sonoma goat cheese with garden lettuce and golden beets, mains like Mediterranean fish and shellfish stew, North African lamb tagine with saffron couscous, and desserts like a hearty olive oil walnut cake with pomegranate and more. An indulgent experience at Hammer Museum.
Hours-
Tuesday to Sunday- 11 am to 6 pm
Location- 10899 Wilshire Boulevard, Los Angeles, CA 90024
Destino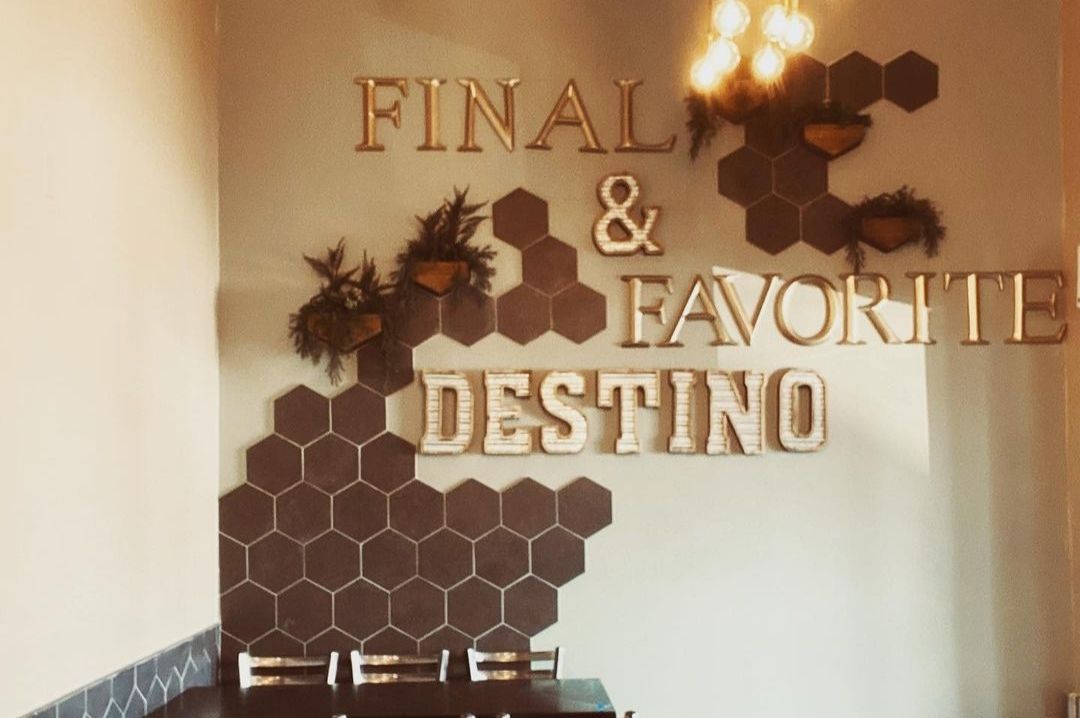 Destino Restaurant, Source Instagram
The latest place of glamor in LA's Arlington Heights is Destino, a modern, chic Latin restaurant specializing in seafood. A place where the decor, the atmosphere, and the delicious plates of food work in tandem to give customers a lasting experience, everything about Destino is glorious. The white-picket fence on the entrance, the honeycomb decals on the walls will take you back a few years, while the modern, sumptuous cooking will transport you to a place by the beach, where you are served the freshest and best meat on your hand.
Destino has a separate lunch and dinner menu, both focused on bringing South American flair and culinary delights to Los Angeles. Whether it's tacos on the lunch menu or entrees like jidori boneless fried chicken sandwiches on the dinner menu, there's a lot to choose from. A place where Latin flavors mingle with Californian culture.
Hours-
Sunday to Wednesday- 10 am to 9 pm
Thursday to Saturday- 10 am to 10 pm
Location- 3224 Venice Boulevard, Los Angeles, CA 90019
Sugar Palm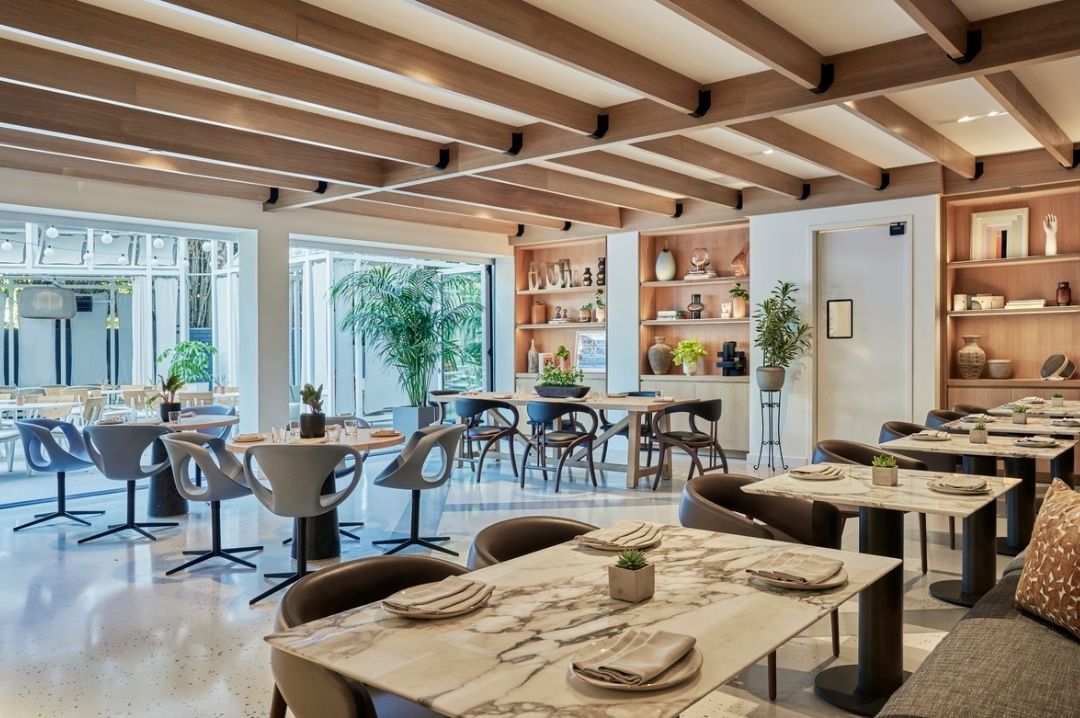 Viceroy Santa Monica's Sugar Palm, Source Facebook
The ultimate indoor and outdoor space at Viceroy Santa Monica, Sugar Palm combines coastal flavors and poolside vibes to bring Los Angeleans a new party spot perfect for a weekend treat. At the heart of the restaurant's ideation is a coastal dining experience meant to be enjoyed in a laid-back manner. Sip cocktails by the pool, meet some friends for a quick meal, or work quietly in the lounge, Sugar Palm is the king of all trades.
Sugar Palm opened its doors to the public in October and since then has quickly become a favorite of the audience. The restaurant has a fabulous brunch menu in place which includes classics like steak & eggs, pancakes, and more with revamped dishes like the tuna sashimi and the sugar palm burger which can all satisfy food cravings easily. The dinner menu is replete with appetizers and cocktails, with drinks like Day Trip to Oaxaca, Samo Sunset, and The Botanist making for a fine sip. Enjoy wines by the glass or beers on draught with delectable dishes and watch the sunset with some wonderful lighting that turns the golden hour a tad bit shinier.
Hours-
Brunch (daily)- 6:30 am to 2:30 pm
Dinner (daily)- 3 pm to 10 pm
Location- 1819 Ocean Avenue, Santa Monica, CA 90401
1010Wine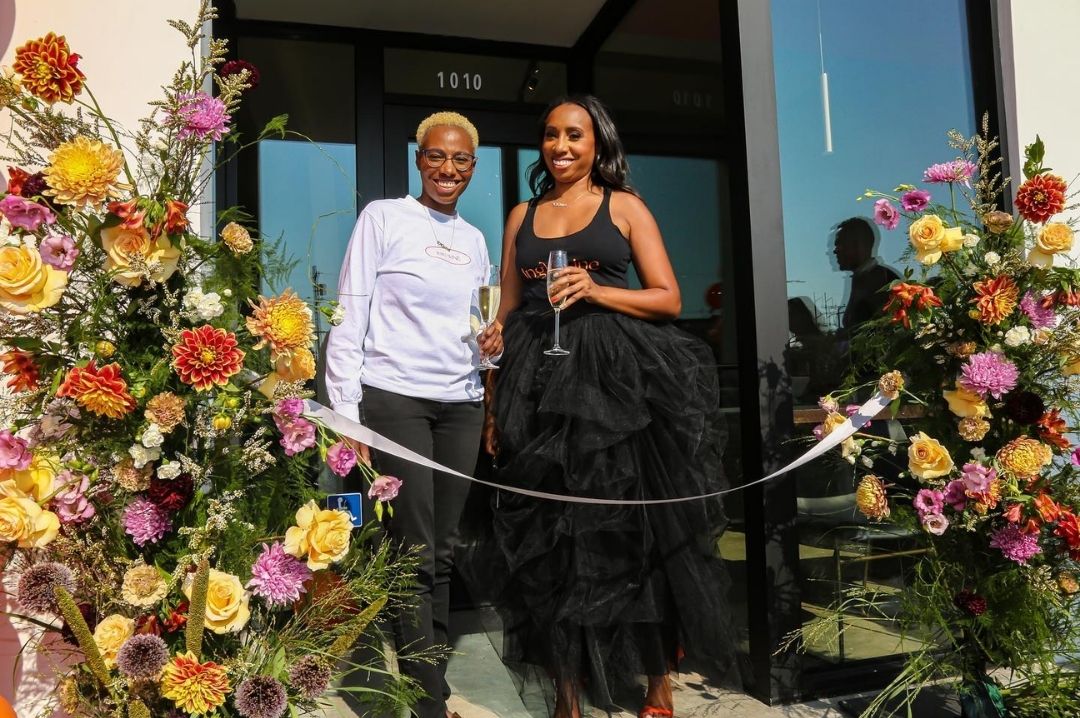 Leslie and LeAnn Jones, Source Facebook
Jones sisters, Leslie and LeAnn used their perfect evening plan, which is enjoying wine and great food with friends as the focal point for 1010Wine, Inglewood's first and only wine bar. Leslie, a luxury wedding planner, and LeAnn, an attorney, wanted to bring a place where wine was celebrated to their neighborhood. 1010Wine was opened and today serves as an upscale wine bar in the heart of Inglewood.
1010Wine's menu features a large selection of Black-owned wines, alongside other top vintages which can be enjoyed with good food while tapping feet to great music. While the drinks menu is kept under wraps for visitors, the food menu consists of Kobe beef sliders, shrimp & risotto, pesto linguine, and more. The wines can also be paired with a couple of desserts, the peach cobbler panna cotta, and flourless chocolate cake.
Hours-
Wednesday and Thursday- 5 pm to 10 pm
Friday and Saturday- 5 pm to 11 pm
Sunday- 4 pm to 9 pm
Location- 1010 North La Brea Avenue, Inglewood, CA 90302
Los Angeles always has something new to offer, whether it's places to drink or places to eat. The next time you are faced with the where to drink question, turn to any of these new places across the town.
Header Image- Tatel Restaurants, Source Facebook