Best rooftop bars in Los Angeles
Taking in the city views over Sunset Strip and the coastline by Santa Monica and Venice, LA's rooftop bar scene is as vibrant as the city's culture.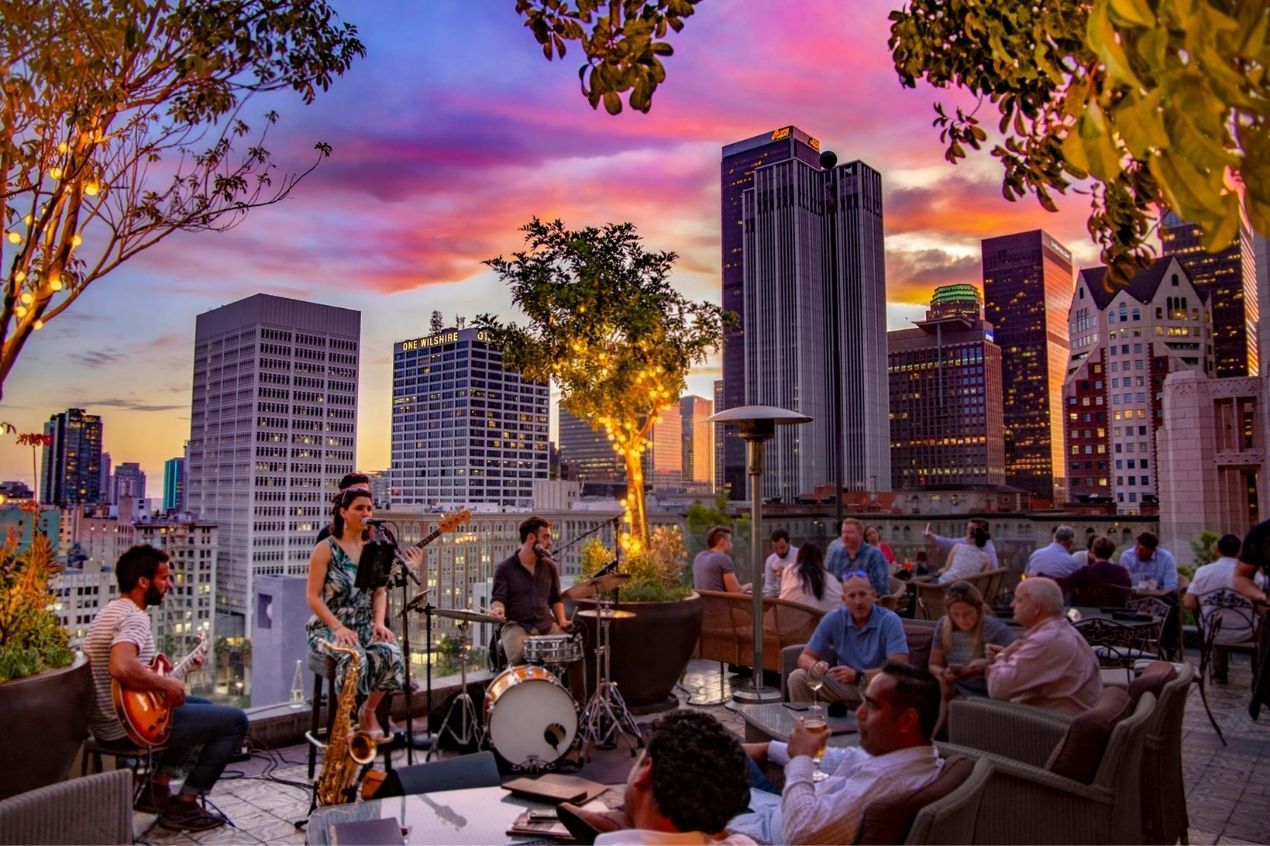 Thanks to LA's year-round sunny weather, we can always catch a drink on one of the city's many rooftop spots. Whether it is the coastline views on the West Side, the iconic Hollywood sign on the steep hillside, the freeways and towering buildings in Downtown LA, and the palm trees of Beverly Hills, these are the best rooftop bars in Los Angeles.
Downtown LA
The part of Los Angeles where the cutting edge and the classic sit side by side. Replete with beautiful views of the city, Downtown LA is full of places to grab a drink sitting on top of the city.
Broken Shaker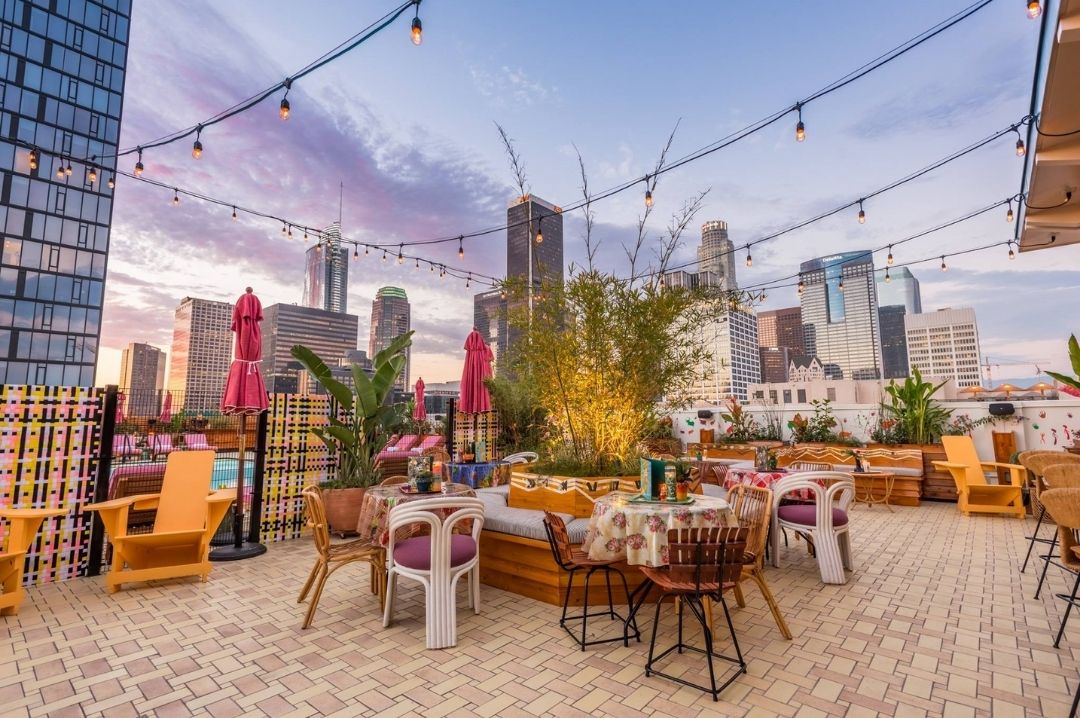 Broken Shaker at Freehand Los Angeles, Source Facebook
A sanctuary in the heart of Downtown LA, Broken Shaker is one of the best bars in all of Los Angeles. The bar attracts some of the trendiest people like moths to a flame, because of the quirky setting and the colorful personalities that work there. A James Beard Award finalist and a winner of Tales of the Cocktail's Best American Hotel Bar award, Broken Shaker's menu is full of eclectic cocktails and vivid garnishes paired with street food inspired dishes. Infusions of homemade elixirs and exotic ingredients used brilliantly by bar director Christine Wiseman and her team bring the beach to the city.
Try the Manila Clams or the Guacamole dishes, cocktails like Litty City, Thirst Trap, Magic Hour and more. The bar also offers to-go cocktails, beer, and wine selections that can all be enjoyed on the bar equipped with a pool deck.
Location- 416 West 8th Street, Los Angeles, CA 90014
Perch
This can actually be a two-pronged experience for anyone that heads to Perch. Their French-inspired restaurant provides some of the finest views of Los Angeles and just a floor above stands a rooftop bar that has even better views (a drink always elevates the experience after all).
Located atop the Pershing Square Building in DTLA, Perch's ambience is a thing of beauty. The bar is replete with vintage artwork and sweeping arches while also providing unobstructed views of the everchanging DTLA skyline.
The menu at Perch has a selection of specialty drinks. From rare Cognacs, Armagnacs and French Cordial to a wine program that showcases over 25 wines by the glass, Perch is a haven for those looking to settle on a royal drinking experience.
For those who are beer and cocktail lovers, Perch's team has crafted a list of Parisian inspired cocktails with drinks like Hemingway on the Beach and All The Way Up worth a try. There are 10 beers available in bottled and draught form, making Perch's drinks menu a vast one. Sip on some of the finest drinks as you watch the sunset over beautiful Los Angeles.
Location- Pershing Square Downtown LA, 448 South Hill Street, Los Angeles, CA 90013
Spire 73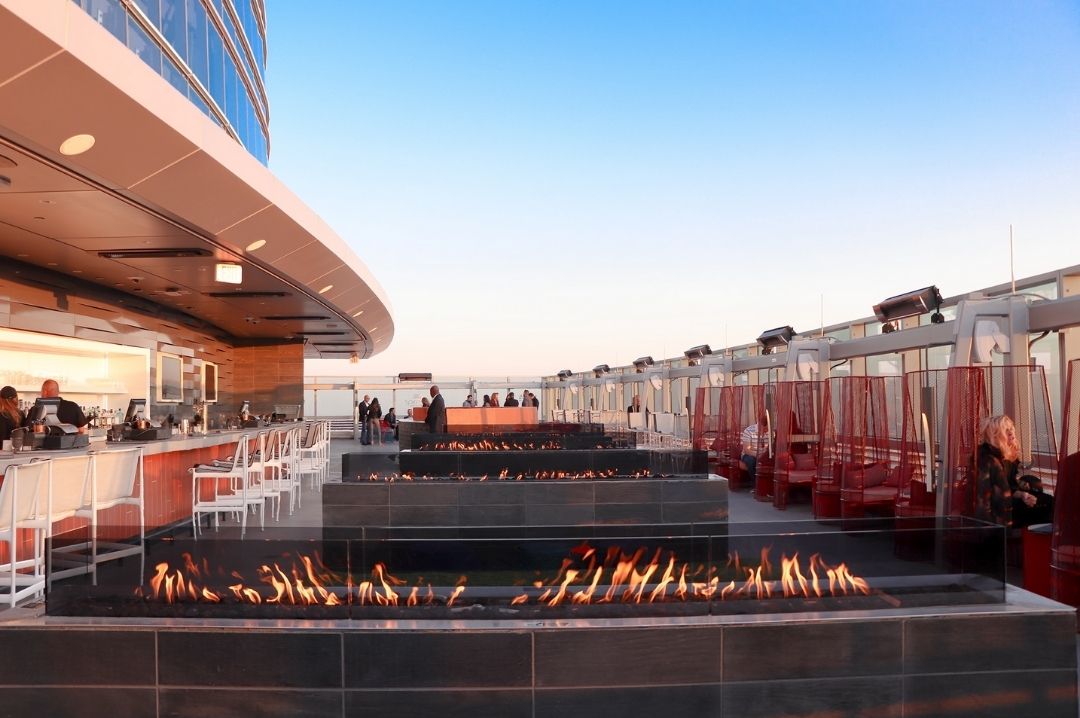 Spire 73 at InterContinental Los Angeles Downtown, Source Facebook
This Wilshire Grand Center bar, a part of the building's InterContinental Los Angeles Downtown Hotel is the highest place in Los Angeles to grab a drink. Why is it named Spire 73? Because the bar is located on the 73rd floor. The tallest open-air bar in the Western Hemisphere essentially offers a view of LA where you can see literally everything. When you get your eyes away from the view, the menu more than matches the spectacle of the location.
On the drinks side, you can opt for any of their 30 plus wine range. The spirits collection isn't far behind. The Don Julio tequila, Hennessy VSOP Cognac, Bombay Sapphire Gin, Grey Goose Vodka, Woodford Reserve Whiskey and The Macallan 18 Scotch are all a part of an ensemble that consists of 39 spirits from around the globe. There are also bottled beers and cocktails that round up an international menu.
Location- InterContinental Downtown LA, 900 Wilshere Boulevard, Los Angeles, CA 90017
Upstairs
The name is very much in tune with where this Ace Hotel bar is located. The Moroccan establishment's open air deck is always buzzing with vibrant personalities. A very popular joint in Los Angeles, there are often long lines on weekends, making it difficult to find a table.
The rooftop bar with a poolside and offers cinematic views of the city, Upstairs has an incredible all-day food and drinks menu. Nine cocktails, seven wines to choose from, canned beers and group options make up the drinks menu at Upstairs. The bar also runs a happy hour from Tuesday to Friday between 3 to 6 pm, where people can enjoy chips & salsa, beer of the day, bartender's choice of cocktail and a house red or white.
Location- Ace Hotel Downtown LA, 929 South Broadway, Los Angeles, CA 90015
Pilot
Inspired by the Mediterranean coast, Pilot is located on the rooftop of The Hoxton. Pilot is a combination of a bar, restaurant, pool and lounge that offers a brilliant culinary experience for all those who enter through their doors. The menu at Pilot is dreamy, featuring laidback snacks, amazing seafood displays, playful cocktails, and more. For all those who love showing off their drinks and the places they visit, Pilot is the perfect place for you.
Inventive cocktails served in honey bear bottles are Instagram-worthy. Add a splash of the poolside glow and you have your social media content sorted for days. The lounge menu that runs from 2 pm to close features cocktails like the Salty Dog, Picnic Drink and more. There are also beers, ciders, seltzers, and wines to choose from. The dinner menu consists of the same drinks options with a lot more dish pairing options available.
Location- The Hoxton Downtown LA, 1060 South Broadway, Los Angeles, CA 90015
The Rooftop at The NoMad
A rooftop bar equipped with a pool, a cocktail bar and an outdoor café, The Rooftop at The NoMad is a lush and stylishly decorated Downtown Los Angeles venue. While the rooftop pool is exclusive to hotel guests, the bar and the menu more than makeup for the lost opportunity of enjoying panoramic views of the LA skyline drenched in water.
Open all day, the menu at the café and bar features everything from seasonal specials to year-long delicious treats.
Location- 649 South Olive Street, Los Angeles, CA 90014
Hollywood
One of the most famous neighborhoods on the planet, it is a no-brainer that Hollywood is home to some of the city's top rooftop bars. The trendy atmosphere, the ideal year-round climate is ideal for rooftop bars. Here's the finest of the lot.
Mama Shelter
Mama's roof terrace is an unmissable attraction for all those in love with sky bars. Offering sprawling views of the city, from the Hollywood sign to Downtown, sipping on signature cocktails and enjoying homemade food while grooving to brilliant music, Mama Shelter would make any list of the best rooftop bars to visit in Los Angeles. The extra-large lounge sofas, colorful decor and the opportunity to meet new people are what makes Mama Shelter stand out.
The first come first serve policy, with the bar running from noon to midnight on Sunday to Thursday and until 2 am on Friday and Saturday, Mama Shelter might well be the place to jam this weekend.
Location- 6500 Selma Avenue, Los Angeles, CA 90028
Skybar at The Mondrian Hotel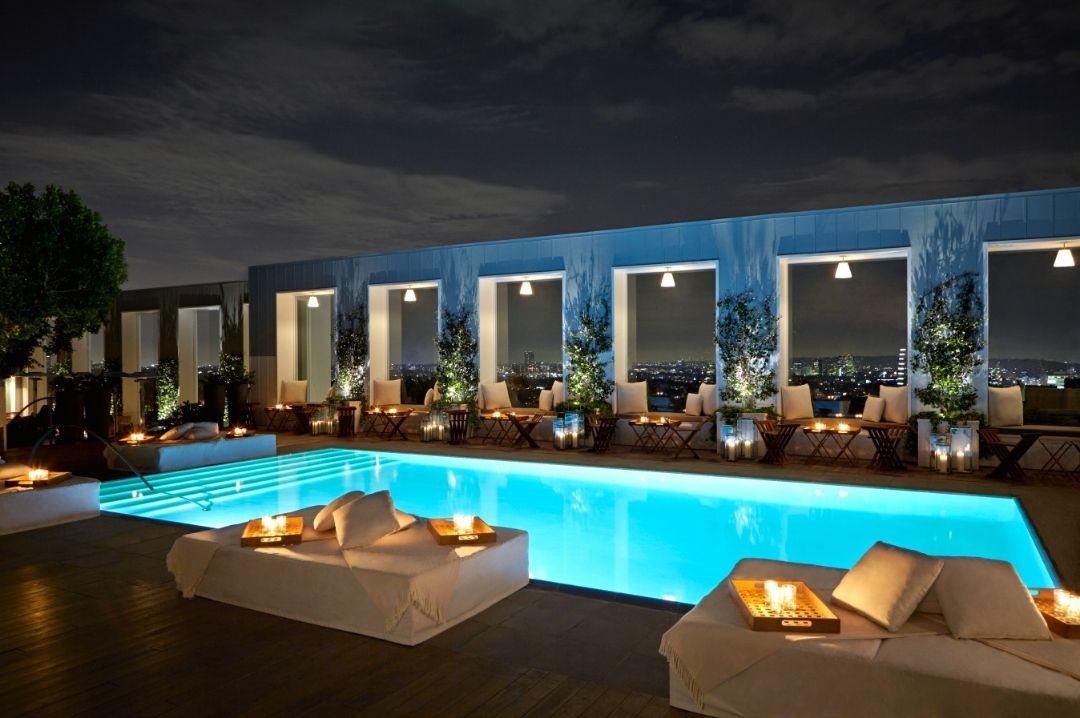 Skybar at Mondrian, Source Facebook
The place to be for those who love the marriage of an iconic establishment with touches of modernism. Home to performances from world-class DJs and Hollywood glamor, Skybar at The Mondrian Hotel is a chic poolside lounge by day and a loud energized bar once the sunsets. Skybar's menu boasts impeccably made cocktails like The Mark and Redheaded Mule, a choice of beers and ciders, spirits like Greygoose Vodka, Casamigos Silver, top-shelf scotch and more.
Location- 8440 Sunset Boulevard, Los Angeles, CA 90049
L.P Rooftop Bar
One of the largest rooftop patios in the entire city, L.P Rooftop Bar has plenty of reasons why it is a sought after destination in tinsel town. Accompanying the expansive views of Sunset Strip and Hollywood Hills is a relaxed, tropical ambience mixed with plenty of modernity. All of these things set up for an enchanting evening that gets elevated with the bar's beautiful cocktail program and global cuisine.
Choose their cocktails like California Love, Don't Sweat The Technique featuring the Santa Teresa 1796 or any of the remaining eight cocktails and you will get to know what sets this West Hollywood establishment apart. Their wine selection is vast and complements the food menu perfectly and so does the beer selection. L.P is the perfect place to do multiple things without travelling across town.
Location- 603 Cienega Boulevard, West Hollywood, Los Angeles, CA 90069
Culver City
Culver City isn't as popular a destination for rooftop bars as Hollywood or Downtown LA, but it does have a couple of top-notch destinations. The rich movie making history and buzzing nightlife, Culver City hosts an array of globally inspired eateries, fancy cocktail bars and quality rooftop drinking establishments.
Margot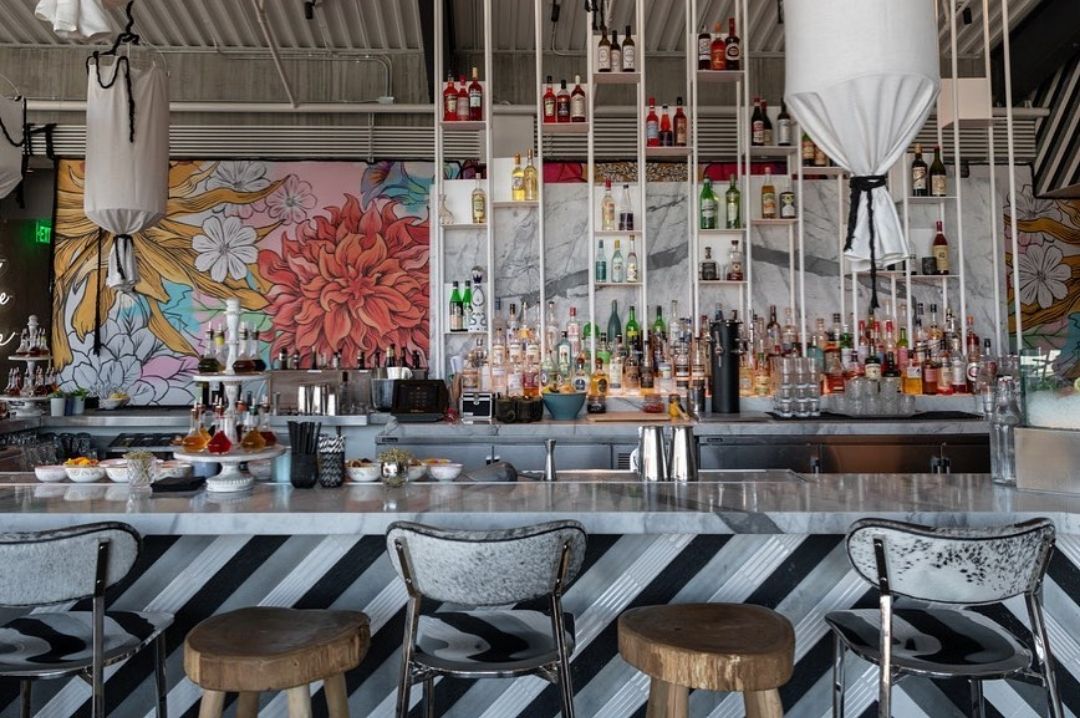 The Bar at Margot, Source Facebook
Located on Washington Boulevard, this Platform destination is arguably Culver City's most popular rooftop drinking destination. The ample natural light, indoor and outdoor spaces and the 360-degree views of the city make Margot a flocking place for romantic dates and chic friends. The menu at Margot features Mediterranean-leaning food, breezy slushies, regional wines and craft cocktails.
Whether it's the Spanish Hound, the Black Mamba or the Washington Boulevardier, every cocktail on Margot's menu offers something different to the drinker. The by the glass wine list is extensive with the offerings coming in sparkling, white, rosé and red options. The food menu is an assortment of charming dishes from small plates, meat and fish dishes and vegan options.
Location- 8820 Washington Boulevard, Suite 301, Culver City, CA 90232
Bar Bohemien
Another staple of LA's marvellous list of rooftop bars, Bar Bohemien features on every big magazine and blog's list of best bars in Los Angeles. Plush decor, incredible vibes during the golden hour and a lively cocktail menu to choose from, Bar Bohemien ticks all the boxes anyone would look for in a bar.
Opening at noon on the weekends, Bar Bohemien has walk-ins only and serves on a first come first serve basis. The Citizen Public Market bar has also introduced a new fall menu that is worth its weight in gold.
Location- 9355 Culver Blvd, Culver City, CA 90232
Venice and Santa Monica
Known for its bohemian spirit, Venice is a part of LA's fabled free-spirited coastline. The colorful murals, funky shops and street performers make Venice a buzzing beach town. Santa Monica lies west of Downtown Los Angeles and is a coastal staple of the city. Both of these areas are home to some amazing rooftop watering holes.
High Rooftop Lounge
Fancy a jaw-dropping view of the Pacific Ocean paired with Californian beers, signature cocktails, delicious bar bites all in a private atmosphere? High Rooftop Lounge is the place to be. The vibes are crazy, the music is live and the drinks are fantastic, the service is incredible and it all comes together for an unforgettable experience. One of the finest beachside rooftop bars in all of Los Angeles.
Location- Hotel Erwin, 1697 Pacific Avenue, Venice, CA 90291
Calabra Rooftop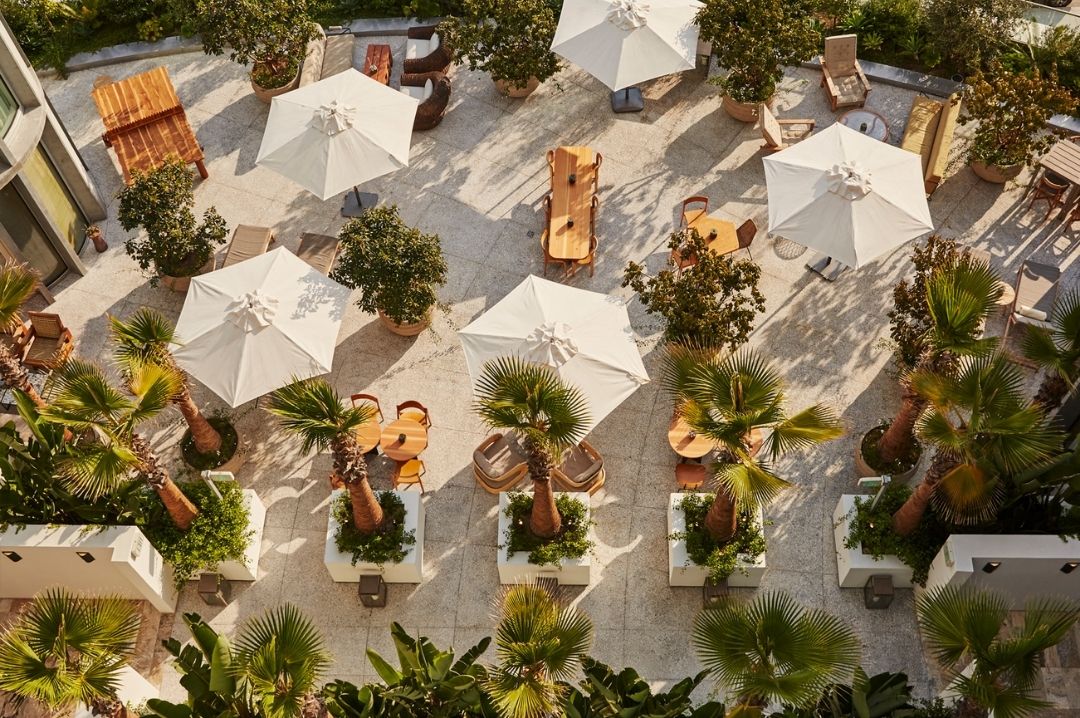 Calabra Rooftop at Proper Hotel, Source Website
A proper Santa Monica establishment, Calabra Rooftop at Santa Monica Proper was voted as the "Best Outdoor Hotel Restaurant Patios in Southern California" during a Forbes 2021 survey. Serving Mediterranean and Californian cuisine, all prepared with the ocean in the background, Calabra Rooftop is an elevated restaurant and bar that can be called Santa Monica's finest.
The bar is circular, the sundeck is lovely and there's also an indoor lounge where visitors can enjoy boutique wines, small-batch spirits and seasonal cocktails while taking in the breathtaking views the city has to offer.
Location- 700 Wilshire Boulevard (Entrance on 7th Street), Santa Monica, CA 90401
Header Image- The Perch, Source Facebook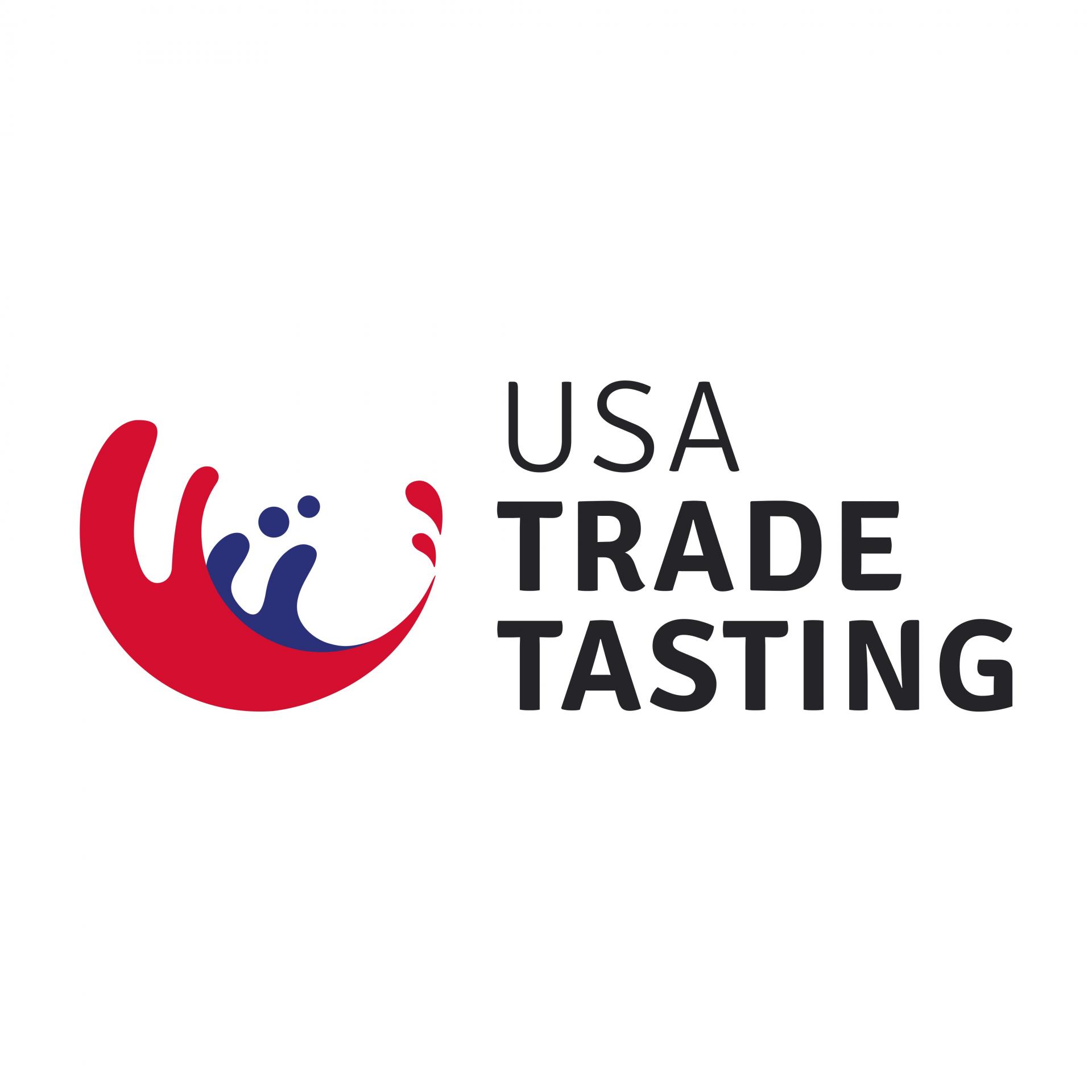 Morgan MFG, 401 N Morgan St Suite #204A, Chicago IL 60642
Register Now
South San Francisco Conference Center, 255 South Airport Boulevard, South San Francisco, CA 94080, United States.
Register Now
South San Francisco Conference Center, 255 South Airport Boulevard, South San Francisco, CA 94080, United States
Register Now