Bars Reopened in Downtown LA Right Now
When you're ready to step out of your home, enjoy a drink at one of these bars in Downtown LA.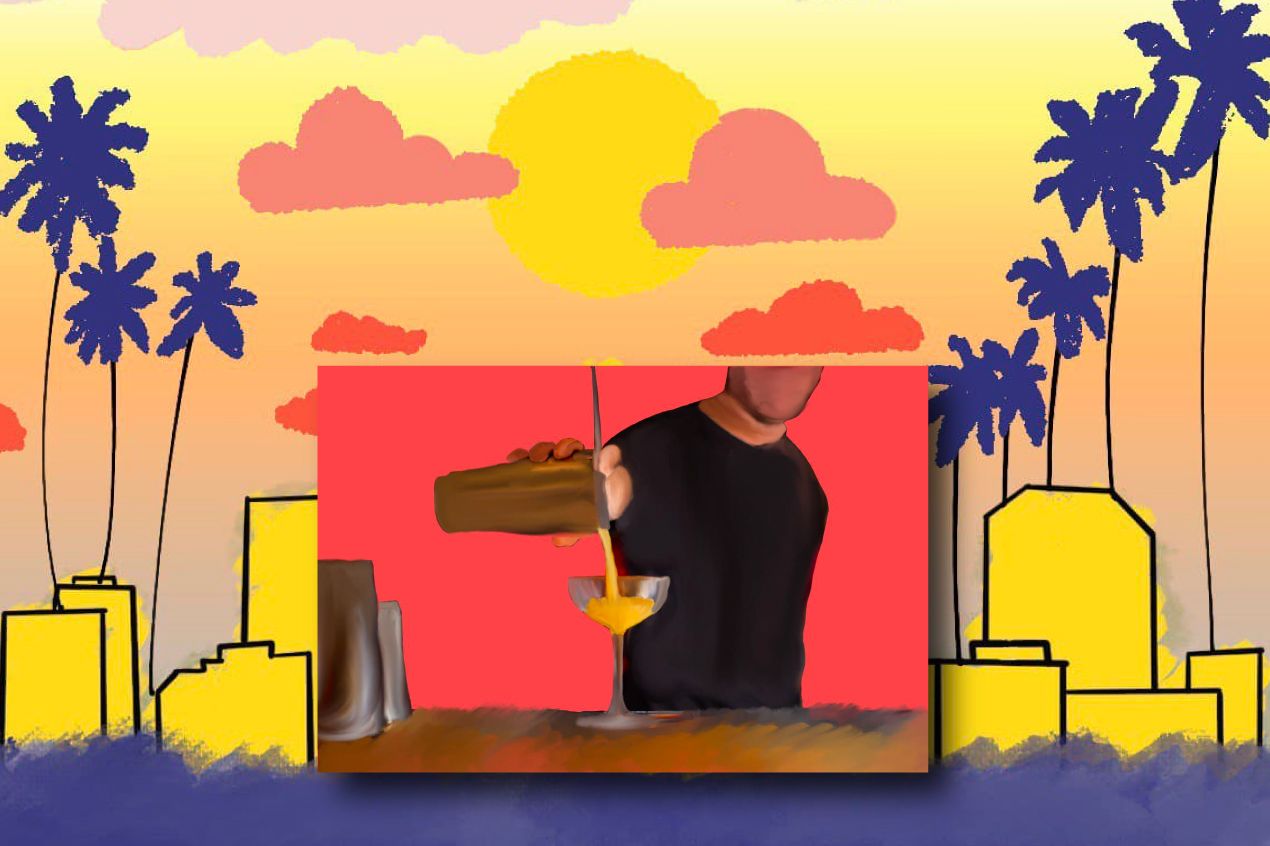 If you feel ready to step out of your home to enjoy a meal and cocktail, here are some places that are open for dining right now. Social distancing, outdoor seating, and safety norms are taken care of, you can enjoy a scrumptious meal in peace.
With lockdowns happening over and over again over the past year, many bars and restaurants, probably some of your favorites have shut down, unable to keep up with the costs of rents and salaries. Some resorted to take-out and deliveries to keep going. After restaurants were allowed to re-open in late January many LA eateries, bars, restaurants, and breweries have opened up for dine-ins with outdoor seating, ready to welcome patrons once again.
These are some bars in Downtown LA that are currently open for dine-ins with social distancing or outdoor seating.
Here and Now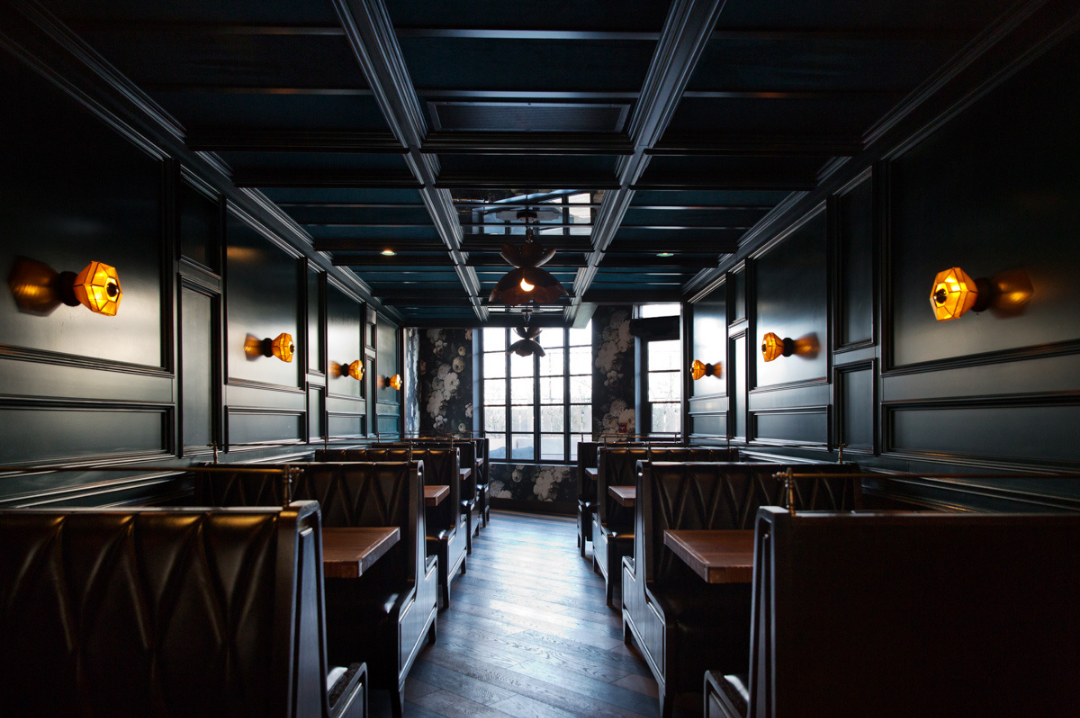 Here and Now, source: website
Stepping into Here and Now gives you an Inception-like feel, time-traveling without actually doing so. Located on Santa Fe Ave in Downtown LA, the bar shows off train-style seating with swanky cocktails like the Quarantine in the City, made with vodka, Fino Sherry, Campari, Cointreau, cranberry, and lemon. Peek into the drinks menu with wines, beer & ciders and non-alcoholic options, and small bites to munch on like empanadas, baked brie, chicken wings, and more.
Location - 300 S Santa Fe Ave Ste n, Los Angeles, CA 90013
Pilot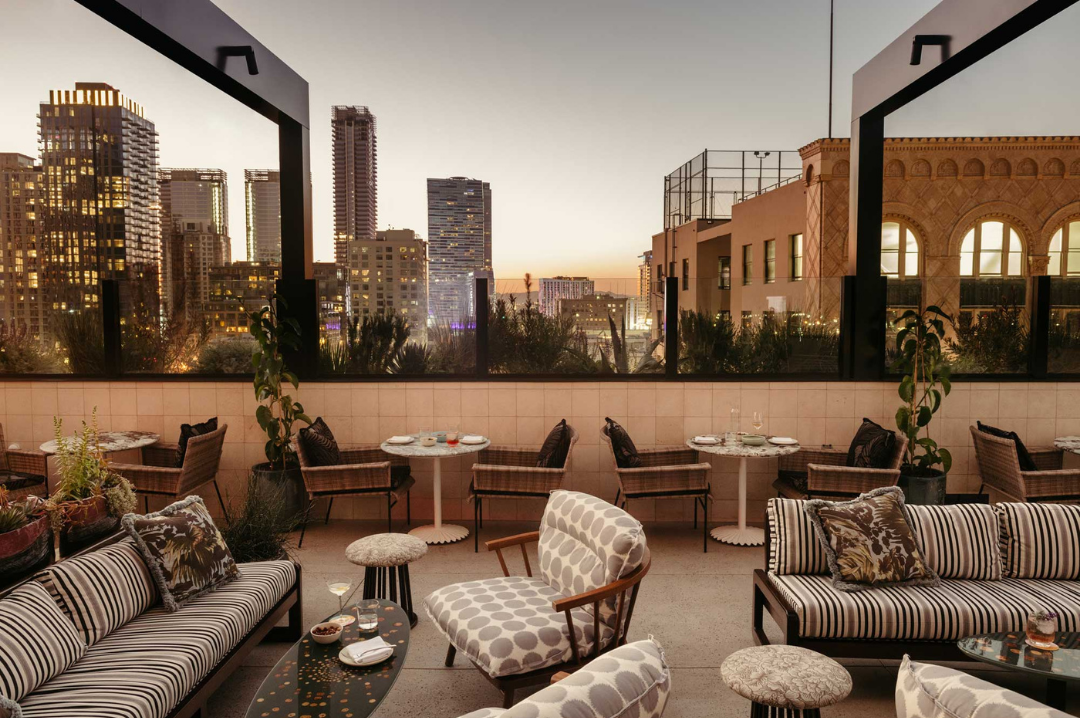 Pilot Bar, source: website

Located in the Hoxton Hotel, the rooftop Pilot Bar is now open for outdoor dining. Their cocktail menu includes exquisite drinks like the Honeybear On Holiday, crafted with Altos Tequila Blanco, Lustau Amontillado Sherry 'Los Arcos', Amaro Montenegro, Pineapple, Lime, Combier Apricot Liqueur, and Cumin-infused Honey - a hit of flavors! The bar also offers a happy hour menu, with drinks starting from $4, available on Monday-Friday from 2 PM to 5 PM.
Location - 1060 S Broadway, Los Angeles, CA 90015
The Escondite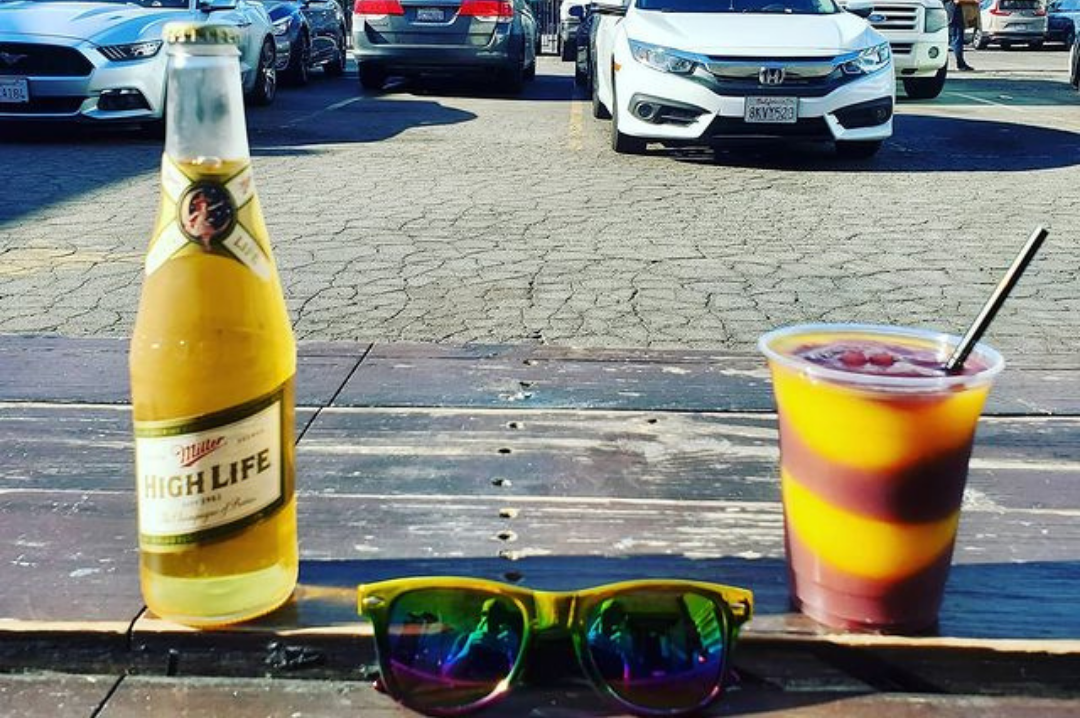 The Escondite outdoor seating, source: Instagram
Established in 2011, The Escondite's comfortable atmosphere will make you feel right at home. Now open for outdoor dining, the bar offers an exceptional view of the DTLA skyline. Even with a limited menu, the mom & pop bar offers a broad variety of food and drinks. Beer lovers try the Pizza Port Chronic Red Ale. If you're out for cocktails, make sure to try The Lot Lizard, a concoction of tequila, pomegranate, and splash soda.
Location - 410 Boyd St, Los Angeles, CA 90013
Mignon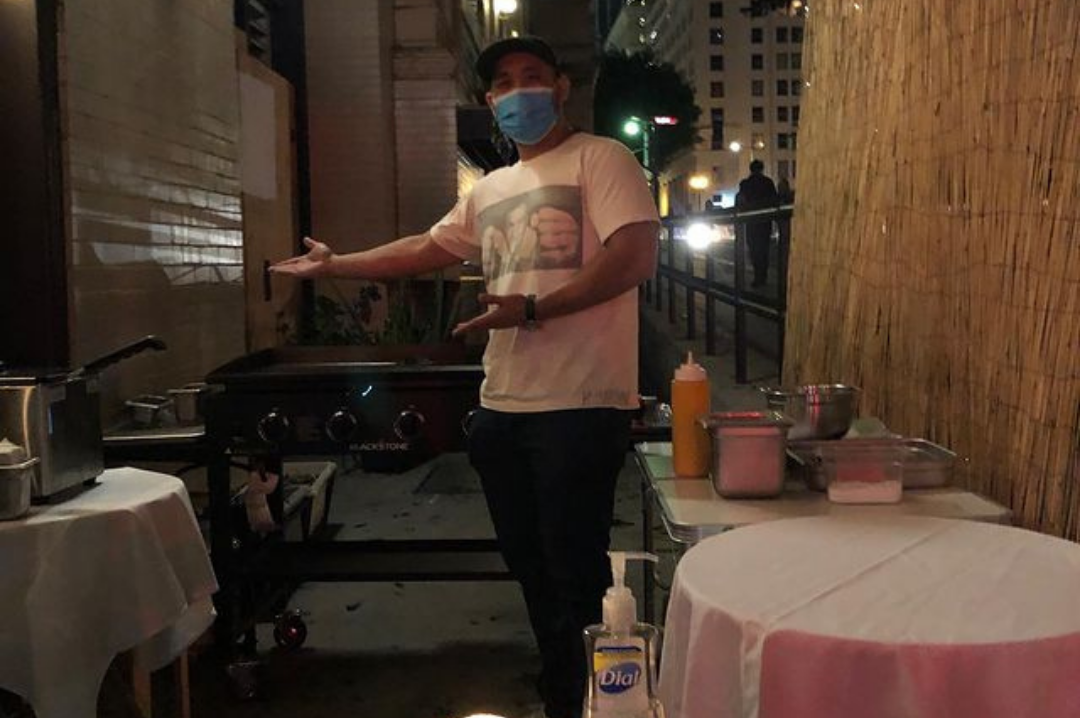 Mignon, source: Instagram
The French wine bar located in Downtown LA has paired up with their neighbor L'appart restaurant to offer a wider space for outdoor dining. Enjoy alfresco dining in front of either restaurant and receive both menus. They've also partnered with Cento who is back in action across the street at JJ's. You can buy takeout pasta from Cento, walk across the street to Mignon, purchase a glass or bottle of wine, and enjoy your food at one of their outdoor tables.
Location - 128 E 6th St, Los Angeles, CA 90014
Perch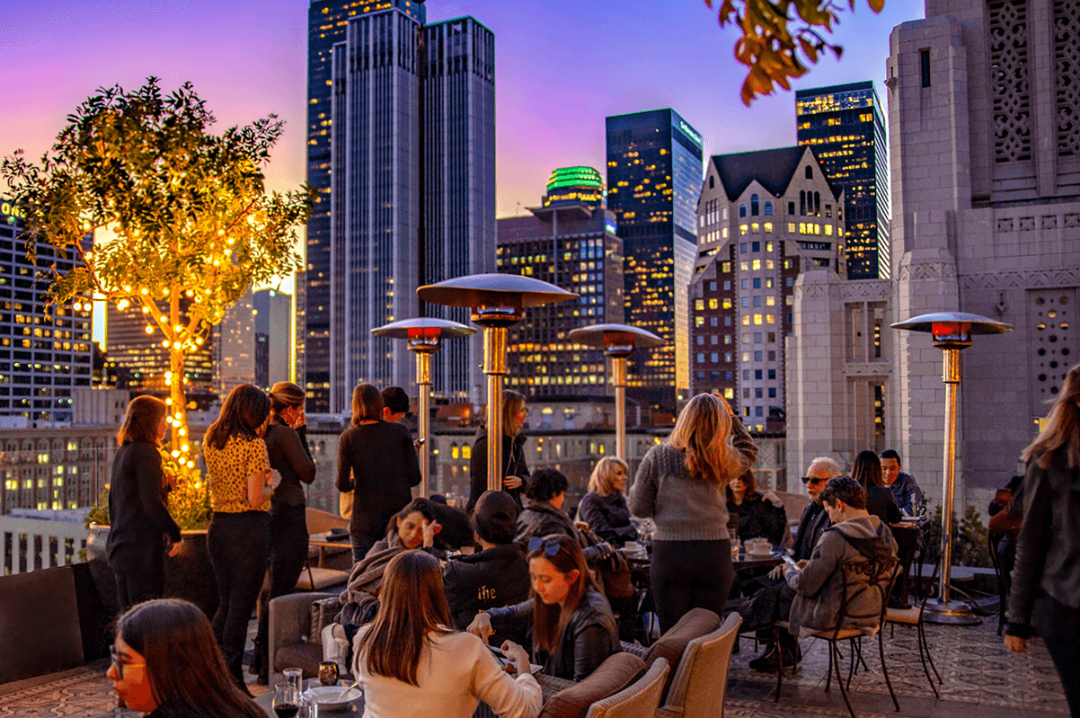 Perch 15th Floor Patio Dining, source: website
For an evening outside, Perch is a great place to savor small French plates and cocktails. Dine-in their leather-clad saloon, rooftop bar, or the Perch 15th-floor patio. The Writer's Block cocktail with Grey Goose La Poire Vodka, St. Germain, lemon, Sparkling Wine hits all the right notes. Try it with their signature Baked Brie. They also offer prix fixe menus, brunch menus, and late-night menus.
Location - 448 S Hill St, Los Angeles, CA 90013
Broken Shaker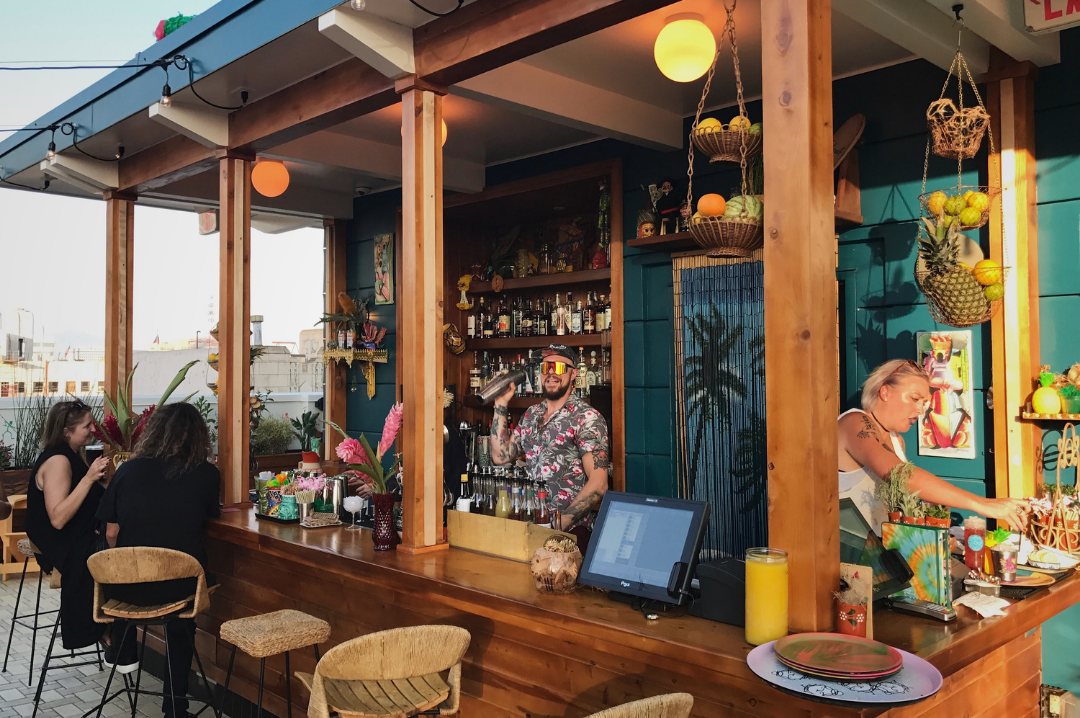 Broken Shaker LA, source: Timeout
Everything you're looking for from a rooftop bar is right here; a great view, excellent food, and cocktails to die for. Try their Willy Wonka Vibes (frozen), made with Ford's gin, Campari, berry cordial, orange & lemon. They also offer a great tapas menu, with dishes such as fried fish tacos and twice-fried chicken wings with jalapeno hot sauce.
Location - 416 W 8th St, Los Angeles, CA 90014
Pez Cantina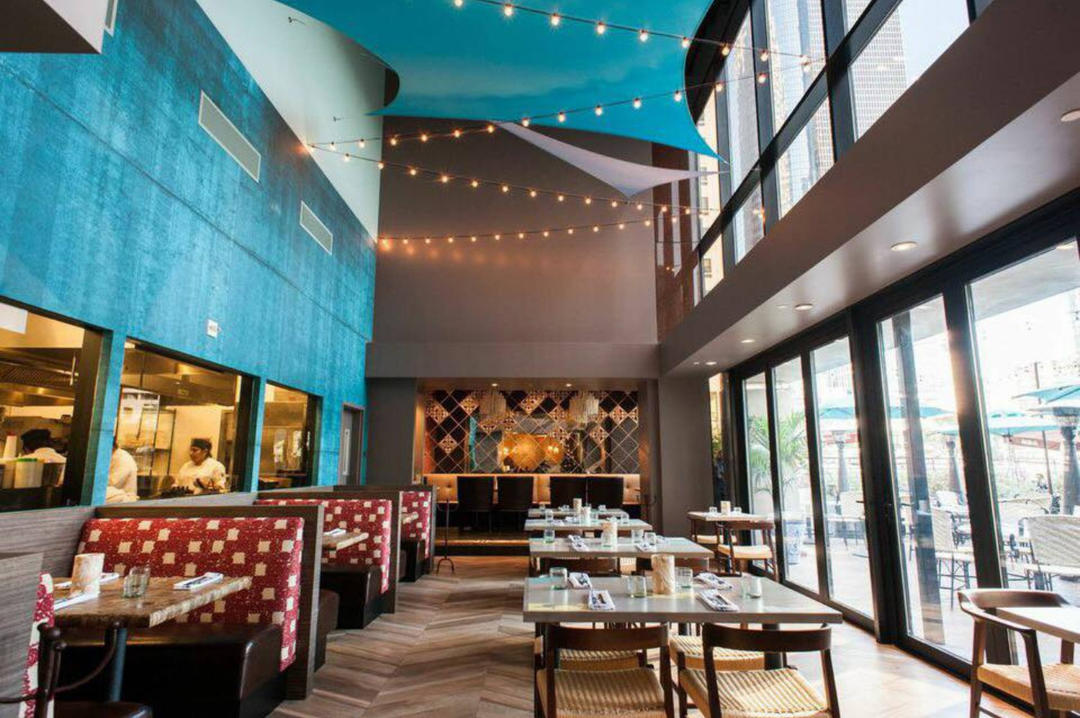 Pez Cantina, source: Discover Los Angeles
If you're looking for Mexican food with fantastic margaritas, head over to Pez Cantina. Their widespread menu from the traditional burrito to prawn tacos and four different types of margaritas and other drink options will not leave you disappointed. One of the few resto-bars open for dine-in through and through, Pez Cantina is a must-visit if you want a change from your regular chipotle.
Location - 401 S Grand Ave, Los Angeles, CA 90071
Header: Perch LA, source: Instagram

South San Francisco Conference Center, 255 South Airport Boulevard, South San Francisco, CA 94080, United States
Register Now
South San Francisco Conference Center, 255 South Airport Boulevard, South San Francisco, CA 94080, United States
Register Now