Celebrity owned alcohol brands worth the shot
How about mixing your next cocktail with a spirit created by your favorite celebrity?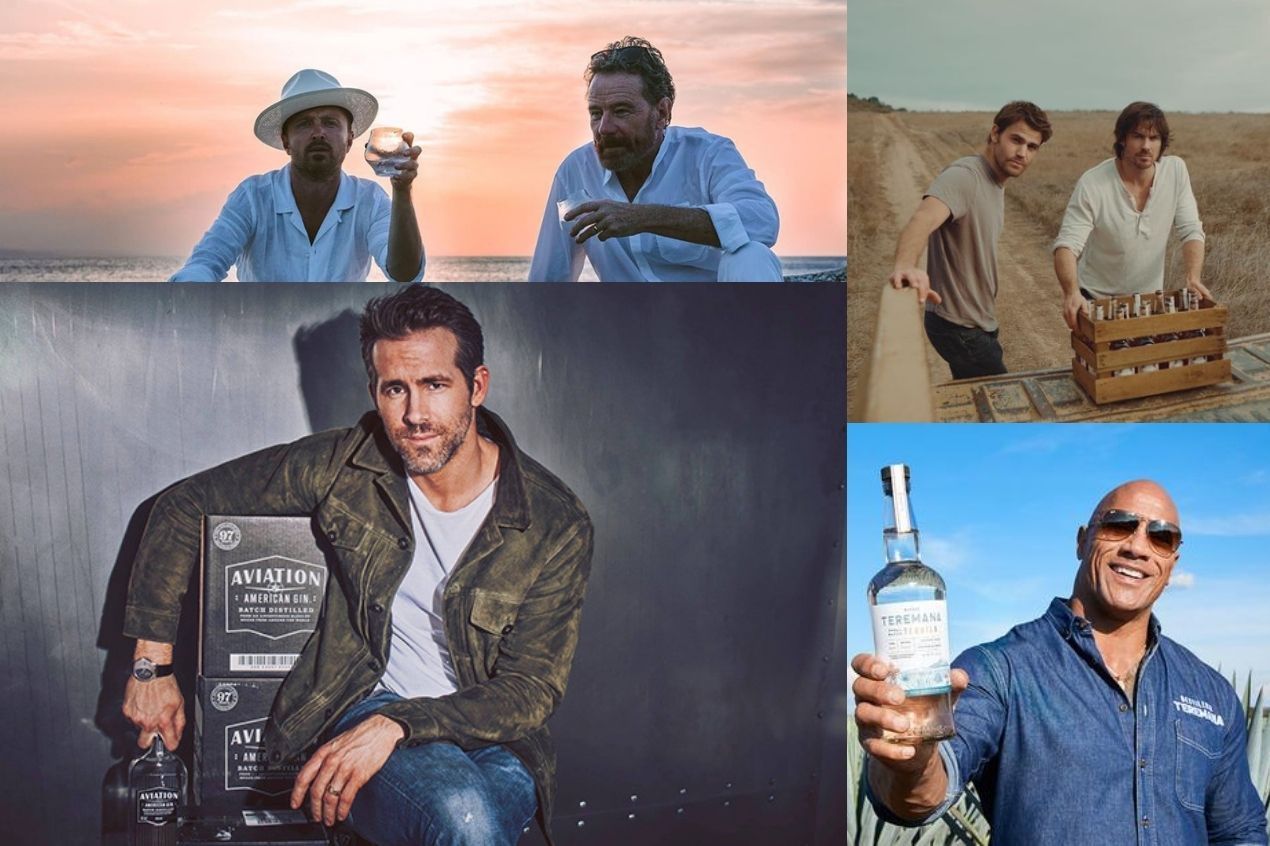 Some of our favorite celebrities are cashing in on the wine and spirits world - and needless to say, some of these drinks are actually worth the buy. From rappers to A-list actors and teenage heartthrobs, we've listed down some great alcohol brands owned by our favorite celebs.
Dos Hombres
The Breaking Bad finale broke many hearts, but the iconic duo came back with a bang - and by 'bang' we mean a top-notch, award-winning Mezcal brand. Breaking Bad duo Aaron Paul and Bryan Cranston launched their Mezcal brand in 2019, with the aim of 'bringing the best Mezcal to you'.
Over its two years in the market, not only have fans grabbed the bottle off the shelves, but spirits experts all around have also fallen in love with the drink. Dos Hombres has won awards at many competitions, including USA Spirits Ratings, New York International Spirits Competition, London Spirits Competition, Berlin International Spirits Competition, New York World Wine & Spirits Competition, and San Francisco World Spirits Competition.
The brand first launched the Mezcal Espadin, and following its success, launched the Mezcal Tobola, which is made from 25-year-old Tobala agave.
While both Paul and Cranston enjoy the drink on the rocks, the Mezcal also works great in cocktails. One of our favorites is the Spicy Grapefruit.
Ingredients:
2oz. Dos Hombres Mezcal
2 oz. Grapefruit Juice
3/4 oz. Lime Juice
Chili Powder
Pour 2 oz. of Dos Hombres Mezcal into a rocks glass with 2 oz. of grapefruit juice. Mix with 3/4 oz. of lime. Add a dash of chili powder and shake.
Aviation Gin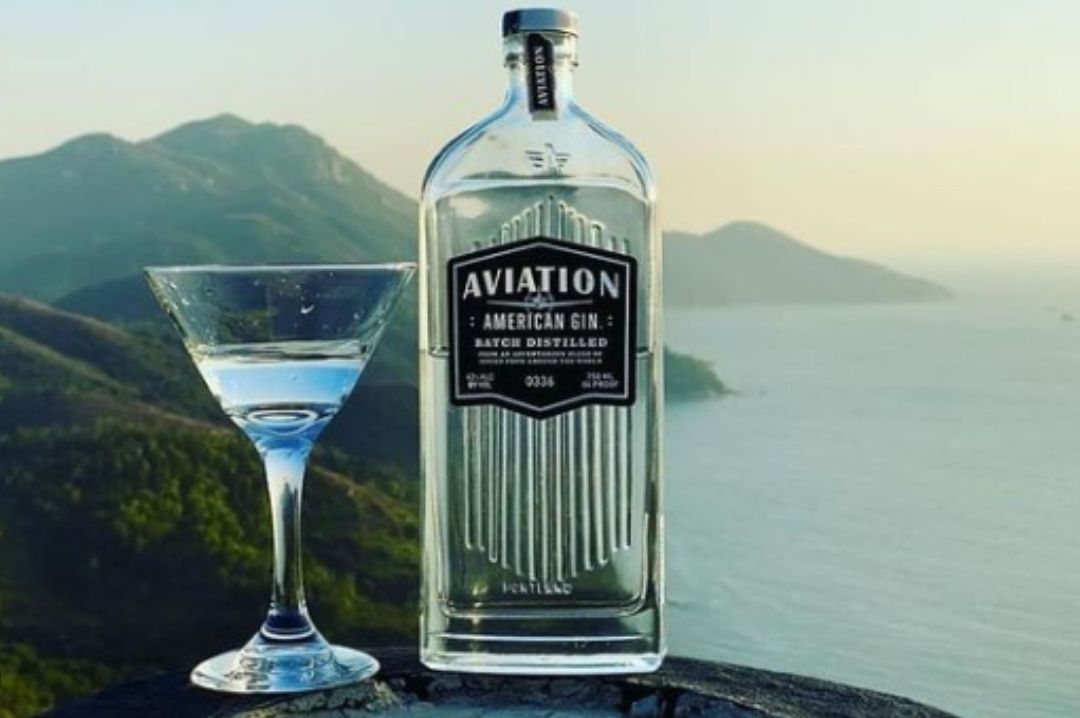 Aviation Gin, source: Instagram
Ryan Reynolds' Aviation Gin has been in our hearts for a while now. Its 2020 acquisition by Diageo accelerated the growth of the brand. While we live for the whole Ryan Reynolds part of the gin, we can't deny that Aviation is a great product in itself.
Recently, the gin's Father's Day Vasectomy cocktail broke the internet, and we're living for the memes!
Here's how to make the Vasectomy
Ingredients:
1 oz cranberry juice
3 oz tonic water
1.5 oz Aviation Gin
A dash of lemon juice
Fill a tall glass with ice and add all the ingredients. Give it a good stir, and voila!
Brothers Bond Bourbon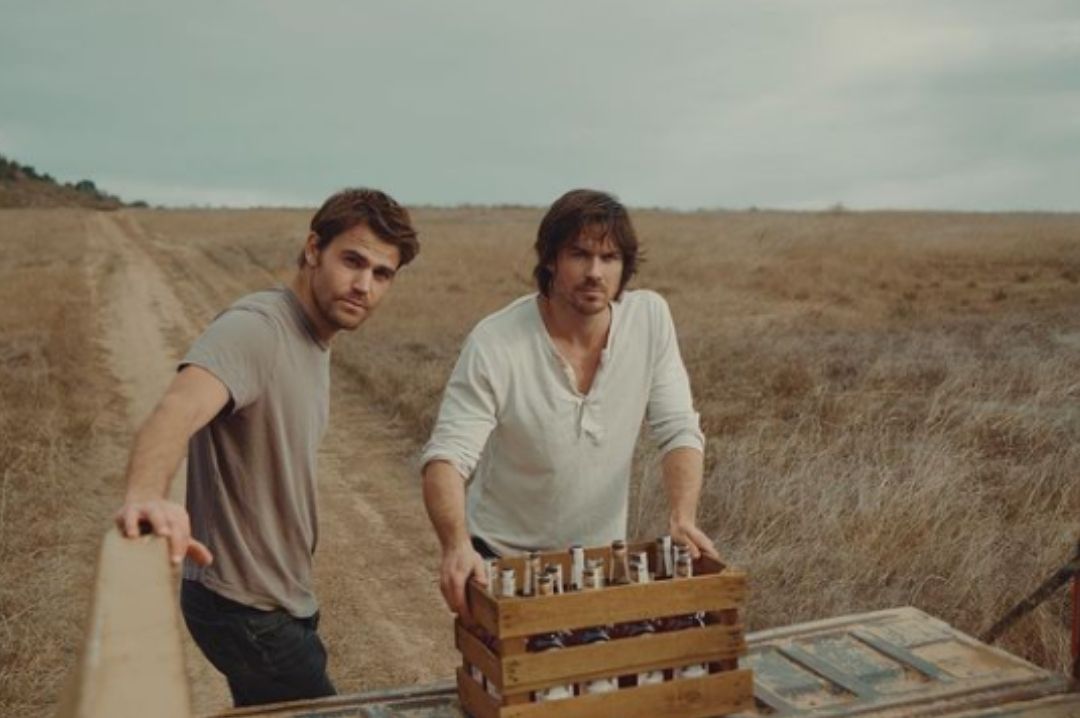 Paul Wesley (left) and Ian Somerhalder (right), source: Instagram
Created by Vampire Diaries stars Ian Somerhalder and Paul Wesley, the Brothers Bond Bourbon is a representation of the friendship between Somerhalder and Wesley. After playing brothers on-screen for 8 seasons, their bond still remains strong off-screen. In fact, both often make an appearance on each other's Instagrams, and if you stalk them on Twitter (we do), you'll see the friendly neverending tweet wars.
The bourbon brand pays an ode to their friendship - and this does not come as a surprise - but the Brothers Bond Bourbon is almost always sold out!
If and when you do manage to get your hands on Wesley and Somerhalder's creation, whip up a Mystic Charmer.
Ingredients:
1.5 oz Brother's Bond Straight Bourbon Whiskey
0.5 oz Lemon Juice
0.5 oz Honey Syrup
Top with Ginger Ale
Measure all the ingredients except for ginger ale with a jigger and pour into a shaker. Add ice to the shaker and shake for 15 seconds. Strain into glass over fresh ice. Top off with ginger ale. Stir and garnish with a lemon wheel.
Heaven's Door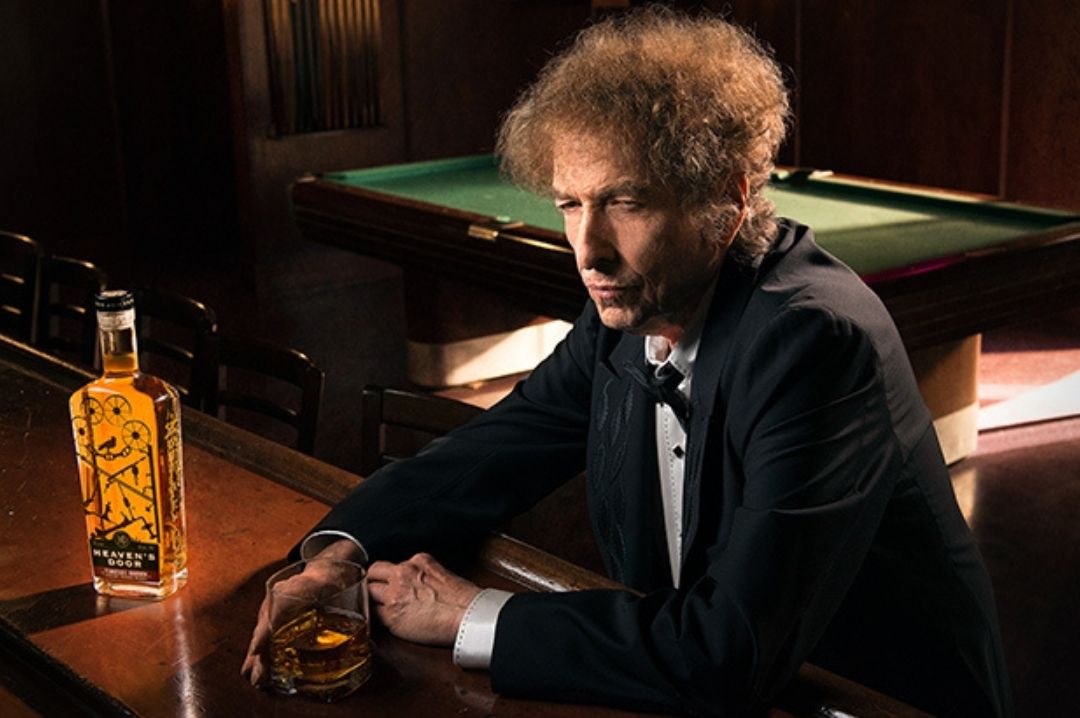 Bob Dylan, source: Website
Singer-song writer Bob Dylan launched his line of American whiskeys in 2018. Since then, many whiskeys in the Heaven's Door collection have won awards at renowned spirits competitions like the London Spirits Competition, SIP Awards, Chairman's Trophy, and more.
"We wanted to create a collection of American whiskeys, that, in their own way tell a story," said Dylan when speaking about the inspiration behind Heaven's Door. The brand got its name from Dylan's famous song 'Knockin' on Heaven's Door'. To twist things, they decided to focus on Dylan's work of art, namely his iron sculpture gates.
Redmont Distilling Co.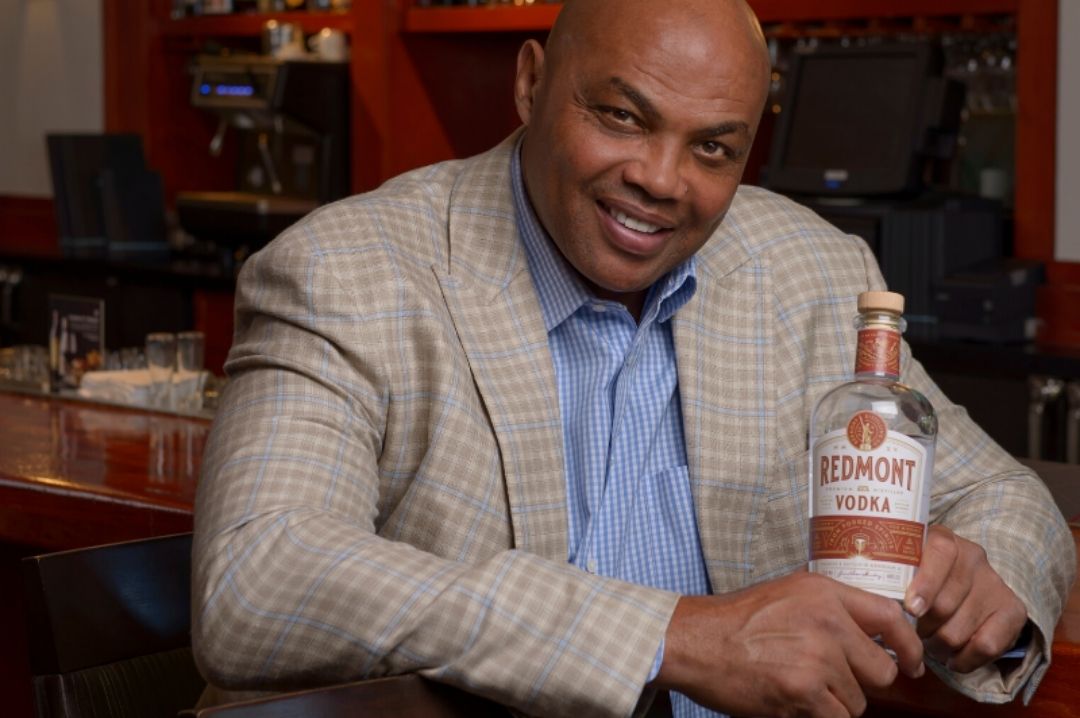 Charles Barkley, source: Website
Redmont Distilling started off with producing their Redmont Vodka and Vulcan Gin in small batches at their Birmingham Distillery, which is also the first legal distillery in Birmingham, Alabama since prohibition.
Ex-NBA star Charles Barkley joined Redmont Distillery in 2019 as a majority owner. Redmont Distilling's Redmont Vodka is an exceptional one - and a top-tier recommendation by experts at the USA Spirits Ratings. Barkley had been wanted to invest in a business in his home state of Alabama, and Redmont Distilling presented a great opportunity for him to be a part of the Birmingham business community.
The next time you grab a bottle of Redmont Vodka, try whipping up The Gasparilla.
Ingredients:
2 oz Redmont Vodka
½ oz Cointreau
1 ½ oz Ruby Red grapefruit juice
2 oz Fever Tree Indian Tonic
Splash of grenadine
Add all the vodka, Cointreau, and grapefruit juice to a shaker and shake over ice, then pour it into a Collins glass. Top with Fever Tree tonic and a splash of grenadine. Garnish with a lime wedge and Badabing cherry.
Cacti Seltzer
Travis Scott, source: High Snobiety
Rapper-producer and father to Stormi, Travis Scott cashed in on the hard seltzer category by partnering with Anheuser-Busch on the agave-based hard seltzer - Cacti. The fruity spiked beverage comes in three refreshing flavors, namely, Lime, Strawberry, and Pineapple. Not long after its launch in March 2021, Cacti broke records at AB-InBev, selling more in its first week than any other variety pack in the company's history.
CÎROC Vodka
Vodka giant CÎROC is owned by Diageo and popular hip-hop artist Sean Diddy. It was actually Diddy's deal with Diageo in 2007 that put CÎROC on the map. In fact, you can say that Diddy's involvement and success with CÎROC kick-started many other celebrity-owned alcohol brands. Now, CÎROC is a common club name and is very well known for sponsoring many club nights and parties across the globe. In fact, CÎROC is a big sponsor of the famous spring-summer fest, Coachella. Many are seen enjoying new flavors of vodka each year. And let's not forget the vodka's ultimate feature in Justin Bieber and DJ Khalid's I'm The One video - where the bottle seemed to appear more than the stars itself! It's definitely a loved vodka out there.
If you're planning to grab a bottle of Ciroc for your at-home bar, then the Champagne Cosmo is the cocktail your taste buds deserve.
Ingredients:
40ml CÎROC Vodka
35ml Champagne
10ml Lime Juice
45ml Cranberry Juice
Shake CÎROC Vodka, lime juice, and cranberry juice over ice. Strain into a champagne flute. Top off with champagne for a royal fizz. Garnish with orange zest.
Teremana Tequila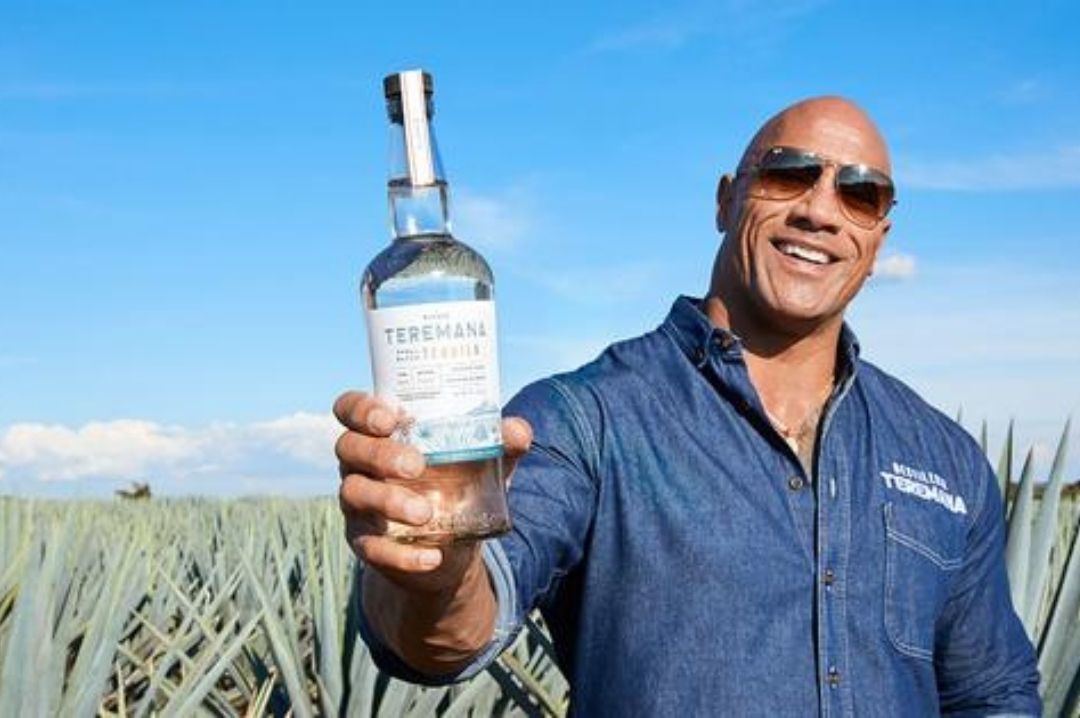 Dwayne Johson, source: Website
If it's owned by Dwayne 'The Rock' Johnson, then it's worth a mention! Teremana Tequila is created in the small town of Jalisco, where Dwayne Johnson worked with a family-owned distillery to build the Destilería Teremana de Agave - a distillery that crafts only Teremana. We can undoubtedly say that Dwayne Johnson is one of the celebrities out there making a difference with his sustainable production, and an aim to bring people together with Teremana.
Since its launch, Teremana Tequila has seen record-breaking sales, with reports stating that the tequila is expected to sell over 300,000 cases and ship over 400,000 cases around the globe. That's almost a million cases!
Teremana Tequila is great for making cocktails like the Mango Manarita.
Ingredients:
2 oz Teremana Blanco
0.75 oz Lime Juice
0.5 oz Agave Syrup
1 oz Mango Nectar
Pinch of Salt
Shake all the ingredients with ice in a cocktail shaker. Strain into a rocks glass over fresh ice. Garnish with a mango slice.
Maison no.9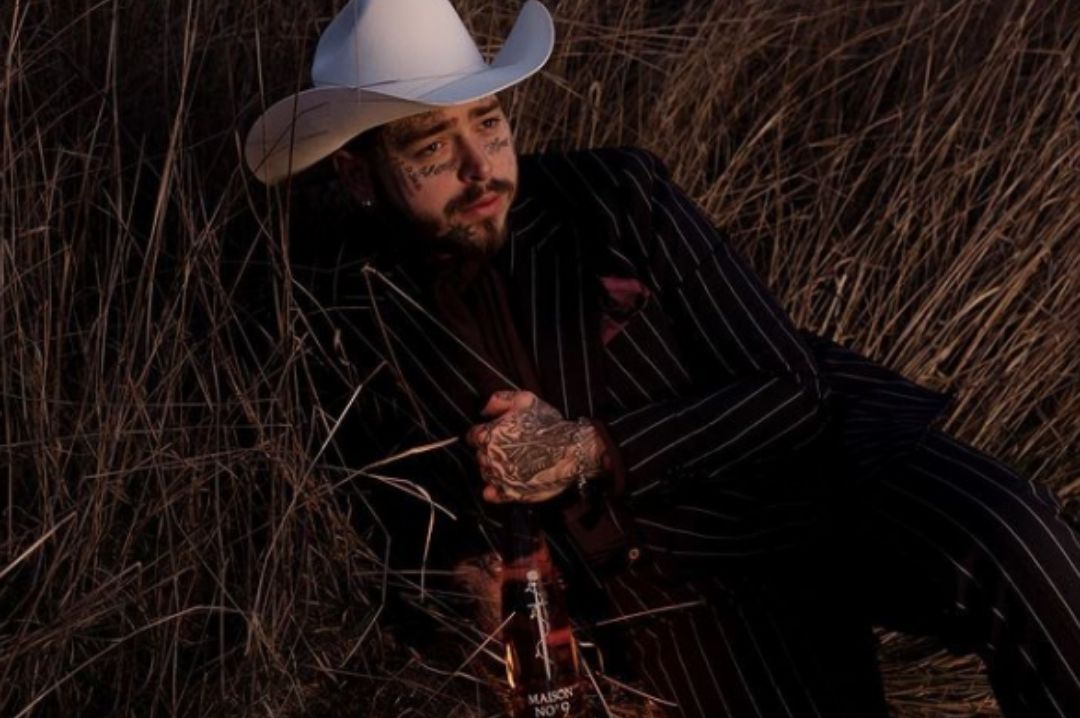 Post Malone, source: Instagram
Created by Post Malone, Maison no.9 is a grenache-blend rosé that took fans by storm right after its launch. In fact, the wine is mostly available for pre-orders only due to how fast the stock runs out. Not only that, but the White Iverson singer has also launched a range of merch including hats, hoodies, and t-shirts for fans who want a little something of Maison no.9 with them. In early 2021, Malone launched the second vintage of the wine - which sold out in a matter of days.
So we know we have to get our hands on it as soon as the news drops!