Spirits brands that are killing it on Instagram
Have a look at spirits brands that are taking the digital marketing game to the next level.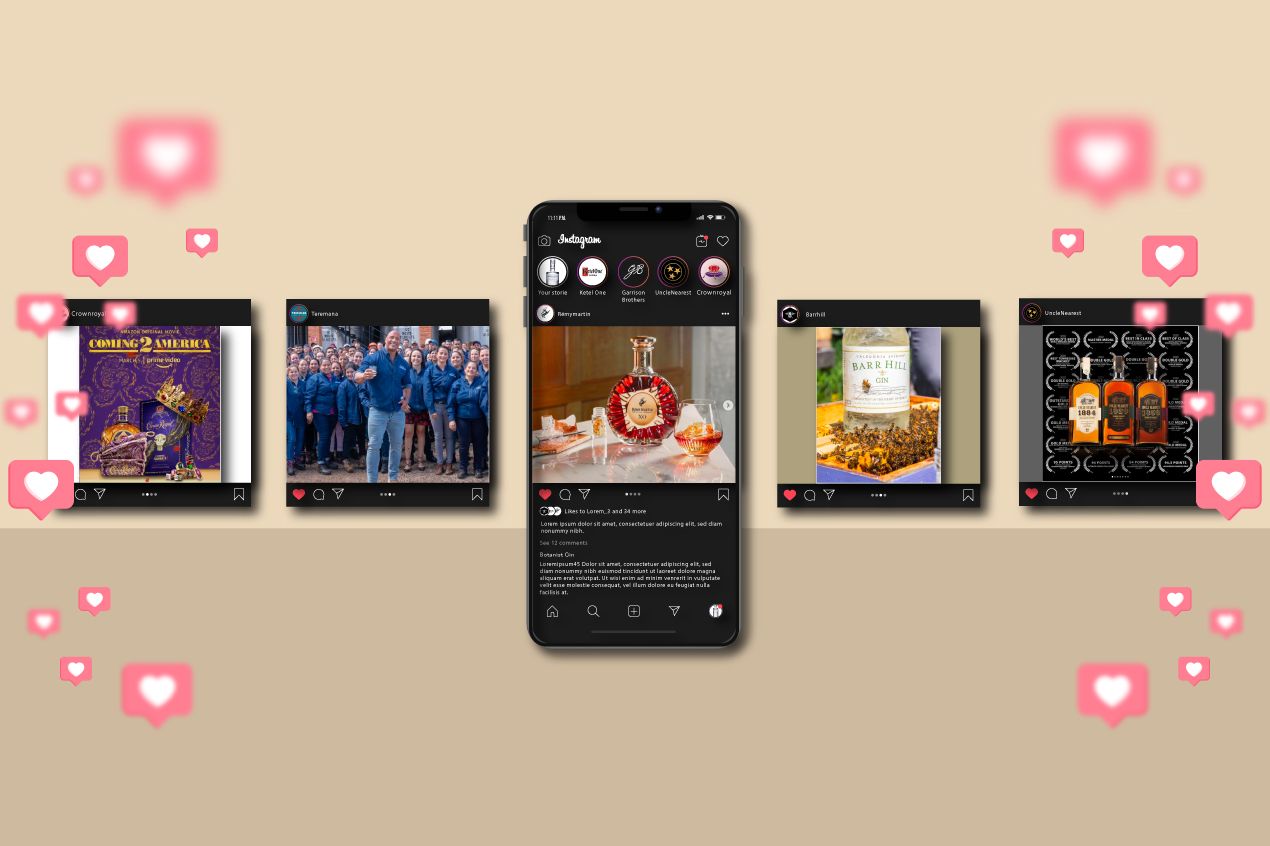 Social media is now a way of life for many; our favorite wine, beer, spirits brands included.
As the alcohol industry splashes nearly $5 billion on digital advertising each year, many brands continue to build their social presence by engaging us with various content, giveaways, contests, and more.
Whether or not we'd like to admit, a good-looking Instagram page does have some sort of influence on us. From Bar Hill Gin's Bees Knees Week to Uncle Nearest's accolades stealing the spotlight on the gram, here's a rundown of some of our favorite brands playing the Instagram game right.
Ketel One (Instagram followers: over 34k)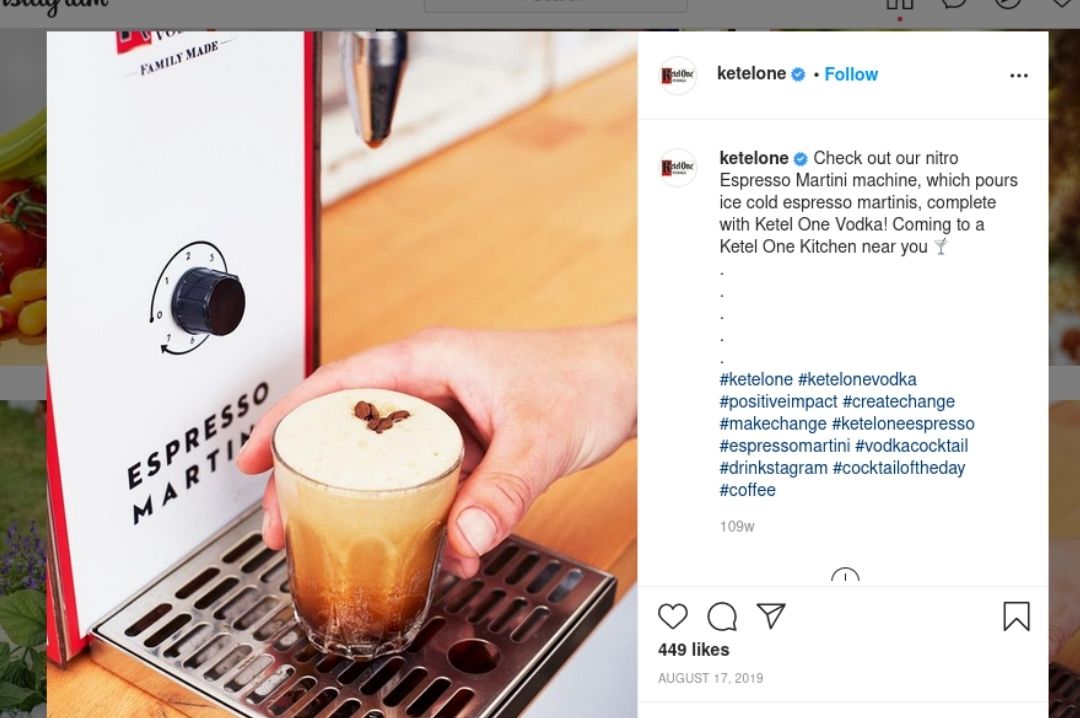 Espresso Martini machine from Ketel One, Source: Instagram
Ketel One's Instagram is always piled up with cocktail recipes, whether it's celebrating World Cocktail Day or giving insights on making concoctions with minimal waste. One of the most sustainable spirits brands out there, Ketel One powers the distillery with a windmill of its own. Find vodka cocktails for every occasion on their feed along with additional posts that keep you updated with unique innovations such as the nitro Espresso Martini machine that pumps fresh ice-cold brews.
To keep vodka lovers hooked on the social media platform, the Dutch brand keeps its followers busy with news from their World Class bartender competition. If you are on the hunt for finding a page that never runs out on vodka content, keep a close eye on Ketel One's well-structured Instagram.
Follow Ketel One on Instagram.
Crown Royal (Instagram followers: over 215k)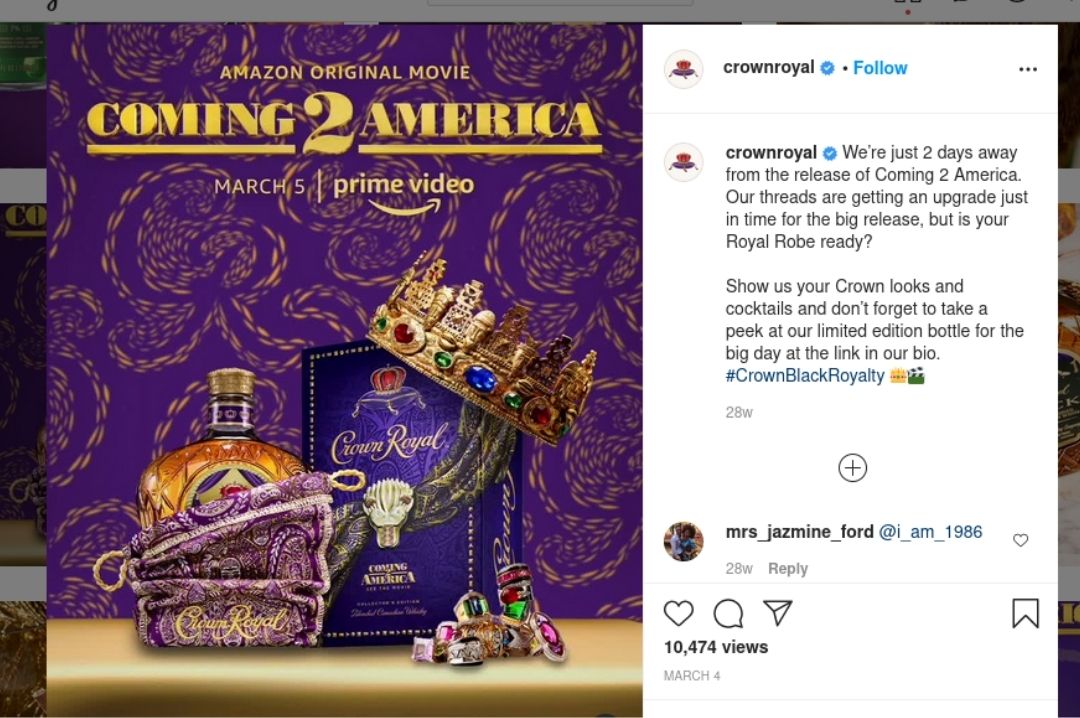 Crown Royal's limited-edition whiskey inspired from Coming 2 America, Source: Instagram
From aesthetically pleasing grids to audience engaging posts, Crown Royal has an Instagram profile like none other. The brand plays within the realms of their purple theme color and the taj that signifies its noble status.
It is no surprise they have clocked over 200k followers on Instagram, thanks to the visually pleasing content. Sometimes you'll find the recipe for a Peach Mint Julep, and sometimes you'll see bartenders whipping up something eccentric. What we can assure is that you will never get tired of their various modes of engagement, even if they are promoting their ready-to-drink cocktails because everything is graced with a flamboyant royal touch.
Honoring and celebrating the work of people in the black community that achieved the status of royalty in Zamunda, led by actor Eddie Murphy in Coming 2 America, Crown Royal came up with the gold stitched bag for its limited edition release with the help of Oscar-winning costume designer Ruth E Carter. The whiskey represents values of the royal lineage, re-imagining the role of the community with their own masterpiece. Coming 2 America revolves around King Saleem and his confidante Semmi as they embark on an all-new hilarious adventure. Catch the movie on Amazon Prime.
Follow Crown Royal on Instagram.
Barr Hill Gin (Instagram followers: over 28k)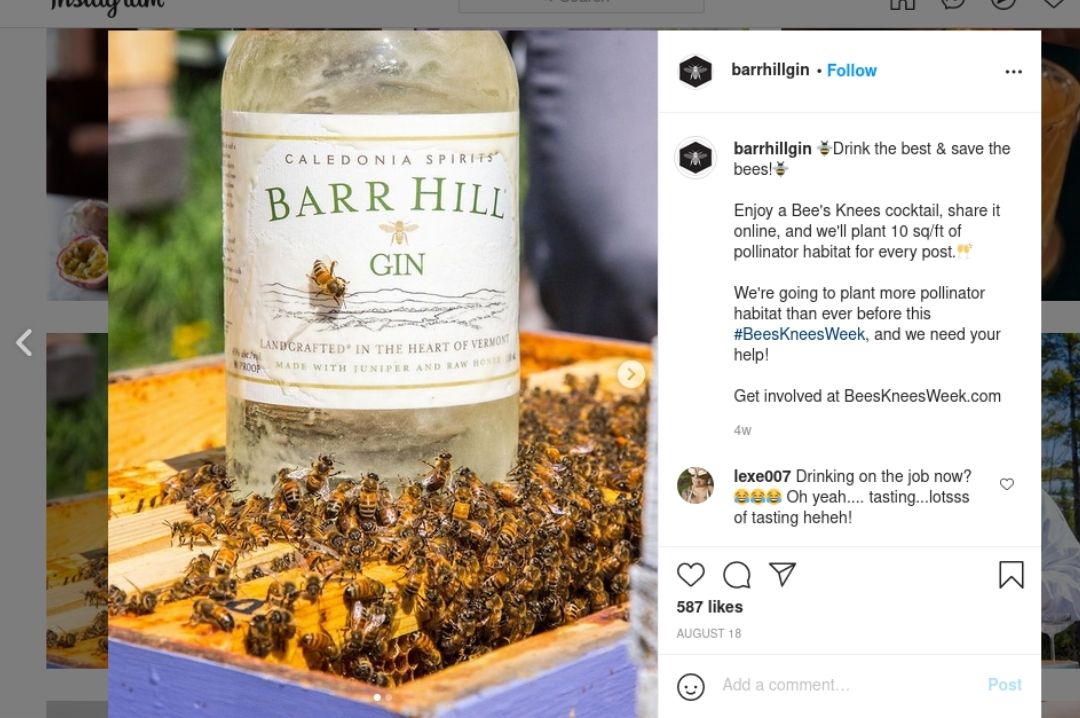 Bee Knees Week post from Barr Hill Gin, Source: Instagram
You would expect Barr Hill, America's most awarded gin brand, to be on top of their Instagram game. Apart from grabbing the highest points (98) at the 2021 USA Spirits Ratings, the brand is also on the top when it comes to using social media for nature-friendly causes.
As they distill their products with raw honey, a close association lies between the bees and Barr Hill. The Bee Knees Week is a program initiated by the brand to engage participants with an aim to restore the bee habitat. For every Bee Knees cocktail picture you post on Instagram with the right hashtag and tagging, Barr Hill will plant a 10 square foot bee pollinator habitat. Now that's what we call raising the 'Barr'. You may either craft a Bee Knees of your own or order one from over 100 participating venues across the US.
Scrolling through their feed is a special treat in itself, that is excluding the prize giveaways in gift certificates and special tickets that are up for grabs if you follow their posts on a regular basis.
Follow Barr Hill Gin on Instagram.
Uncle Nearest (Instagram followers: over 81k)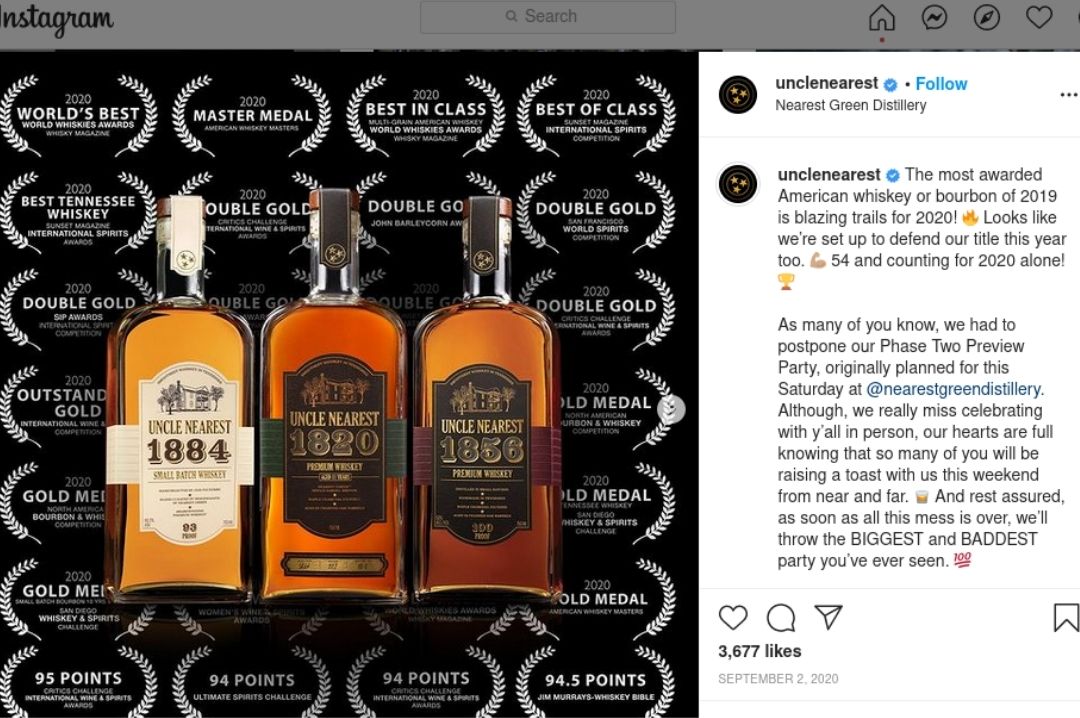 Uncle Nearest's award-winning whiskeys, Source: Instagram
Increasing diversity in the US spirits industry with stewardship of black leaders Victoria Eady Butler and Fawn Weaver, Uncle Nearest has a little something for every whisky enthusiast on Instagram. They actively conduct story polls and questions, bringing Uncle Nearest's community closer. If you have an Uncle Nearest whiskey in your locker, browse their Instagram page to learn more about the product, how it is made, and which delicious cocktails can be crafted using them. The brand is renowned for its interesting history that dates back to the birth of Tennessee whiskey.
By putting up medals, special category awards, and high scoring points on the posts, the whiskey brand uses the honors to its advantage. No wonder Uncle Nearest whiskeys sell out immediately because everyone is on the lookout for the best of the best.
Follow Uncle Nearest on Instagram.
The Botanist Gin (Instagram followers: over 67k)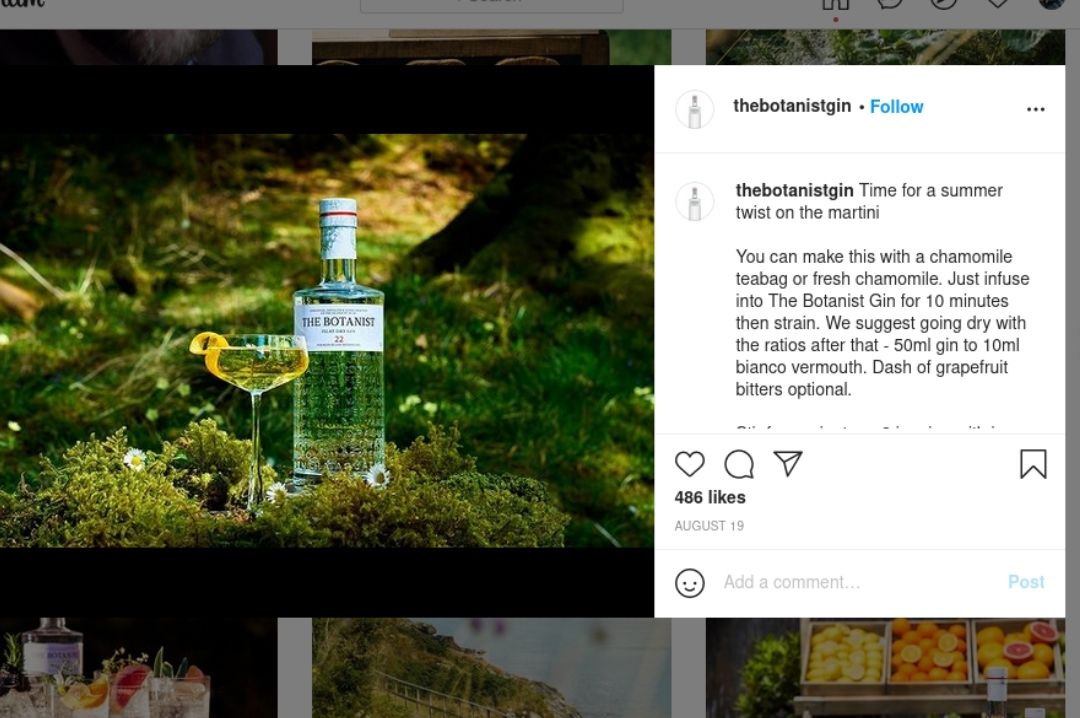 Martini recipe from The Botanist Gin, Source: Instagram
One of the very few B Corporation certified brands out there, The Botanist Gin displays scenic views of floral gardens and grasslands in their feed. You will come across picture-isque posts that are soothing to the eye. Supporting plant conservation and biodiversity across four continents, the brand distills hand-crafted gin on the Island of Islay. If getting graded for an Instagram account were a thing, The Botanist Gin would have walked off with full marks.
They recommend pretty cocktail recipes, show how botanicals are hand-selected from nature, and occasionally share food recipes, adding a human touch to their activities on the social media platform.
Follow The Botanist Gin on Instagram.
Garrison Brothers (Instagram followers: over 30k)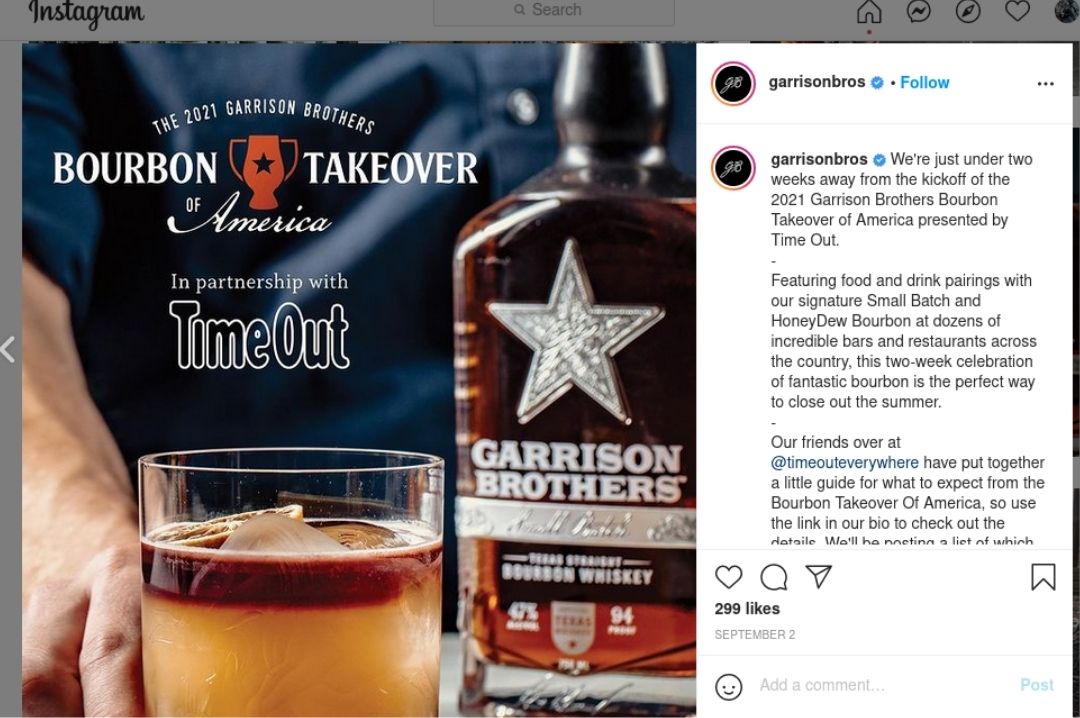 Bourbon Takeover of America in partnership with TimeOut, Source: Instagram
Regularly updating followers with happenings in and around Garrison Brothers Distillery, the brand imposes a strong social media presence. Standing firm on their value that good bourbon makes the world a better place, Garrison Brothers Brotherhood encourages positive changes to the world. Prove your worth with copper, steel, and gold challenge coin ranks and make your way up in the bourbon world.
Swift on recognizing heroes that positively impact our society, they aren't shy of acknowledging contributions with posts that carry a message. Aside from that, followers can learn more about the distillery with GB quiz questions, and Garrison Brothers inspired cocktails and bites from the Bourbon Takeover Passport application.
Follow Garrison Brothers on Instagram.
Rémy Martin (Instagram followers: over 74k)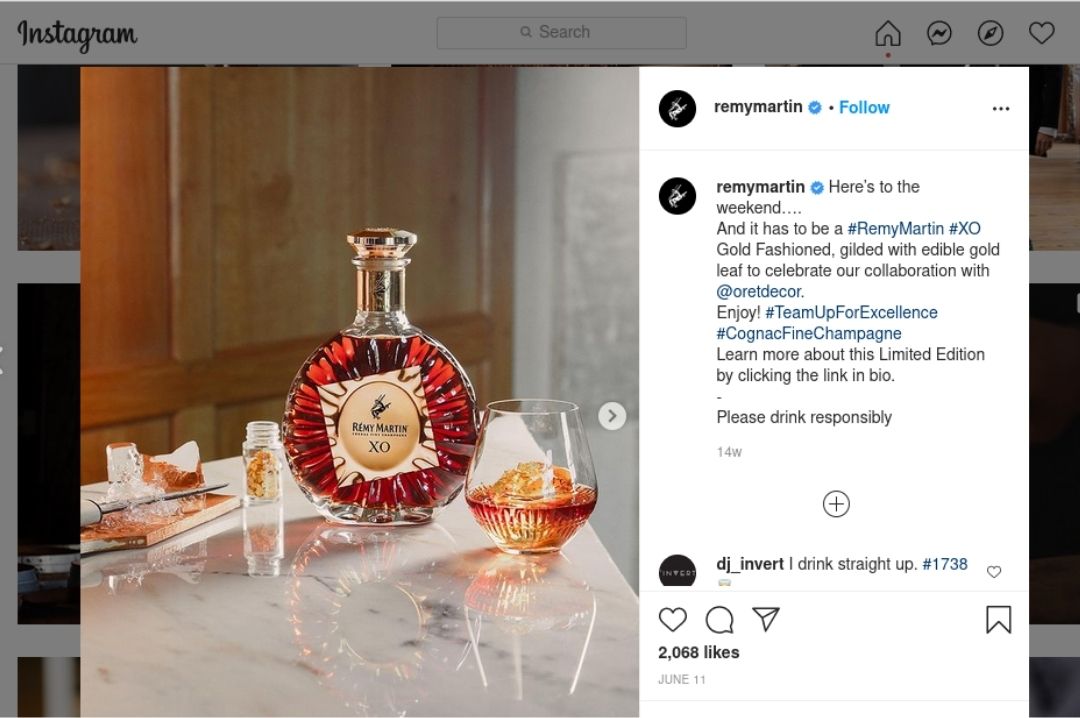 Gold Fashioned cocktail made with Rémy Martin XO, Source: Instagram
Premium cognac brand Rémy Martin needs no introduction. Representing a brand on Instagram is never easy and the benchmark doesn't get any higher than what Rémy Martin has set. Their alluring posts are tailor-made to perform well on the social media platform. Featured collaborations with music artists like Usher and teaming up with chefs for creating new food pairings are a few eye-catching highlights. Recently, master physicist and writer Christophe Galfard embarked on a journey with Rémy Martin Odyssey that is trackable through a series of episodes. Check them out on their official Instagram page or simply visit the profile to view the spirit that glows in golden color.
Follow Rémy Martin on Instagram.
Teremana (Instagram followers: over 755k)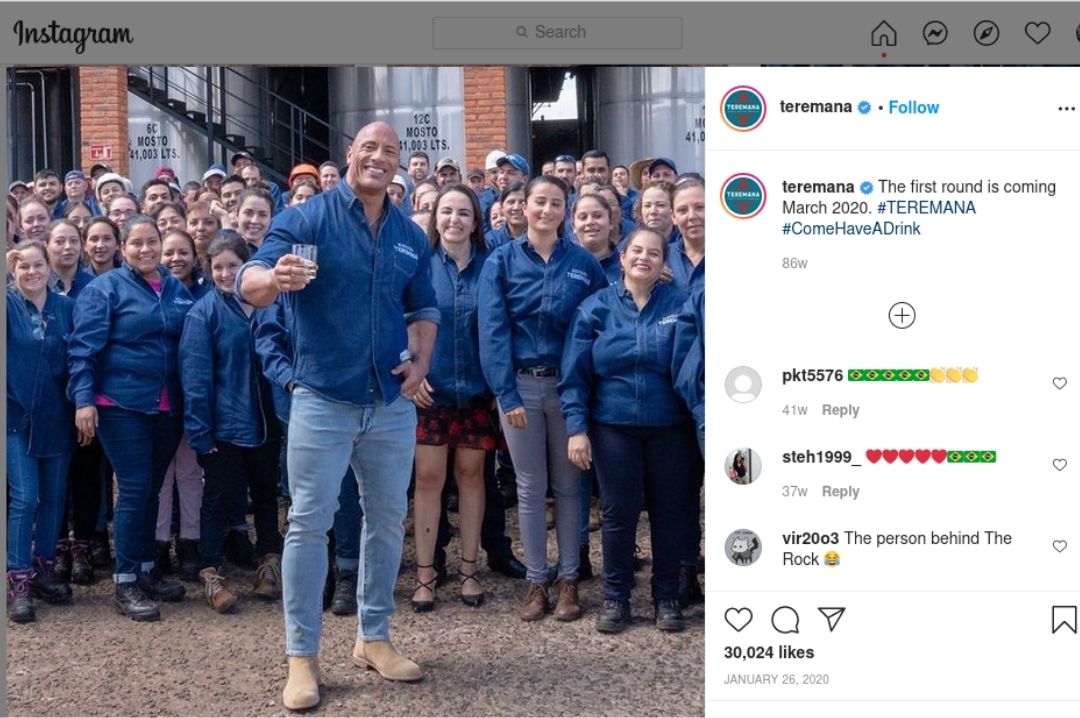 The People's Champion, Dwayne Johnson, Source: Instagram
Whatever The Rock touches, turns to gold, or silver in this case. Teremana tequila has made a huge name for itself, courtesy of the Hollywood superstar's involvement. Its Instagram handle has already amassed over 700k followers which continues to spread at an exceptional rate. If we were writing about how an alcohol brand must grow on Instagram, Teremana would have been an excellent example. From sharing cocktail recipes to bringing the community closer with inspiring stories, Teremana hasn't put a foot wrong since they entered the business.