The Rock's Teremana Reposado is Tequila of the Year
In true Dwayne Johnson fashion, don't forget to try the Mana!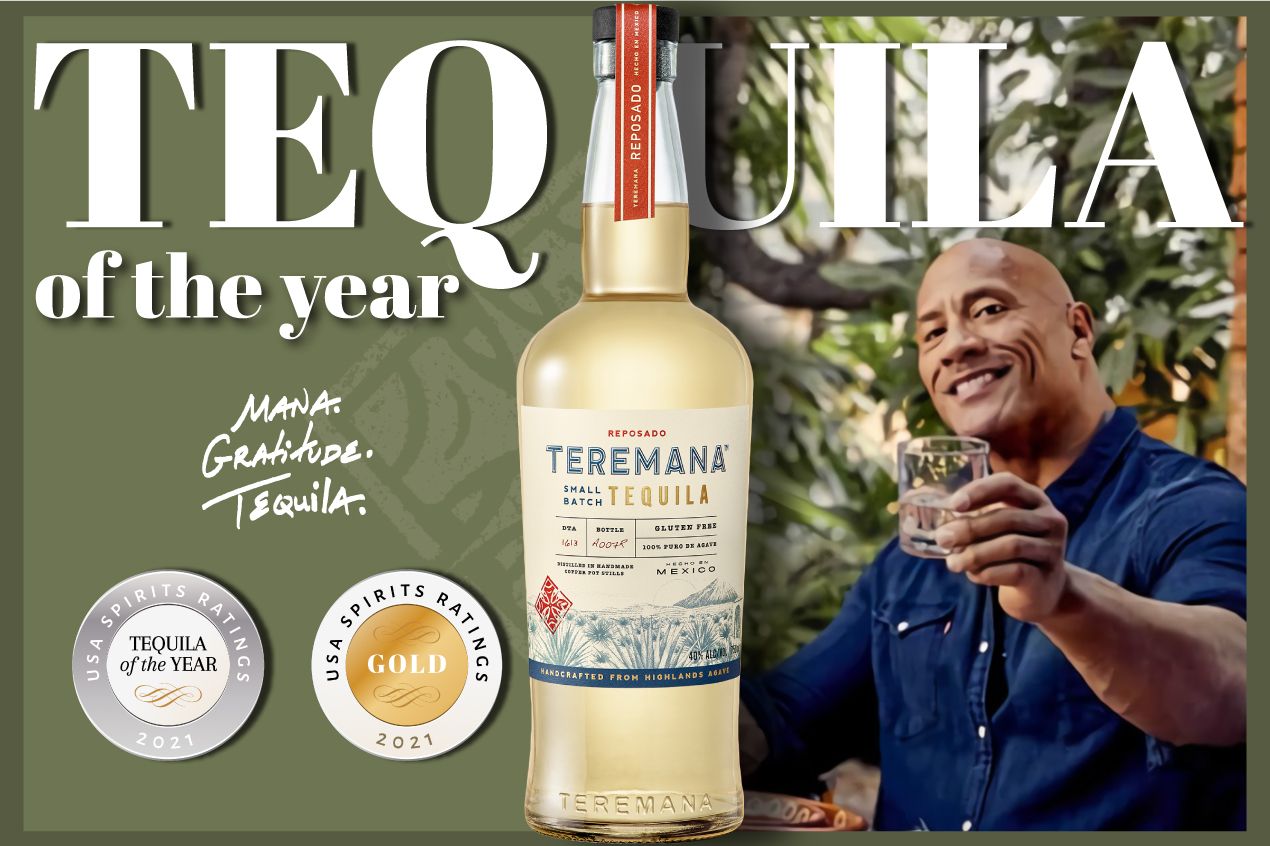 Knock it back in a shot, mix it in a cocktail, or sip it neat - this is a tequila we've all been groveling for lately, and the experts agree!
Dwayne 'The Rock' Johnson's Teremana Tequila Reposado has just been crowned Tequila of the Year at the USA Spirits Ratings 2021, proving that celebrity-owned alcohol brands are in fact committed to quality.
Scoring a total of 93 points based on its quality, value, and packaging, Teremana Reposado won the hearts of judges, just like it did for fans. The award-winning tequila is made with 100% blue weber agave, roasted in brick ovens, and aged in old bourbon barrels.
Winning the title of Tequila of the Year at the USA Spirits Ratings is no mean feat for Teremana Tequila. The USA Spirits Ratings is known for recognizing those spirit brands that are set apart from the others and would make a perfect addition to our personal drinking bucket list. This year, spirits from more than 49 countries entered, and were judged on the basis of their quality, value, and packaging.
Not only that, but the competition holds a tough set of judges, consisting of some of the top retail buyers, bartenders, bar directors, and bar managers across the country, all with direct commercial buying responsibility for their establishments. The 2021 judging panel hosted names like Jeff Feist (Category Lead - Spirits & More at BevMo), David Rowe (Lead Bartender at Four Seasons Hotels and Resorts), Devin Walden (Spirits Buyer, Total Wine & More), Natalie Lichtman (Bartender at Elixir Saloon, San Francisco), and many more.
Teremana Tequila competed with many other tequila brands and rose to the top with its richness. According to judges at the competition, this tequila has 'a great nose with very balanced flavors'. A sip of the Teremana Reposado will reveal notes of oak and vanilla, and has a smooth, rich finish.
Teremana Blanco wasn't too far behind, grabbing a bronze medal at the competition. The tequila opens with a subtle nose of white pepper, agave, mint, and citrus, followed by a fruit-forward, creamy palate. Judges at the competition described the Teremana Blanco to be a 'nice expression of its type'.
And with the news of a Teremana Añejo launching sometime this year, we can't wait to see what experts have to say.
Love the Mana
Shadowing The Rock's love for people, Teremana Tequila is built on the aim of high-quality, responsibly sourced tequila that brings people together. The team works together to create a tequila that starts conversations and brings laughter.
The tequila is created in the highlands of Jalisco, Mexico, where Johnson started work with a Mexican family-owned distillery to build a home solely for Teremana; the Destilería Teremana de Agave.
Not only is Teremana a happy tequila, but it's also the right tequila. "The tequila that we make is of the Earth. Sustainability is something that is important to us at Teremana," said Dwayne Johnson in a video introducing the brand.
Johnson and the team focus on sustainability and the people more than anything else. Teremana takes 100% of the leftover agave fibers from production and turns them into natural compost used as an organic fertilizer for the agave fields. The distillery in Mexico also uses a state-of-the-art water filtration system that cleans the leftover water from production.
Here, there, Mana everywhere
Right from the day of its launch, Teremana has been everywhere. In December 2020, just a few months after its launch, Johnson collaborated with ice cream company Salt & Straw and launched a tequila spiked limited-edition ice cream just in time for the holidays.
From younger drinkers to older ones, Teremana has been on the lips of many. In October 2019, London-based Jamie Kingler tweeted Johnson to wish her friend's grandmother Marie Grover a happy 100th birthday, to which Johnson made a video and tweeted it back to Kingler.
Marie Grover is a huge Dwayne Johnson fan. As Kingler recalled in her tweet, Grover would wear t-shirts with The Rock's picture on it back when Kingler and her friend were in high school. In October 2020, Johnson topped his own birthday wish by sending Kingler's grandmother a Teremana Tequila package for her 101st birthday. He also shared a picture of Grandma Grover holding the Teremana bottles, and left a cheeky tip in the caption "Remember to SIP the Mana, grandma, it's not time to do shots."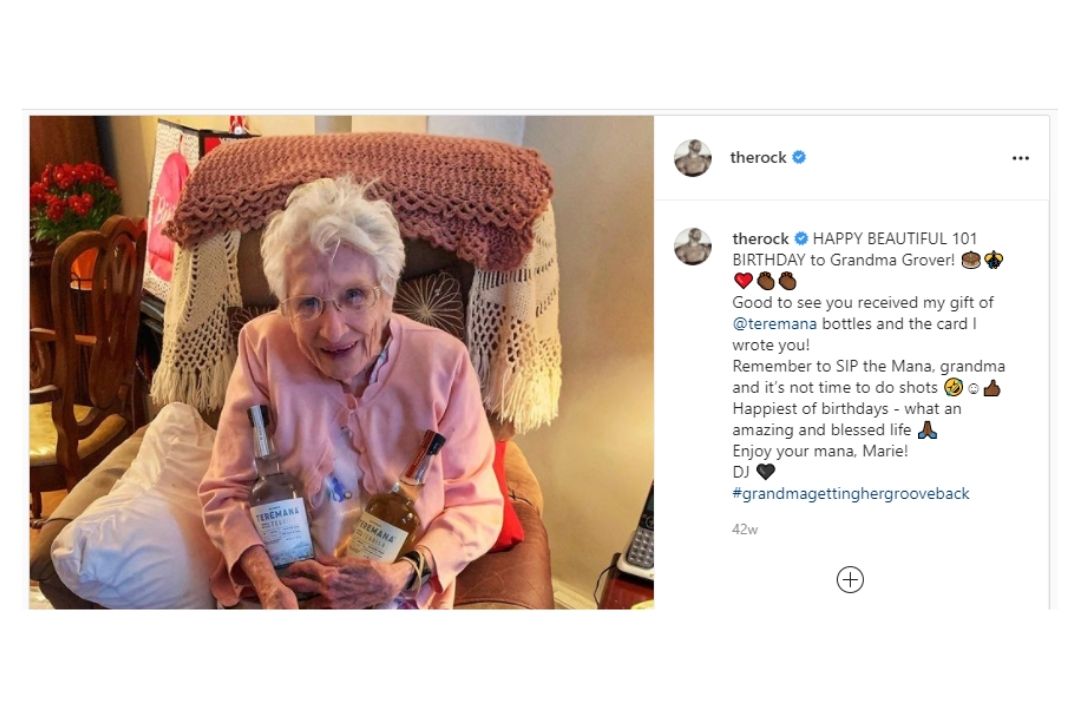 Dwayne Johnson's tequila present to Marie Grover
The Rock's random acts of kindness and fun, and the people's love for a top-notch tequila got the brand to sell 300,000 nine-liter cases and ship 400,000 cases during its first year. And with experts loving it, this number is set to shoot higher. The one million cases mark isn't too far away if you ask us, and The Rock agrees. A recent Instagram post by Johnson stated that "Teremana Tequila has set new records in the spirits industry, and has become the BIGGEST LAUNCH OF ANY SPIRIT EVER".
"On our way to becoming a rare 1 MILLION CASE brand (in record time) and that is an extraordinary accomplishment in the spirits business." Johnson wrote, thanking his 'Mana' family for the support.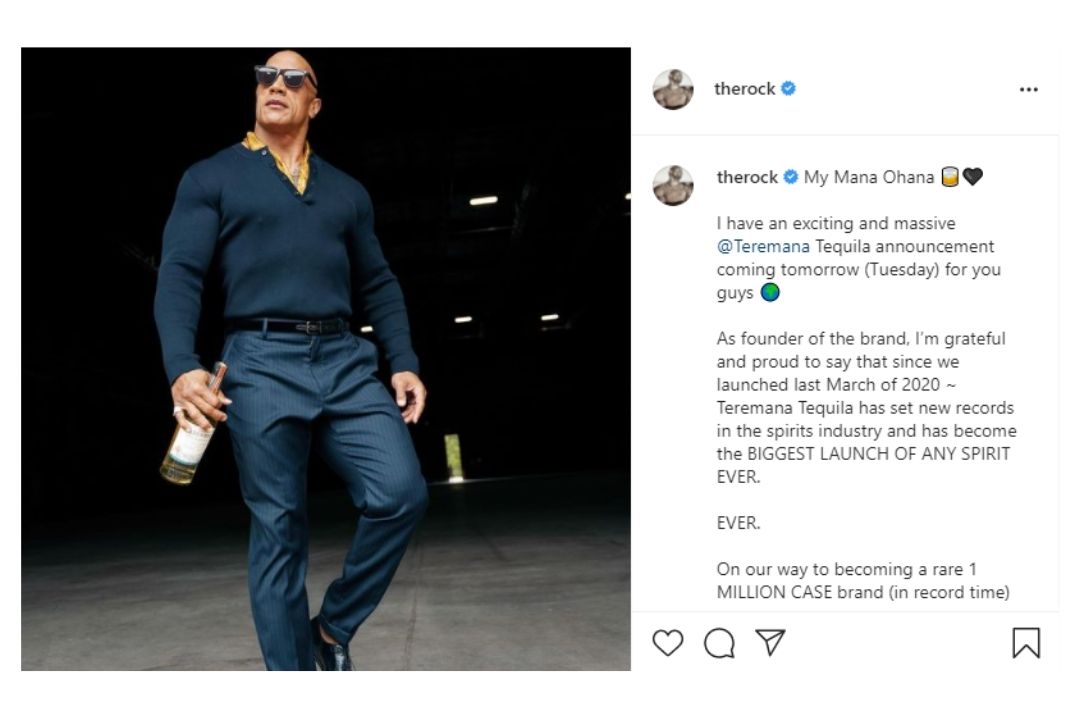 Dwayne Johnson on Instagram
Mana Mobile - The Great American Roadtrip
Inspired by Johnson's famous phrase - 'Mana. Gratitude. Tequila.' - the Mana Mobile strolls across the country, visiting main streets, military bases, fire stations, and more, to share love and gratitude for first responders. The Mana Mobile not only brings uber-excitement to the crowd but also brings Teremana Tequila cocktails made by mixologists, along with some of Johnson's favorite 'cheat meal' bites, like brioche French toast with Teremana Tequila-infused maple syrup.
The Mana Mobile made an appearance in Disneyland on July 30, celebrating the premiere of Johnson's new movie - Jungle Cruise.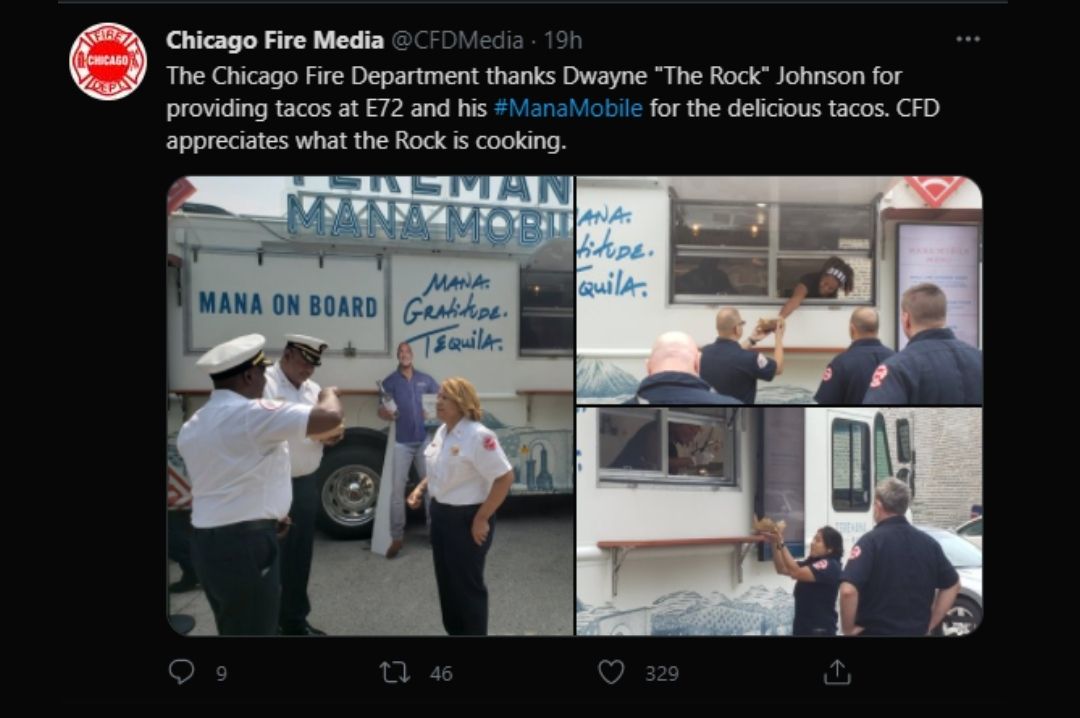 Mana Mobile in Chicago
On August 8, the Chicago Fire Department tweeted a picture, thanking Johnson and the Mana Mobile for giving out tacos at the E72.
Try the Mana
Apart from being the Tequila of the people, both the Teremana Reposado and Blanco are a great base for cocktails. Here are a few that we've been loving lately.
Mango Manarita
Ingredients:
2 oz Teremana Blanco
0.75 oz Lime Juice
0.5 oz Agave Syrup
1 oz Mango Nectar
Pinch of Salt
Shake with ice in a cocktail shaker. Strain into a rocks glass over fresh ice. Garnish with a mango slice.
Strawberry Cucumber Mana Fresca
Ingredients:
1 cup Teremana Blanco
1 cup Water
1 cup Cucumber, peeled and sliced
1 cup Strawberry, peeled and sliced
1/4 cup Lime Juice
1/2 cup Sugar
Combine all the ingredients together, blend, and strain.
Hibiscus Palmer
Ingredients:
1.5 oz Teremana Reposado
1 oz Lemon Juice
0.75 oz Simple Syrup
Top w/ Hibiscus Tea (Approx 3 oz)
Shake with ice and strain into a Collins glass. Top with hibiscus tea.
Mana Clover Club
Ingredients:
1.5 oz Teremana Blanco
0.75 oz Simple syrup
0.75 oz lemon juice
Fresh Raspberries
Egg whites
Shake egg white in a tin with no ice and set aside. Muddle 4-5 fresh raspberries in a separate shaker, add fresh lemon juice, simple syrup & Teremana Blanco. Add ice and egg whites and shake. Strain into a coupe glass. Garnish with raspberries.
South San Francisco Conference Center, 255 South Airport Boulevard, South San Francisco, CA 94080, United States
Register Now
South San Francisco Conference Center, 255 South Airport Boulevard, South San Francisco, CA 94080, United States
Register Now