Make Way for Agave!
Ride the wave of Mexican mixology by stirring up some amazing tequila concoctions.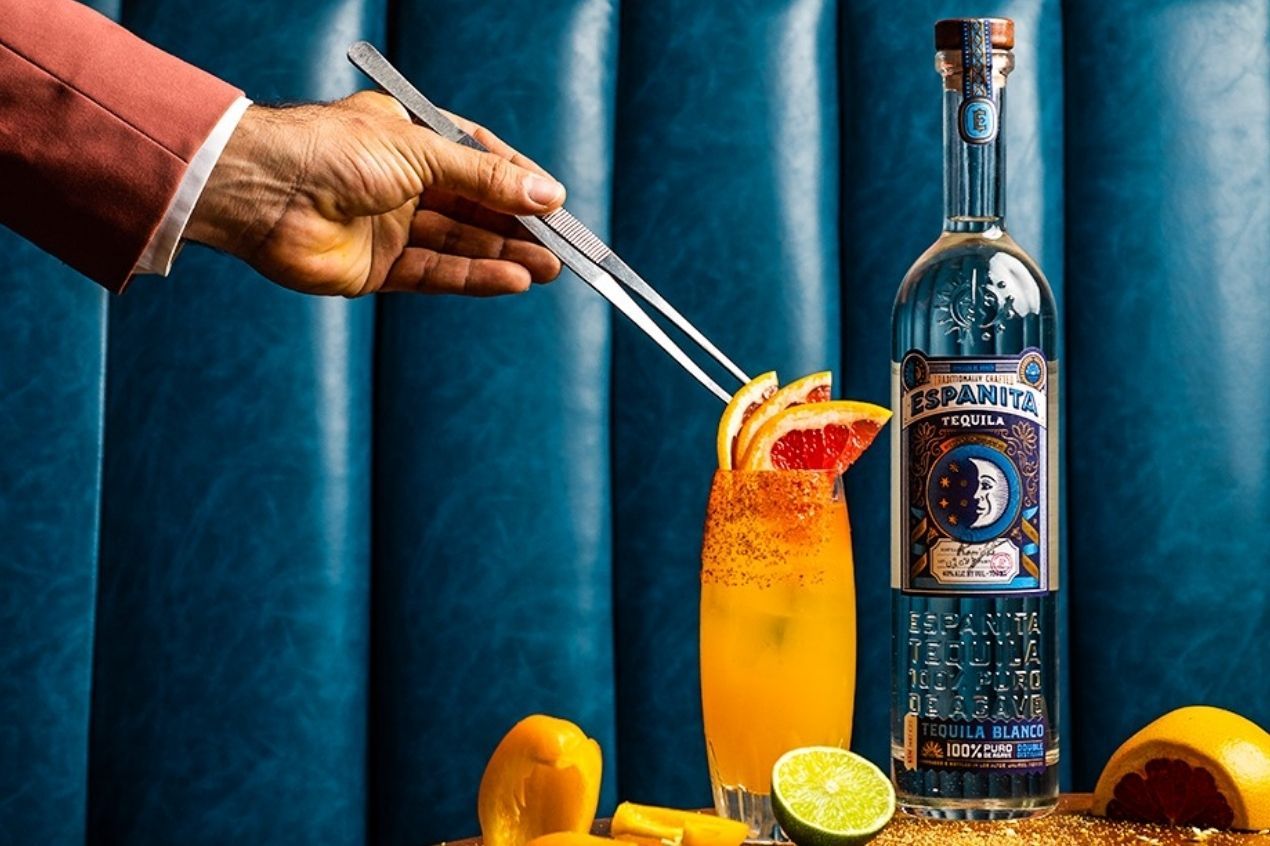 There's no reason to let your house party slip into the slippery road of lime and salt with shots. Instead, use the sweet and earthy flavor of tequila's agave to mix up a myriad of cocktails that will definitely impress.
Sure enough, the big old classics like a Manhattan and an Old Fashioned always have their place at the party table, but the big batch cocktails we have brought to you will champion the Mexican spirit and make your next house party pop. From celebrity-owned brands to the best tequila in the world, use these tequilas to mix up more than a margarita!
Última Fresa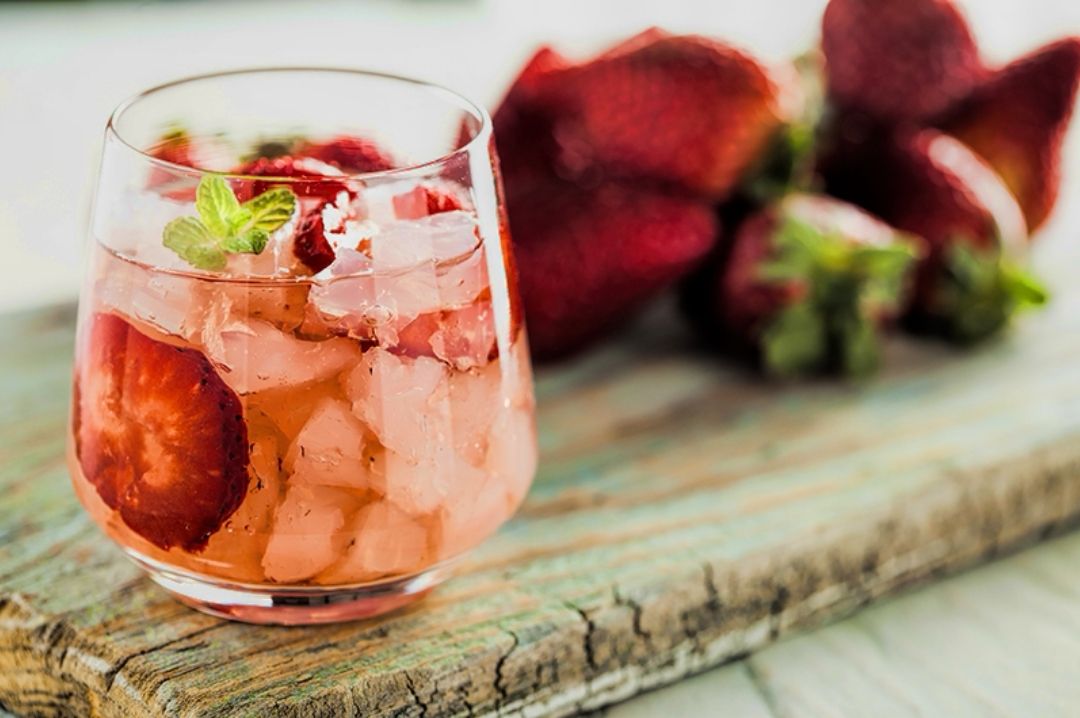 The Ultimate Strawberry-Tequila Mix, Source Website
The first one on our list of sumptuous tequila cocktails to try is the Última Fresa featuring the Españita Añejo Tequila, the Tequila of the Year and gold medal winner at the 2021 Bartender Spirits Awards. The Españita Añejo Tequila is a pure Añejo with a succulent bouquet of aromas like honey oak, citrus tree wood, roasted agave and almond nougat. The tequila of the year winner is great when sipped neat but is also an excellent choice to be the base for multiple cocktails.
Its luscious and velvety palate is the perfect base for the Última Fresa, a gorgeously colored cocktail perfect for the summer. At the heart of the cocktail's recipe are strawberries, their intrinsic, sweet and tart notes being the perfect foil to the mellow flavors of the Españita Añejo Tequila. Here's how the ultimate strawberry flavored drink is made.
Ingredients:
2 oz Españita Añejo Tequila
1 oz Orange Liqueur (such as Grand Marnier)
1 tsp Demerara Sugar
0.5 oz fresh lime juice
2 large ripe strawberries, hulled and sliced
Method:
Slice one large ripe strawberry and add the slices to a chilled cocktail glass with fresh ice cubes. In a Boston shaker, muddle a large ripe strawberry with Demerara sugar and freshly pressed lime juice. Add Espanita Añejo tequila and orange liqueur. Shake with ice for 10 to 15 seconds and strain into prepared glass. Gently stir to combine. Decorate the drink with a sprig of mint.
Teremana Spiced Pomegranate Punch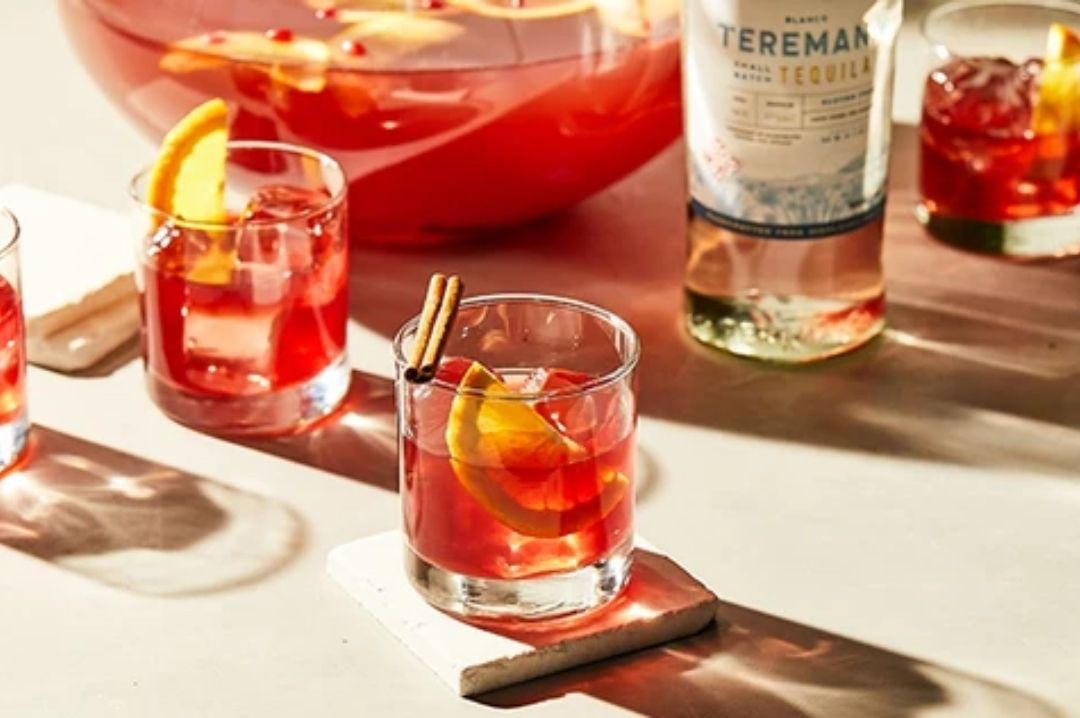 A Punch with The Rock's Tequila, Source Website
The People's Champion and arguably the biggest superstar in Hollywood right now, Dwayne "The Rock" Johnson has found great success with his entry in the spirits business. The Teremana Tequila brand is everywhere nowadays, with the brand making its presence felt big time at UFC and other sporting events. The next place the tequila makes an appearance perhaps is your cocktail party.
Teremana has a host of amazing cocktails to sip, but the one that catches the eye most, from a group party dynamic is the Teremana Spiced Pomegranate Punch. A more stylish version of the punches you would find in your dorm or college parties, the Teremana Spiced Pomegranate Punch is made for a party! It features the Teremana Blanco which has notes of bright citrus with a smooth, fresh finish.

Ingredients:
12 oz Teremana Blanco
8 oz pomegranate juice
6 oz cinnamon syrup
4 oz lime juice
6 oz water*
12 Dashes Orange Bitters
Method:
Combine all ingredients in a punch bowl and stir. Garnish with pomegranate seeds, orange wheels and cinnamon sticks. To serve, ladle into a rocks glass or punch cup filled with ice.
This particular serving is meant for 6 to 8 people, so decide your quantities accordingly.
Herradura Silver's A Splash of the Summer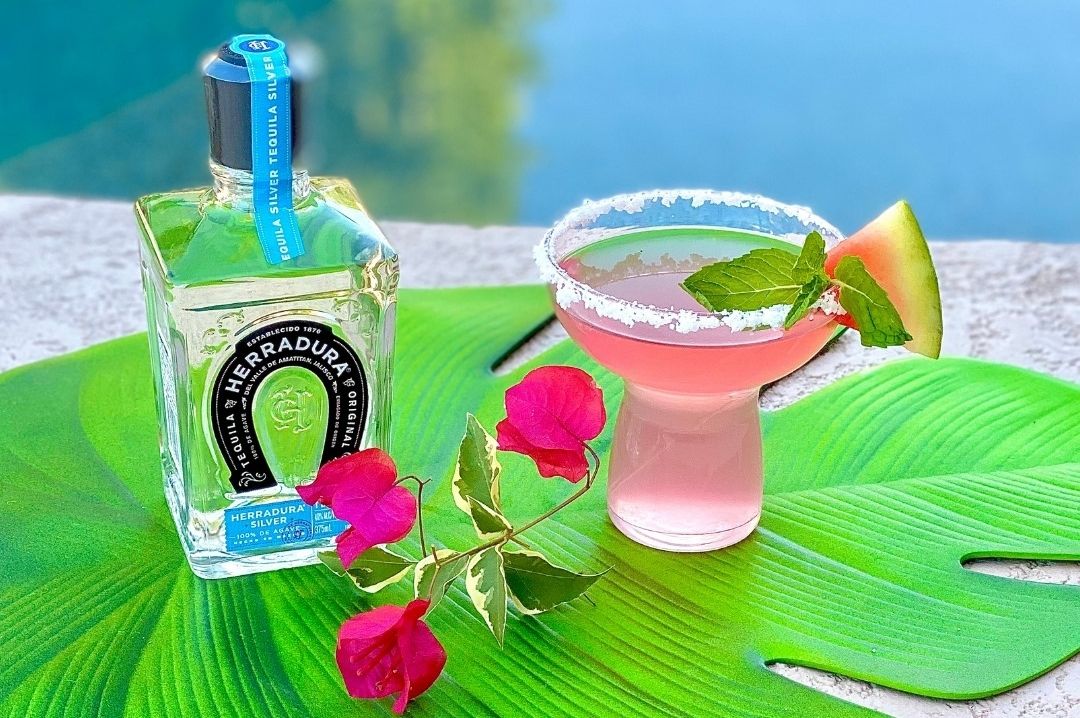 A Bright Pink Splash, Source Facebook
Tequila Herradura has come out with multiple top shelf tequilas among which stands the Herradura Silver, a winner at the 2021 Bartender Spirits Awards. Matured in American white oak barrels, the Herradura Silver imparts a light straw color and woody aromas. A staple of the Herradura collection, it has a refreshing and smooth taste.
The smooth taste is ideal for a Splash of the Summer cocktail. The bright hued cocktail is perfect for the poolside or at a backyard barbecue.
Ingredients:
2 oz. Tequila Herradura Silver
1 oz. fresh lime juice
0.5 oz. Agave Nectar
Watermelon cubes
Muddled fresh mint
Method:
Muddle watermelon cubes in a shaker. Add all remaining ingredients, including fresh mint leaves. Top with ice and shake vigorously. Double strain into a glass.
Casa Cello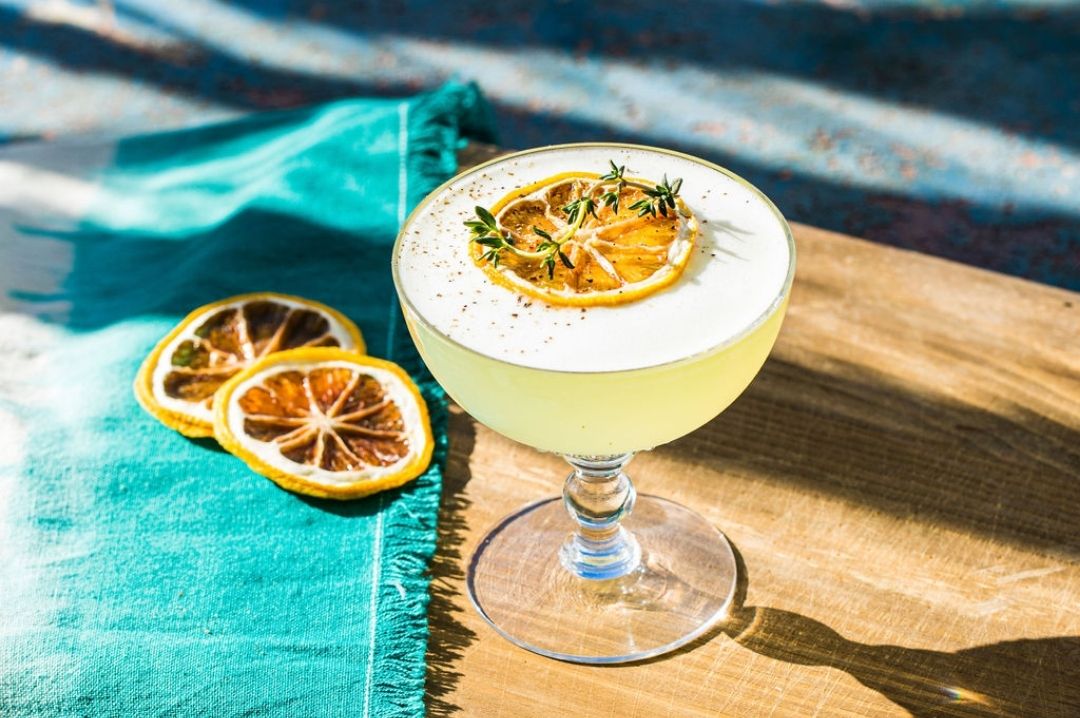 Casa Cello with your Amigos, Source Website
George Clooney, yes! George Clooney along with lifelong friends Rande Gerber and Mike Meldman during their nights filled with sips of tequila decided they would have one brand of their own. Upon working with their master distiller in Jalisco, Mexico for years, they came out with the Casamigos Tequila. A brand that is synonymous today with smooth tequila and mezcal.
Among the range of tequilas is the Casamigos Blanco, a crystal-clear, fruit forward tequila with aromas of citrus and sweet agave. Its vanilla and grapefruit flavor blends perfectly in the Casa Cello cocktail. Here's how to make the Casa Cello.
Ingredients:
1.5 oz. Casamigos Blanco Tequila
1.5 oz. Limoncello by Caravella
0.5 oz. fresh lemon juice
0.5 oz. simple syrup
4 sashes of black lemon bitters by Scrappy's
2 turns fresh cracked black pepper

Method:
Combine all ingredients into a tin shaker. Add ice, shake vigorously, and strain into a coupe glass. Garnish with a floating dehydrated lemon wheel, thyme sprig and fresh cracked black pepper over top.
The Casa Cello headlines a long list of delightful concoctions from the house of Casamigos Tequila.
Spicy Skinnyseed Margarita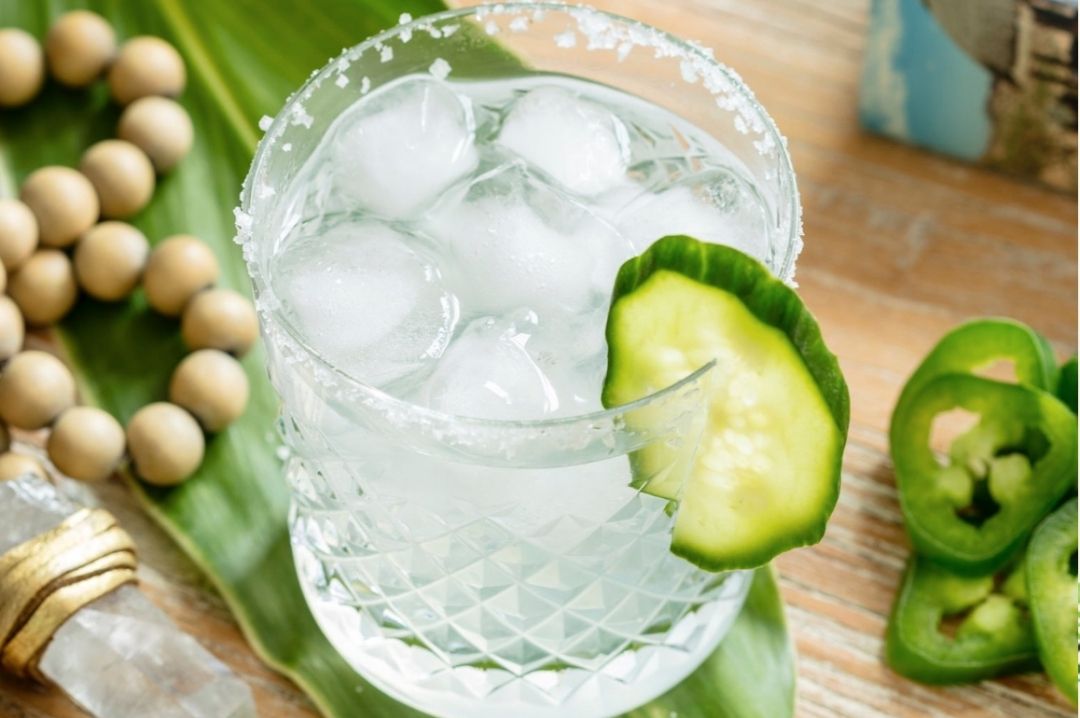 Margarita with a Twist, Source Website
21Seeds came to life with the idea of making drinking tequila as approachable as drinking a glass of wine or beer. At the heart of its creation was the fact that cucumbers, jalapenos, oranges and grapefruit all worked in tequila cocktails, so why wouldn't they work in a tequila itself. If tequila cocktails were the inspiration behind the brand, it is perfectly clear that 21Seeds will be at the base of great cocktails itself.
It is also very difficult to leave out a nice margarita off the list of classic cocktails to drink at a party. The Spicy Skinnyseed Margarita is a great twist on a margarita to serve at your next tequila cocktail party.
Ingredients:
2 oz 21 Seeds Cucumber Jalapeño Tequila
0.5 oz fresh lime juice
0.5 oz simple syrup
Method:
Place all ingredients into a shaker with 1.5 cups of ice. Shake for 30 seconds and pour into a glass. Garnish with a lime and/or cucumber slice and serve. To add something extra to the cocktail, you can also rub the rim of the glass with lime wedge and salt the rim and add club soda to make it a margarita spritz.
Paraiso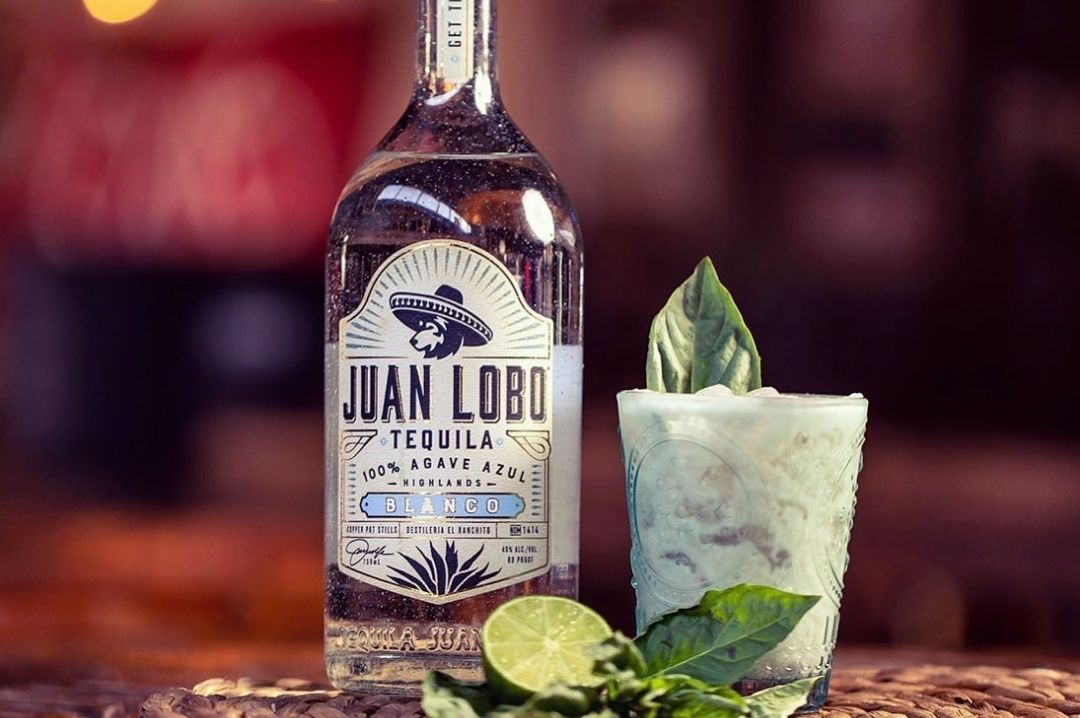 Juan Lobo Paraiso, Source Facebook
The Juan Lobo Tequila Blanco sits at the heart of this coconut cream filled luscious cocktail. The Blanco was a gold medal winner at the 2020 USA Spirits Ratings and exhibits a bright flavor that begins with a blend of floral sweetness with a touch of citrus and finishes with a light, peppery note.
Here's how to prepare the Paraiso cocktail!
Ingredients:
1.5 oz Juan Lobo Tequila Blanco
3 oz Coconut cream
4 Basil leaves
0.5 oz freshly squeezed lime juice
Method:
In a cocktail shaker, mix Juan Lobo Tequila Blanco, coconut cream, and lime juice with abundant ice. Take three basil leaves and individually clap them between your hands before placing them in the cocktail shaker and shake it up! Pour into a short rocks glass and garnish with a leaf of basil.
Party Punch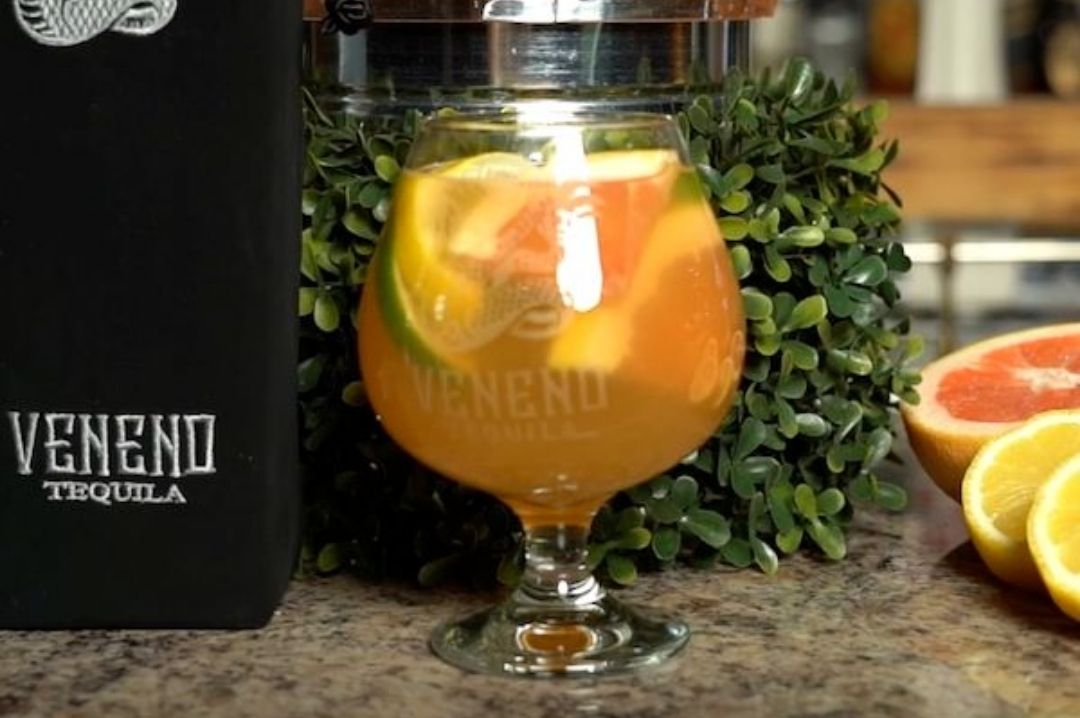 A Punch of Veneno, Source Website
A silver medal at the 2021 Bartender Spirits Awards, the Veneno Single Estate Reposado Tequila 100% Agave evokes smoothness and sweetness and has a sweet, woody finish on the tongue. The reposado's taste also adds great value to the perfect party cocktail from the distillery, the Party Punch!
Ingredients:
Small Watermelon Wedges
Orange Wheels
Lime Wheels
Ruby Grapefruit Wheels
Lemon Wheels
6 Cups Reposado Tequila
16 Cups Lemonade
16 Cups Pink Lemonade
4 Cups Mango Pineapple Juice
Method:
Mix all the ingredients in a large pitcher, and the Party Punch is ready to add its charm to your party.
Crimson Sour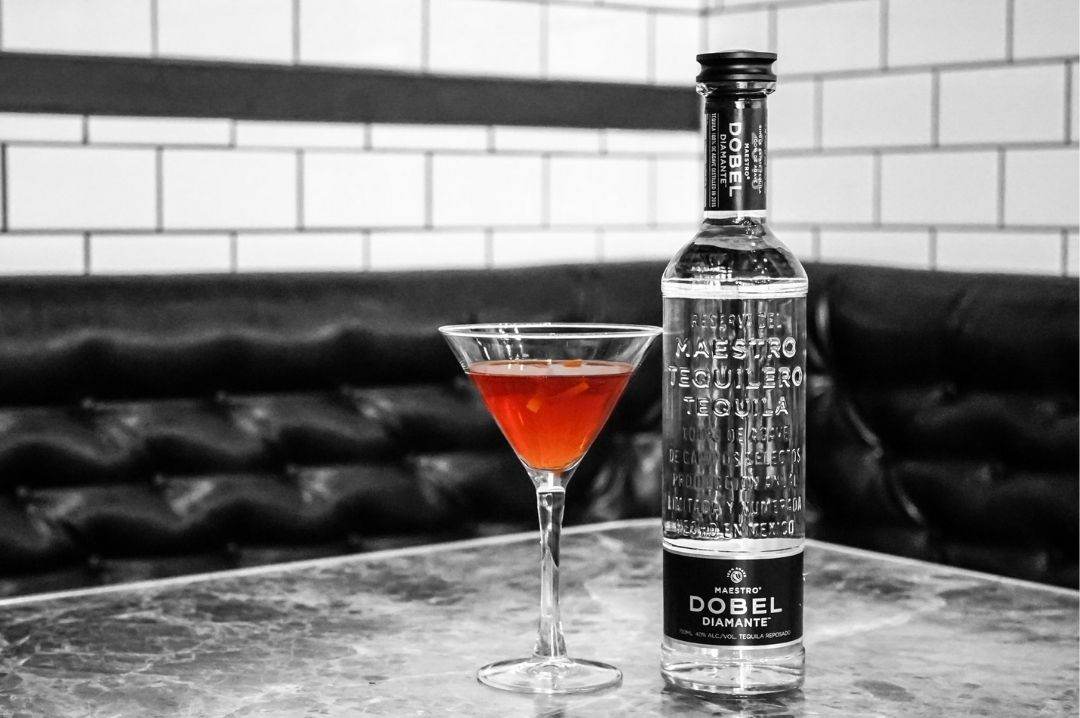 Crimson Sour of Diamante, Source Facebook
The hero of the Maestro Dobel tequila is the Maestro Dobel Diamante, the distillery's original Cristalino. Formulated using a blend of extra-añejo, añejo and reposado tequilas, the Diamante is a complex and smooth spirit. The sweet flavors of caramel, honey and maple as well as notes of vanilla and nuts make up the flavor profile. The Diamante can be mixed with a few ingredients to make the Crimson Sour.
Ingredients:
1 part Maestro® Dobel Diamante™
1.5 parts cranberry cocktail juice
0.5 part lime juice
1 part orange-flavored liqueur
lemon peel for garnish
Method:
In a shaker, add ice, tequila, cranberry cocktail juice and lime juice. Shake and strain into a martini glass and top off with Grand Marnier. Garnish with lemon peel and serve.
The Maestro Dobel Diamante scored a gold medal at the 2020 USA Spirits Ratings with a tally of 91 points.
Código Collins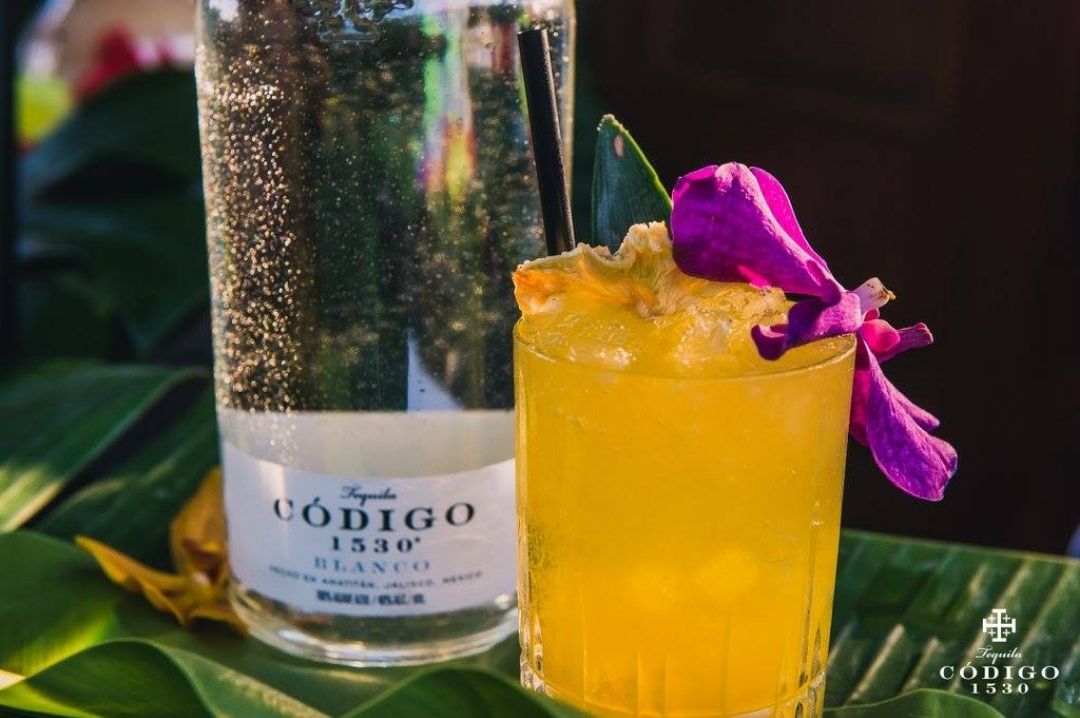 The Código Collins, Source Facebook
From the 1530 Código Tequila distillery comes the Código 1530 Blanco Tequila, an earthy, mineral expression of the Blanco. Unrested, so that the rich flavor of agave comes through brilliantly, the Código 1530 Blanco Tequila balances the citrusy sweetness brilliantly.
Ingredients:
50 ml Código 1530 Blanco Tequila
15 ml Lime Juice
10 ml Lemon Juice
0.5 ml Grilled Pineapple Juice
20 ml Agave Nectar Water (1:1)
Splash of Soda
Method:
Pour all ingredients over ice into a tall glass. Gently stir. Top up with crushed ice. Garnish with mint spring and dehydrated pineapple.
Siempre Verde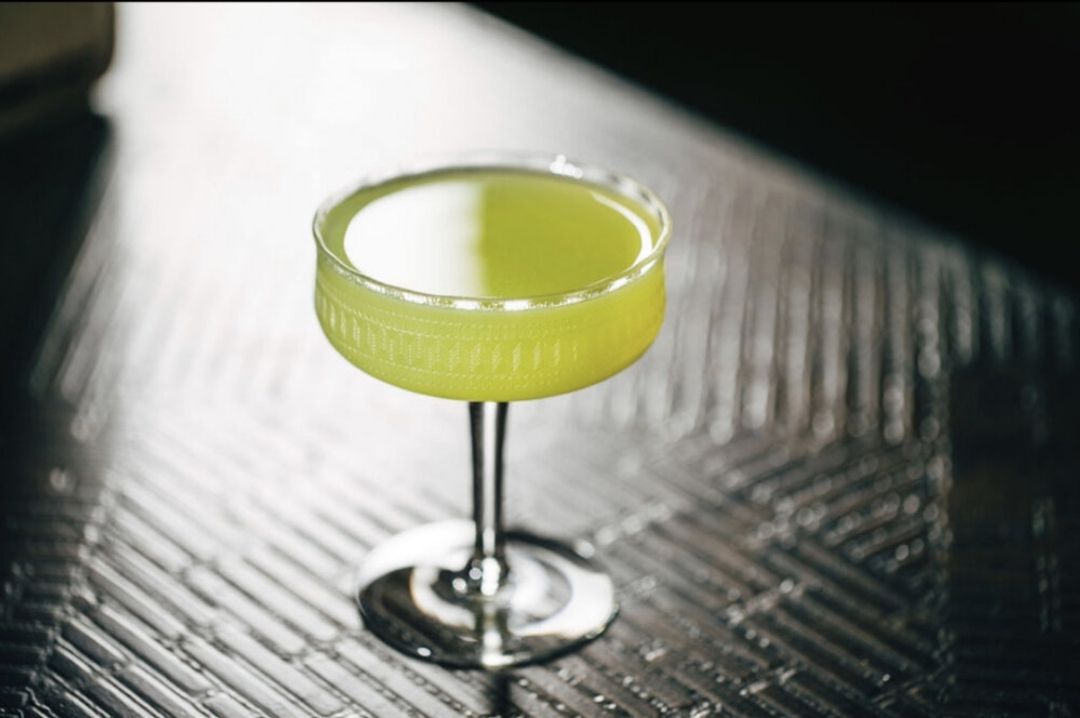 De-Nada Siempre Verde, Source Website
Jillian Voss brings the final cocktail on the list and it features the De-Nada Blanco Tequila at its centre. The De-Nada Blanco Tequila is a pure and seductive tequila that's ideal for sipping with cocktails. The Siempre Verde is the perfect example of why the De-Nada Blanco Tequila is a delightful base tequila for cocktails.
Ingredients:
2 oz DE-NADA Blanco Tequila
0.75 oz Fresh Lime Juice
0.5 oz Barbadillo Manzanilla Sherry
0.5 oz Spiced Pear Syrup
0.5 oz Fresh Green Pepper Juice
1 dash Vieux Pontarlier Absinthe
1 Lime Leaf (throw the leaf into the tin)
Method:
Shake all ingredients vigorously with ice; using both the fine and Hawthorne strainers (if you have them), strain the drink off of the ice into a Coupette or sour glass. Your Siempre Verde is ready to serve.
Header Image- Espanita, Source Facebook