The perfect date night spots in LA
Searching for places to take your partner on a date in LA? We've got you covered.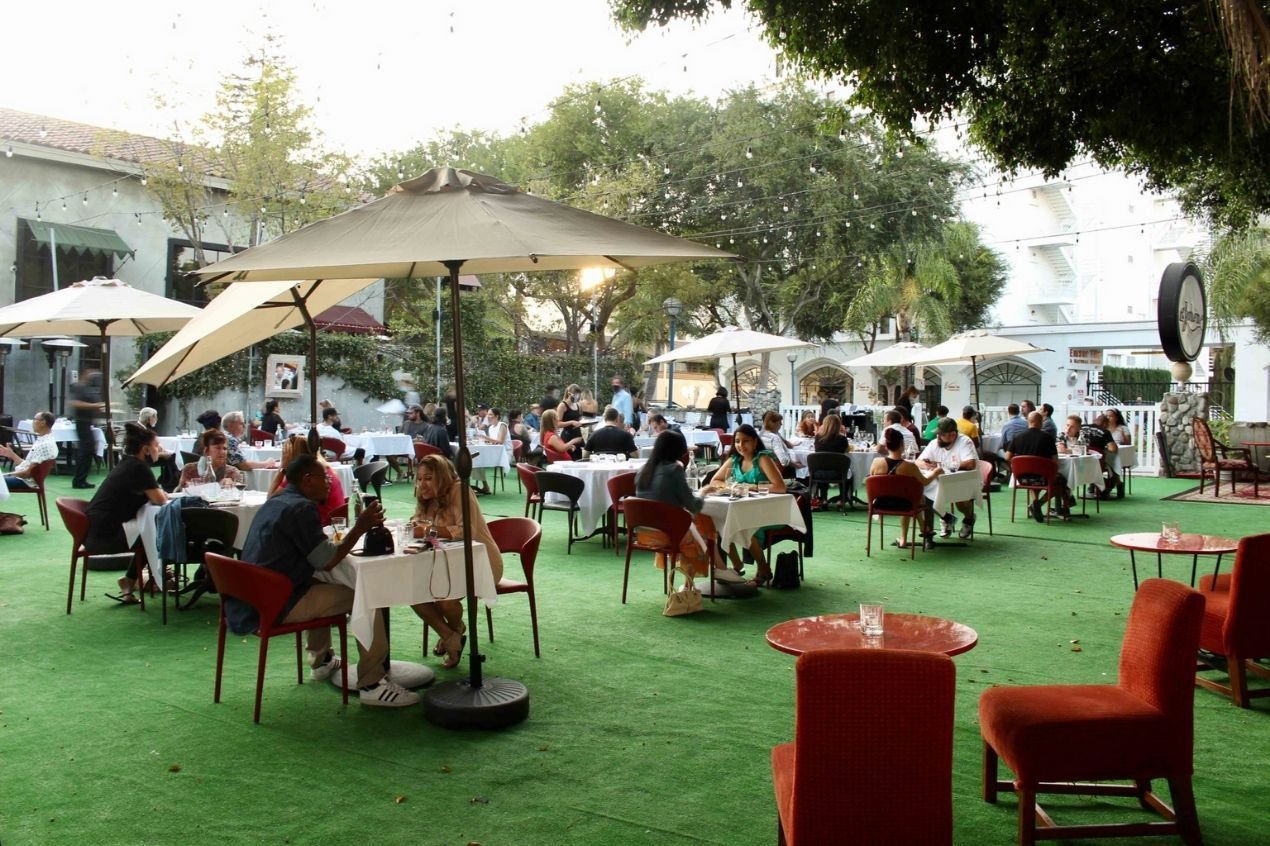 Picking a special place for a special occasion with your partner is the key to elevating the mood and enjoying the night. From sublime rooftops and industrial-chic bars to fine dining restaurants, we've amassed some of our favorite date night spots in the city that will definitely not disappoint.
Yamashiro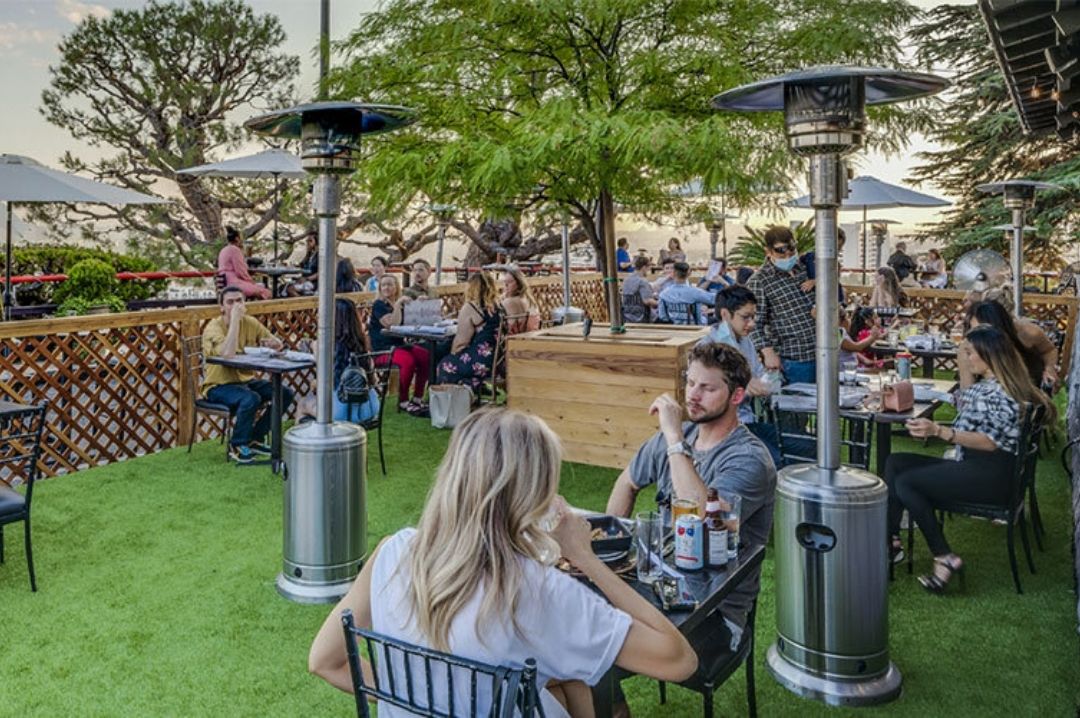 Hilltop views at Yamashiro, Source; Website
Inspired by a hilltop mansion in the Yamashiro region of Japan, this Japanese restaurant offers an extensive list of dishes like the roasted bone-marrow bruschetta, specialty rolls, and sushi pizza to go with a range of Japanese cuisine options.
While you enjoy the scenic views with your partner, we recommend you try the Green Hornet cocktail made with Soto Black Sake, banana and vanilla bean puree, parsley, and yuzu.
Tip: To make your date more memorable, have a romantic stroll in their garden courtyard.
Location - 1999 N Sycamore Ave, Los Angeles, CA 90068.
Timings - 5 pm to 10 pm (Monday to Tuesday)
5 pm to 11 pm (Wednesday to Sunday)
The Little Door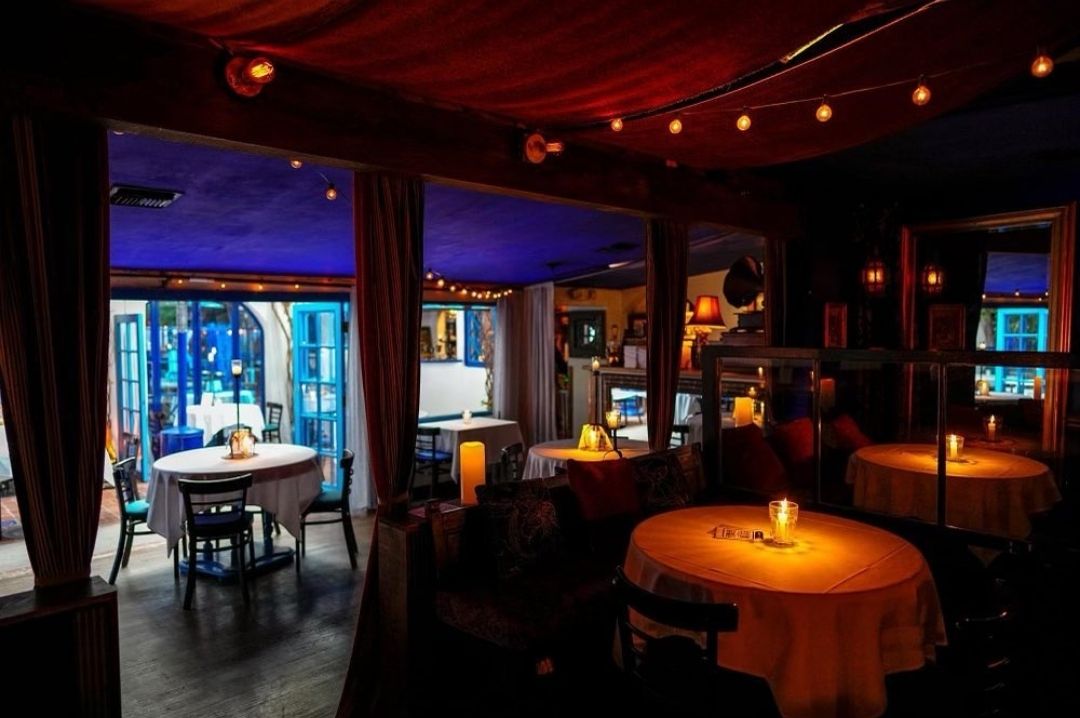 The Little Door restaurant, Source: Instagram
You are sure to have a fabulous time at The Little Door restaurant. Warm-up with Entrée dishes like king mushroom rice, organic chicken breast, herb crusted rack of lamb, and filet mignon. The outdoor patio is a bright blue oasis where you can take in some Caribbean vibes, while the indoor setting is dark and lit with candles for a perfect romantic evening.
The restaurant does justice to the taste buds of wine lovers with merlot, shiraz, chardonnay, pinot noir, and other varietals on the list. You can go for a dessert wine such as the 2014 Château Roumieu-Lacoste, Sauternes, France to cap off your date night with something sweet.
Location - 8164 W 3rd St, Los Angeles, CA 90048.
Timings - Closed (Monday)
5 pm to 10 pm (Tuesday to Thursday)
5 pm to 11 pm (Friday to Saturday)
5 pm to 9 pm (Sunday)
La Bohème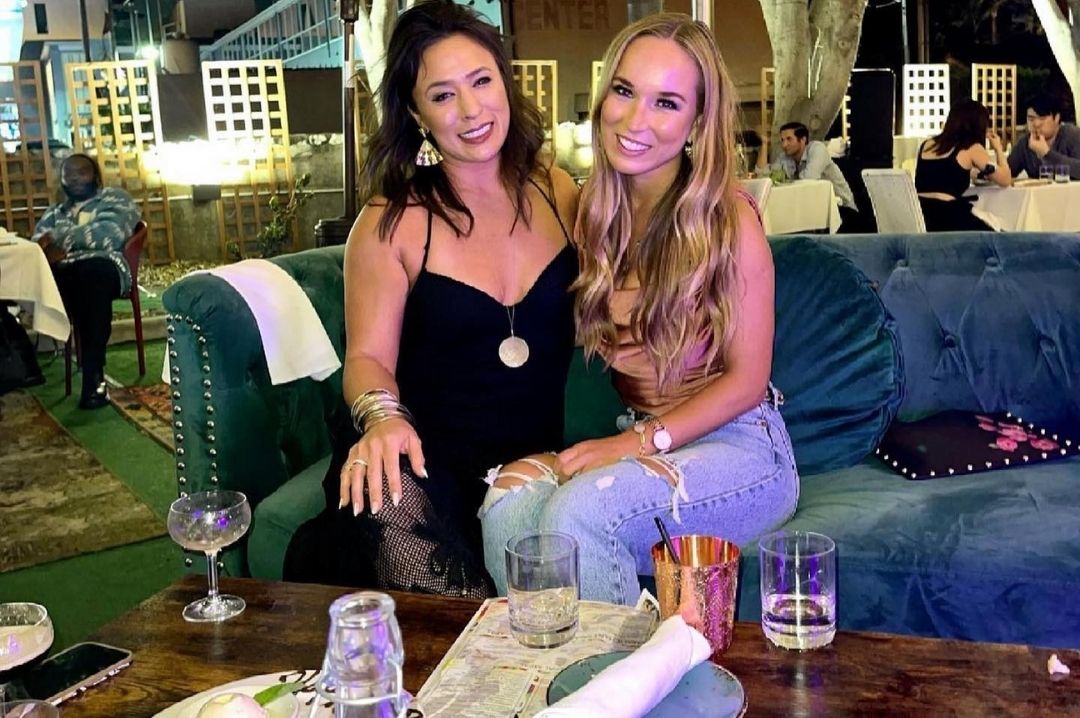 La Bohème outdoor garden patio, Source: Facebook
Offering two different settings at one place, La Bohème has made its name as one of the most romantic spots in town. Their outdoor garden patio boasts a fireplace framed by roses and scented jasmine. But if you are looking for something more intimate and cozy, the indoor hall with French chandeliers hanging from the tall ceilings will suffice.
Start your evening with the crostini platters and build upon your appetite with a glass of Ferrari Carano, Cabernet Sauvignon, 2017, Alexander Valley, CA. We recommend you try the Wagyu meatball spaghetti with a specialty cocktail such as the Smoky Sips made with mezcal, house-made pomegranate molasses, agave nectar, fresh lime juice, pomegranate seeds, and lava salt, if lavish three-course meals aren't your thing.
Tip: Arrive on Community Night Mondays to get a complimentary night cocktail and a free second round at La Bohème.
Happy hours - 5 pm to 7 pm (Tuesday to Sunday)
Location - 8400 Santa Monica Blvd, West Hollywood, CA 90069.
Timings - 5 pm to 12 am (Monday to Thursday)
5 pm to 1.30 am (Friday)
11 am to 1.30 am (Saturday)
11 am to 12 am (Sunday)
The Rooftop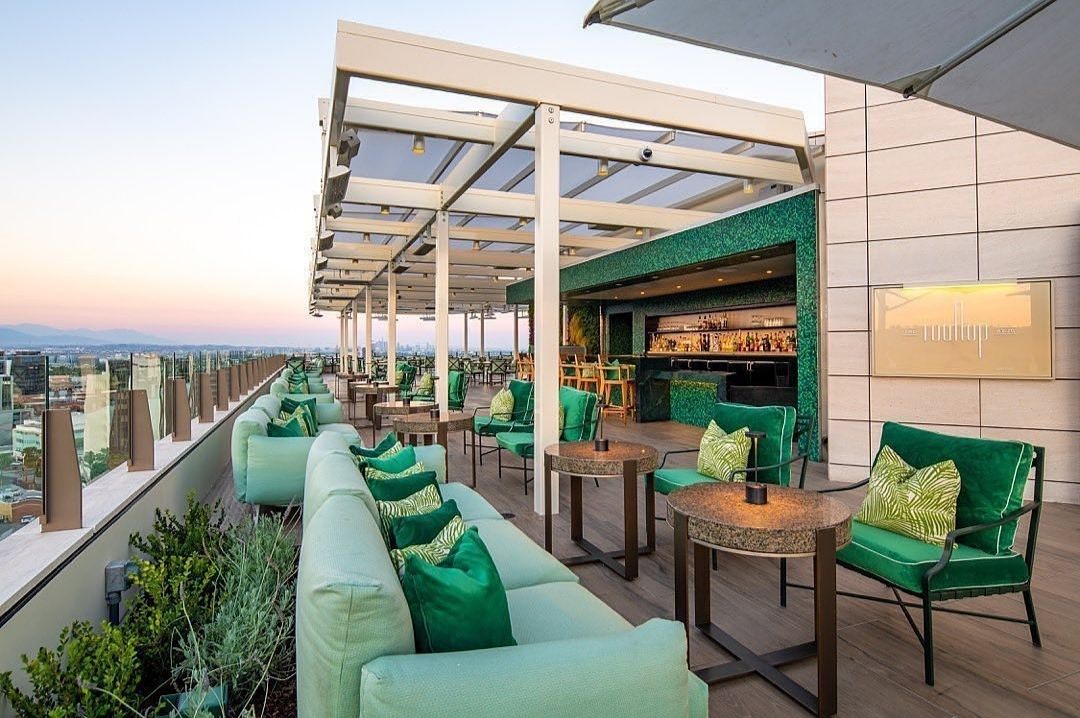 The Rooftop by JG, Source: Facebook
A pinnacle social venue featuring panoramic views of Beverly Hills and Hollywood from 12 stories aloft, The Rooftop is dressed in garden green cushion covers. Offering a one of a kind experience with tasty snacking options like french fries, burgers (WAGYU beef tenderloin and lobster are worth the try), and more, this is the place to take your date for a special night.
Choose a drink of your choice from wine (white, red, and sparkling), beer, and cocktails for a buzz on the winding outdoor patio. We tried the Strawberry Mezcal Punch made with Cinnamon Infused El Silencio Espadin Mezcal, fresh strawberries, orgeat, and lime for a sweet punch, and it's a winner in our books. The bar also serves zero abv drinks for which you will have to request the bartender.
Tip: If you have been waiting for the perfect spot to propose to your partner, we guarantee The Rooftop's skyline views to double up on the charm.
Location - 9850 Wilshire Blvd, Beverly Hills, CA 90210.
Timings - 8 am to 10 pm (Monday to Sunday)
Tree of Wishes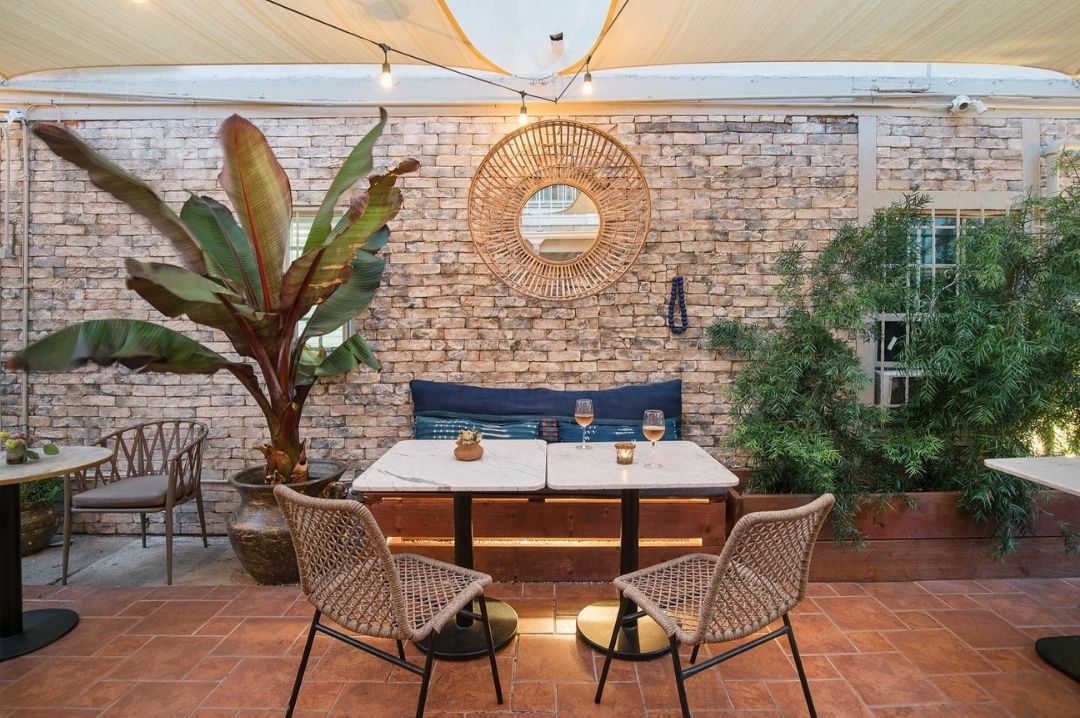 Tree of Wishes outdoor patio, Source: Facebook
Housed in Melrose Avenue, Tree of Wishes delights all veggie lovers with a sumptuous menu. The mezze plate with beet hummus, muhammara, and roasted cauliflower agrodolce is a great option to go for if you and your partner are looking to share some vegetarian food.
The Mediterranean place does not have a drinks menu to match other options on the list but, June Shine hard kombuchas will do just fine with anything you order from the food menu.
Tip: This spot suits lovebirds looking to spend some quality time in a quiet ambiance.
Location - 7469 Melrose Ave, Los Angeles, CA 90046.
Timings - 5 pm to 10 pm (Monday to Wednesday)
5 pm to 11 pm (Thursday)
10.30 am to 11 pm (Saturday)
10.30 am to 8 pm (Sunday)
Spring St Bar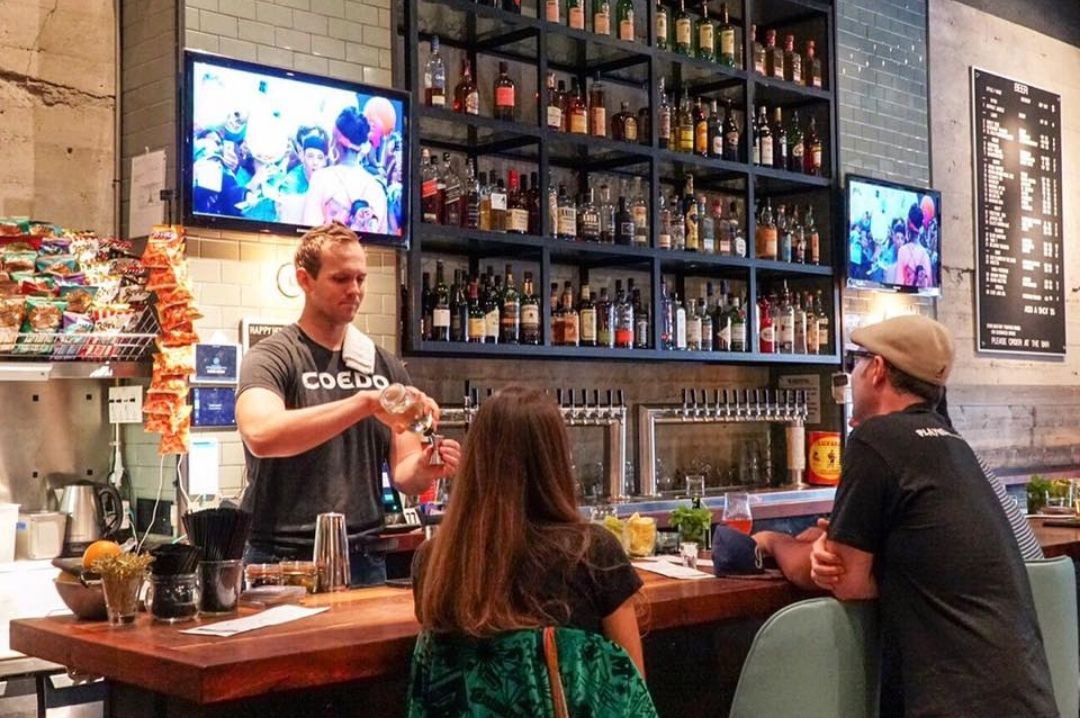 The bartender making a cocktail at Spring St Bar, Source: Facebook
For those looking to reprieve from the hustle and bustle of Downtown, Spring St Bar welcomes guests to its industrial-chic space and a dog-friendly patio. You can take your pick from a series of classic cocktails or choose a craft beer of your choice.
While you are in the middle of the drinking, don't forget to try one of the signature gourmet sandwiches the bar is famous for. It is a great spot to break the ice on your first date unless your dog takes away all the attention.
Happy hours - 12 pm to 7 pm
Location - 626 S Spring St B, Los Angeles, CA 90014.
Timings - 7 pm to 2 am (Sunday to Monday)
6 pm to 2 am (Tuesday to Saturday)
Bacari Silverlake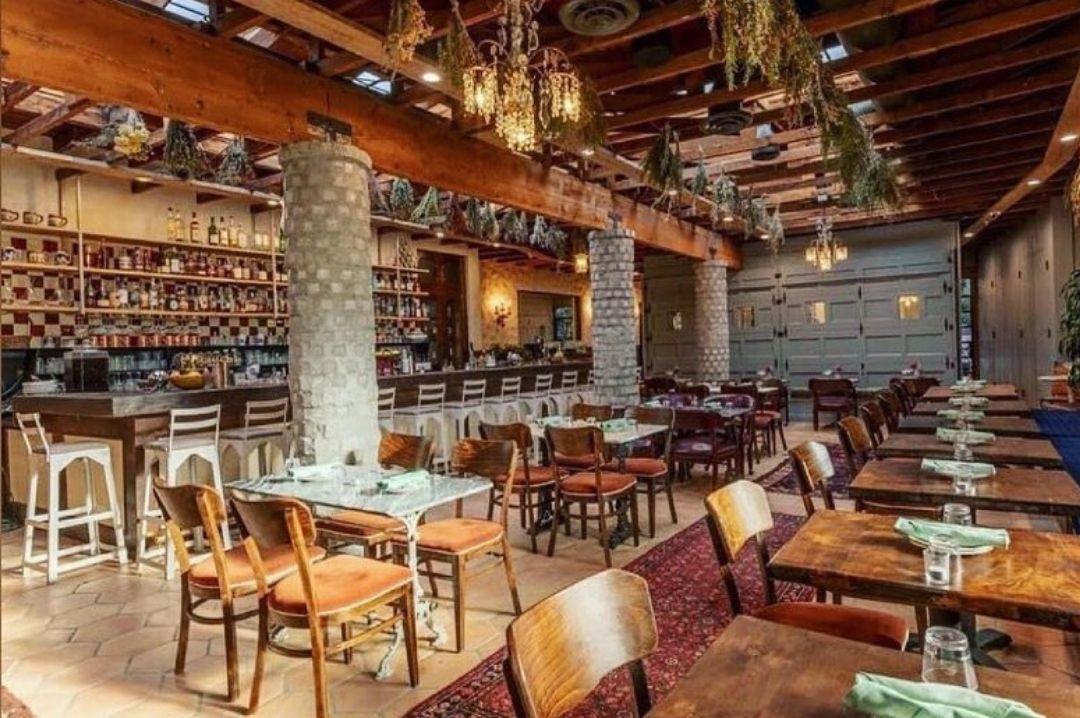 Bacari Silverlake bar and seating, Source: Instagram
Ask your date out to Bacari Silverlake's patio, where a huge centrally placed ficus tree decorated with a string of lights takes center stage. Whether you are in the mood to have a chat and sip on delicious cocktails from the bar such as the Mango Sour (mezcal, jalapeno pepper, juiced carrot, lemon, mango, egg white, and black salt), or looking to explore the old woody Tuscan style farmhouse interiors, your date night will go as smooth as silk.
The bar's late-night program ensures that you don't run dry on the drinks, refueling the much-desired conversations. You can also check out their other outlets in W. Adams, PDR, and W 3rd for a fun date night out.
Location - 3626 Sunset Blvd, Los Angeles, CA 90026 (Silverlake).
8030 W 3rd St #3/4, Los Angeles, CA 90048 (W 3rd).
2308 S Union Ave, Los Angeles, CA 90007 (W. Adams).
6805 S Vista Del Mar Ln, Playa Del Rey, CA 90293 (PDR).
Timings - 5 pm to 12 pm (Monday to Wednesday)
5 pm to 2 am (Thursday)
4 pm to 2 am (Friday)
10 am to 3 pm, 4 pm to 2 am (Saturday)
10 am to 3 pm, 4 pm to 12 am (Sunday)
Header image - La Bohème, Source: Website