Top 15 Wine Bars in Los Angeles
On this page you will find Top Wine Bars in Los Angeles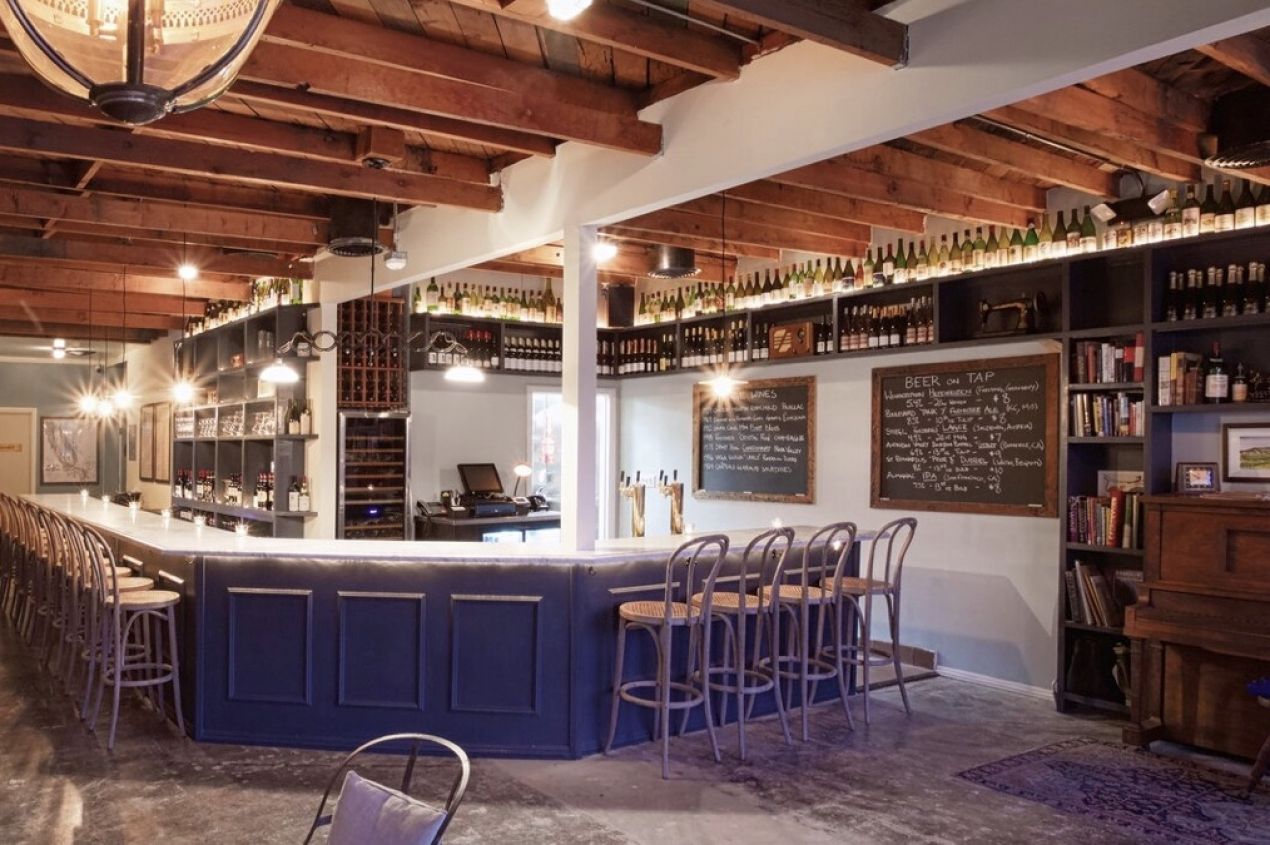 LA is home to fantastic wine bars staffed by experts eager to introduce both casual sippers and serious experts to new and rare varietals. Head to these destinations for an immersive and enthusiastic experience, from sampling a locally grown and produced California blend to sipping something more unexpected from an emerging vineyard.
At these Top Wine Bars in Los Angeles , you'll find a good selection of wines as well as knowledgeable staff and, where available, some well-paired food.
A.O.C
Caroline Styne has made a name for herself as one of the top sommeliers in Los Angeles. A.O.C., which she co-owns with chef Suzanne Goin, features a rich wine list that contains some knockouts along with more eclectic varieties. Every pour pairs well with Goin's carefully sourced and prepared Mediterranean dishes.
Augustine
Augustine Wine Bar is a collaboration between Dustin Lancaster and Matthew Kaner of Bar Covell, and wine collector/musician David Gibbs. Augustine impresses with its vintage wine program. Don't be surprised to find a 1937 Troisiemes Crus Bordeaux corked beside a non-vintage Rosé from Tasmania. Chef Evan Algorri's seasonal bar food holds its own against the heavy-hitting vinos.
Bacari GDL
Whether for a round of craft cocktails and haute nibbles before a movie, or a relaxed dinner over executive chef Lior Hillel's innovative Mediterranean fare and thoughtful selection of wines, Bacari GDL is perhaps the Americana's most charming spot. Graceful chandeliers of repurposed wine bottles with Edison bulbs, a full-wall collage of wooden wine boxes, and a sidewalk patio out front surround a lively crowd.
Barbrix
Barbrix Wine Bar is a lively neighborhood wine bar abuzz with Silver Lake locals who, stopping in for a glass of Viognier or Malbec, sigh in relief just to have a chic little spot like this finally blossom in their 'hood. Owners Claudio Blotta and his wife Adria Tennor have fixed up this former 1940s bungalow schoolhouse to create a sleek organic space of shiny wood and big windows. The global wine list is smart and moderately priced, offering explorers plenty of territory.
Covell
Trendy wine bars come and go, but Covell Wine Bar, Los Feliz neighborhood favorite has staying power. It's largely due to owners Matthew Kaner (Silverlake Wine) and Dustin Lancaster's (L&E Oyster Bar) passion for interesting wines. Subdued décor includes plenty of wood, a long bar and requisite dimness courtesy of industrial bulbs and candles.People come here to drink wine (and craft beer, on tap), but also to talk about wine, especially when wine director Kaner is behind the bar engaging guests in exploratory tastings. There's no wine list, but peruse the chalkboard and trust the friendly bartenders to offer something interesting.
Esters Wine Shop and Bar
The Rustic Canyon family of restaurants continues to expand with this wine shop, bar and marketplace in downtown Santa Monica. Housed in the historic 1937 Art Deco Telephone Building, Esters is located across the hall from Cassia, where co-owner Kathryn Coker also curates the wine program.More than 200 wines and a curated selection of craft beers, specialty imports and premium spirits from small-production distilleries are available. Expect sipping mezcals and classic cocktails, such as Old Fashioneds and Sazeracs, too.
Wally's Beverly Hills
Wally's Beverly Hills is a wine shop and gourmet marketplace, but it's also a restaurant and bar serving elevated bistro fare. The convivial atmosphere gives the feeling of an ongoing party. Out front are heat lamps and small tables flanking the glass doors of the entrance. Inside, the white marble bar and tables are surrounded by impressive wine shelves.
Zinque
Zinque's dimly lit space with vaulted ceilings has communal tables in its center, while smaller tables and banquettes rim the edges of the room. Exposed Edison light bulbs and a plethora of candles add a soft glow to the dark blue-colored walls. A long bar serves as the restaurant's centerpiece, with a small area to its left for a two-person kitchen. California wines like Tablas Creek can be found on tap, and there are many European options by the glass.
Primitivo Wine Bistro
Primitivo has wines from all over the world--Australia, Italy, Chile, Spain, France, South Africa, Argentina and the U.S. They host events like wine tastings, 'Sangria Sundays,' 'Thirsty Thursdays,' and happy hour. Tapas offerings include a lovely beet salad with orange segments, pomegranate seeds and feta cheese in an orange honey vinaigrette.
Rustic Canyon
Rustic Canyon's main focus is on boutique vineyards from around the world. Sparkling creative cocktails are also available. As the name implies, farmers market inspired dishes grace the menu--whose creator prides himself on seasonal dishes. The atmosphere recalls a big tree house, charming and, well, rustic. Perfect for a first date or a warm rekindling.
Upstairs 2
West Siders enjoy the view from the top, Upstairs, that is. This wine store, restaurant and bar features an extensive 'Wines by the Glass Program.' Chef Todd Barrie has fashioned small Mediterranean plates perfectly paired with given wines. For a set $55, wine and food lovers can partake of 'Wine and Dine Wednesdays'--a four-course meal including four wines from around the world with a brief discussion of the wines.
Vinoteca Farfalla
One of the more established wine bars/restaurants in LA is Vinoteca Farfalla, this Los Feliz hotspot features everything from grilled aged Brazilian style skirt steak to ceviche. The great wine and beer selections are subject to frequent change on the board. Happy hour daily.
Mirabelle Wine Bar
Mirabelle Wine Bar is cozy but the stellar wine bar has settled nicely into sleepy Valley Village. There's cheese and charcuterie for those needing something light to pair with beers and wine, and the grilled cheese sandwich makes for a heftier bite late into the night.
Bar Bandini
Bar Bandini's moody interior feels like a natural fit for Echo Park. Bandini stocks an eclectic, eccentric, and invitingly unpretentious range of wines both on tap and by the glass.
Oriel Chinatown
Opened by Bar Covell's Dustin Lancaster, Oriel is a wine bar serving French bistro fare tucked underneath the Metro tracks on the edge of Chinatown. Grab a seat on the patio if the weather's nice and sip a glass of wine while nibbling on strong renditions of French onion soup and escargot.
South San Francisco Conference Center, 255 South Airport Boulevard, South San Francisco, CA 94080, United States
Register Now
South San Francisco Conference Center, 255 South Airport Boulevard, South San Francisco, CA 94080, United States
Register Now