Lights, Camera, Bars
You might have checked out these LA bars on the big screen, but have you paid them a visit?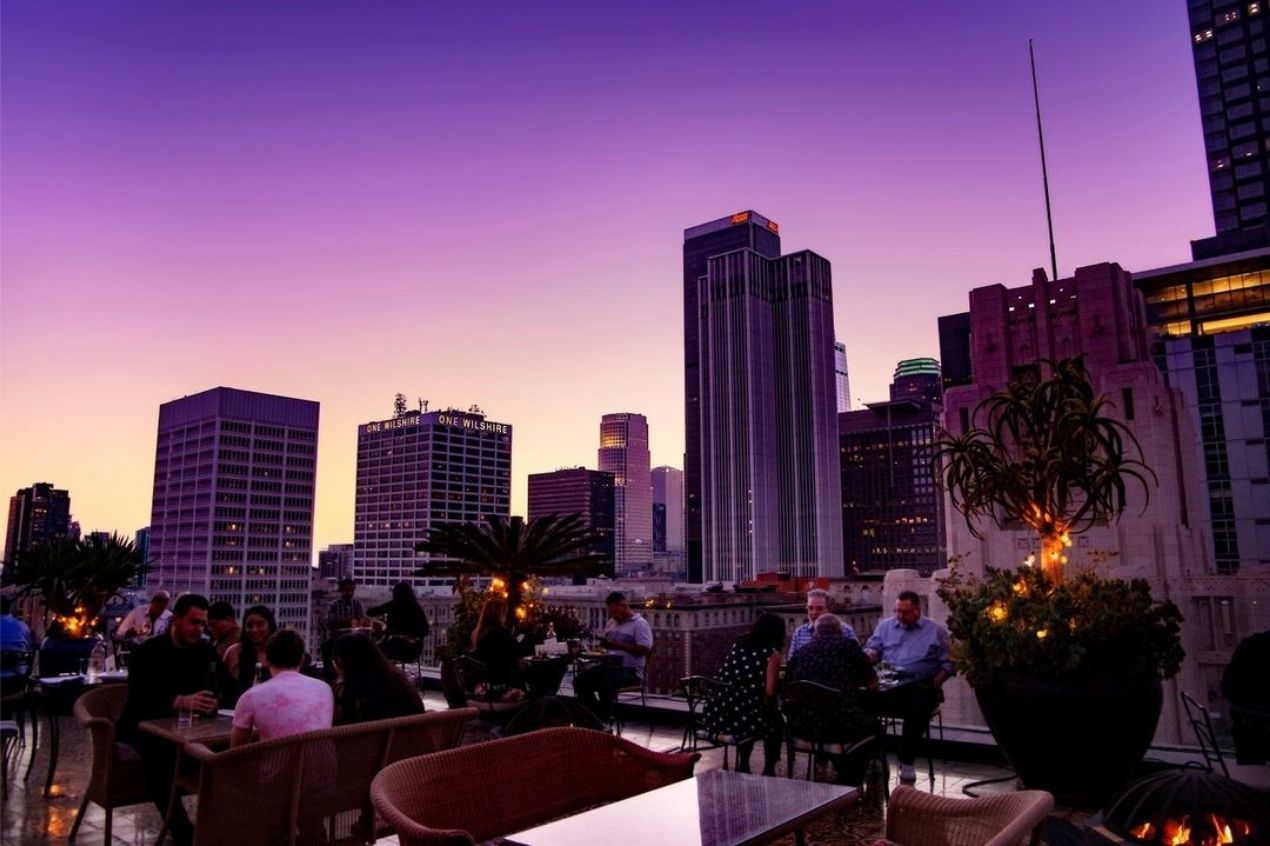 It is no secret that Los Angeles is packed with many bars and restaurants that have made an appearance in our favorite shows. It is, indeed, home to Hollywood. Even though your favorite character might not actually sit down for a drink with you, you can definitely drink where he/she does on the TV show/movie. With some older bars, some dives, and some cocktail lounges on the list, the next time you want to sip on a Martini Hollywood style, this is where you need to be.
Sam's Hofbrau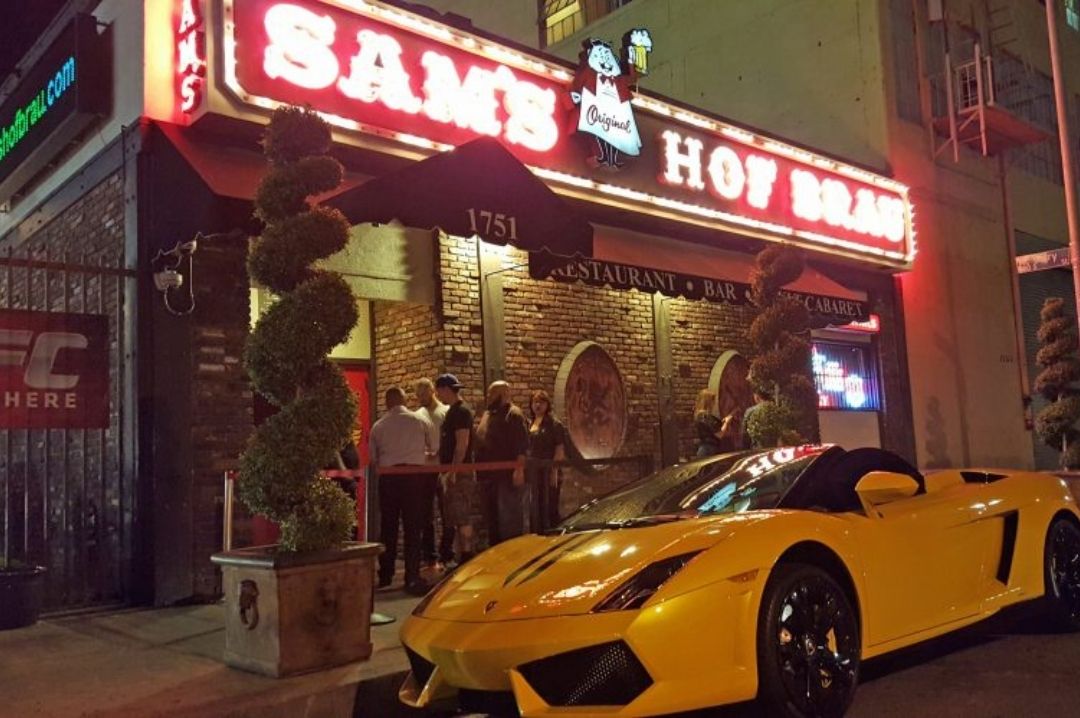 Sam's Hofbrau entrance, Source: Website
Residing in Downtown, Sam's Hofbrau is a premier strip club not just famous for featuring in Quentin Tarantino movies such as 'Jackie Brown' and 'Kill Bill Vol.2' but also for its made-to-order pizzas. The full bar provides bottle services for those looking for long hauls while you can also go for shot options in the neon-lit interiors with cozy seating. Grub on American dishes like burgers, sandwiches, and salads to replenish after sweating it out from dancing to hip-hop beats.
Location - 1751 E Olympic Blvd, Los Angeles, CA 90021.
Timings - 11 am to 2 am (Monday to Sunday)
Pickwick's Pub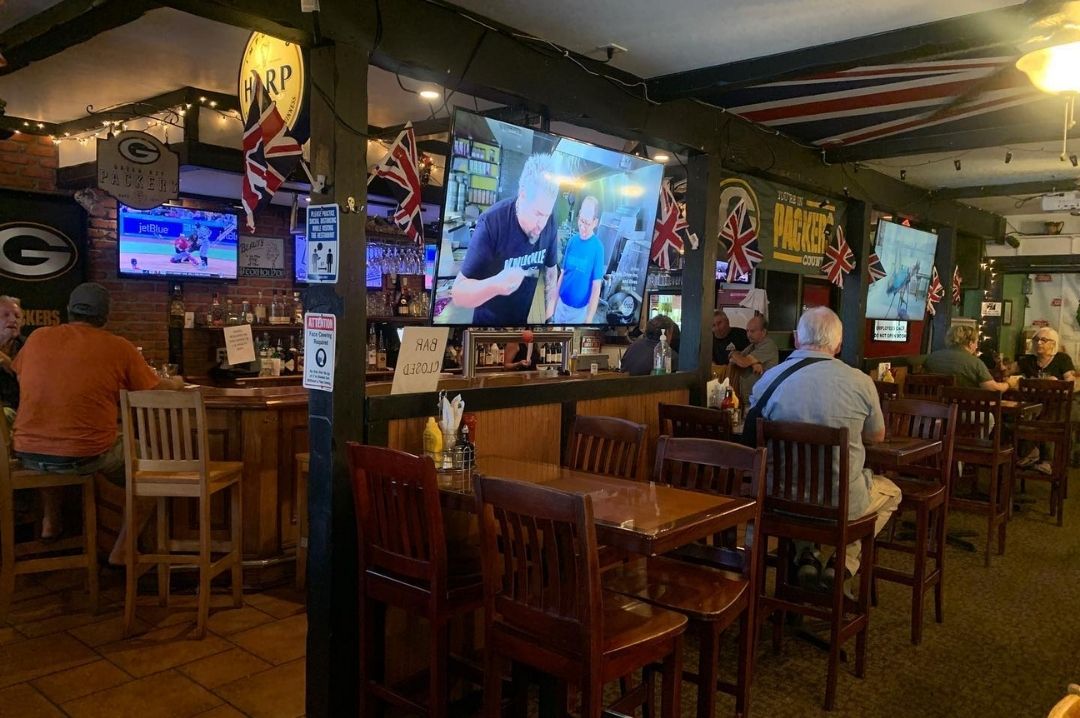 Pickwick's Pub, Source: Facebook
Rebuilt from scratch after a fire in 2005, Pickwick's Pub has played the role of Poor Richard's in Scranton from 'The Office'. Although there is a Poor Richard's watering hole in Pennsylvania, it is this English pub that made the cut.
You might notice a Poor Richard's Pub mirror hanging inside the bar with 2 tournament dartboards, 12 TV screens, and a menu diverse enough to satisfy everyone. Beers such as Heineken, Budweiser, Newcastle Brown, Blackthorn Cider, and Coors Light start from $5, while Spacedust IPA, Mango Cart, and Pickwick Blonde flow from the tap. The food menu has it all with all-time English favorites like battered onion rings, full monty, fish and chips, scotch egg, and sausage rolls.
Happy hours - 4 pm to 7 pm
Location - 21010 Ventura Blvd, Woodland Hills, CA 91364.
Timings - 11 am to 10 pm (Monday to Thursday)
10 am to 11 pm (Friday to Saturday)
10 am to 10 pm (Sunday)
Gallery Bar and Cognac Room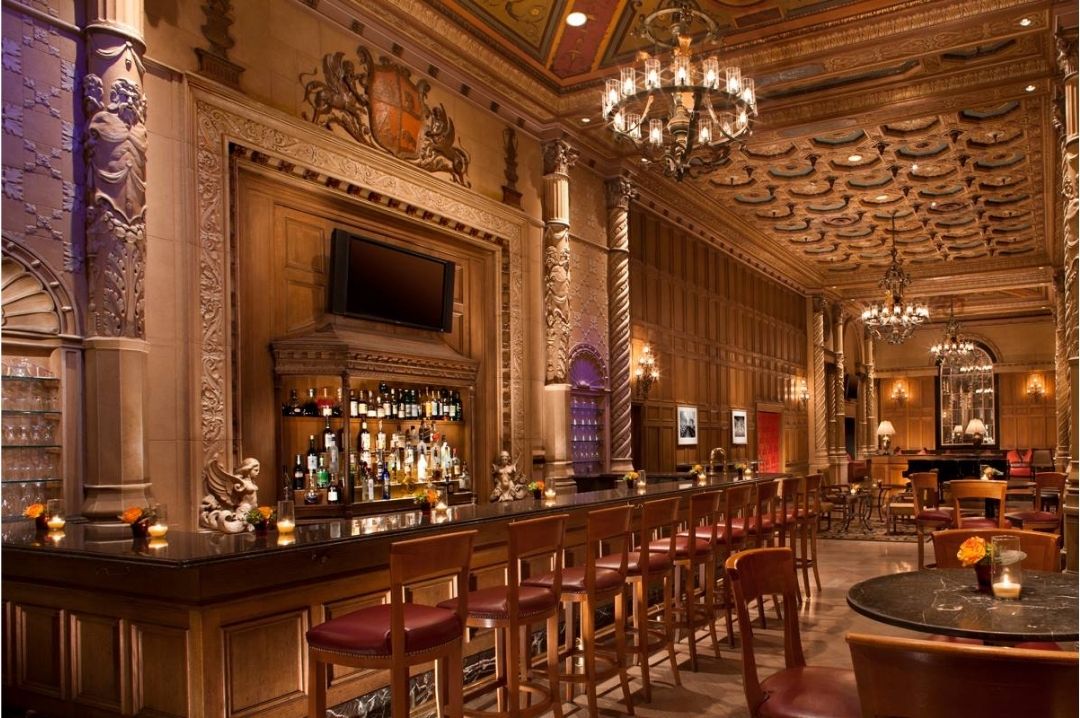 Gallery Bar and Cognac Room, Source: Facebook
Not many can match the opulent Gallery Bar and Cognac Room in the Millennium Biltmore Hotel when it comes to having an eclectic history of the showbiz industry. The bar has appeared in various films and shows, namely 'National Treasure: Book of Secrets', 'Mad Men', 'Obsessed', 'Rumour Has It', and 'Along Came Polly'. To quench your cocktail thirst pick one of the popular favorites that include the Black Dahlia martini, Cucumber Mango Cosmopolitan, and French Kiss.
Walk in the main lobby and head to the bar decorated with carved wooden panels, sculpted columns, and painted ceilings that make up the illustrious grandeur of the setting. The Black Dahlia martini concocted at the bar pays tribute to late actress Elizabeth Short who was last seen leaving the doors of the Millennium Biltmore Hotel as she walked down Olive Avenue before getting murdered.
Location - 506 S Grand Ave, Los Angeles, CA 90071
Timings - 4 pm to 12 am (Monday to Thursday)
4 pm to 2 am (Friday to Sunday)
Tequila Jack's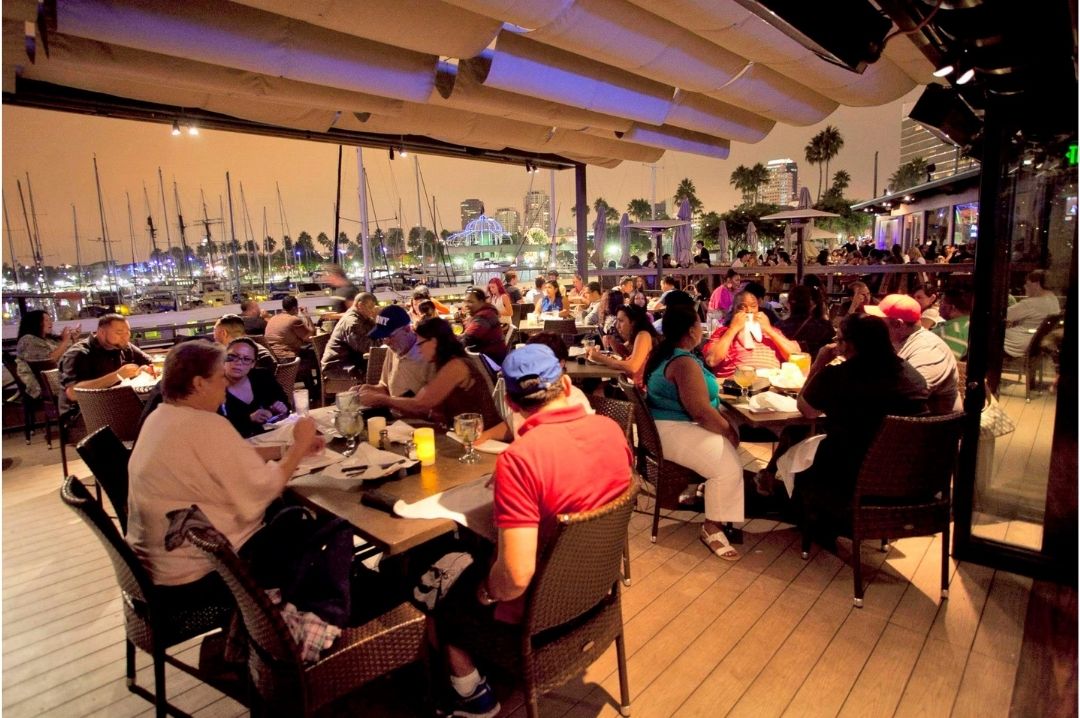 Food, drinks, and harbor view at Tequila Jack's outdoor patio, Source: Facebook
A tequila hotspot with over 100 varieties of the spirit, Tequila Jack's is located on Long Beach with harbor line views. You may recall the bar from its cameo in the Dexter series where the lead actor Dexter Morgan (Michael C. Hall) takes shelter to evade someone following him.
Whether you catch sun rays in the day or gaze at stars at night on its outdoor patio, Mexican jollification will be in abundance at all times. Take your pick from mouth-watering margaritas to an ice-cold Cerveza, accompanying tasty snacks from the food menu. Make the most of the food experience of Tequila Jack's on Taco Tuesdays.
Location - 407 Shoreline Village Dr, Long Beach, CA 90802.
Timings - 11 am to 10 pm (Monday to Sunday)
Perch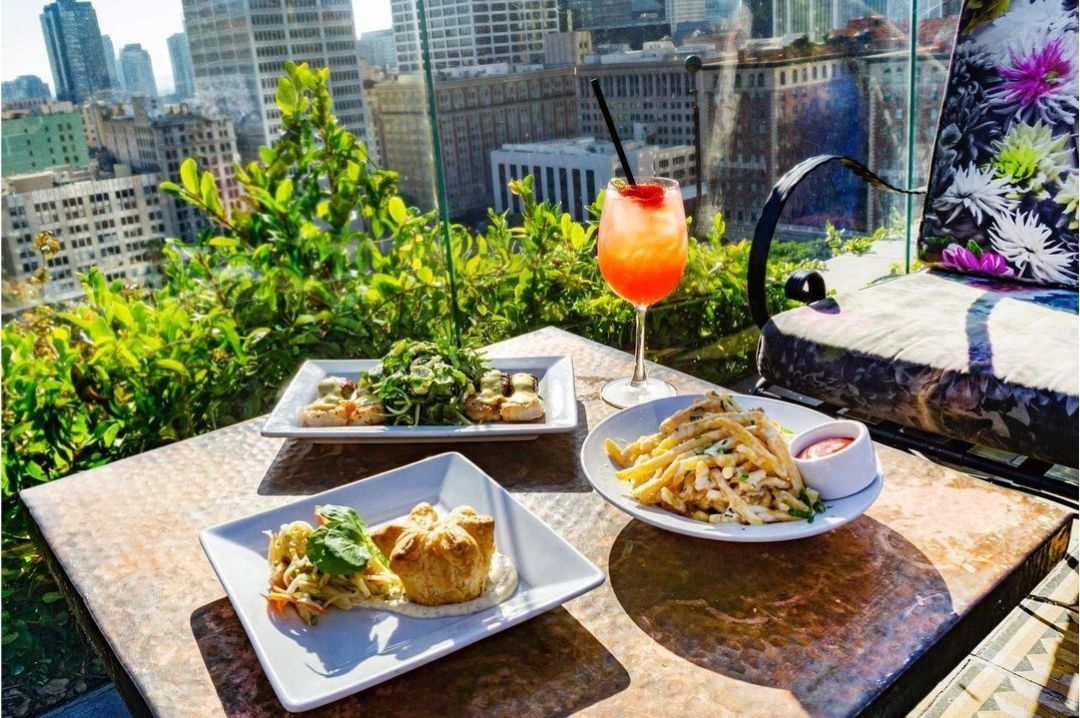 Food and drink at Perch's outdoor patio, Source: Instagram
Perch is a rooftop bar on the 16th floor of the Pershing Square Building where Hollywood actors Colin Farrell and Sam Rockwell are seen enjoying a drink in the movie 'Seven Psychopaths'. It is no surprise the bar made it to Hollywood with its sublime views, encircled by the tallest buildings in the city, providing plenty of crafty cocktails, beer options (draught and bottled), and over 70 wines to choose from.
Sip on the Sunset Spritz cocktail made with Herradura Silver, peychaud's aperitivo, lime juice, and sparkling wine with dinner dishes like scallops, steak frites, gnocchi, chicken supreme, and more as you take in the fresh air at the outdoor patio.
Location - 448 S Hill St, Los Angeles, CA 90013.
Timings - 4 pm to 1 am (Monday to Wednesday)
4 pm to 2 am (Thursday to Friday)
10 am to 3.30 pm, 5 pm to 2 am (Saturday)
10 am to 3.30 pm, 4 pm to 1 am (Sunday)
The Blue Room
Burbank's popular dive bar, The Blue Room is all about passing cool vibes with its blue chairs, decor, and lights. Appearing for a short duration in the 'Momento' directed by Christopher Nolan, The Blue Room can boast of its laurels in the Hollywood industry. They are also high on the list for sports enthusiasts looking for a place to bunk during match days with beer, wine, and spirits to partner with the enthralling events.
Location - 916 S San Fernando Blvd, Burbank, CA 91502.
Timings - 10 am to 2 am (Monday to Sunday)
Header image - Perch, Source: Instagram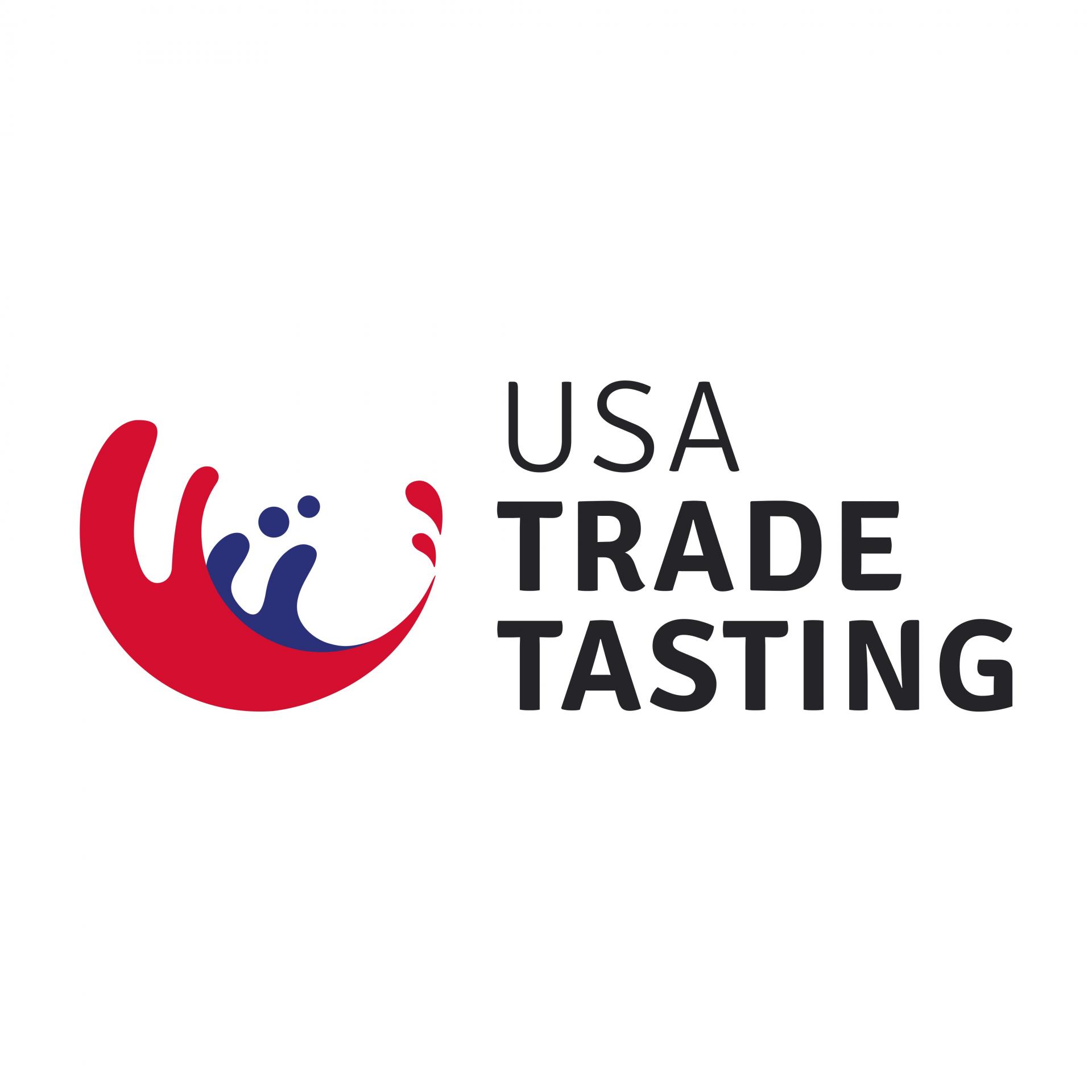 Morgan MFG, 401 N Morgan St Suite #204A, Chicago IL 60642
Register Now
South San Francisco Conference Center, 255 South Airport Boulevard, South San Francisco, CA 94080, United States.
Register Now
South San Francisco Conference Center, 255 South Airport Boulevard, South San Francisco, CA 94080, United States
Register Now