LA bars with fireplaces: Front Yard, A.O.C, and more
For snuggling up by the fireplace on chilly evenings, enjoying quality drinks and food, LA has its share of amazing fireplace bars to turn to.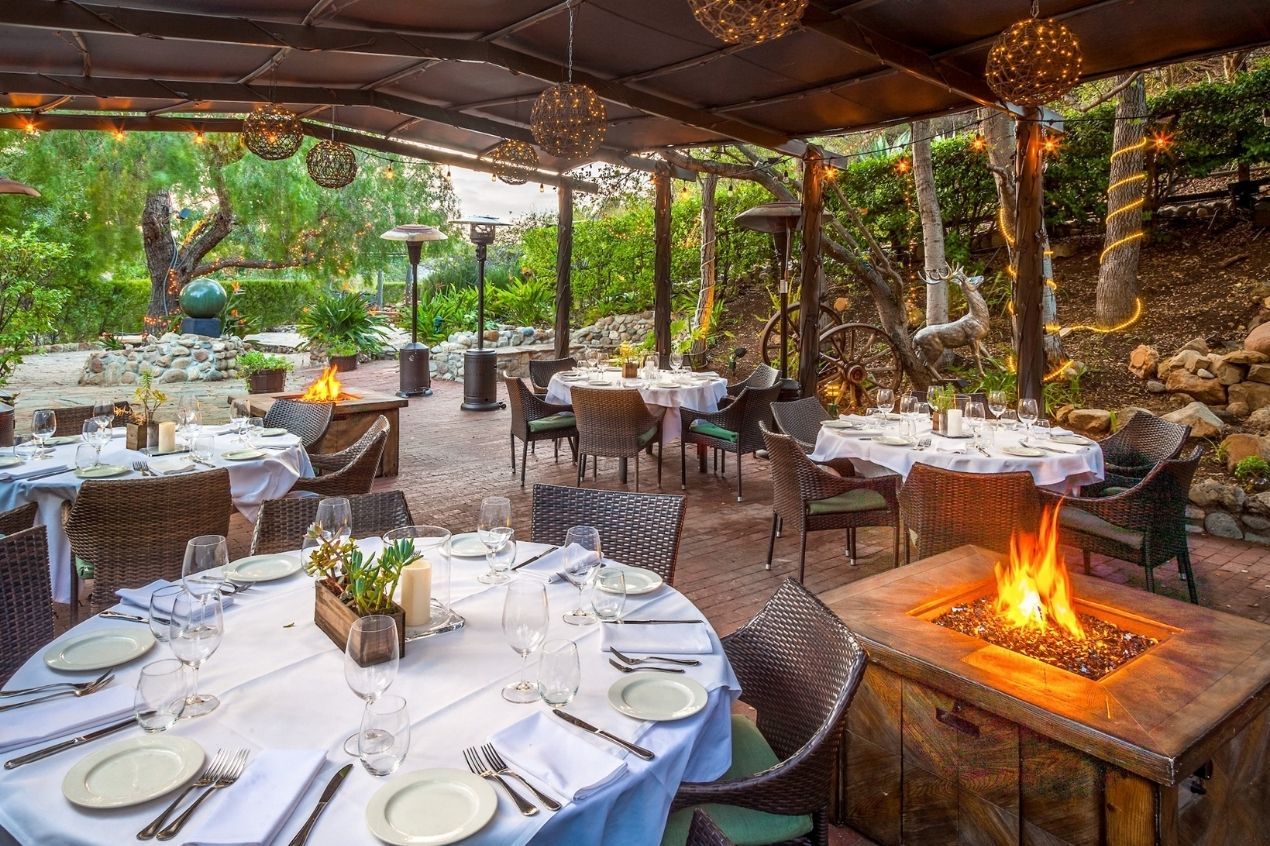 It is difficult to imagine Los Angeles getting chilly, especially for an outsider, given the constant sunshine that spreads across Southern California across the year. While LA is famous for its palm trees and the beaches that call people from around the world, those that are Los Angeleans through and through know that it can get windy and chilly on certain nights.
For days and nights like these, there are more than a few glorious bars and places to visit. These places have delicious food on offer, a lot of drinks to pick from, charming interiors (or views from the patio) and a rustic fireplace to keep you warm and cosy for the entirety of your duration there.
The Front Yard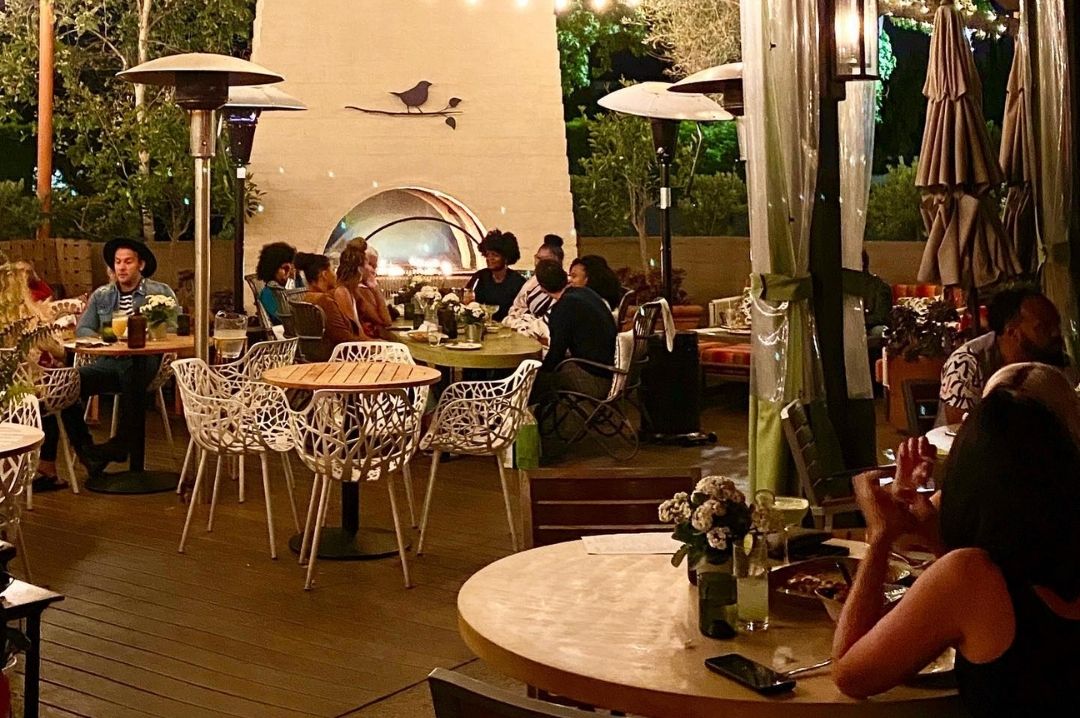 The Front Yard at North Hollywood, Source Facebook
Inside Garland Hotel is this enchanting little space, The Front Yard, which seems to be a sleepy old cafe that is anything but that. A unique gathering place in North Hollywood, The Front Yard's setting will remind you of an evening at an old friend's house. Inviting people from all walks of life, studio workers who enjoy their lunch hours, hotel guests who come in for a drink or two and people enjoying their days of retirement, The Front Yard is a cosy space with a delectable dine and drinks menu in place.
Larry Greenwood, the executive chef, and his team have crafted a menu that is in sync with the bar's setting, with Bloody Mary's and Homemade Poptarts the stars of the brunch menu. Flatbreads, salads accompanied by a bottle of beer make for a nice meal on the patio under the sun. A dinner by the fireplace can be enjoyed with a little bit of everything, from savory plates to shareable dishes and wine and cocktail options. A well-lit place perfect for an evening date as the stars galore and the fire lights up. The Front Yard also has a menu in place for vegan diners.
Timings- Breakfast
Monday to Friday- 7 am to 11 am
Saturday and Sunday- 7 am to 10:30 am
Lunch- Monday to Friday- 11:30 am to 2:30 pm
Dinner- Sunday to Thursday- 5:30 pm to 9:30 pm
Friday and Saturday- 5:30 pm to 10:30 pm
Weekend Brunch- 11 am to 3 pm
Location- 4222 Vineland Ave, North Hollywood, CA 91602
Old Man Bar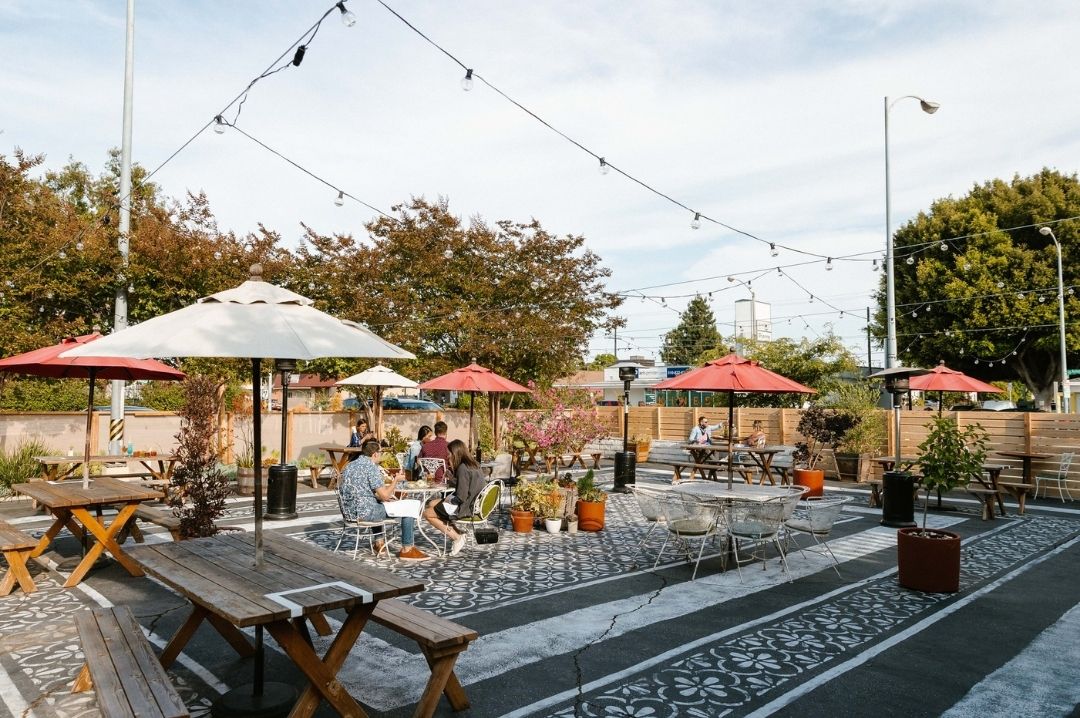 Hatchet Hall's Old Man Bar, Source Facebook
What is the first thought that comes to mind when you hear Old Man Bar? Does it feel like a place in the back of a building, tucked away from the hustle of the town outside, intimate and dimly lit where the scotch is as old as the bar's decor? Old Man Bar is all that and more. Residing in Culver City's Hatchet Hall, Old Man Bar cuts a lodge-esque vibe that lays an emphasis on American whiskey and spirits, which can all be enjoyed by the cracking fireplace as vinyl records play some beautiful tunes.
On the menu are some heavenly fares, like the Blue Prawns & Anson Mills Grits, Liberty Farms Confit Duck Leg, Grilled Antelope Loin, and more. Desserts like Sticky Toffee Date Cake, Pear Crisps, and a piece of the Old Fashioned Pecan Pie are all excellent for those looking for a sugar rush.
The drinks menu is vast, featuring a selection of scintillating cocktails like Sonoran Sun, Barrel Proof Old Fashioned, Roman Holiday, and more. The wine assortment is as alluring as it is lengthy, consisting of everything from a full-bodied red to a sparkling white and by-the-glass choices. The spirits collection includes bourbons, 16-year-old Lagavulin, and agave options enough to make anyone delirious.
A place where the fireplace, the grandeur of the bar, and the drink will make you feel like royalty.
Timings-
Tuesday to Sunday- 8 pm to 2 am
Location- 12517 W Washington Blvd, Los Angeles, CA 90066
The Wellesbourne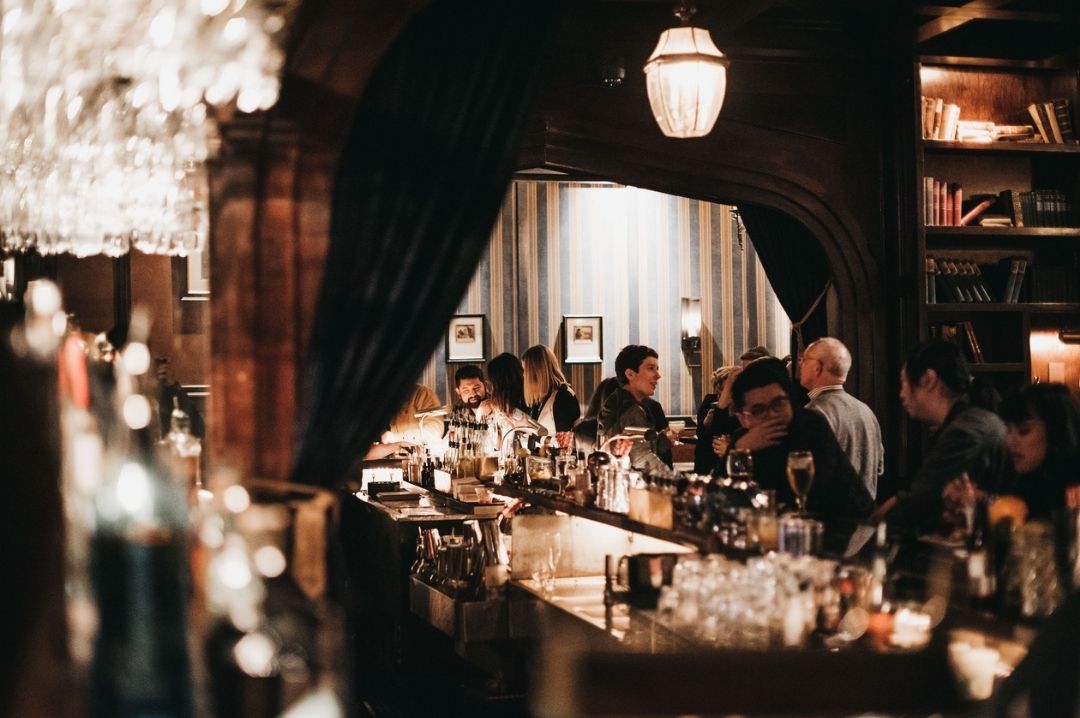 Drinking in The Wellesbourne's regal setting, Source Facebook
Named after a small village near William Shakespeare's hometown of Stratford Upon-Avon, The Wellesbourne is a stately lounge bar that will take you back to a 19th Century English bar and library setting. Equipped with leather couches, dark woods, and leather-bound books, The Wellesbourne's decor paves the way for the visitors to transport themselves from the everyday Los Angeles grind to the English Manors of olden times. The interiors remind of a bygone era, the cuisine, however, is a blend of English classics with an LA twist to it.
The team at The Wellesbourne is staffed with knowledgeable mixologists who are masters of their craft, curating an experience worthy of the setting. Sit by the fireplace and enjoy draught beers, cocktails like Rum Punch & Greyhound, a Rob Roy, Classic Negroni, and a Smokey Margarita. There are also specialty cocktails to choose from like Victoria Revels, Clandestino, and more. Small bites, juicy steaks, and chicken mains complete a very appetizing menu.
Timings-
Wednesday to Saturday- 5 pm to 2 am
Location- 10929 West Pico Boulevard, Los Angeles, CA 90064
Nelson's at Terranea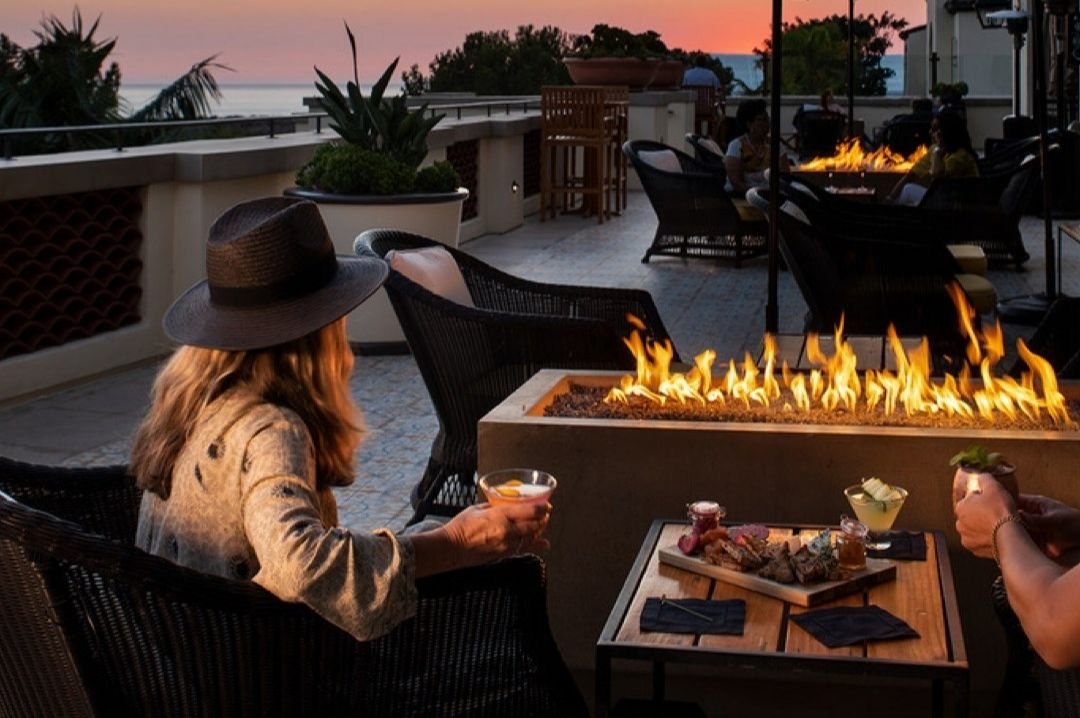 Terranea Resort's outdoor fireplace, Source Facebook
Terranea Resort's in-house modern surf shack directly perched above the ocean, Nelson's has become a favorite casual dining spot because of the many things it offers. Paying homage to the TV series Sea Hunt's protagonist Mike Nelson, Nelson's at Terranea offers guests a warm, friendly bar atmosphere surrounded by outdoor fire pits. The cuisine is coastal, spectacularly in line with the unmatched views of the California sunset.
From the menu, one can enjoy regional favorites like Baja fish tacos, seasonal salads, sandwiches, and burgers. On the drinks side, Nelson's at Terranea offers Californian wines, regional microbrews, and specialty cocktails like Captain Bridges, Smoke Show, and more. The scenic locales of Palos Verdes, the romantic setting, and the gushing waves and calm winds are perfect for a sip by the flames.
Timings-
Thursday to Tuesday- 11 am to 9 pm
Location- 100 Terranea Way, Rancho Palos Verdes, CA 90275
A.O.C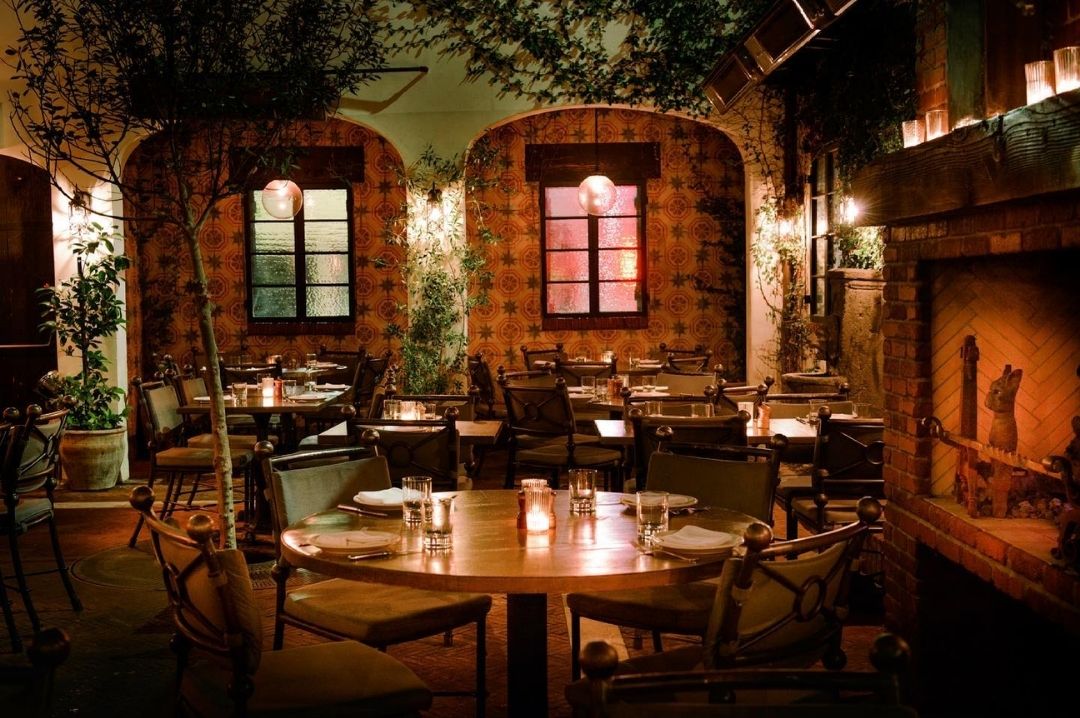 A.O.C Wine Bar, Source Facebook
3 time James Beard award-winning chef Suzzane Goin and James Beard Foundation's Outstanding Restaurateur of the Year 2018 Caroline Styne, opened A.O.C on the back of the success of Lucques, which they opened in 1998. Located in West Hollywood and Brentwood in Los Angeles, A.O.C is a pioneering wine bar that offers a flourishing fireplace by which guests can enjoy a handpicked selection of wines, craft cocktails, and a menu of market-driven small plates.
The West Hollywood menu comprises dishes like The Farmer's Plate, wood oven dishes, fish, meat, and more options. Cocktails like Passion Project, Christmas Vacation, Gold Dragon, and more offer something different from the regular cocktails people are used to. The wine list is indulgent, consisting of 20 amazing selections from some of the top wine regions like Willamette Valley, Napa Valley, and more. A great spot to light a fire, whether in a conversation with a significant other or with a friend you haven't conversed with in a while.
Timings-
West Hollywood
Brunch- Weekends- 10 am to 2:30 pm
Dinner- Sunday to Thursday- 5 pm to 10 pm
Friday and Saturday- 5 pm to 11 pm
Brentwood
Dinner- Sunday to Thursday- 5 pm to 10 pm
Friday and Saturday- 5 pm to 11 pm
Location-
West Hollywood- 8700 West 3rd Street Los Angeles, CA 90048
Brentwood- 11648 San Vicente Blvd, Los Angeles, CA 90049
West Hollywood- View on Maps
Brentwood- View on Maps
Lunetta All Day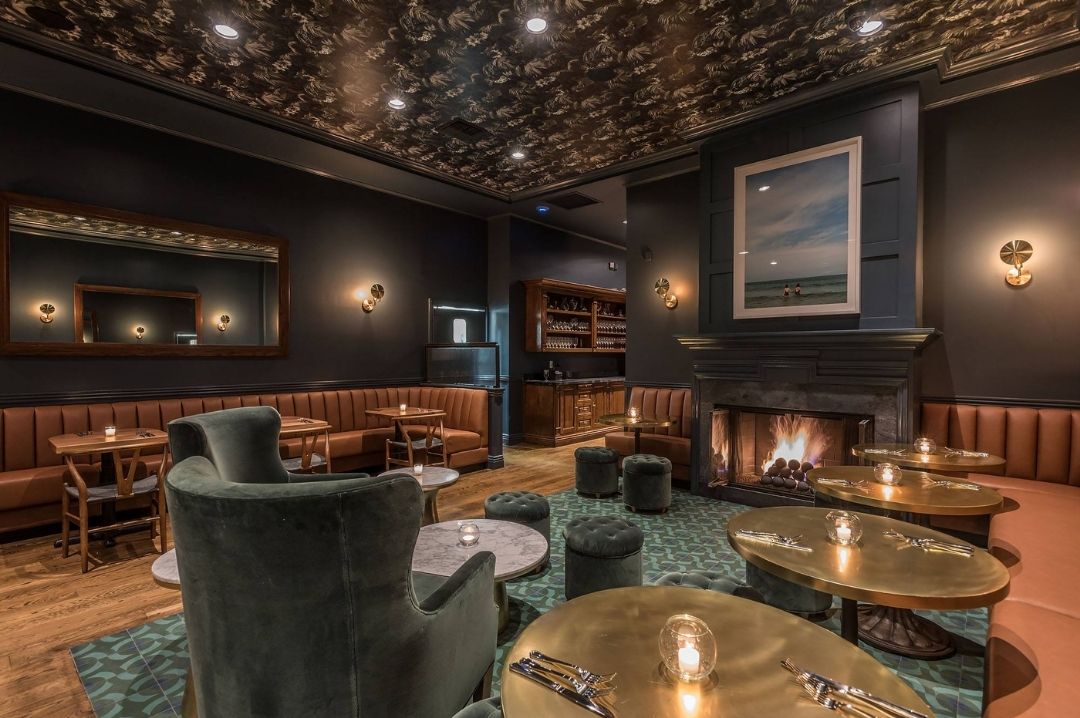 Lunetta's stylish indoor fireplace, Source Facebook
Another Pico Boulevard mainstay, Lunetta All Day is an inventive breakfast spot by day that transforms into a stylish and fine dining restaurant at night. An interpretation of a neighborhood diner, Lunetta All Day is home to Lunetta, a slightly formal, dinner-only restaurant in Santa Monica. Menus at Lunetta are made from ingredients locally sourced, responsibly grown, and seasonal, all available in abundance in and around California.
The crowd-pleasing dinner and drinks menu consists of dishes like Nicoise Salad, Wood-Grilled BBQ Salmon, L.A.D burger, and other amazing sides, entrees, and mains to choose from. Seven cocktails, eight beers on tap, and another six by the bottle, a wide selection of over sixty amazing vinos that complete a heavenly drinks menu, perfect to be enjoyed by the fireplace. The dark colors and the velvet chairs with the blazing fire create an excellent atmosphere that takes the mind away from the winters.
Timings-
Wednesday to Friday- 11 am to 9 pm
Saturday- 10 am to 9 pm
Sunday- 10 am to 4 pm
Location- 2420 Pico Boulevard, Santa Monica, CA 90405
Saddle Peak Lodge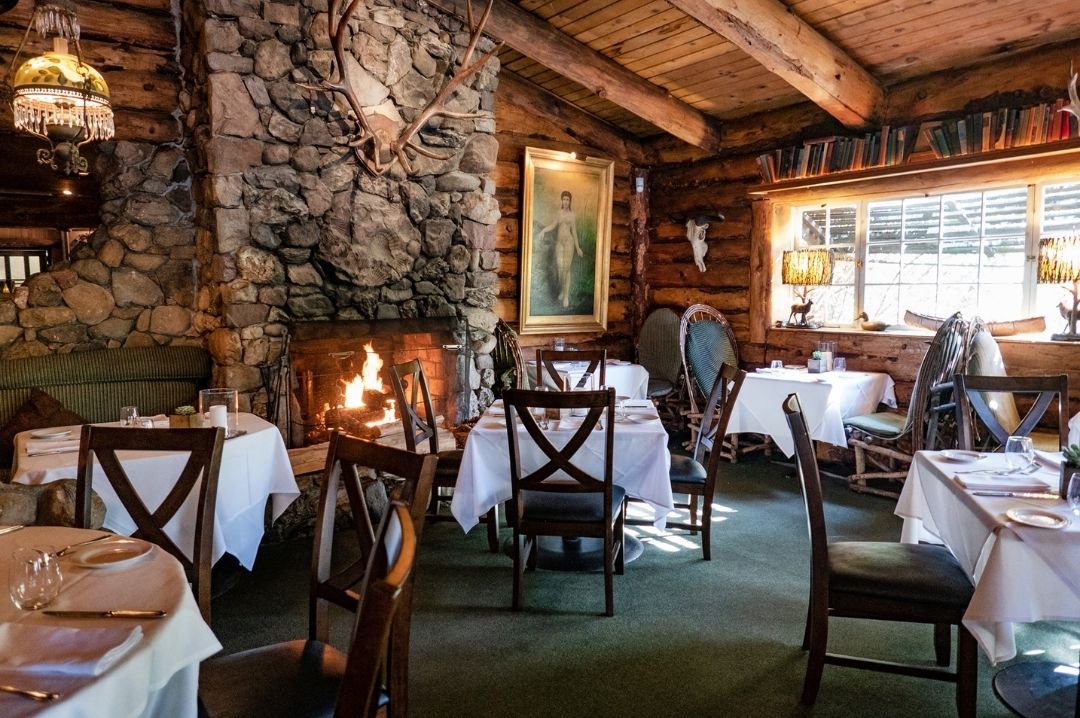 The brick walls and the fire at Saddle Peak, Source Facebook
Nestled deep in the hills of Malibu, Saddle Peak Lodge derives its name from the fabulous Saddle Peak the lodge stands under. The sprawling restaurant is spread across three floors, with all three having their designated fireplaces which can be enjoyed during cold evenings. Saddle Peak Lodge also has a library and an outdoor patio that overlooks the mountains, a view made to be enjoyed with a nice red or white, or even a nice whiskey.
On Saddle Peak Lodge's menu, one can find warm dishes like a richly cooked pork belly, spaghetti rustichella, large plates of Alaskan black cod, New Zealand elk, and more. Accompanying these dishes, which include rare-meat delicacies, are cocktails like JCB Luxury Martini, Spicy Margarita, Black Manhattan to name a few. The comprehensive wine list at Saddle Peak Lodge has wines from New Zealand, France, and South Africa sitting alongside wines from some of the US's top wine regions like Napa, Sonoma Coast to name a few. Whether it's on their patio or any of the three decks, the fire brings great warmth and the food brings great joy.
Timings-
Tuesday to Thursday- 5 pm to 9 pm
Friday and Saturday- 5 pm to 10 pm
Sunday- 5 pm to 9 pm
Sunday Brunch- 10:30 am to 2:30 pm
Location- 419 Cold Canyon Rd, Calabasas, CA 91302
1886 at The Raymond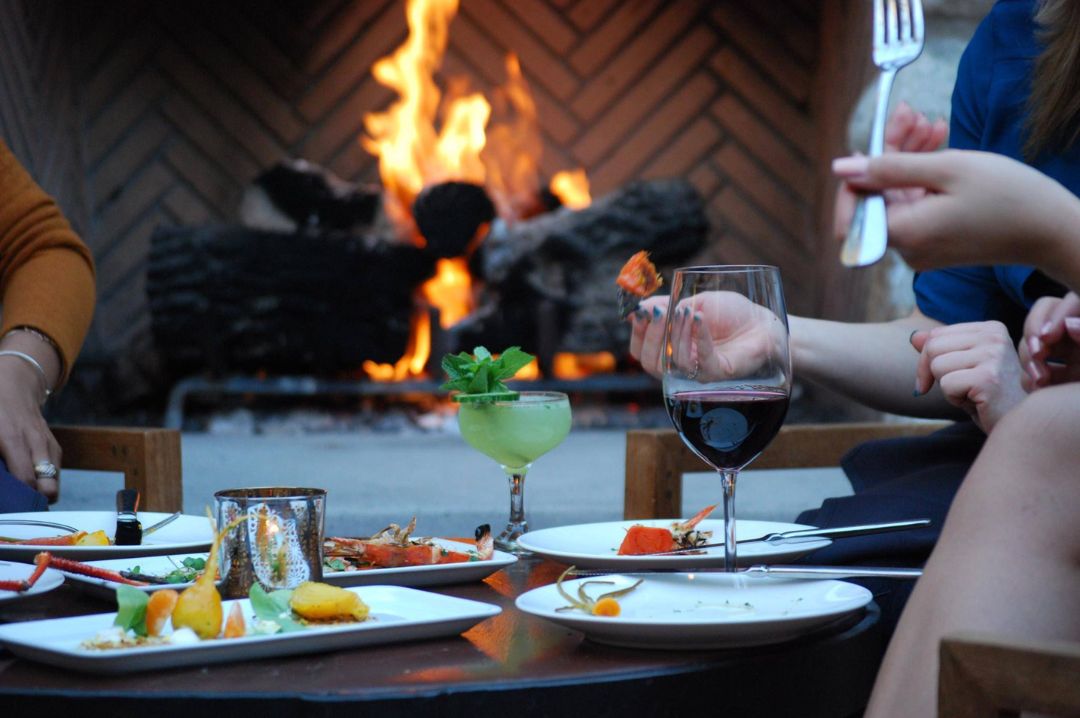 The Raymond Restaurant, Source Facebook
A living example of Pasadena's vibrant past and carrying on LA's rich cultural heritage and unparalleled hospitality, 1886 at The Raymond is the top destination for those looking for a nice, warm drink or two by the fireplace. A constantly evolving bar program means the team at 1886 at The Raymond always has something new up their sleeve.
The bar boasts a repertoire of over 600 cocktails, most found off-menu, presented in a playful manner using some of the finest spirits going around. Whether it's the Japanese Highball, Fall For Me, Rabbit's Fur Coat, or any other concoction, every drink on 1886 at The Raymond's menu is promising and fulfilling. The cocktails, beers, and wines can be paired with a seabass, mushroom gnocchi, or the jidori chicken. A place you will fall in love with for all that it offers through the course of one evening.
Timings-
Tuesday to Sunday- 4 pm to 9 pm
Location- 1250 S Fair Oaks Ave, Pasadena, CA 91105
Header Image- Saddle Peak Lodge, Source Facebook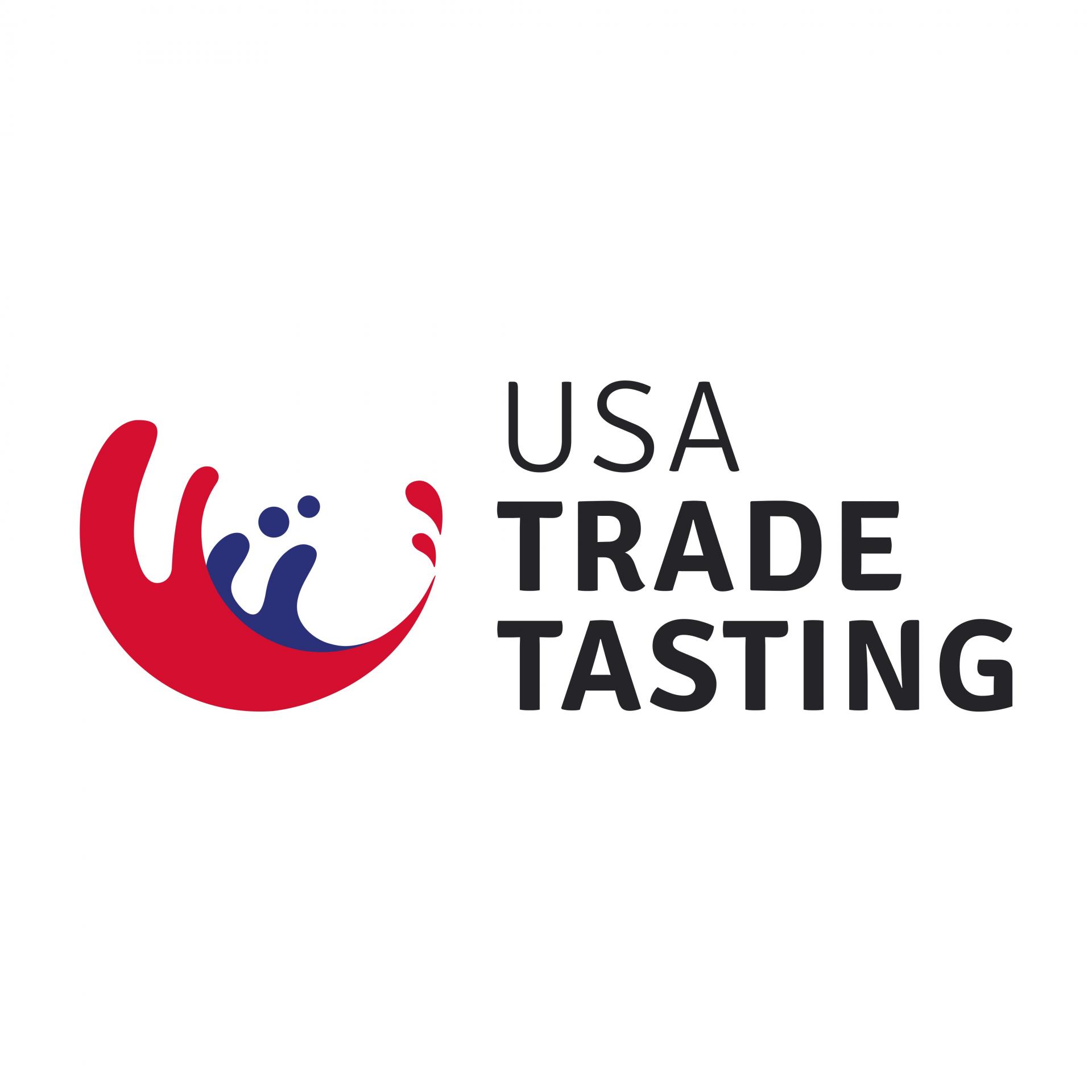 Morgan MFG, 401 N Morgan St Suite #204A, Chicago IL 60642
Register Now
South San Francisco Conference Center, 255 South Airport Boulevard, South San Francisco, CA 94080, United States.
Register Now
South San Francisco Conference Center, 255 South Airport Boulevard, South San Francisco, CA 94080, United States
Register Now