Montinore Estate's Pinot Gris crowned best of 2021
Celebrating quality wine making, Pinot Gris 2019 by the Montinore Estate was awarded best Pinot Gris of the year at the Sommeliers Choice Awards 2021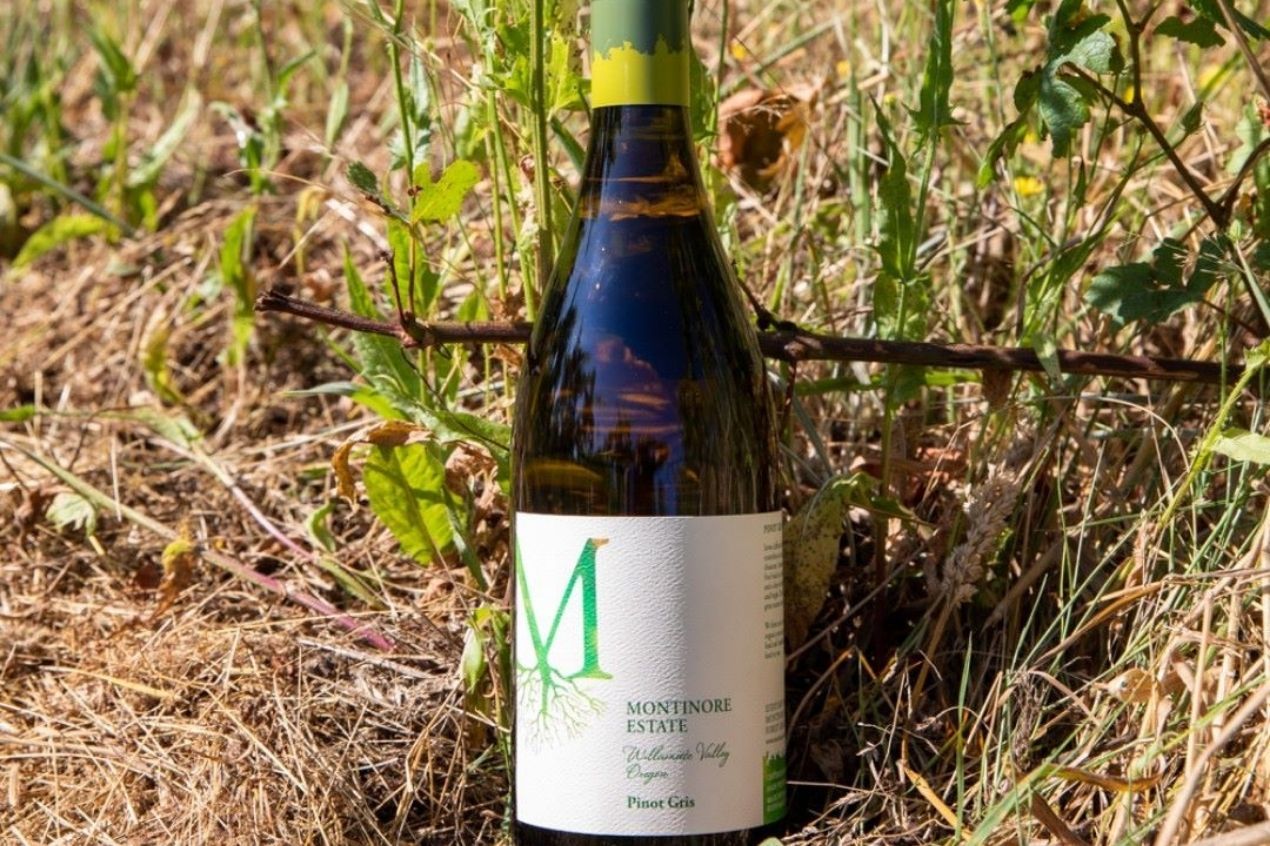 With intensely fruit-forward aromas of pineapple, key lime, mango, and kiwi, the fresh and clean palate offers flavors of citrus, Granny Smith apple, green pear, and a slight grassiness. The acidity is lively and mouthwatering. Pinot Gris is a crowd pleaser and all-around versatile, without any doubts, making it the wine you ask for at any restaurant or wine bar you next visit. Chill it down for a palate-cleansing aperitif or pair it with just about any meal, especially veggie kabobs, grilled halibut, or fresh salads. Fun fact, Pinot Gris came about by a genetic mutation of Pinot Noir.
Pinot Gris by the Montinore Estate won the Best Pinot Gris of the Year award at the Sommeliers Choice Awards 2021.
The objective of the Sommeliers Choice Awards is to give on-premise purchasers and sommeliers a significant benchmark for understanding which wines would make a convincing expansion to a wine list.
The judging panel of the Sommeliers Choice Awards comprises Master Sommeliers, Masters of Wine, sommeliers, on-premise wine purchasers, and wine directors at U.S. restaurants, bars, pubs, and clubs. Some of the judges present this year were Ira Harmon MS (Master Sommelier and Fine Wine Specialist at Vin Sauvage, Las Vegas, NV), Jim Bube MS (Master Sommelier and General Manager of Mercantile Dining and Provision in Denver, CO), Hunter Hammett (Award-Winning Sommelier, Wine Judge, and Wine Educator), Brett Davis MS (Master Sommelier and Sales and Education Manager at E. & J. Gallo Winery), Maximilian Kast MS (Master Sommelier and Director of Education at Broadbent Selections Inc), and many more.
Medals are awarded, and top points are granted to those wines that meet the specific judging criteria - food pairing ability, typicity, quality, value for money, and packaging to recognize wines that should become additions to eateries' wine lists.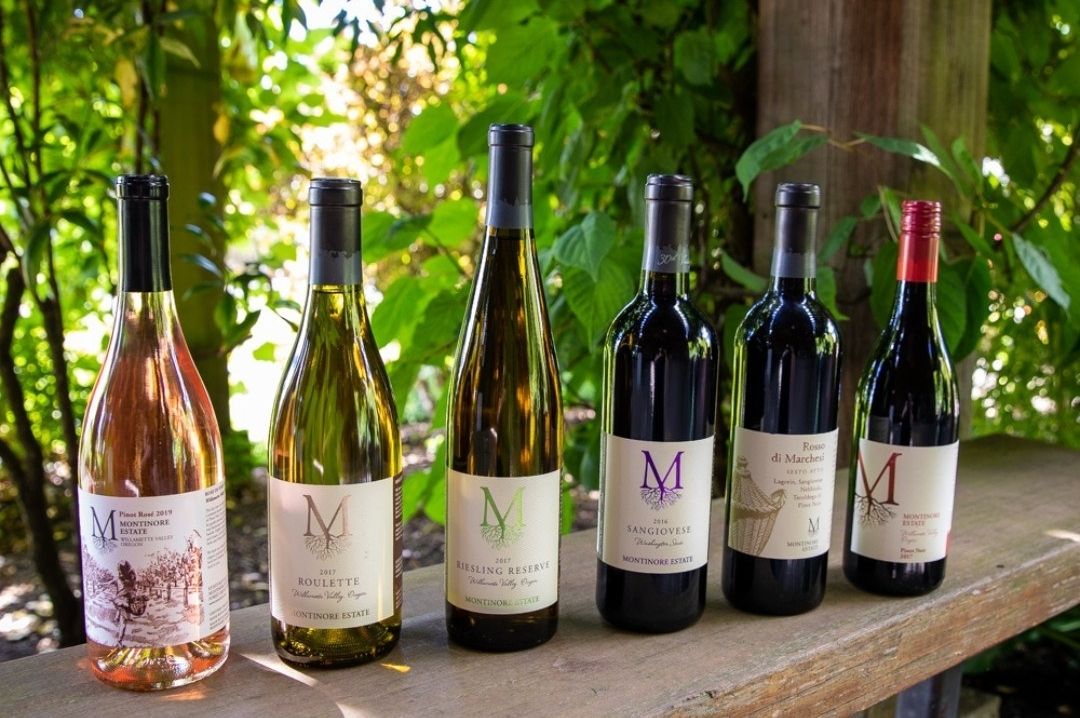 Wines, Source Facebook
About Montinore Estate
Carlo and Rosa Marchesi loved, tended, and respected the land in their hometown in Northern Italy. They grew and produced their own food, made their own wine, and thrived on their sustainable lifestyle. When they immigrated to the northeastern United States, they continued this tradition while instilling this same love for the land in their grandson, Rudy Marchesi.
Rudy grew, made, and sold wine on the East Coast while raising his own family but became captivated by Oregon wine country. Oregon was a place, he believed, that fostered creativity. It was a place where the beauty of the land could be developed in the grapes and showcased in the wines.
After overseeing operations and serving as vineyard consultant for several years at Montinore Estate, Rudy became proprietor of the 200-acre estate in 2005. Today, his grandparents' legacy is alive and well. In the ground, in the vines, and the bottle.
Nowadays, Rudy presides over the estate carrying on the family tradition of land stewardship. Rudy, alongside the winery's new viticulture team, continues the long-established organic and Biodynamic® farming practices across multiple vineyards. He has assembled an experienced and passionate vineyard and winemaking team who expertly nurture the land and the vines and who turn these raw materials into beautifully crafted wines. Together they uphold the family vision of sustainability through a commitment to biodynamic and organic farming and sustainable winemaking.
Montinore Estate wines are a celebration of a place and a culture where wine is part of every day, to celebrate a glass of great quality winemaking in every glass. They are firmly rooted in the values of a well-lived life, one that includes the enjoyment of food and wine with friends and family. Made to enjoy now, with fresh and lively flavors, Montinore's wines are also crafted with age-worthy structure and complexity.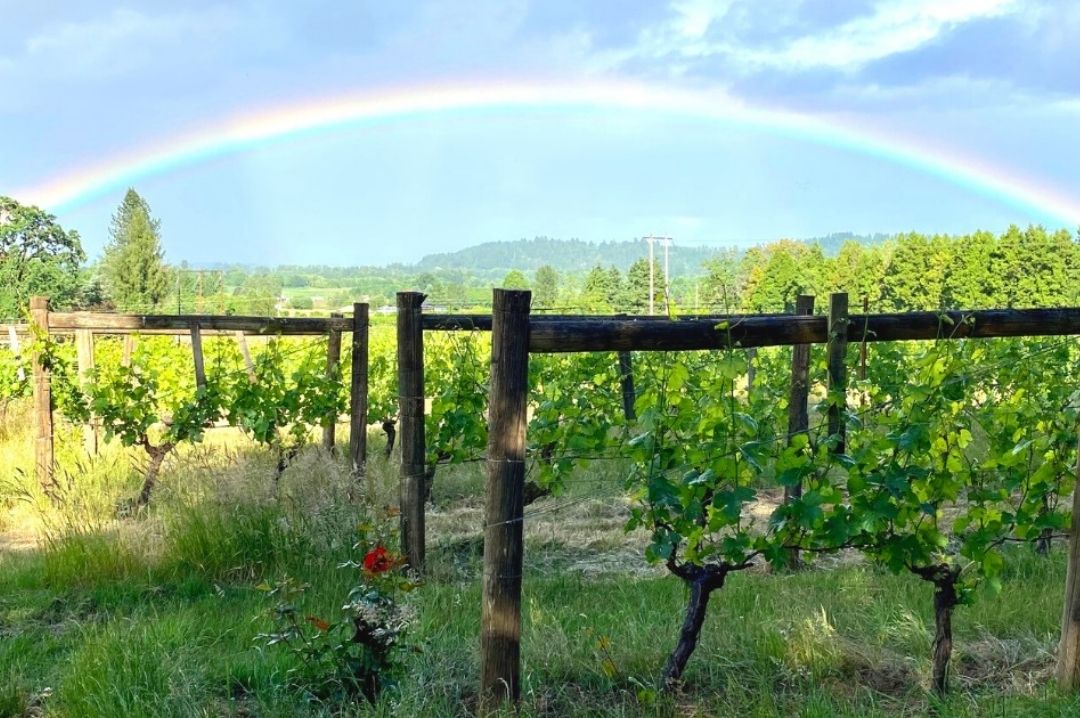 The Vineyard, Source Facebook
About Montinore Estate Vineyard
Planted in 1982, Montinore Estate is a 200-acre Demeter Certified Biodynamic® and CCOF Certified Organic estate that lies at the northern end of the Willamette Valley appellation and along the east-facing slope of the Coastal Range foothills in Oregon. In addition to the certifications, they use dry farming and sustainable growing practices. The goal has always been to create complex wines that reflect the soil and overall place from which they come. This is an ideal site for the nine grape varieties they grow there - Pinot Noir, Pinot Gris, Riesling, Gewürztraminer, Müller-Thurgau, Lagrein, Teroldego, Muscat and Sauvignon Blanc.
In 2008, they received Biodynamic® certification from Demeter, the only Biodynamic® certifying agency in the U.S. As described by Demeter, "Biodynamic® agriculture is a philosophy and methodology that views a farm as a self-sustaining ecosystem entirely responsible for creating and maintaining its individual health and vitality without any external and unnatural additions. It is one of the most sustainable forms of agriculture, creating healthier food for healthier people and a healthier planet."
Their close attention to each step of the grape-growing process is rooted in the belief that exceptional wine is born of a sustained marriage of soil, climate, and artful stewardship.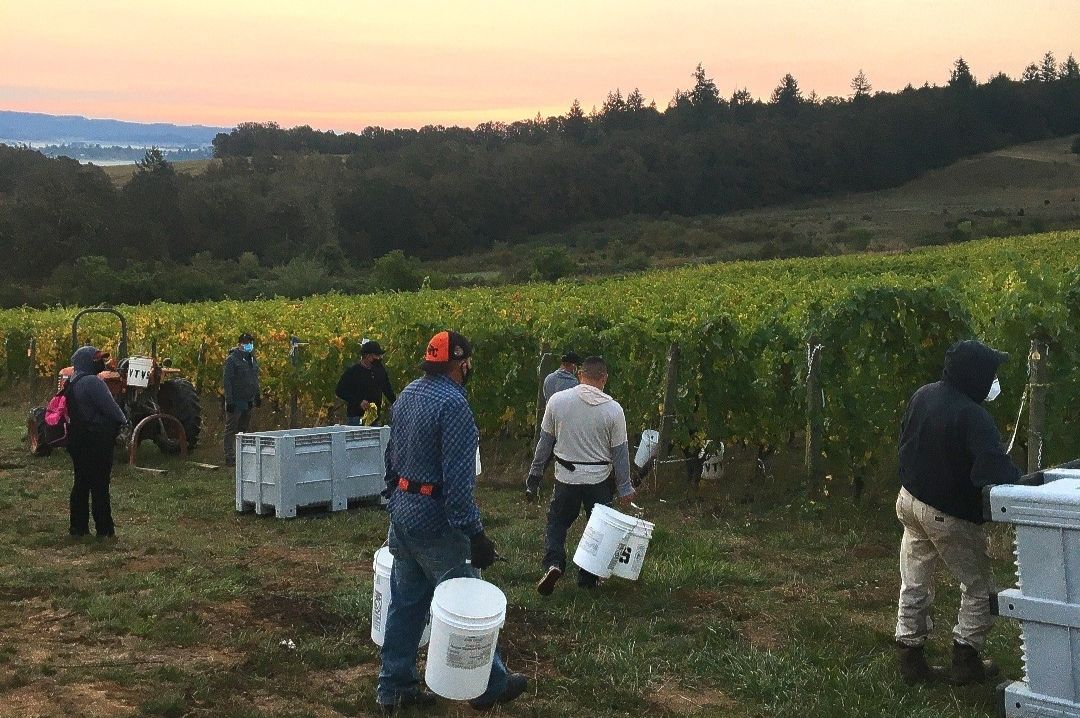 The Winemaking, Source Facebook
Winemaking at Montinore Estate
Rudy Marchesi, side-by-side with Head Winemaker Stephen Webber, works closely to shepherd their grapes through the evolution from fruit to wine.
By employing thoughtful Biodynamic® and organic growing practices and utmost care in winemaking, the quality of their vineyards is reflected in the grapes and then in the wine. Their approach to winemaking focuses on producing wines that are an expression of where they are grown while ensuring they are approachable, food-friendly, and structured for graceful aging. From harvest dates to fermentation vessels and temperatures, from cultivating their own yeasts to selecting the perfect barrels for aging, each decision is thoughtfully made with one end goal in mind - To craft wines that reflect the place where the grapes are grown, offering freshness, liveliness, and complexity, while showcasing the best characteristics of each variety.
Rudy's Italian heritage helped develop his palate for acid-driven, food-friendly wines, which is why he fell in love with Oregon more than two decades ago. He strives for flavors that complement a variety of foods, harkening back to the northern Italian dishes on which he was raised. In addition to Pinot Noir and cool climate whites, they also grow and produce estate Teroldego and Lagrein, grapes that originate in the Dolomite Mountains of Italy and are a nod to Rudy's origins.
Stephen came over from DiStefano winery to the Montinore Estate in 2006. He had previously spent extensive time working in Australia, where he gathered much of his larger-scale winemaking experience. A vintage in Alsace, France, sealed Stephen's love of cool-climate white varieties. Under Stephen's direction and expertise, the winemaking team crafts superior Pinot Noir, fascinating Italian varietals, and an array of aromatic white wines not widely available in the Willamette Valley.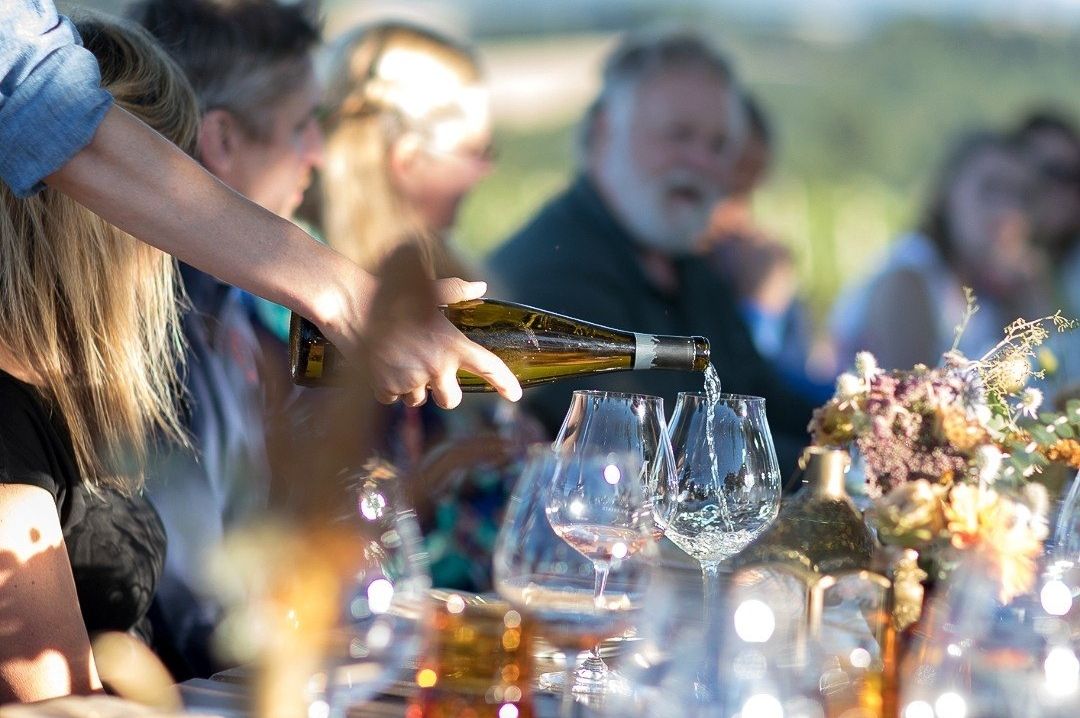 A warm summer day at the estate, Source Facebook
Laurelwood Society Wine Club
The Laurelwood Society is a wine club designed for wine enthusiasts and beginners alike to experience the true essence of Montinore Estate. Whether you appreciate their wonderful variety, prefer to focus on just their distinctive white varietals, are fans of well-balanced red wines, or want to stock your cellar with unique, age-worthy selections, they have the perfect wine club for you.
Named for the dominant loess soil that characterizes their home vineyards, the Laurelwood Society celebrates their commitment to biodynamic farming creative, quality winemaking and the needs and preferences of their members.
Currently, they offer two releases a year that can either be shipped to your door or picked up at the winery. Membership includes access to limited release, club exclusive wines, special member-only events, 20% off all wines, complimentary tastings for up to four guests, and more.