Top 10 Cannabis Spirits to try
Raise your own bar as you try trending cannabis-infused spirits.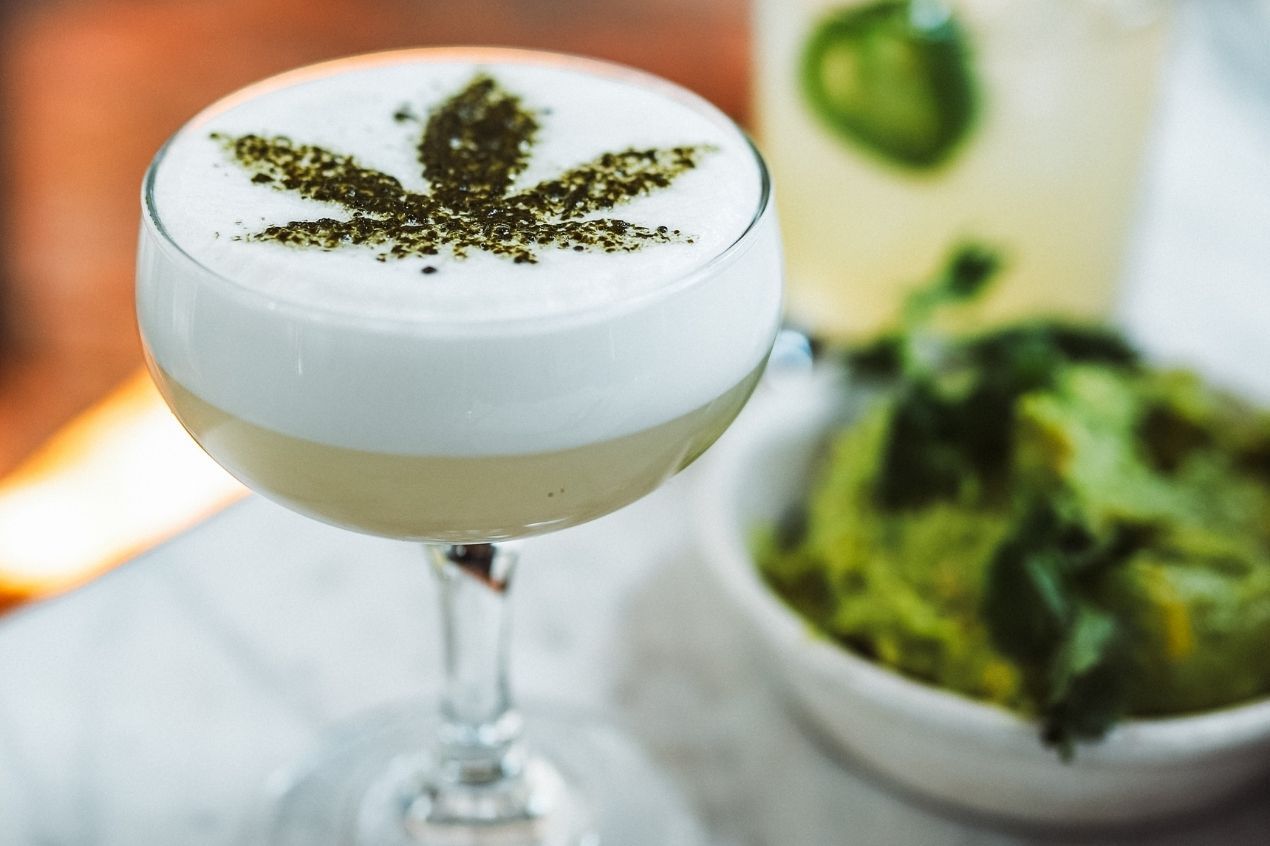 Legalized recreational cannabis is a new competitor for alcoholic beverages in the USA. The medical use of cannabis is legal, with a doctor's recommendation, in 36 states, the recreational use of cannabis is legalized in 17 states, the District of Columbia, the Northern Mariana Islands, and Guam for adults over the age of 21. Another 13 states and the U.S. Virgin Islands have decriminalized its use. The commercial distribution of cannabis has been legalized in all jurisdictions where possession has been legalized, except the District of Columbia.

As the legalization of marijuana continues across the U.S., spirits producers are seeking ways to get on board. Brands have been adopting cannabis' various properties into their products–with one of the more recent trends being the plant's infusion into spirits like gin and rum. Consumers are increasingly embracing cannabis as its uses and benefits are both far-reaching in their potential daily applications and as the plant caters to the growing preference for natural approaches to nutrition and mental health. With people already pivoting from natural enhancements to standard items that are part of their routines, the growing acceptance of cannabis is an easy transition.
Here is the list of some of the cannabis spirits worth trying.
Colorado High Vodka

Colorado High Vodka, Source Facebook
It was essential for the Colorado Gold Distillery to find the right hemp grain at the right time to fulfill their vision of producing a one-of-a-kind vodka, so they bought a couple of hundred pounds of cannabis from Canadian farmers and got busy trying. After working diligently for two years, they found the product they were looking for and by 2015, the producers were ready to blend their hemp with pure Colorado snow-melt water. The result is the first and only U.S.-produced vodka fermented and distilled with real, natural raw hemp Colorado High Vodka.
Colorado High is a super-clean, easy-drinking vodka that delivers a luxurious mouthfeel from the natural oiliness of the hemp. There's no need to brace yourself for the typical vodka bite because it's a mellow spirit that goes down smooth. And the finish is just as nice, with the natural hemp adding subtle sweetness and nuttiness. Enjoy Colorado High served chilled and neat. You can also mix it in classic vodka cocktails. But most of all, we can't wait for you to find it, try it, and love it as we do.
ABV 40% | Hemp 51% | Proof 80
Humboldt's Finest

Humboldt's finest, Source Facebook
Made in small batches, Humboldt's Finest uses the fresh character of locally-grown hemp to create a unique botanical spirit. Bright, herbal, and smooth, it drinks like a gin, but not. Try it with your favorite mixer or by itself to experience a uniquely Humboldt escape from the commonplace. Free of THC and CBD, Humboldt's Finest is legal in all 50 states.
With tasting notes of lemongrass, cucumber, green tea, basil, and pine, it is infused with locally-grown hemp and the aromatic terpenes provide a distinctive fresh herbal character. You can mix Humboldt's Finest to make some classic cocktails.
ABV 80 | Proof 40%
Nirvana Vodka

Nirvana Vodka, Source Facebook
Dr. Ram Ramcharran and Dr. Sadhana Shah together started Nirvana Distillery and built Florida's first certified CBD-infused distillery facility in Tampa. Their vodka is known for its smoothness. It is distilled 10x from potatoes, naturally making it gluten-free, and is hemp-infused from 100% organic Cannabis Sativa, with proprietary technology that is a trade secret. They use old-fashioned pot stills and taste-test every batch. Here the spirits are one of a kind made with passion and science. Nirvana wants to make the world a better place and so supports non-profits all around the world. You can enjoy Nirvana Vodka by mixing it to make classic vodka cocktails.
ABV 40% | Proof 80
1420 BBN

1420 BBN, Source Instagram
SoNo 1420 is proud to be the first and only distillery in the world that has incorporated hemp seed into a whiskey mash bill. The result - some of the best tasting and the most intriguing spirits ever. The nose on this whiskey is unexpectedly light and floral, suggestive of honeysuckle with hints of dried fruit, particularly cherries. On the palate, all the vanilla, cinnamon, and honey expected of a bourbon whiskey are present but, instead of trailing off into the usual extended, syrupy butterscotch-caramel finish, it has nutty-flavor characteristics, another contribution of the ground hemp seed.
75% corn | 15% rye | 10% hemp
1420 Hemped Rye Spirit

1420 Hemped Rye Spirit, Source Instagram
This spirit exhibits pepper on the nose, with a faint and elusive honey undertone. On the palate, the characteristic bite of rye has been softened to a nibble, allowing flavors of pepper and cinnamon-honey to spring forth pursued by marzipan and dried fruits in the finish. For all its intrigue, this is a rye drinker's rye – a day-in/day-out, easy sipping whiskey.
75% rye | 15% corn | 10% hemp
Myrcene Hemp Gin

Myrcene Hemp Gin, Source Facebook
The world's first hemp gin distilled with terpenes, Myrcene Hemp Gin is the perfect balance of earthy and fruity. Bubblegum aromas blend with lavender, pine forest, and sage. Soft tones of violet interact on the palate with woodland flavors of rosemary and resin, cloves, and woody spices. With a long, complex finish and a rich mouthfeel, The Myrcene is perfectly paired with a premium tonic. Try it poured over a wedge of lemon with a sprig of fresh rosemary to really bring out those piney aromas.
Some cocktails that can be made by mixing Myrcene Hemp Gin are the Myrcene Negroni and Green Dear Myrcene.
ABV 40.0% | 50% of the total Terpene content
Left Coast Hemp Vodka

Left Coast Hemp Vodka, Source Facebook
Left Coast Hemp Vodka is distilled with the finest Canadian-grown organic hemp seed with a rich silky texture, elicited by the smooth oils of the hemp. It tastes like hazelnut with a hint of spice and a long, clean finish. Victoria Spirits is a small Canadian company dedicated to creating "Victoria's Modern Spirit."
ABV 42.0% | Proof 84.0
Muhu Sweet Hibiscus Gin

Muhu Sweet Hibiscus Gin, Source Instagram
The first travel-influenced line, inspired by voyages through Asia, Muhu Sweet Hibiscus Gin is distinctly floral infused with citrus botanicals which give way to the delicious, sweet hibiscus. Each bottle is infused with CBD from responsibly farmed, high-quality hemp making it a drink engineered for relaxation. Naturally sugar and sweetener-free, this CBD is flavorless and colorless. You will only taste a special blend of botanicals and sweet hibiscus. Serve it with Fever-Tree Aromatics (the pink one!) and a sprig of thyme.
50cl / 40% VOL / 0% THC
Cannabis Sativa Vodka

Cannabis Sativa Vodka, Source Facebook
A mixer should elevate this vodka, spurring the taste buds to experience new and richer, deeper, and more exciting flavors. It rewards the drinker with sensations that improve rather than diluting their chosen drink. Cannabis Sativa, an Amsterdam-based spirits company, crafts beautiful products dedicated to bringing only the best spirits to the market. The Cannabis Sativa Vodka has a spicy smell with a little dry aftertaste on the tongue. A full, rich and soft Cannabis palette to complete. It does not contain T.H.C. and tastes best when served cold.
ABV 37.5%
Cannabis Sativa Liquor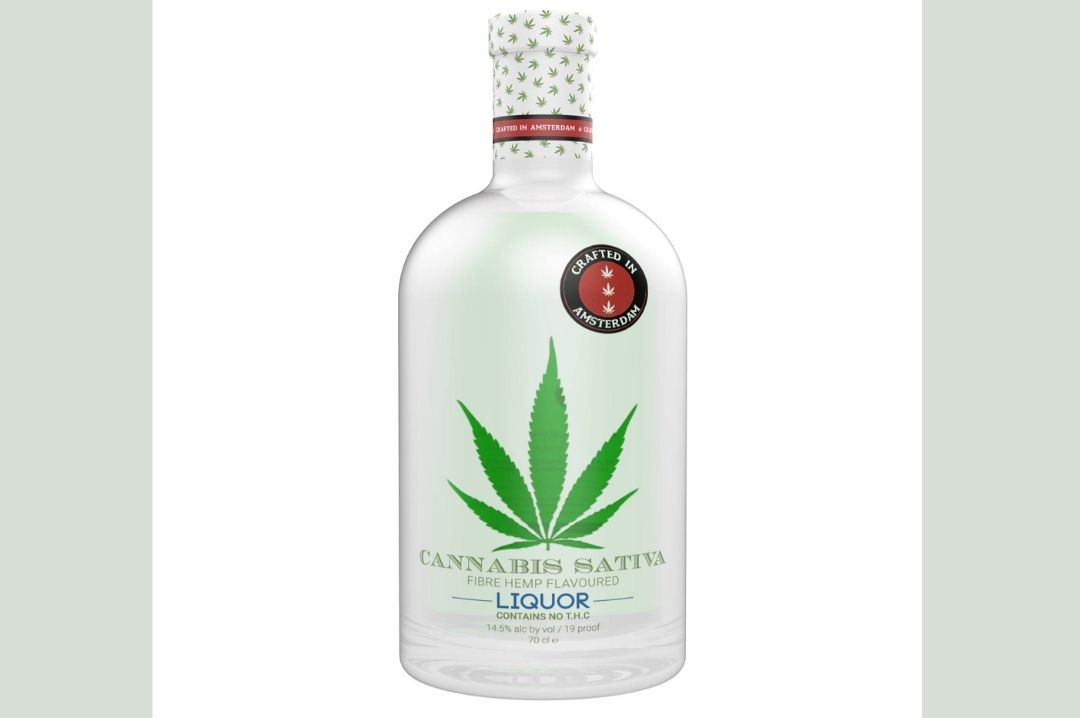 Cannabis Sativa Liquor, Source Facebook
Another offering from Amsterdam-based Cannabis Sativa Company is Cannabis Sativa Liquor is sweet in taste and has a spicy smell with a little dry aftertaste on the tongue. It has a full, rich, and soft Cannabis palate to complete. It does not contain T.H.C. and tastes best when served cold.
ABV 14.5%
Header Image: Humboldt's finest, Source Facebook