Make a Mai Tai with Teddy Martinez
Heading over to Mezcalero Long Beach? Don't forget to order Teddy Martinez's Mai Tai.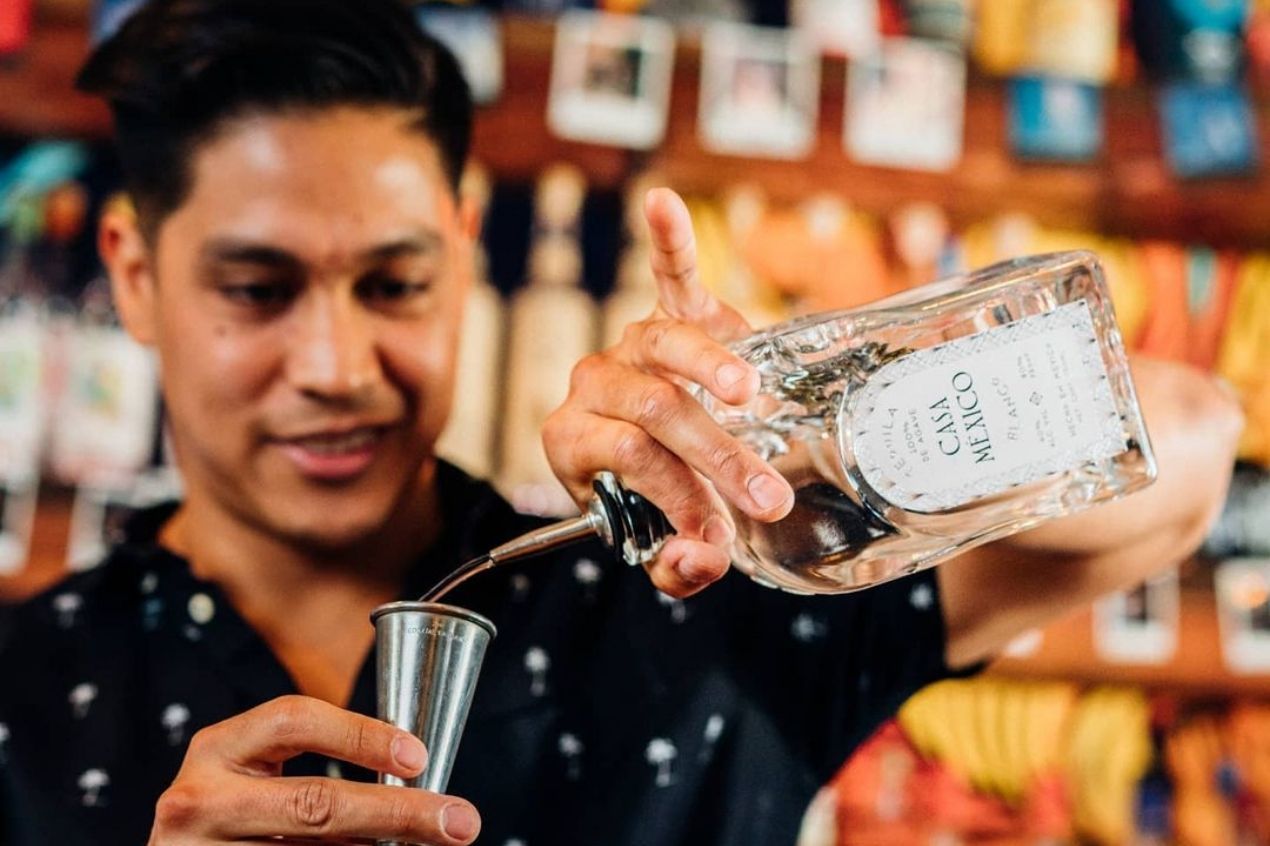 Born in the Philippines and raised in the suburbs of LA, Theodore (Teddy) Martinez started his career in the sales and marketing sector in his early 20s. Soon, he transitioned into coaching Crossfit weightlifting, powerlifting, and personal training. "Fitness has always been a part of my life," says Teddy.
When it comes to making drinks, Teddy started mixing drinks out of curiosity, which transitioned into him bringing his barware and ingredients to parties for fun. In 2018, Teddy realized this is what he wanted to do - so he started at a gastropub named Bread & Barley, where he worked the cocktail program. At the same time, he also worked at Arrowlodge Brewing, where he was, as Teddy likes to call it, a 'beertender'. His journey then took him to Sopranos, an Italian restaurant in Hollywood.
Today, Teddy is a full-time bartender at Mezcalero - serving up some great drinks to patrons.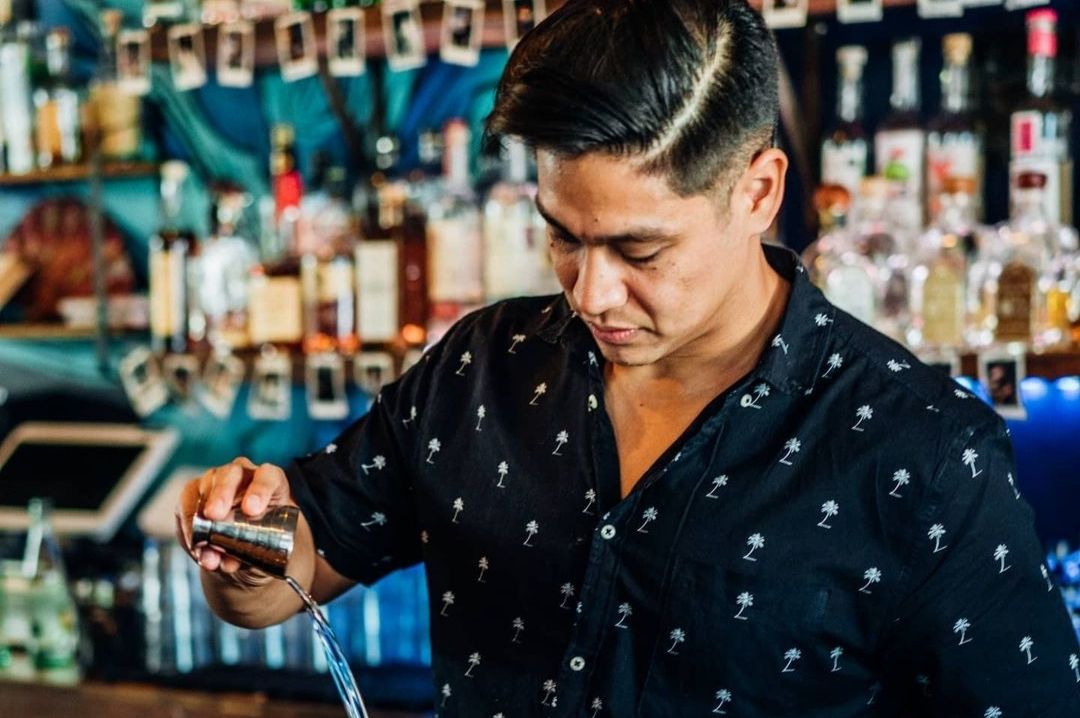 Teddy Martinez at Mezcalero LBC
According to you, what are some of the most important skills a bartender should have?
I think a good bartender needs to know his/her classics. To me, everything stems from the classics. Secondly, I would say never stop learning! At the end of the day, we're making drinks, not curing cancer, so have fun.
What is your favorite cocktail to make?
Trader Vic's Mai Tai (Smuggler's Cove Spec)
Ingredients:
1oz Rhum Agricole
1oz Jamaican Rum
0.5oz Dry Curaçao
0.75oz Lime
0.75oz Orgeat
Combine all ingredients in a cocktail shaker. Add ice, cover, and shake. Strain into a chilled glass.
What's one essential piece of barware that everyone should have at home?
I would say...ALWAYS have a shaker!
What are some of your favorite places to drink at when you're not working?
Death and Company, Everson Royce Bar, Big Bar, Harvard and Stone, Cole's, and Bar Calo. Cole's also has some of the best happy hours, according to me!
A funny story you heard at the bar?
Once I heard someone say "My boyfriend gave me gonorrhea and I don't know how to tell my husband".
What has been your most bizarre client request?
People still order AMFs and I gladly decline.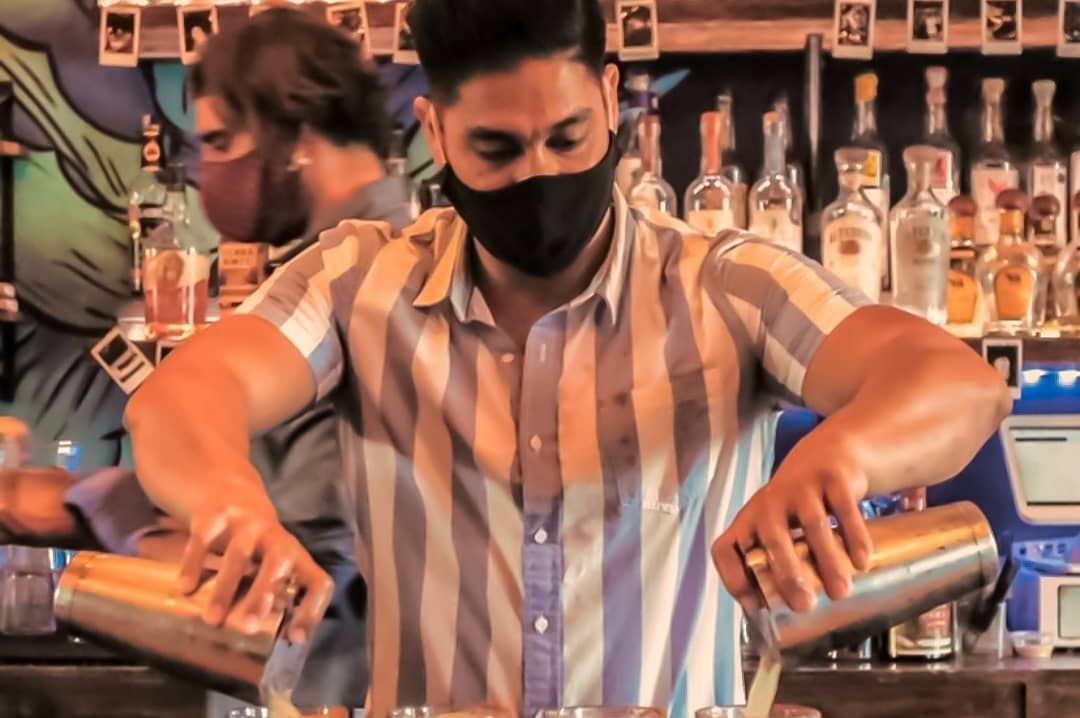 Teddy Martinez mixing cocktails
What are some of your favorite TV shows/movies?
Right now I'm watching Loki, and I also love anything that has to do with Marvel. My favorite show of all time is The Sopranos. And my favorite movie would be Goodfellas. I would have to say Avengers Endgame is a close 2nd.
Can we visit your bar right now? And what can guests expect?
Yes! We're fully open. Please wear a mask if you're not vaccinated, and respect the people next to you!
What are some upcoming drinks trends to look out for?
Over garnished, ridiculously presented drinks are everywhere. I would say stay away from it.
What are you drinking right now?
Nothing, I'm sitting on my couch answering these questions. But if I were drinking right now, it would be a neat pour from my home bar of either Derrumbus Cupreata (Mezcal) or Elijah Craig Barrel Proof (Bourbon).