Crush the heat with frozen wine cocktails
There is nothing better than frozen cocktails to fend off the summer heatwave.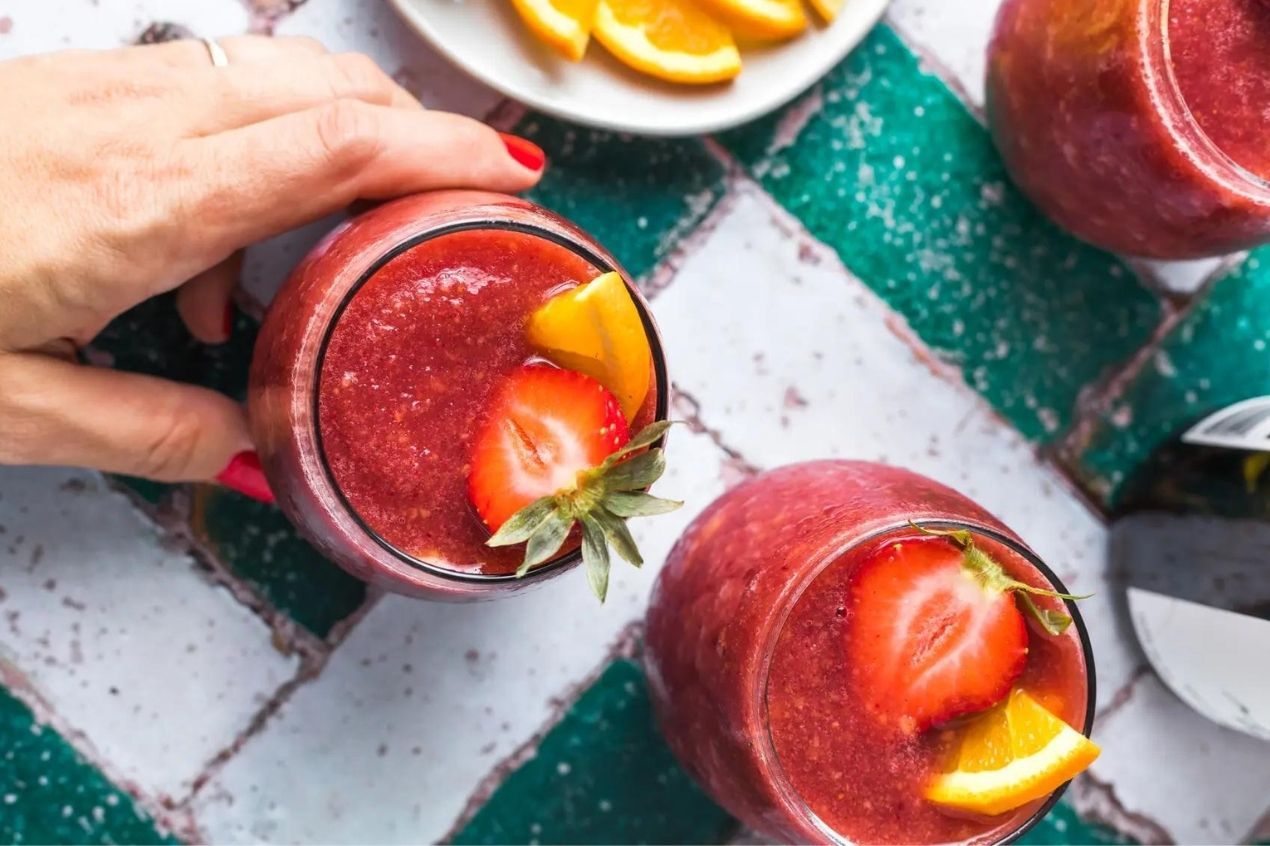 When the summer heats up, the cocktails need to cool down. These frozen wine cocktails do just the trick. Dive into the flavors of berries, tropical fruits, fine textured wines, and other coolers to elevate your summer mood.
Frosé
Recipe by Celebrating Sweets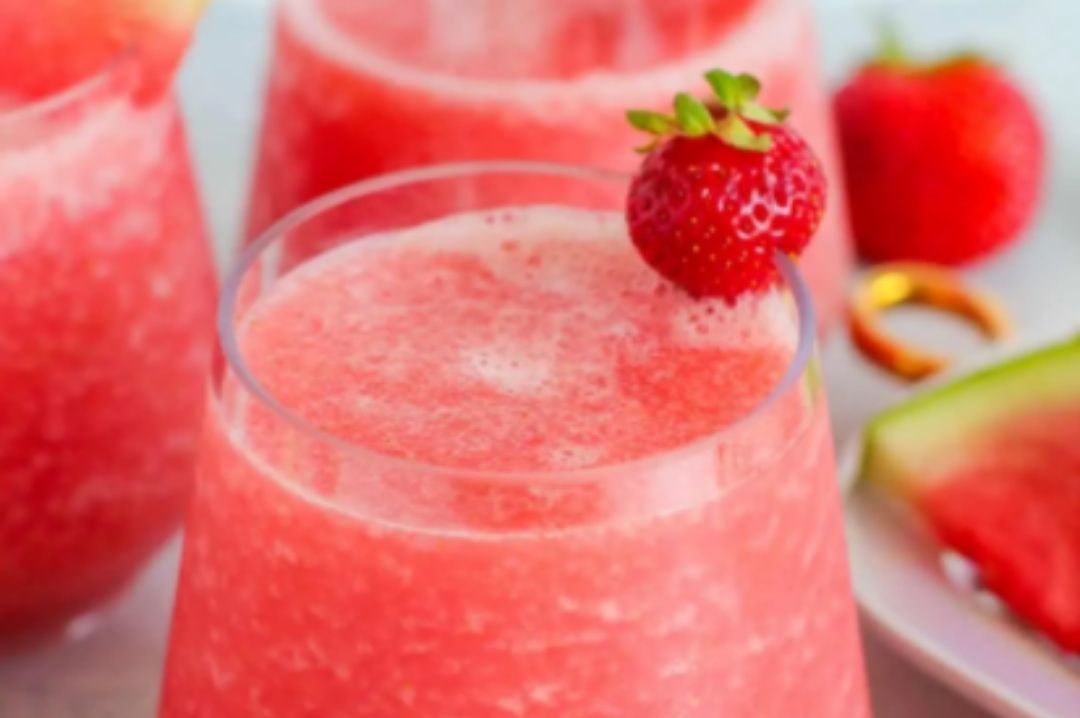 Frosé served in a glass, Source: Website
Made with frozen fruit and rosé, the Frosé is a fruity drink with a sweet taste. The award-winning Sin Banderas Rosé adds berry and white flower nuances to atop a natural fruit base.
6 cups frozen fruit (strawberries, watermelon and sweet cherries)
1 cup ice
1 bottle rosé wine (try Rosé Wine of the Year Sin Banderas Rosé 2019)
1-2 tablespoons sugar
sparkling juice
Place all the ingredients in a blender and process until smooth. Pour into glasses and top with a splash of sparkling juice.
Thief's Friesling
Recipe by Thrillist (serves 4-6)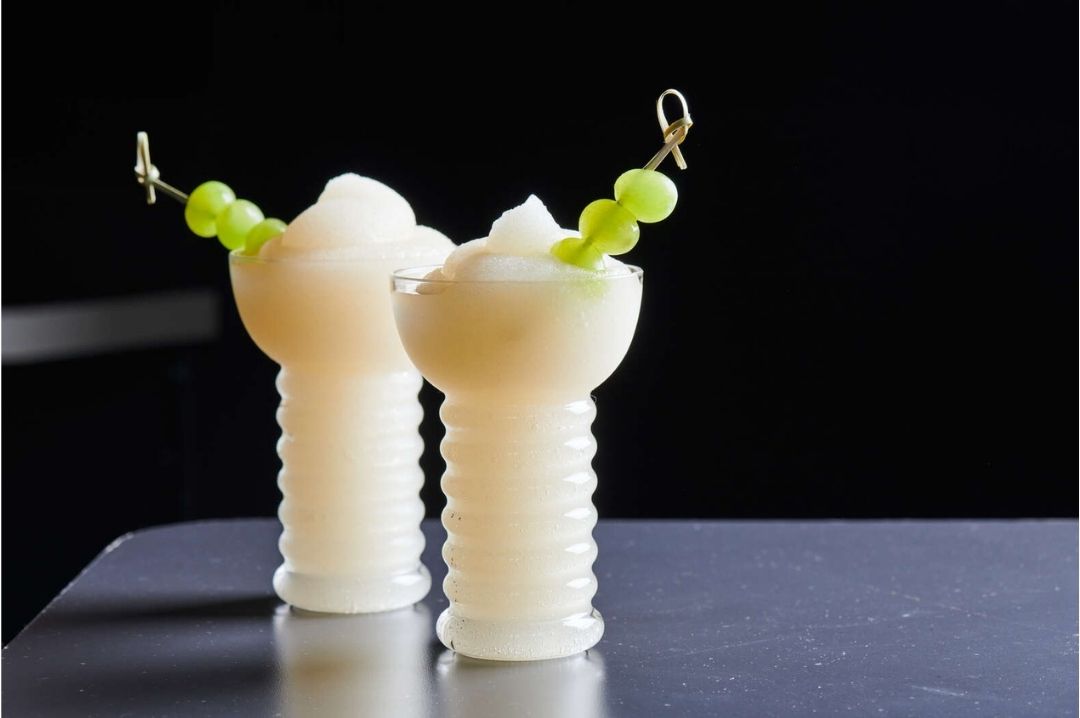 Thief's Friesling made from Riesling, Source: Website, photo by Ashley Sears
With smooth and dry tinges of the Cylinder Vodka, the drink exudes aromas of lime, lemon, grape, orange, and pine, beautifully transforming the Chateau Ste. Michelle & Dr. Loosen 2019 Eroica Riesling into the Thief's Friesling.
1 bottle of riesling (try the 2021 Wine of the Year Chateau Ste. Michelle & Dr. Loosen 2019 Eroica Riesling)
6 ounces of Kelvin's Frosé Blanc Base
2.5 ounces of Rockey's Botanicals
6 ounces of white grape juice
4.5 ounces of vodka (try the 2021 Vodka of the Year Cylinder Vodka)
.5 ounces lemon juice
.5 ounces lime juice
.5 ounces orange juice
6 ounces water
Freeze both water and grape juice into ice cubes. Combine the ice cubes with all the rest of the ingredients in a blender until a slushy consistency occurs. Pour into a tall glass and garnish with frozen green grapes on a skewer.
Frozen Sangria Wine Slushie
Recipe by Simply Whisked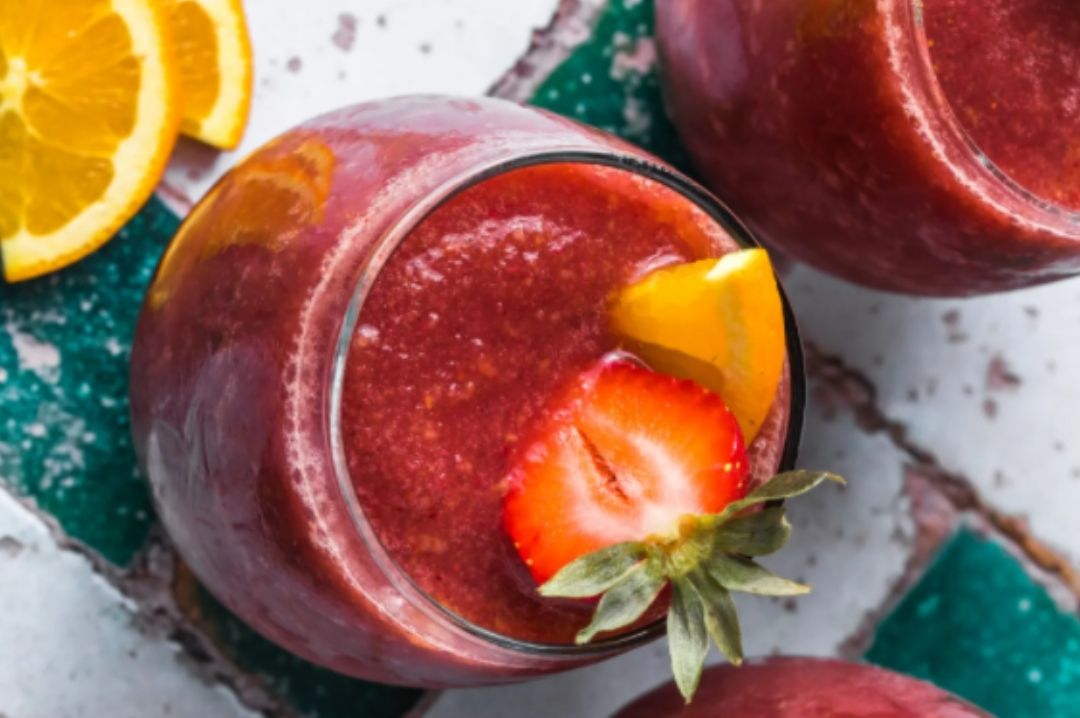 Frozen Sangria Wine Slushie, Source: Website
A dark fruit cocktail with shades of blackberry, peach, and strawberry, the Frozen Sangria Wine Slushie gives off berry and citrus aromas. The Persistence by Reynolds Family Winery adds a strong blueberry jam palate for an immersive dark berry sensation.
1 bottle wine (try the 2021 Red Wine of the Year Persistence by Reynolds Family Winery)
3 cups frozen fruit (peaches and strawberries)
1/3 cup Cointreau or triple sec
1/2 cup orange juice
2 – 4 tablespoons agave nectar
1 sliced orange, for garnish
Freeze 1 tray of ice cubes from the bottle of wine and chill the rest of the bottle in the fridge overnight. Place wine cubes, chilled wine and remaining ingredients into a blender and blend until smooth. Pour into glasses and garnish with orange slices before serving.
Stop the Hourglass
Recipe by Food and Wine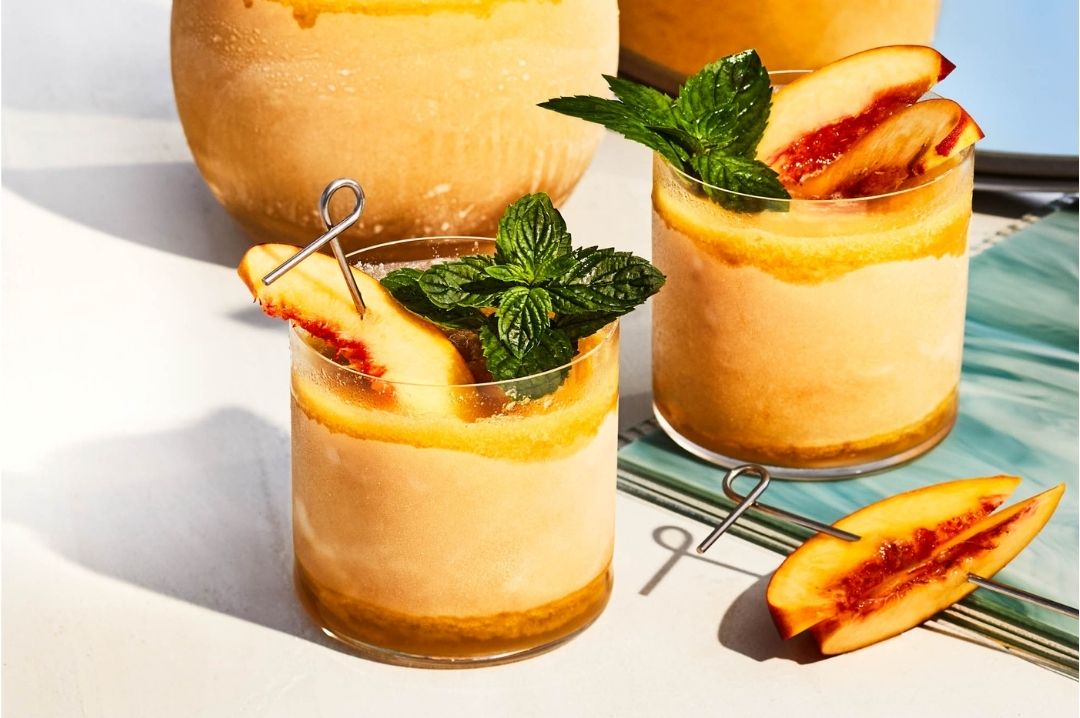 Stop the Hourglass peach cocktail, Source: Website
Add this peach seasoned cocktail to your list, containing sweet notes of hazelnut and vanilla. The Hidalgo Napoleon Amontillado's smooth palate allows the sherry to blend well with the assorted tropical ingredients.
Mint Tea Ice Cubes
2 ½ cups boiling water
2 regular-size bags Moroccan mint-style tea blend
Honey Syrup
¼ cup boiling water
¼ cup clover honey
½ teaspoon grated lemon zest
Cocktails
1 medium peach (about 6 ounces), peeled and pitted (or 1 cup thawed frozen peach slices)
1 cup (8 ounces) amontillado sherry (such as the Hidalgo Napoleon Amontillado)
2 tablespoons fresh ginger juice or bottled ginger juice (such as The Ginger People)
2 tablespoons fresh lemon juice
Additional Ingredients
Peach slices
Mint sprigs
Pour 2 1/2 cups boiling water into a heatproof measuring cup with a spout. Add tea bags. Let tea infuse, uncovered for 3 minutes, then discard the tea bags. Pour tea into an ice cube tray; freeze until solid, for at least 6 hours.
Stir together 1/4 cup boiling water, honey, and lemon zest in a small heatproof bowl until well combined. Let cool to room temperature, about 30 minutes. Cover and chill until cold, for at least 6 hours.
Combine peach, sherry, ginger juice, lemon juice, mint tea ice cubes, and 1/4 cup honey syrup in a blender. (Reserve remaining honey syrup for another use.) Process until smooth, for about 30 seconds. Pour evenly into chilled Moroccan tea glasses or rocks glasses. Garnish each glass with a peach slice and a mint sprig, rubbing mint leaves gently in palms of hands to release their aroma.
Mint tea ice cubes can be frozen for up to 3 months. Honey syrup can be refrigerated in an airtight container for up to 2 weeks. Cocktails can be frozen for up to 3 days. Let thaw until slushy, for about 15 minutes; stir well before serving.
Watermelon Prosecco Sorbet Slushie
Recipe by BBC Good Food
Perfect to sip during hot summer afternoons, the Watermelon Prosecco Sorbet Slushie is a mix of sweet watermelon juices, creamy apples and pears and zesty lemon. The Maschio dei Cavalieri Valdobbiadene Prosecco Superiore DOCG throws elderflower, honeyed brioche, and melon aromas to the palate.
1 watermelon (about 2kg)
200ml prosecco (try the gold winner Maschio dei Cavalieri Valdobbiadene Prosecco Superiore DOCG)
3 mint sprigs, plus extra to serve
½ lemon, zest pared
50g sugar
Cut the watermelon into quarters and remove the pips using a teaspoon. If you're serving the same day or next day, keep six wedges or slices back for decorating and chill. Cut the flesh into 3cm cubes (you should have about 1kg fruit, with the rind discarded) and sit in a baking parchment-lined container where the cubes fit snugly. Pour the prosecco over the fruit, cover and freeze for 4 hrs, or up to 1 week.
Put the mint, lemon and sugar in a small pan with 50ml water, and bring to a gentle simmer for 3-5 mins until the sugar dissolves and turns syrupy. Cover and leave to cool completely, then strain.
Put the frozen prosecco-soaked watermelon cubes in a food processor with the sugar syrup. Blend well, stopping and pushing the mixture towards the blades with a spatula every few seconds, if you need to, until it's a slushy consistency. Add a splash of prosecco to make a smooth slush. Spoon or pour into six chilled glasses. Garnish with the chilled watermelon wedges and little mint sprigs.
Raspberry Red Wine Slush
Recipe by Tipsy Bartender
Inhale strong raspberry nuances with the Raspberry Red Wine Slush. The sweet drink has essences of Absolut Raspberry Vodka and a dark berry palate of the Persistence by Reynolds Family Winery.
6 oz red wine (try the Sommeliers Choice Awards' 2021 double gold winner Persistence by Reynolds Family Winery)
2 oz Absolut Raspberry Vodka
1 cup frozen raspberries
1 tsp sugar
Ice
Garnish: Raspberries
Add ice, raspberries, red wine, raspberry vodka and sugar to the blender and combine until smooth. Pour mix into glass and garnish with raspberries.
Tropical Wine Slushie
Recipe by Grandbaby Cakes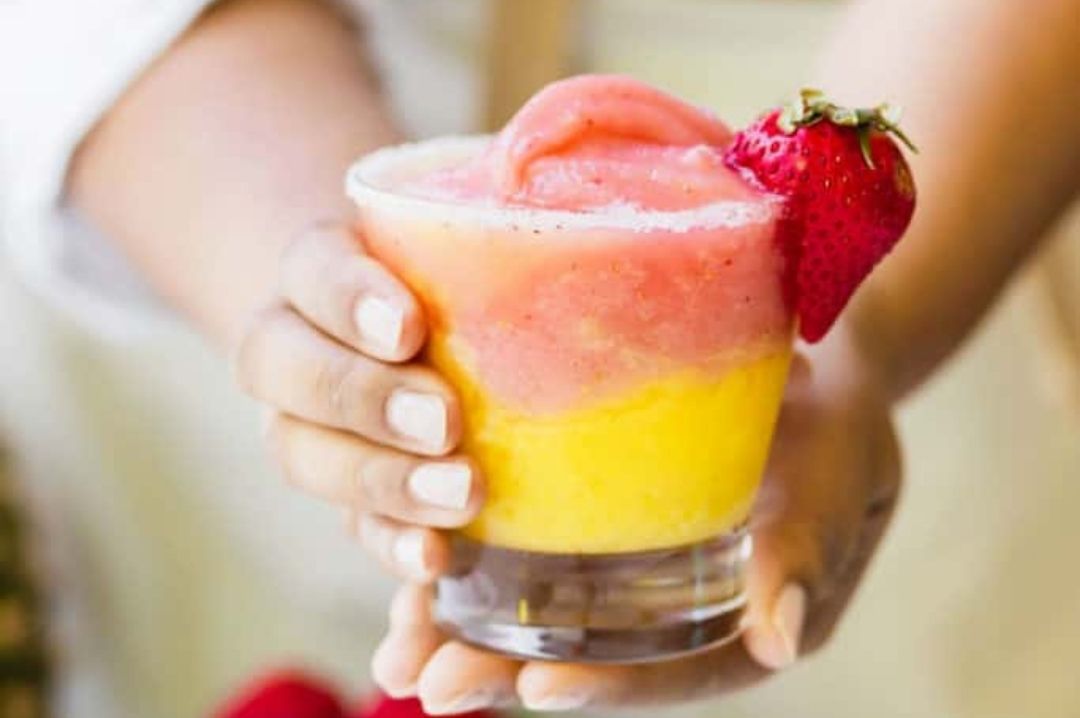 Tropical Wine Slushie, Source: Website
The Tropical Wine Slushie delivers a zesty fruit punch with pineapple, mango, and strawberries flavors, blending with juicy peaches and sweet apricots from the Barefoot Wine To Go Moscato.
1/2 cup frozen diced mango
1/2 cup frozen diced pineapple
2 tbsp honey or agave nectar divided
2 tsp lime juice divided
1 cup frozen strawberries
Garnish of fresh strawberries and pineapple
17 oz Barefoot Wine To Go Moscato (1 container) frozen overnight
Remove Barefoot Wine-To-Go Moscato from the freezer and cut in half.
Add mango and pineapple to a heavy duty blender along with 1 tablespoon of honey, half of frozen Barefoot Wine-To-Go Moscato and 1 tsp of lime juice.
Blend on high until completely smooth and creamy. Pour mango pineapple slushy mixture into another container and set aside. Completely rinse out and clean the blender.
Next add strawberries to the blender along with remaining honey, Barefoot Wine-To-Go Moscato and lime juice and once again blend until completely smooth and creamy on high speed.
Spoon half mango and pineapple slushy into a glass followed by strawberry slushy creating clear definition in the glasses. Serve immediately.
Header image- Simply Whisked, Source: Website.