Cannabis beverage brands we're loving right now
Feel the good stuff and leave the bad ones out.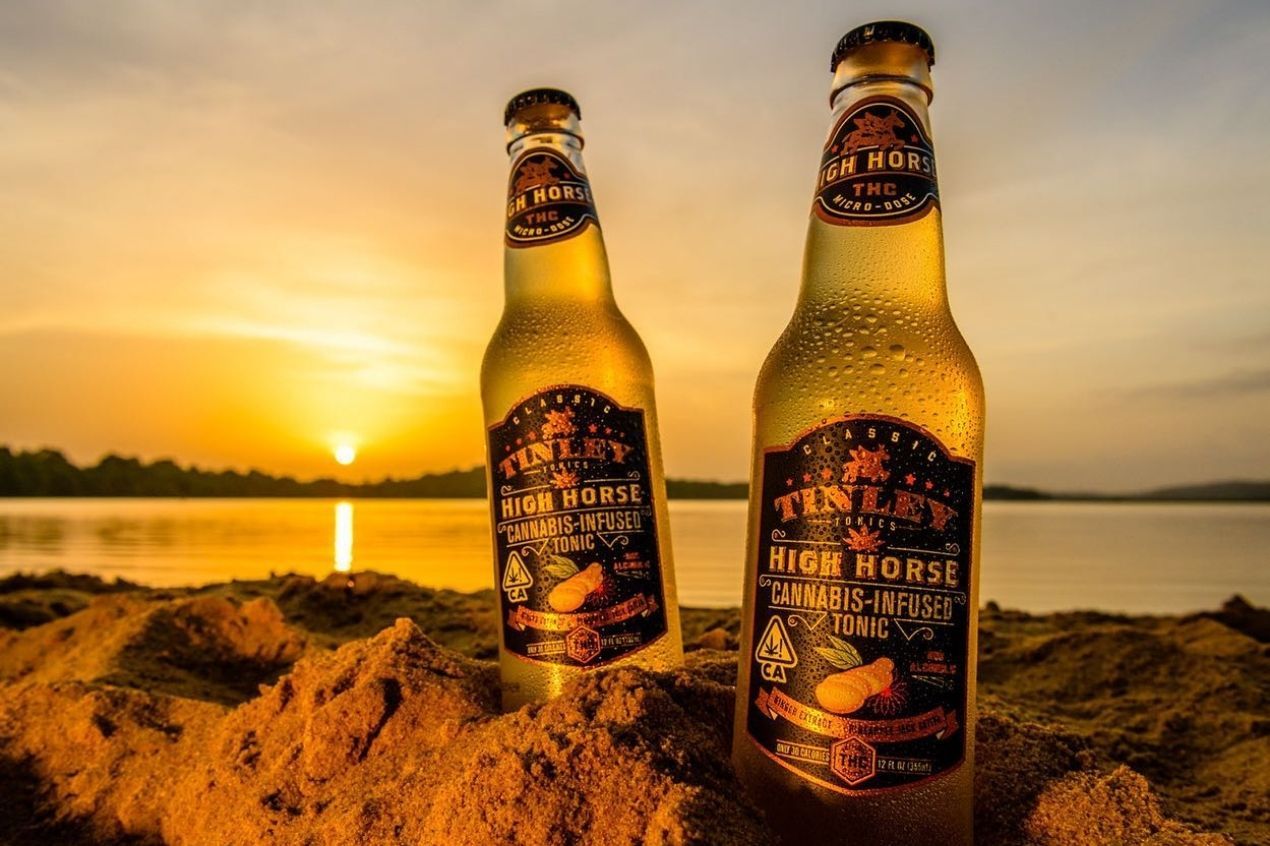 According to a report published by MJBiz Daily, sales of cannabis-infused beverages were up by 40% in 2020. Cannabis-infused beverages are a great segue into the world of Mary J, especially for those who want to avoid the 'smoking' part. From RTDs to cocktail bases, we've pulled out some of the most sought-after cannabis beverage brands making a mark in the widespread canna world.
Tweed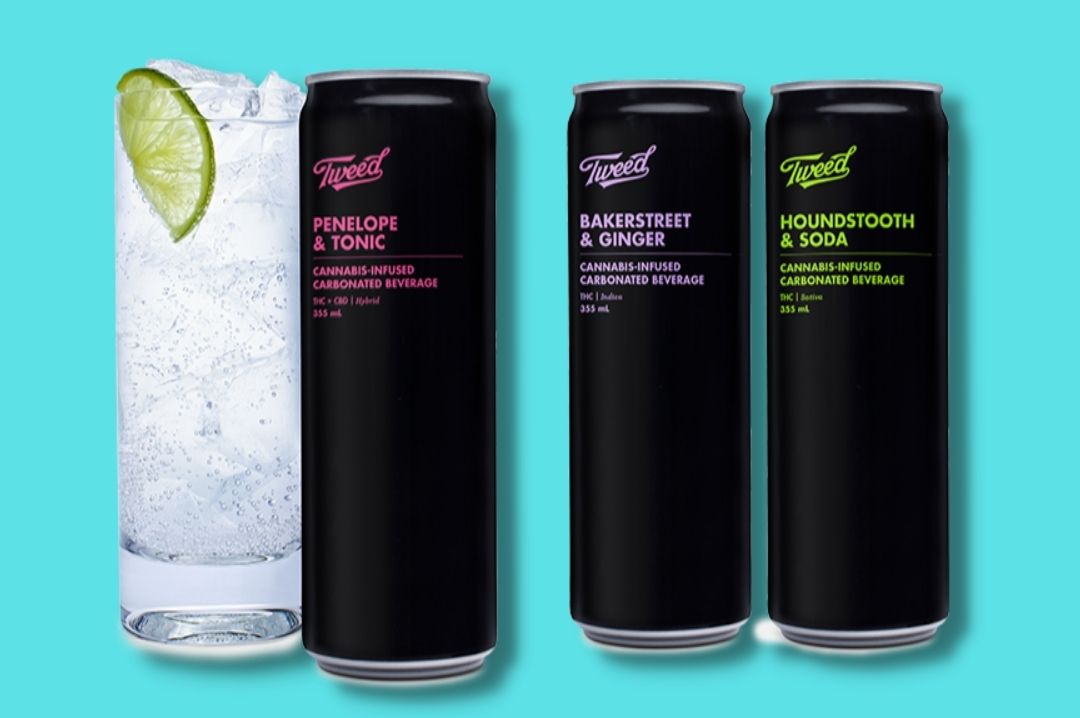 Tweed's Non-alcoholic Cannabis-infused drinks
Tweed is Canada's leading source for all things cannabis. Recently they launched a new product line for cannabis-infused beverages. The tweed's RTD comes in three flavors: 'Penelope and Tonic', 'Bakerstreet and Ginger', and 'Houndstooth and Soda'. All of them are infused with natural and botanical flavors and each can contains 2 mg of THC. The Penelope and Tonic also contain 1.5 mg of CBD. Tweed claims that it can take anywhere from 30 minutes to two hours for you to feel the effects of their cannabis drinks. These effects can last up to 12 hours, but some may last as long as 24 hours, so they recommend to start low and go slow.
Artet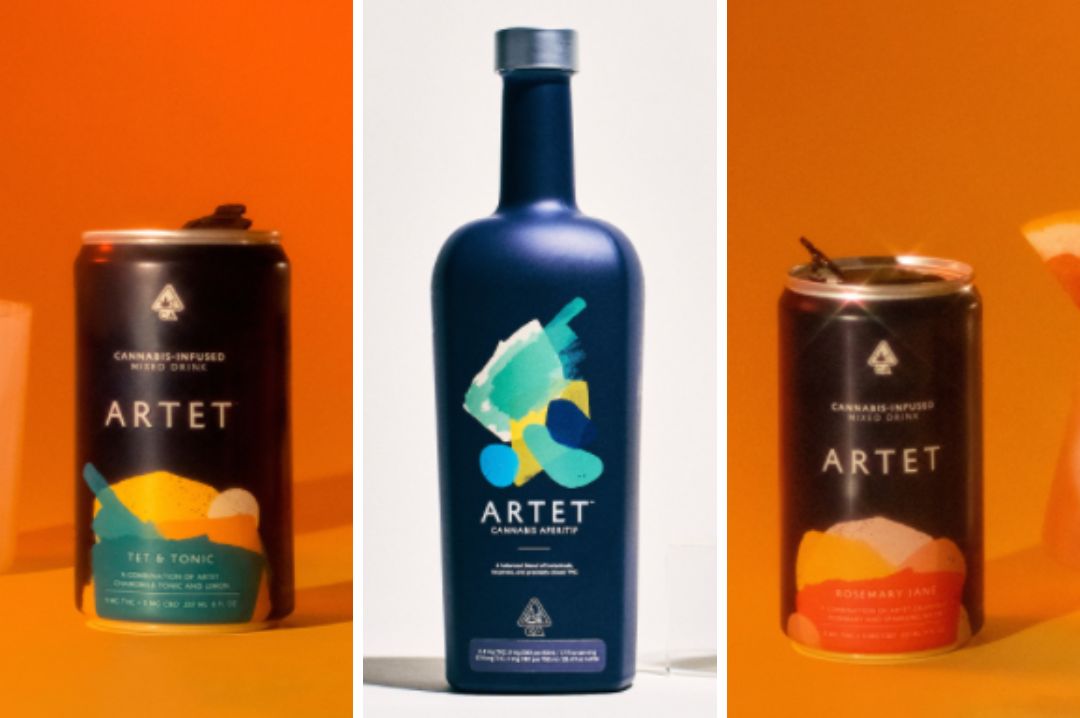 Artet cannabis-infused beverages Tet & Tonic (left), Flagship Bottle (center), Rosemary Jane(right)
Artet, a family-run brand, is home to three cannabis-infused beverages, each one being non-alcoholic, gently-dosed, and versatile. All the drinks taste great by themselves, but if you're looking for something off-the-rack, then you can always whip up one of their many cocktails.
Flagship Bottle: The only bottle on their list of products, The Flagship Bottle is a cannabis aperitif made with a blend of botanicals like cardamom, allspice, ginger, chamomile, juniper, gentian, and grapefruit. Sip on it neat or on the rocks.
Rosemary Jane: Created by chance at a barbeque in Los Angeles, the Rosemary Jane became such a favorite out there that Artet turned it into a RTD can. The drink is a refreshing mix of Italian grapefruit juice, rosemary simple syrup, and sparkling water; ideal for the summer.
Tet & Tonic: An ode to the timeless G&T with a cannabis twist. This RTD has flavors of quinine, sage, chamomile, and lemon.
Cann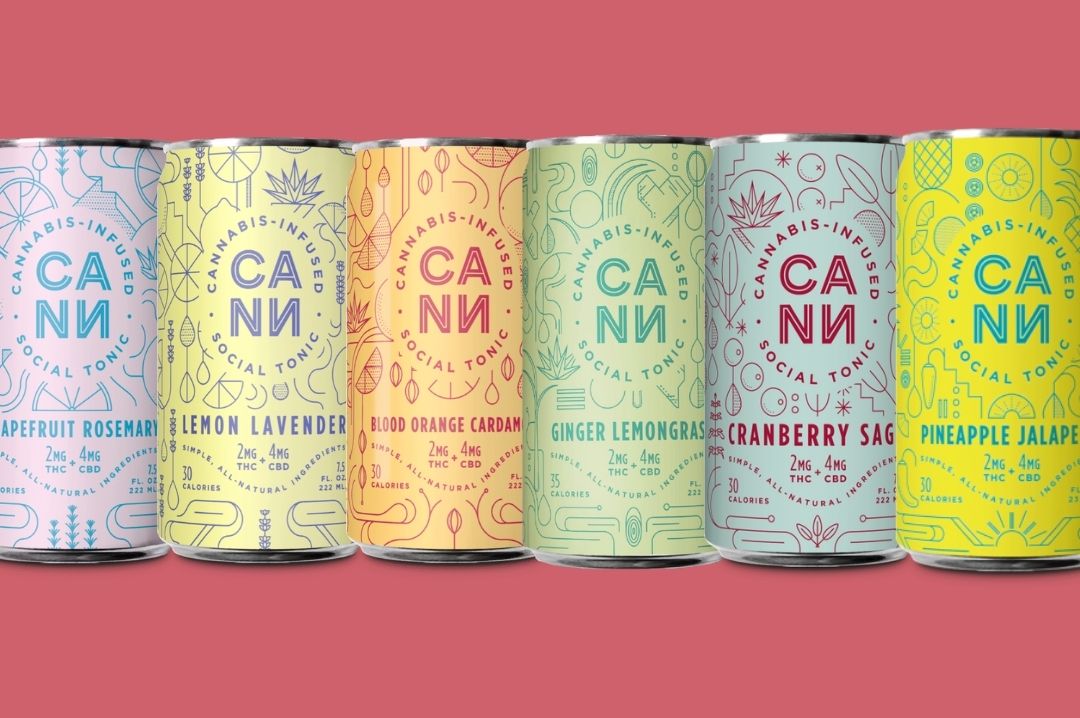 The product line of Cann's cannabis-infused beverages
Cann, a social tonic started by two young entrepreneurs Jake Bullock and Luke Anderson is one of the world's first low-dose cannabis beverages in a can. The drink comprises only 5 natural ingredients which are carbonated water, agave, juice, essential oils, and Californian cannabis extract. The product line of Cann offers six different flavors which are lemon and lavender, orange and cardamom, pineapple and jalapeno, cranberry sage, ginger and lemongrass, and grapefruit, and rosemary. Each can of these social tonics includes 2 mg of THC, 4 mg CBD, and 30-35 calories. The beverage gives a light buzz, is less impactful, provides a more controlled approach to cannabis consumption, and leaves no hangover.
Pabst Blue Ribbon Cannabis-Infused seltzer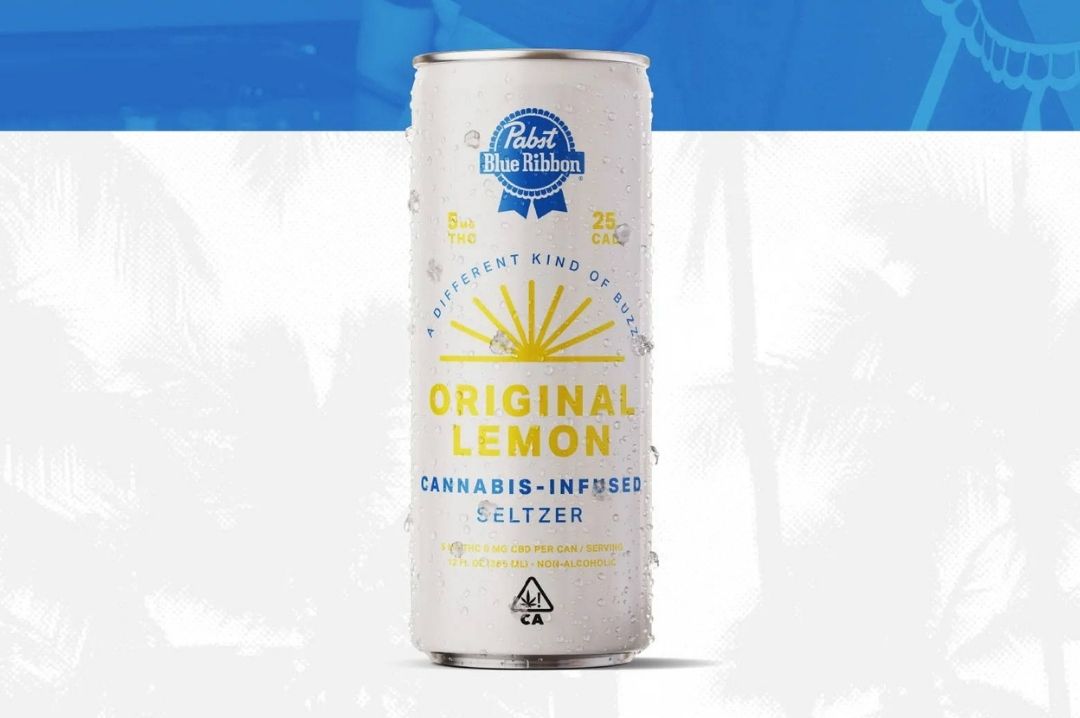 PBR Lemon cannabis-infused seltzer, source: website
Apart from our usual dive bar pints, PBR is now home to a lemon and strawberry kiwi flavored cannabis-infused seltzer. The drink is made of Californian grown cannabis, however, PBR does not cultivate or grow their own cannabis. Each 12 oz can consist of 5 mg THC, 25 calories, and four grams of sugar. The beverage works quicker than an average edible and allows the most absorption in your body, so you don't have to wait to feel the buzz.
Recess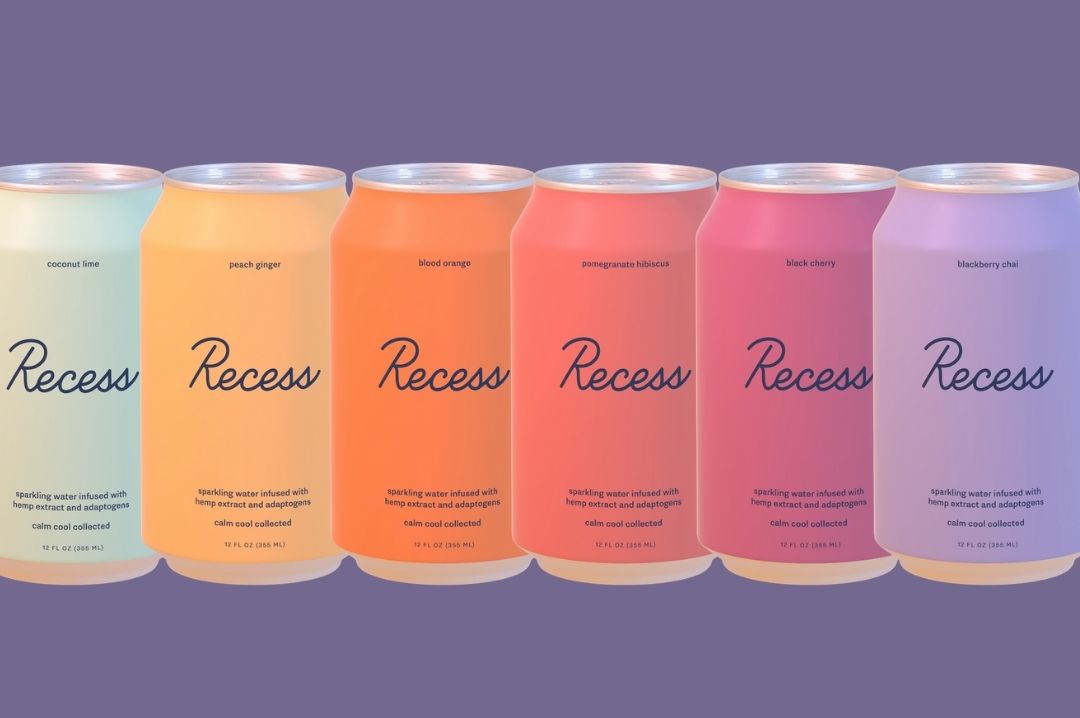 The various flavors of CBD sparkling water offered by Recess
Recess makes CBD sparkling water infused with hemp extract and adaptogens to calm the mind and lift your mood. They offer six different flavors to savor which are black cherry, pomegranate hibiscus, blood orange, peach ginger, coconut lime, and blackberry chai. All the drinks have four functional ingredients in common namely broad-spectrum hemp, American ginseng, L‑theanine, and lemon balm. Each 12 oz can comprise 10 mg hemp, 3-5 grams of sugar, and 15-20 calories. The team at Recess aims to 'create a moment in your day where you can actually think about the things that matter'.
Tinley's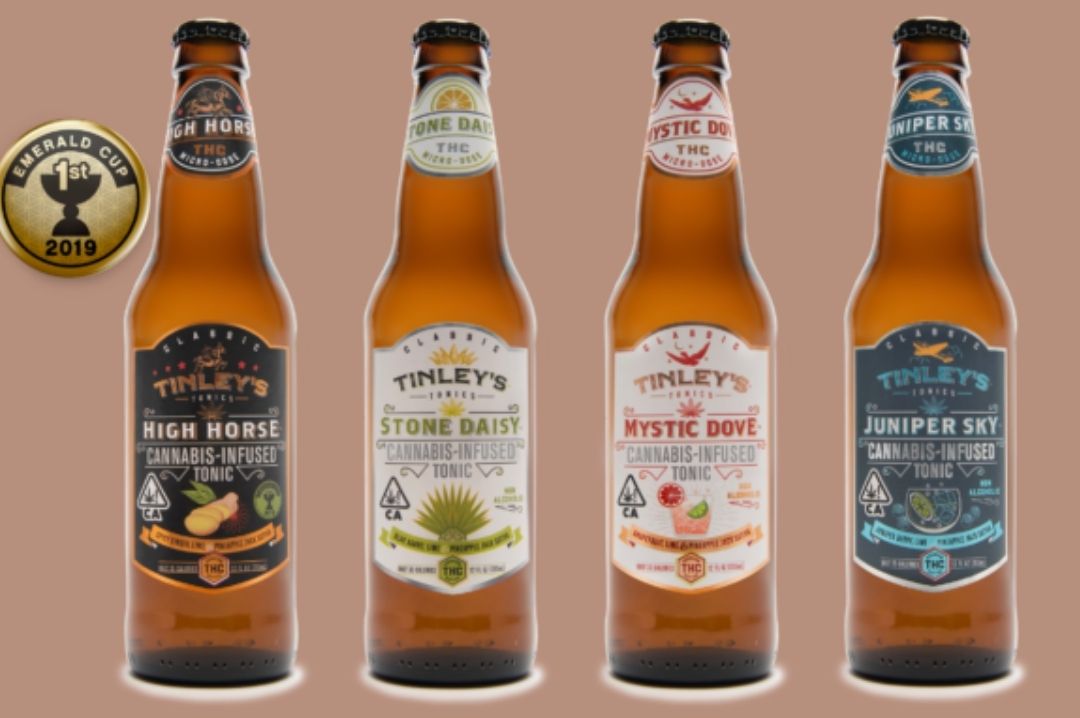 Tinley's cannabis-infused tonic collection
Tinley's makes non-alcoholic, craft tonics and mixers that are infused with premium distilled botanicals and cannabis grown in California's Emerald Triangle. Each bottle is blended with distilled botanicals, natural extracts, flavors, and spices. Tinley's believes that the time has come for us to enjoy the benefits of smoke-free cannabis, in a healthy, delicious way.
The RTD cannabis-infused tonics come in four different flavors: Stone Daisy (Mexican beverage), High Horse (ginger beverage), Juniper Sky (juniper and tonic classic), and Mystic Dove (grapefruit and agave classic). Each bottle contains only 30 calories or less and 5g of sugar per bottle. The tonic contains a single micro-dose of 5 mg THC with a fast-onset and uplifting full flower experience. Perfect for BBQs, beaches, and campouts.
The cannabis-infused mixers come in three flavors: cinnamon cask, coconut cask, and almond cask. Each of the flavors can either be sipped neat or, as the name says, can be used as a mixer.
California Dreamin'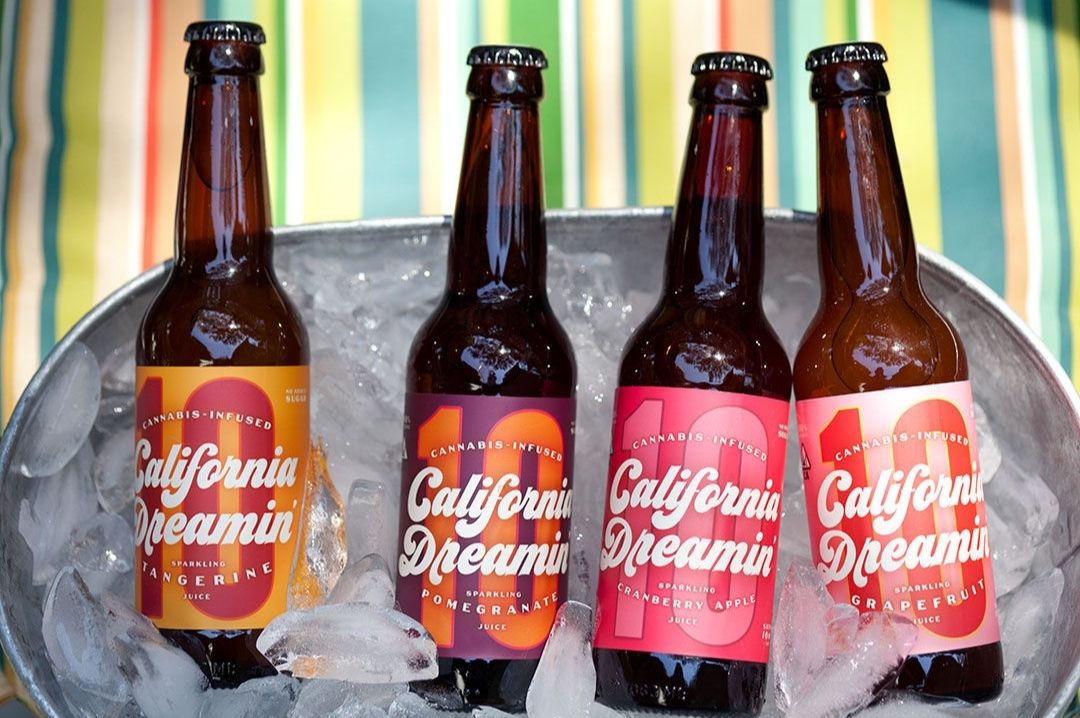 The California Dreamin' four sparkling juices flavors, source: website
California Dreamin' believes that experiencing cannabis shouldn't come at the expense of your health. Whether you are looking for stress relief or simply want to have fun, try the four sparkling juices: grapefruit, cranberry apple, tangerine, and pomegranate, perfect for a sunny day out. Each 12 oz bottle has 10 mg THC and no added sugar. The beverages are 100 % natural, vegan, gluten-free, and made with spectrum oil. The beverage kicks in in the initial 10-30 minutes and the buzz lasts for a minimum of 2-3 hours. Other than this California Dreamin' also offers two types of sparkling water, Cherry lime, and Lemon, each containing 5 mg THC and 5 mg CBD. If you are new to cannabis, start with 1/2 a bottle and wait at least 30 minutes to feel out your tolerance.
Canna Cola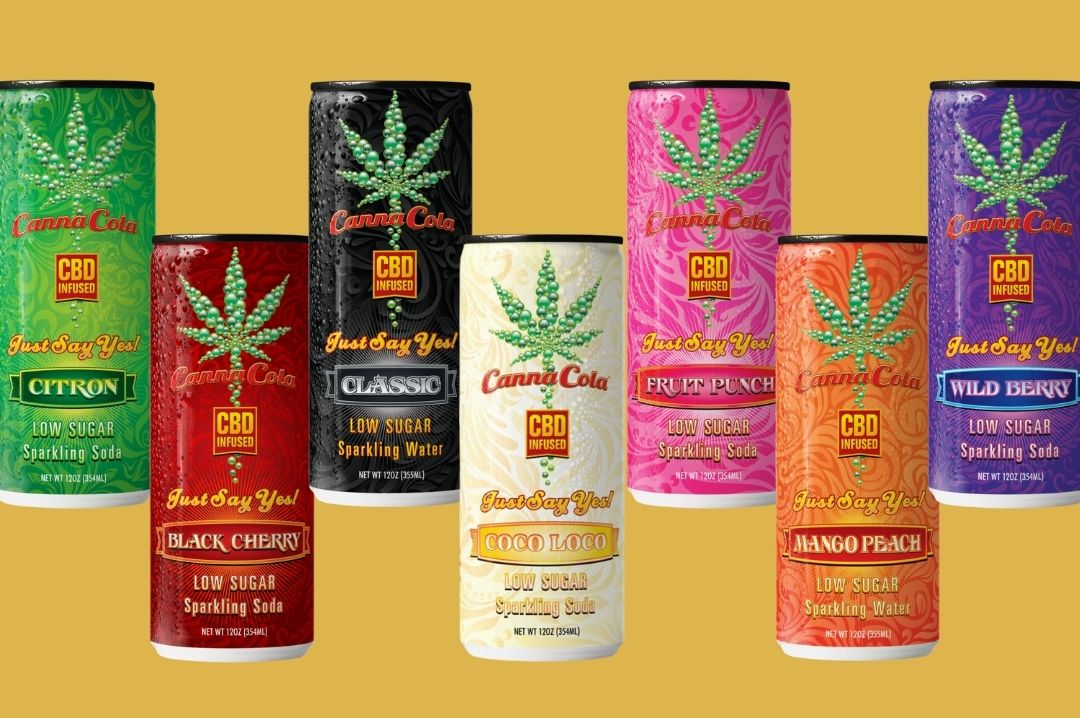 Canna Cola's various sparkling soda
Canna Cola is a well-known name in the medical marijuana industry. Since 2011 the company has been providing tasty THC-infused carbonated beverages for medical marijuana users. The various flavors in CBD sparkling sodas offered by the company are black cherry, citron, classic, coco loco, fruit punch, mango peach, and wild berry. Each can comprises 20 mg CBD, 5 grams sugar and 20 calories, and all-natural flavors. Canna Cola also organizes several events throughout the year.
Mad Lilly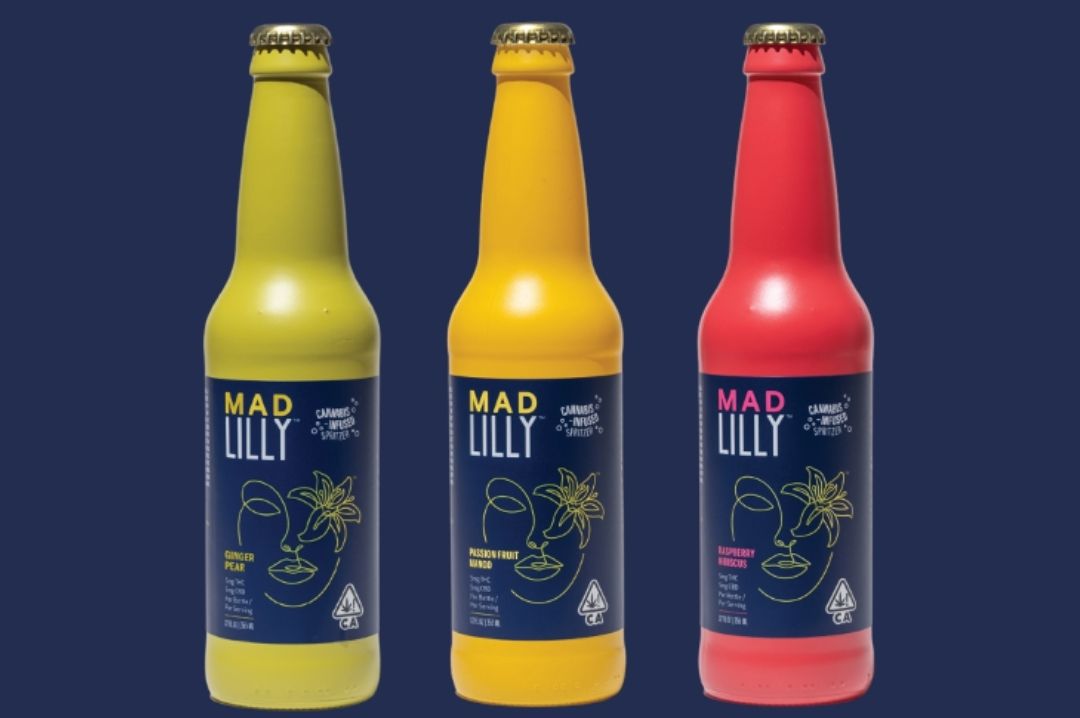 The three fruit spritzer by Mad Lilly
Be it for a soothing night's sleep or a moment of sparkling joy, Mad Lilly blends the simplest, pure ingredients to craft wildly tasteful cannabis-infused drinks. Whether it's a fruit spritzer or a soothing sleep tonic, their infused drinks offer the desired effects with a desirable taste.
The sleep tonic has only one flavor 'Lemon Dream', it contains 5 mg CBN and 3 mg THC. The bottle has the essence of lemon balm and lavender with 20 calories per serving. The fruit spritzer includes three flavors, raspberry hibiscus, passion fruit mango, and ginger pear. Each bottle consists of 5 mg CBD and 5 mg THC and 50 calories per serving. The 1:1 ratio of THC and CBD creates a smooth counterbalance creating a well-rounded, refreshing experience.
Header image, Source: Tinley's