4th of July Weekend in Los Angeles
Whether it's in the neighborhood or somewhere distant, Los Angeles knows how to throw a 4th of July party.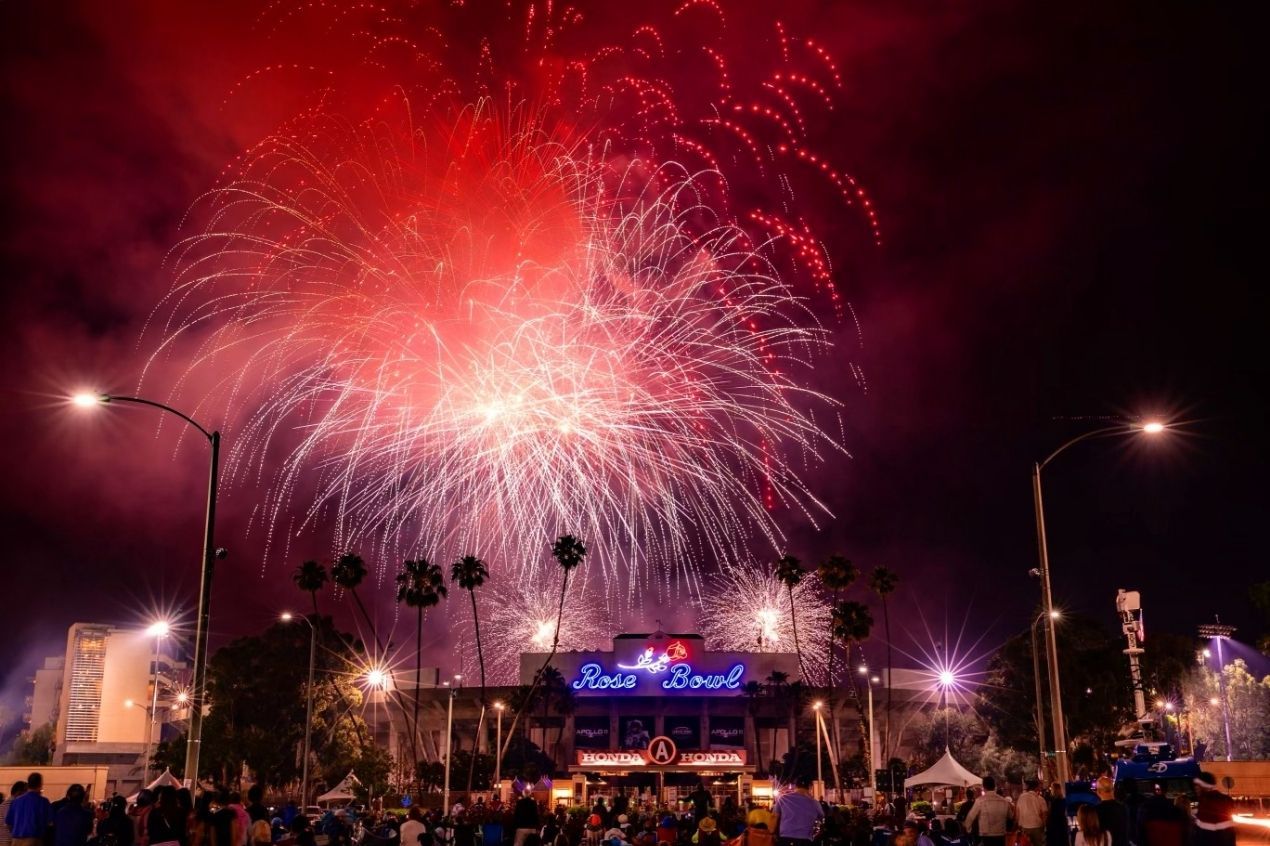 July 4th in Los Angeles will once again be grand! The halt in celebrations over the past year has only amped up the excitement for what's in store for this year. From cooling off in the parks with a chilled pint or two, grilling in the backyard with friends and family, or watching the fireworks from your favorite spot with a cocktail in hand, Los Angeles will be buzzing with a host of activities come Sunday.
The Fireworks Show
One of the most highly anticipated activities of Independence Day is watching the sky get lit up with fireworks. LA has plenty of places to enjoy the fireworks from.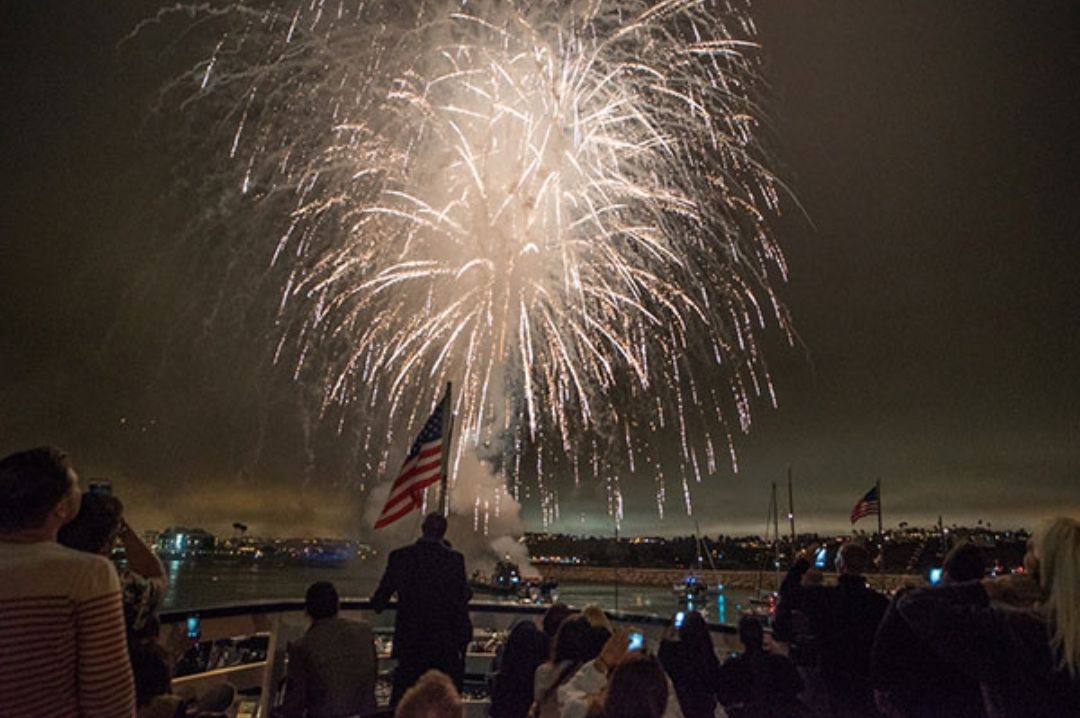 Fireworks from the Marina Del Rey, Source Website
Marina Del Rey: The 10-minute show starts at 9 pm and is a very popular destination with people from all over Southland to enjoy. The fireworks can also be enjoyed with synchronized music played at Fisherman's Village or Burton Chace Park.
Long Beach: Queensway Bay will have a pyro show around 9 pm with a free viewing available from most of Long Beach's waterfront attractions. Head to Rainbow Harbor and Shoreline Village and enjoy the show.
Big Bear: If you want to have an overnight 4th of July celebration, Big Bear is a great place for viewing the fireworks. The city of Big Bear Lake will celebrate the amazing nation with a fireworks display that will start between 8:45 to 9:15 at the night. Viewable from nearly every corner of the valley, Big Bear's pyro celebration will be free for viewing.
AmericaFest at the Rose Bowl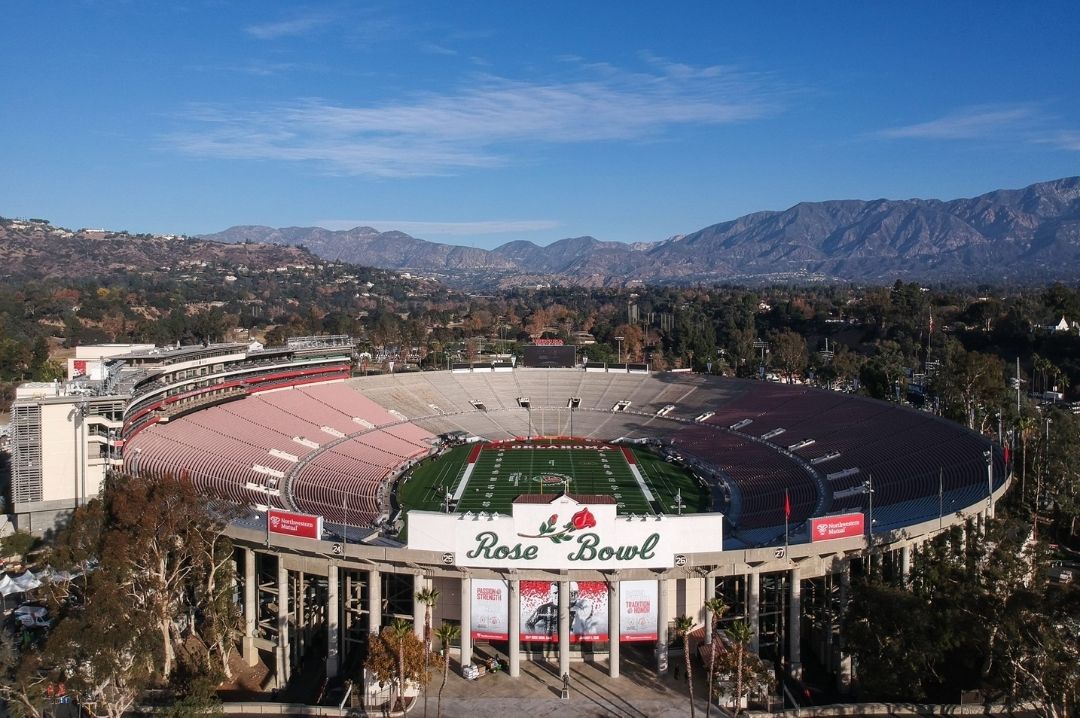 Home of the Fireworks, Source Facebook
An explosive selection of all things red, white and blue, AmericaFest at the Rose Bowl Stadium might perhaps be the biggest 4th of July event in all of Los Angeles. Get ready for a day full of tailgating and entertainment, with a kid-friendly carnival, followed by motocross stunts. In case you don't want to visit the stadium, the show will also be accessible from the Colorado Steel Bridge and the areas around the Arroyo.
Price- $20 to $40
Where- 1001 Rose Bowl Dr, Pasadena, CA 91103
Timings- 5:30 pm to 7 pm (parking opens 3 pm)
Book your seats
Parking Details
Dirty Dancing and Fireworks by Cinespia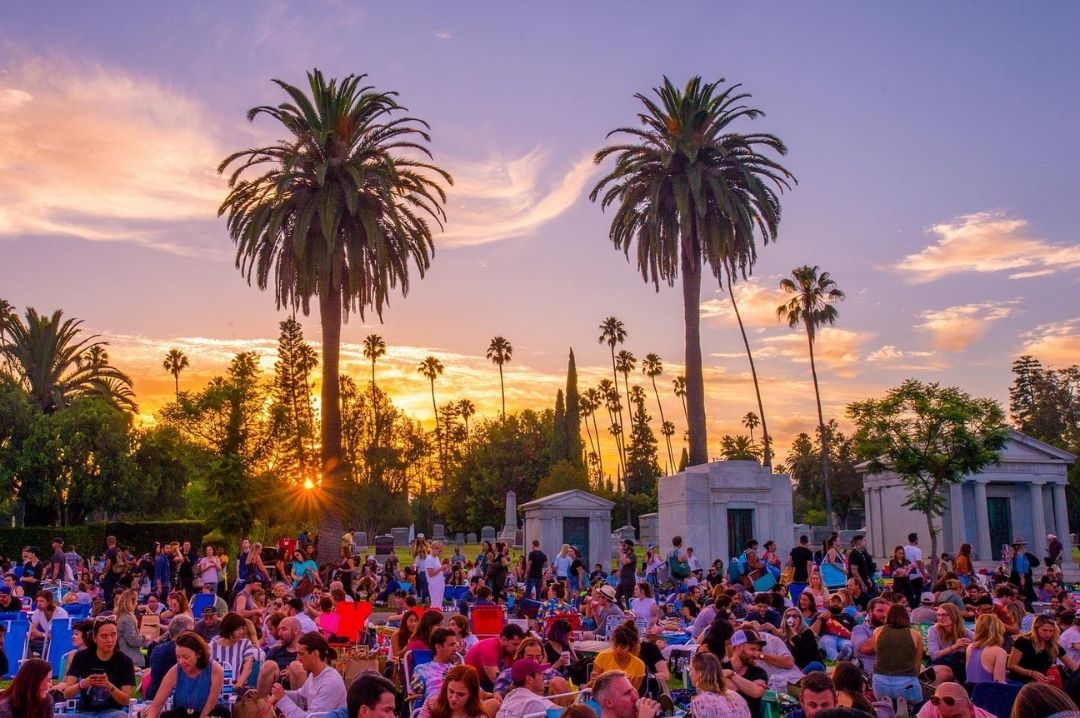 Enjoy 4th of July with Cinespia, Source Facebook
The Hollywood Forever Cemetery will see a fireworks show prior to which the film Dirty Dancing will be shown to the audience. Under the stars in Hollywood, paired with beer and wine with a picnic on the lawn, celebrate a lazy 4th of July evening with your friends and plus ones.
Price- $15 to $42
Where- Hollywood Forever Cemetery, 6000 Santa Monica Boulevard, CA 90038
Timings- Doors open at 7:15 pm
Film show at 9 pm followed by the fireworks
Sip and sing with Kool and the Gang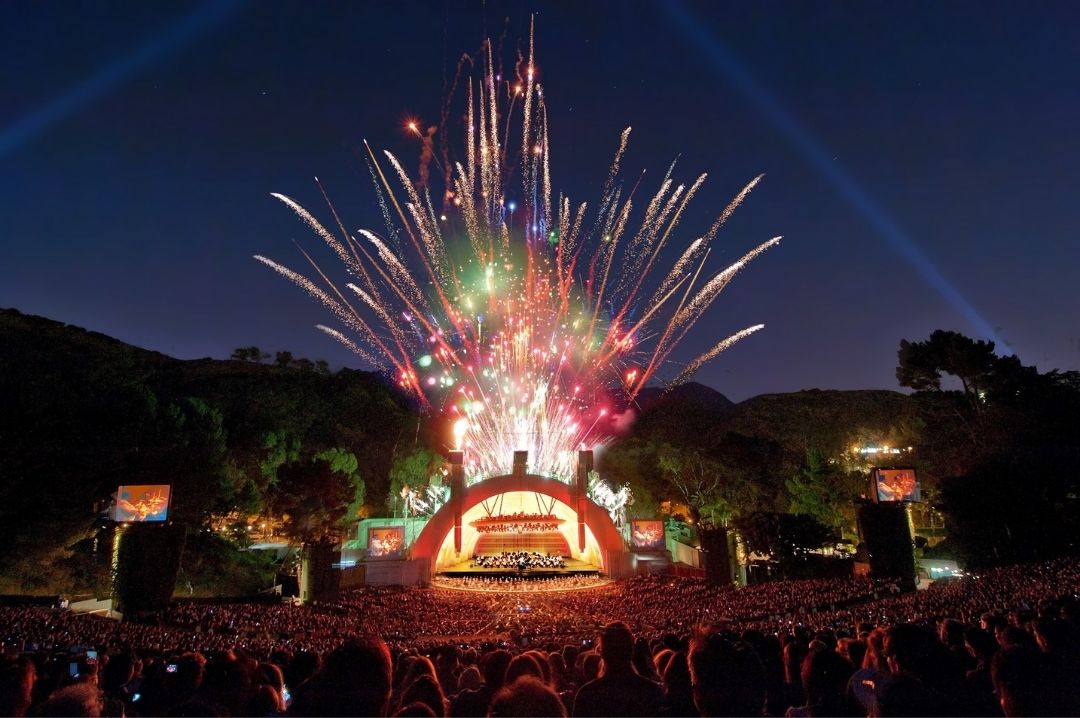 Kool & The Gang at Hollywood Bowl, Source Facebook
The ultimate disco-funk hitmakers Kool and the Gang along with Hollywood Bowl Orchestra and conductor Thomas Wilkins will bring the thrills to Independence Day. From patriotic hits to Kool and the Gang's top songs, the event will encompass everything that makes the holiday special.
The food and beverage scene will add another layer to the enjoyment with restaurants and backyards showing off their culinary skills and expertise to add more memories to your experience. Park & rides and shuttles make the event very accessible to everyone. The parking usually gets booked in advance so make sure you get your spot marked down.
Where- The Hollywood Bowl, 2301 N Highland Ave, Los Angeles, CA 90068
Timings- Gates open 6 pm
HRC 4th of July Picnic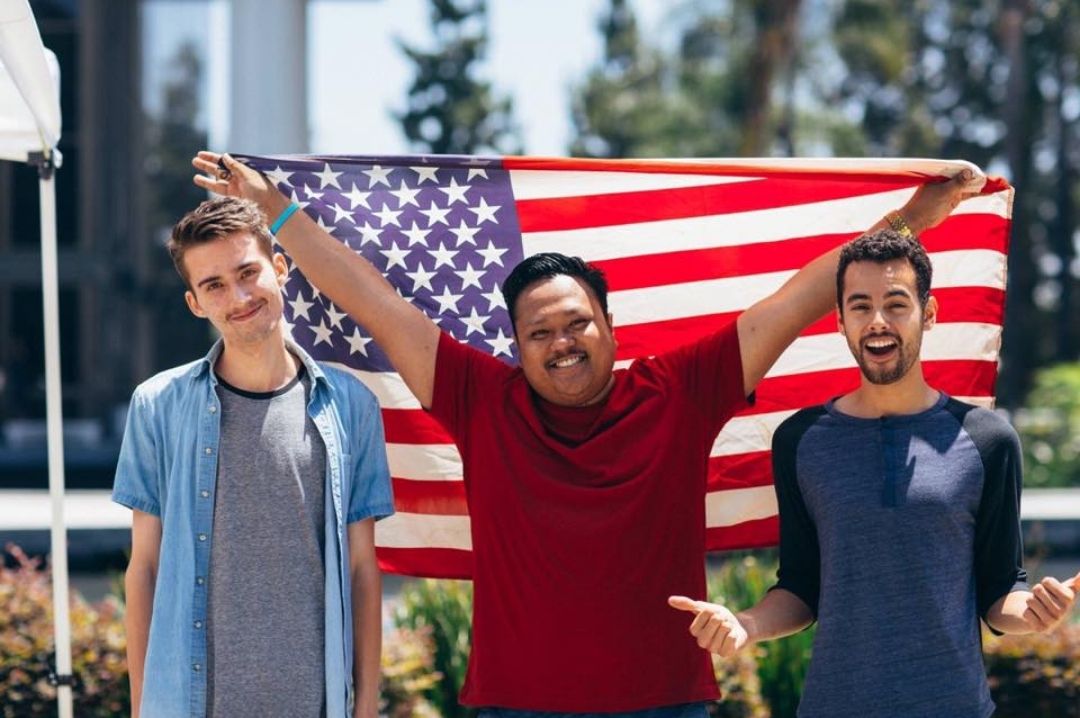 HRC Annual Picnic, Source Facebook
Ambassador Auditorium will host the annual 4th of July picnic. Fun activities, family-friendly games and delicious food make up the itinerary for HRC Picnic. This year's food will be prepared by Dinah's Chicken, a locally owned outlet. The meal packets are divided into adult meal tickets and children meal tickets.
An adult meal ticket includes 3 chicken pieces, 2 sides (mashed potatoes & pineapple coleslaw), 1 roll, and 1 bottled water.
A children's meal ticket includes 2 chicken pieces, 1 side (mac & cheese), 1 roll and 1 bottled water.
There is also an adult vegan meal ticket available. It will include an 8oz Pesto Pasta Salad, an 8oz Corn & Baby Tomato Salad, and 1 bottled water. The vegan option is available for purchase only until June 28th.
Price- $7 for Adults
$5 for Kids
$7 for Adults Vegan Packets (available till June 28)
Where- Ambassador Auditorium, 131 S St John Avenue Pasadena, CA 91105
Timings- 11:30 am to 2 pm
Chart House Stars & Stripes Celebration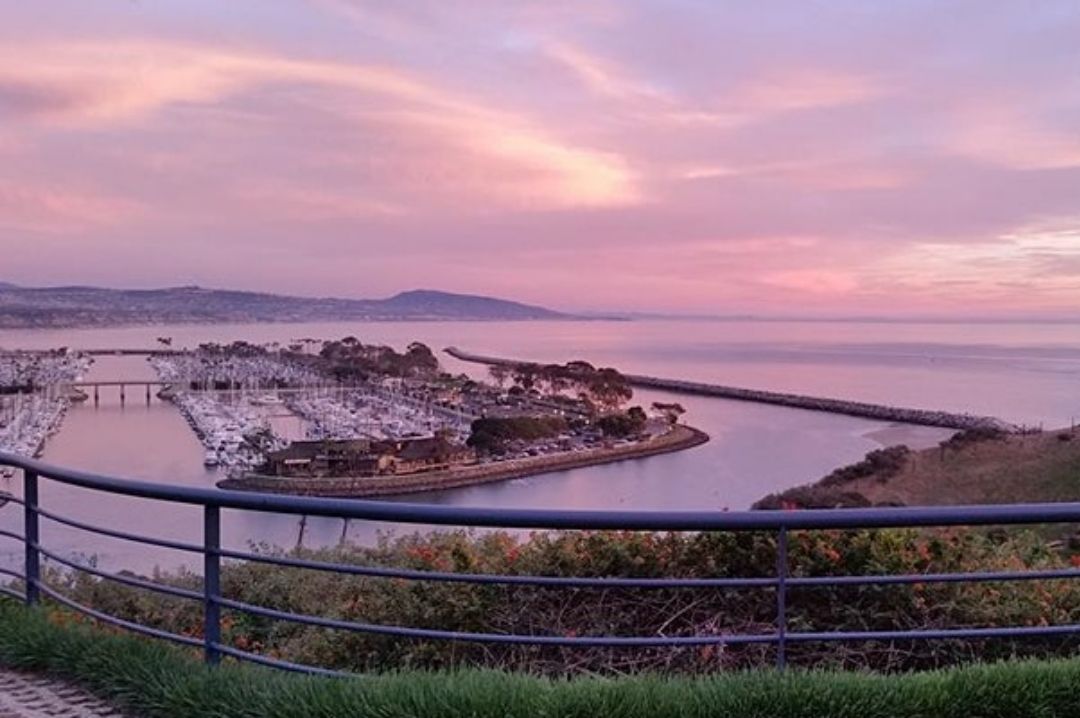 Chart House Dana Point, Source Eventbrite
The Dana Point venue will host an exclusive four-course meal to celebrate the big holiday. Apart from the meal, the event will also have VIP access to their outdoor patio, and front row seats for the fireworks.
The four-course meal will include a choice of one from five starters, four soup and salad options, six entrees, and two desserts. Enhancements like the Australian lobster tail, wild caught king crab and other entrees like sizzling mushrooms, steamed asparagus and more will also be available for an additional cost.
Price- $155
Where- Chart House- Dana Point, 34442 Street of the Green Lantern, Dana Point, CA 92629
Timings- 5 pm to 10 pm (fireworks start at 9 pm)
Founders Day Picnic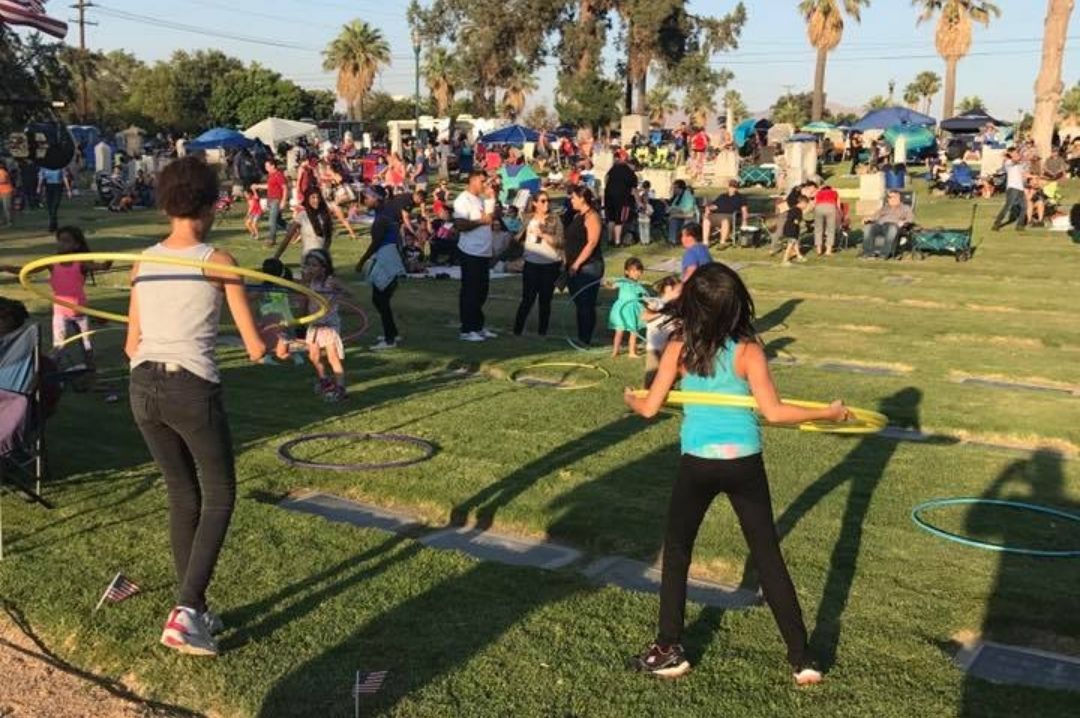 The Annual Founders Day Picnic, Source Facebook
The Founders Day Picnic 2021 is the perfect event to enjoy a relaxed 4th of July. The picnic will take place in an enclosed area which will take care of the safety of children. It will include multiple activities like live music, face painting, scavenger hunts, bounce houses, balloon twisters and more. Food vendors will be present at the venue to replenish the lost energy from spending time on the numerous activities. Post the picnic, you can head to the Ryan Bonaminio Park to enjoy the fireworks set off at the City of Riverside.
Price- $10 for adults (Food & Drinks available for purchase)
$5 for kids (5 to 12)
Where- Evergreen Memorial Historic Cemetery, 4414 14th Street Riverside, CA 92501
Timings- 3 pm to 7 pm
Independence Voyage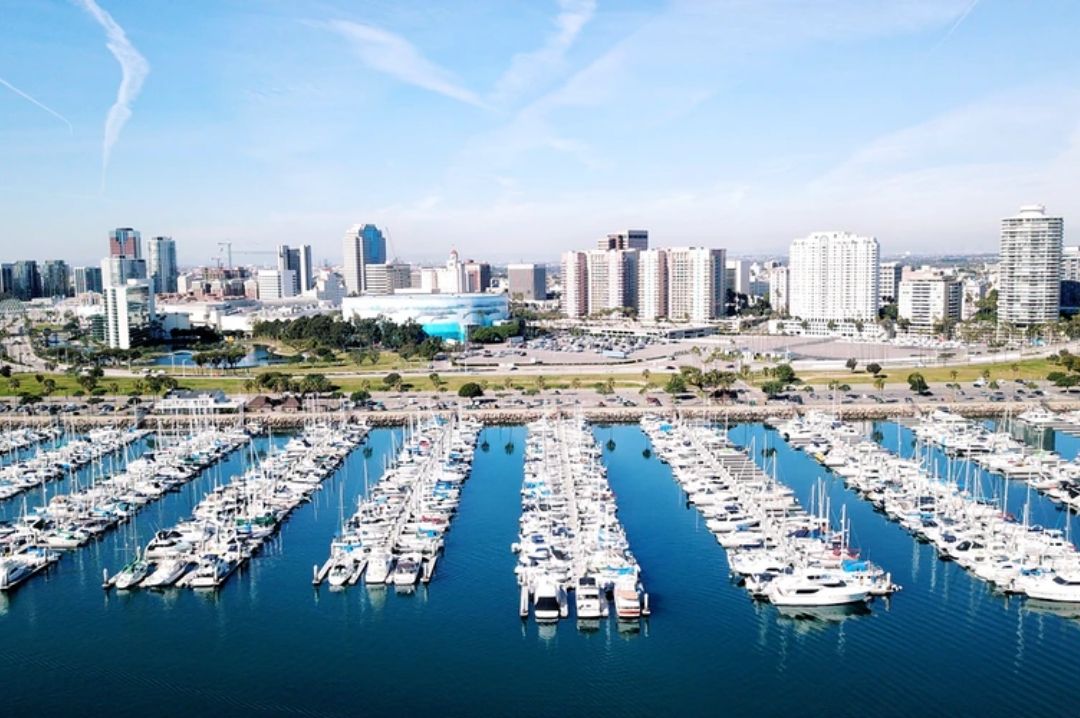 Photo of Long Beach by Ameer Basheer, Source Unsplash
The occasion is big, the venue is a 90-foot yacht and the climax is fireworks. What do you have to do? Bring your energy and get settled in quickly to have great fun. The lineup of activities includes a live DJ party, a dance floor, a full-service open bar and a front-row seat to the Long Beach fireworks.
Don't worry about your parking spaces. A four-hour shoreline parking is available at $14. Take care of the rules and buckle up for an evening of amazement.
Price-
Early Bird- $80
Present at the party- $110
Late to the party- $125
Where- Port of Long Beach, 435 Shoreline Village Drive, Dock 9 Long Beach, CA 90802
Timings- 8 pm to midnight
4th of July at The Rose Bowl, Source Facebook