Wine and Buckets: NBA Players in the Wine Business
The NBA of today is buoyed by a host of wine lovers. Here are a select few who have taken the next step and entered the wine business.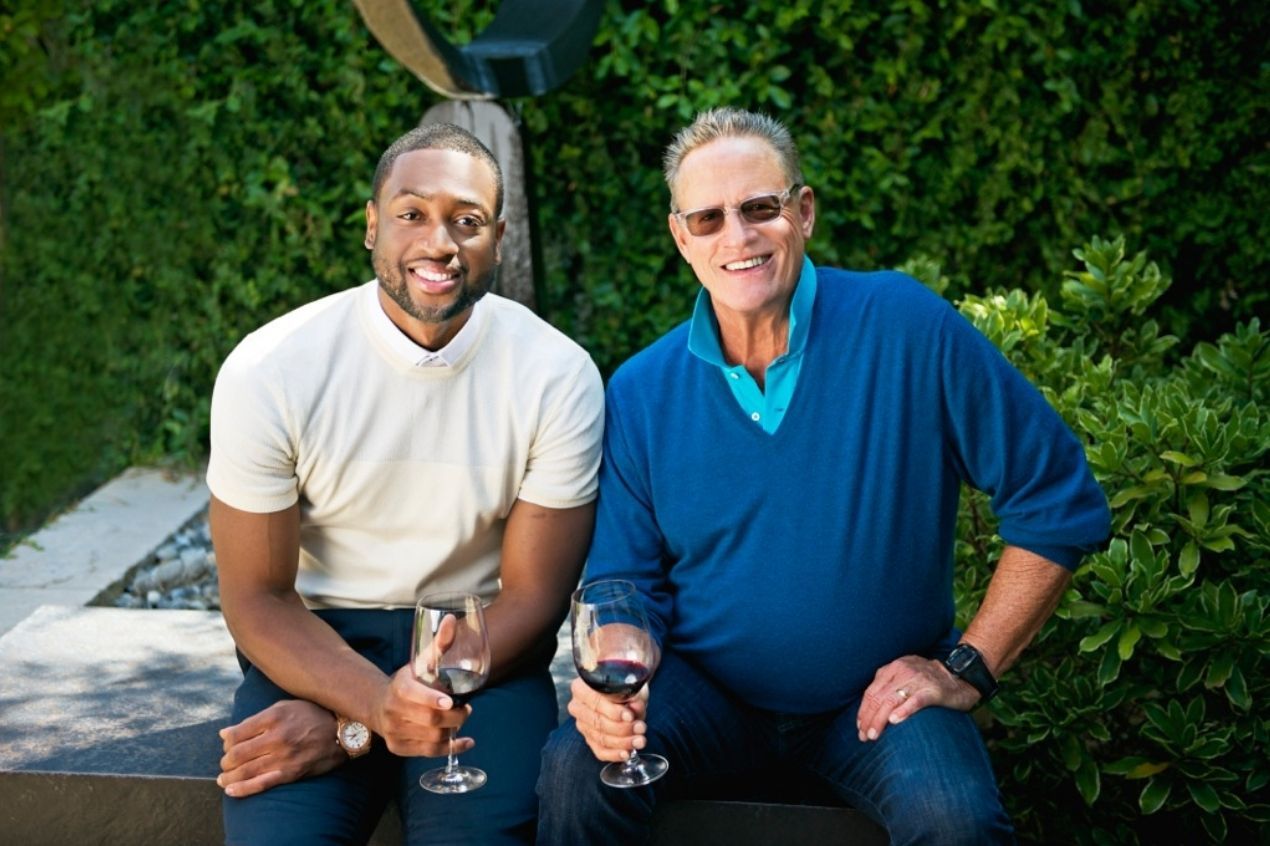 The NBA's love affair with wine has been well documented over the past few years. There are plenty of players around the league who love a glass of red. The biggest superstar in the league, Lebron James carries quality wines with him during road trips. JJ Reddick on his podcast talks about wine with a lot of love. But there are a fair few, retired and current players who have forayed into the wine business.
From starting their labels to talking about the world of wine on a podcast and also starting a scholarship program for budding wine enthusiasts, here are the different ways in which NBA players are dabbling in the world of wine.
Dwyane Wade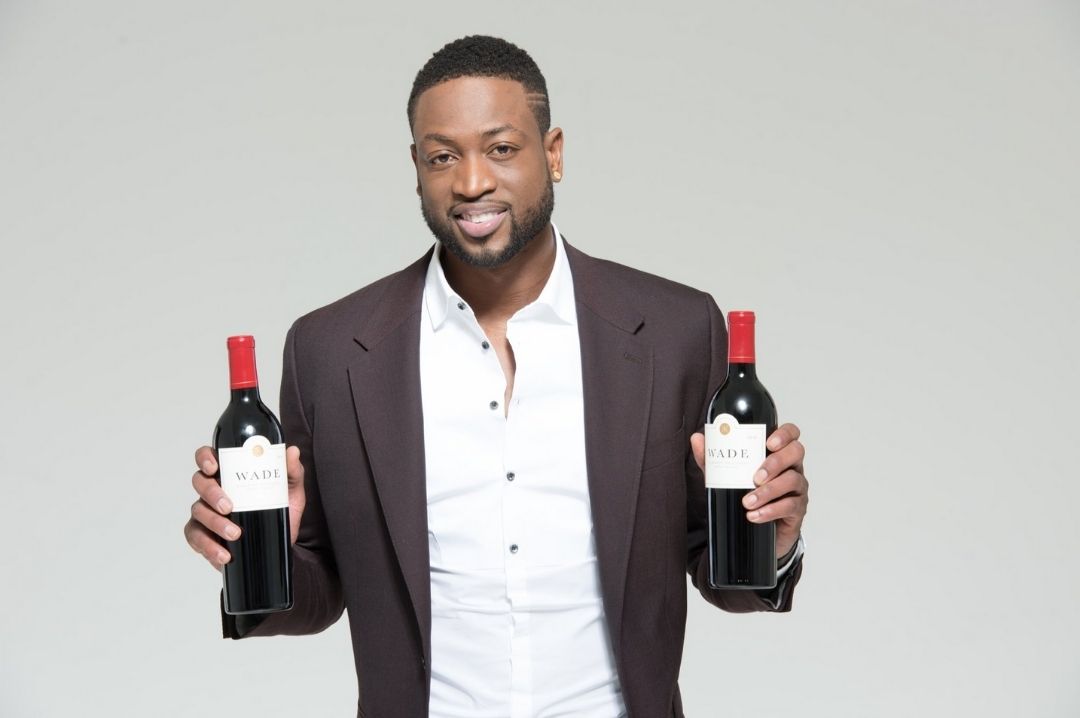 D Wade Cellars, Source Twitter
The recently retired Miami Heat legend and part-owner of the Utah Jazz has long been a wine enthusiast. His love for wine began when Lebron James and Chris Bosh joined him in the South. The big three enjoyed wines from Napa Valley, with their friendship and mutual love for great wine, sparked a passion in D-Wade. When he decided to start his winery, he turned to his dear friend Jason Pahlmeyer for guidance.
In 2014, Jason invited Dwayne Wade on a harvesting trip to Napa Valley and it was post this trip that D Wade Cellars came into existence. The wine list from D Wade Cellars currently features three wines, namely, the 2019 Three by Wade Blanc, the 2020 Three by Wade Rosé and the 2019 Three by Wade Cabernet Sauvignon, Napa Valley.
The 2019 Three by Wade Blanc is a crisp and versatile white wine that reminds you of honeysuckle and spring lemon blossoms. The palate of the Blanc is medium-bodied with snappy and refreshing summer melon fruit characteristics. A wine perfect for daytime picnics and long summer nights.
Carmelo Anthony
Melo's storied career is one of the best NBA stories ever. While his quest for a first championship unites him with close friend Lebron James in Los Angeles, the pair's friendship is also the reason behind Melo's love for wine. The infamous 2015 boat trip he had with Bron, D-Wade and Chris Paul is where Melo believes the NBA's love affair with wine began. Melo is in the wine business, but not in the wine production business, instead, in the wine entertainment business.
The tenth highest scorer in the league started his podcast, What's in Your Glass? where he discusses and explores the fine world of wine with the biggest names in sports, music, entertainment, politics and wine. Contemporaries like Draymond Green and Jimmy Butler have come on the podcast alongside names like Snoop Dogg, Tiffany Haddish, Mark Cuban and more. Get your dose of Melo's podcast on YouTube.
CJ McCollum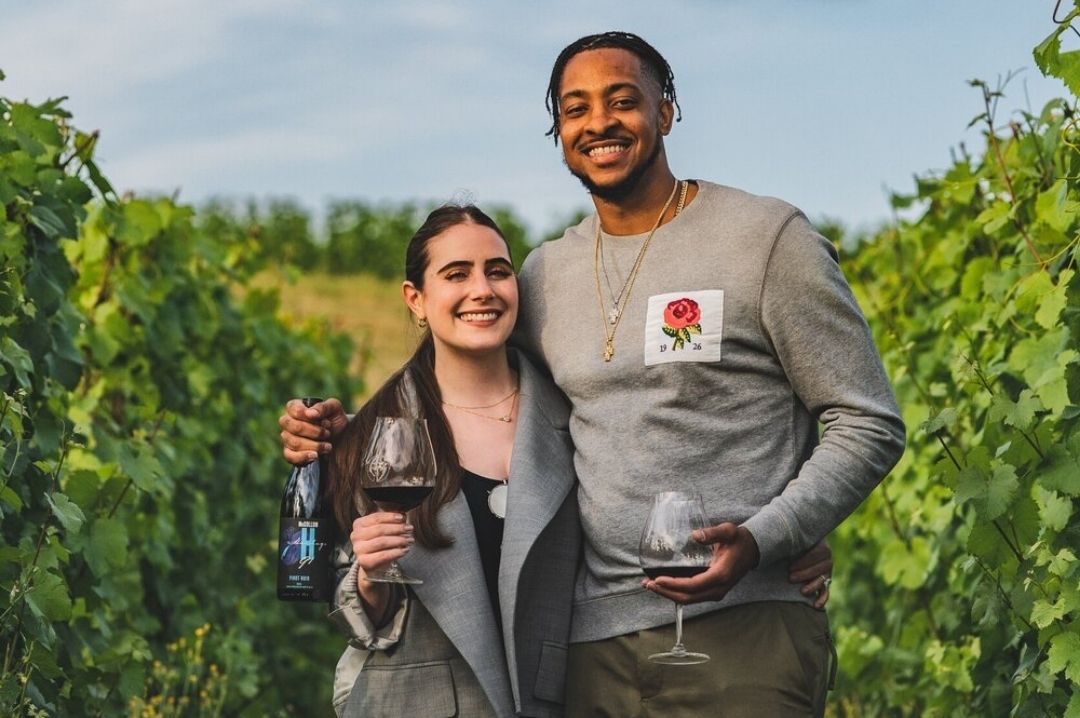 CJ with his wife Elise, Source Website
If you are a believer in the fact that things happen for a reason, CJ McCollum's wine story is one you can get behind. CJ was introduced to wine by his wife Elise when he was in his early twenties. As fate would have it, CJ was later on drafted by the Portland Trail Blazers. This meant CJ would move to Oregon, just a short drive away from one of the finest wine regions of the country.
In Oregon, CJ took to learning about the wine industry, with Pinot Noir being one of the first varietals that he was introduced to. Through his learnings, CJ introduced the world to McCollum Heritage 91. He partnered with Adelsheim, a winery in the region, to bring his label to life. Currently, the winery has a 2019 Pinot Noir in its ranks. The wine has aromas of freshly picked raspberries, lavender, and ground spices. Silky and supple on the palate, with a long and elegant finish, the wine is very much like CJ's shooting stroke, great!
McCollum Heritage 91 wines come in limited availability and get sold out in hours, as it was evident with the Rosé wine he introduced a while ago.
Channing Frye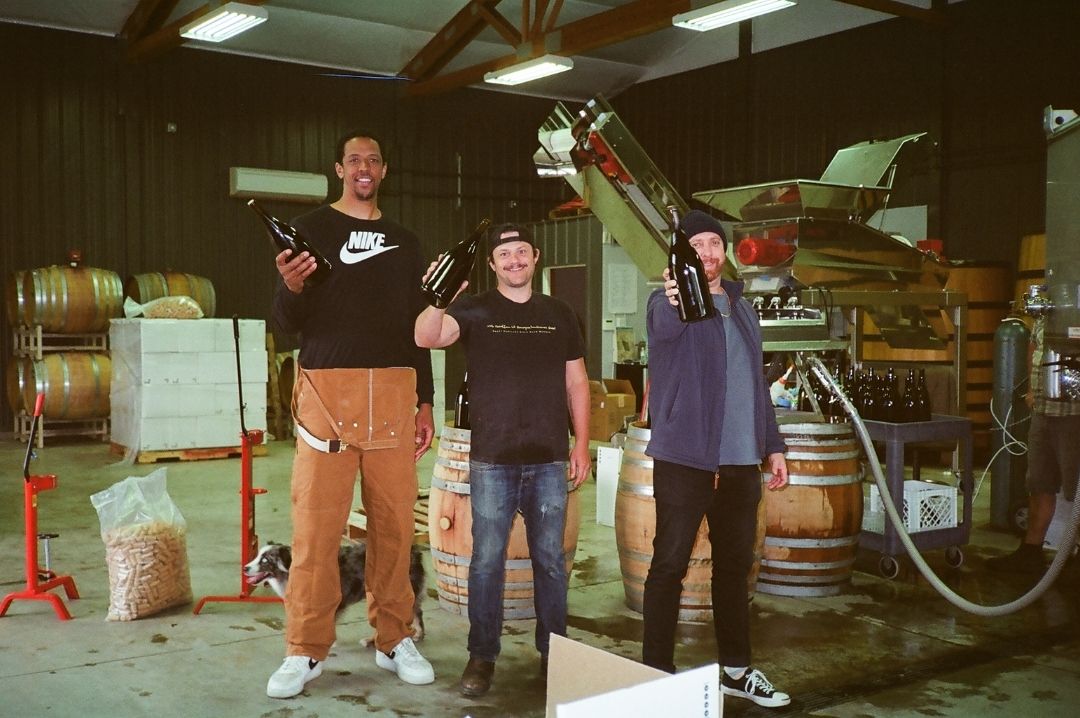 Channing Frye with his team, Source Twitter
There's something about Oregon that leads NBA players to start their labels. Long before CJ McCollum was introduced to the region, another player was in love with the wines of the region. Channing Frye was introduced to Oregon wines when he was with the Trail Blazers back in 2007. His love for wines from the Willamette Valley continued to bloom during his time with the Cavs, the Suns, and Orlando Magic. Upon his retirement from the game in 2019, Channing's career in the wine business took off.
Channing, along with Cleveland Cavaliers teammate Kevin Love and two of their buddies, Chase Renton and Jacob Gray, introduced Chosen Family Wines. Through his learnings, Chase's winemaking abilities, Kevin's relentless curiosity and Jacob's business acumen, the brand has become a well-known name in the wine industry. They currently have seven wines in their collection.
2019 Pinot Noir: Possessing classic red fruit characteristics of raspberries and cherry, the 2019 Pinot Noir also shows notes of violet and wet forest floor. The abundance of elegance and the beautiful freshness make this 2019 vintage a truly enjoyable Pinot Noir.
2020 Rosé Granville: A wine perfect to take on a summer outing, perhaps enjoyed under the stars, 2020 Rosé Granville from Chosen Family Wines delivers great acidity and a well-balanced fruit profile. The winery suggests popping this wine during a poolside gathering with friends and family.
The other wines in Chosen Family Wines collection include:
2019 Syrah
2019 Chardonnay
2019 Rosé Langolo
2018 Pinot Noir Magnum
One Barrel Challenge 2018 Pinot Noir
Josh Hart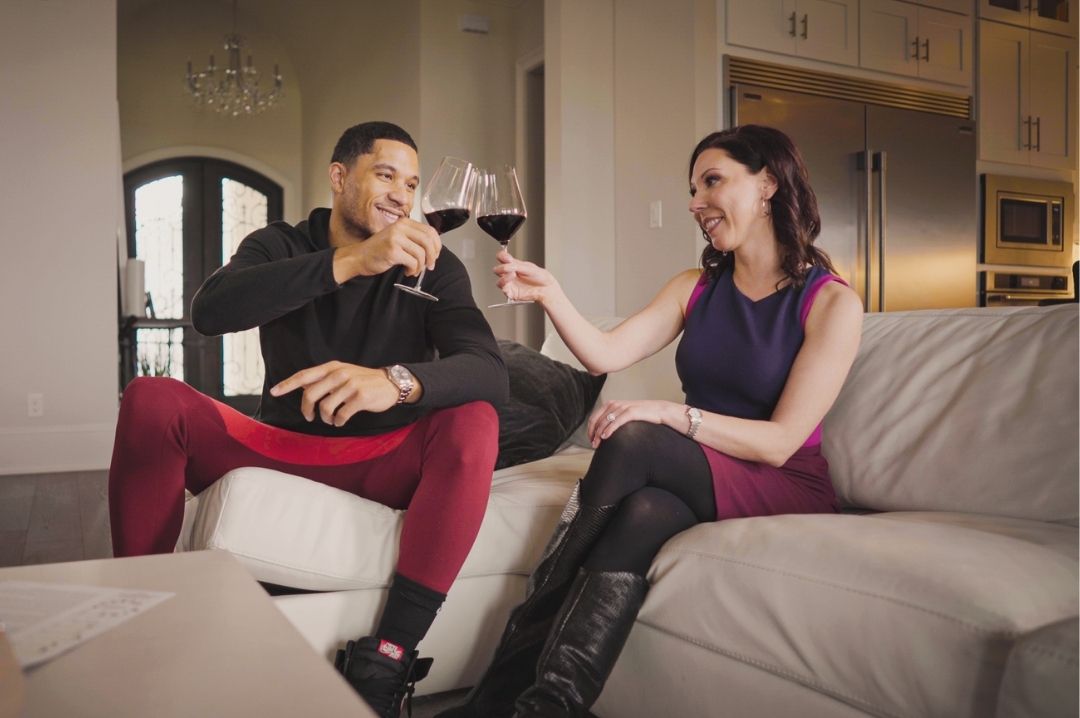 Josh with Wine Access' Vanessa Conlin, Source Website
The current New Orleans Pelicans guard was into wine from the moment he entered the league in 2017. When he was teaming with Lebron in LA, he was introduced to quality wines that Lebron often brought along during their flights and road trips. To honor his love for wine and to bring in more people from the BIPOC community into the world of wine, Josh Hart paired with Wine Access. The team at Wine Access believe in making the wine industry a vibrant, diverse, and forward-thinking industry.
For that to be possible, the best people need to be found. Josh and Wine Access along with the Napa Valley Wine Academy introduced The Diversity in Wine Scholarship program which is open to all those people from the BIPOC community who want to pursue a career in the wine industry. The fellowship rewards 100 people with the Wine and Spirits Education Trust (WSET) Level 1 certification. They'll also get a chance to learn from the top wine industry professionals and the top performers will enjoy a trip to Napa with Josh himself.
Header Image- D Wade Cellars, Source Website