Smokin Mary, Award winning, easy to use Bloody Mary mix
Smokin Mary brings California-fresh tomatoes, a carefully chosen blend of spices and a hint of smoke.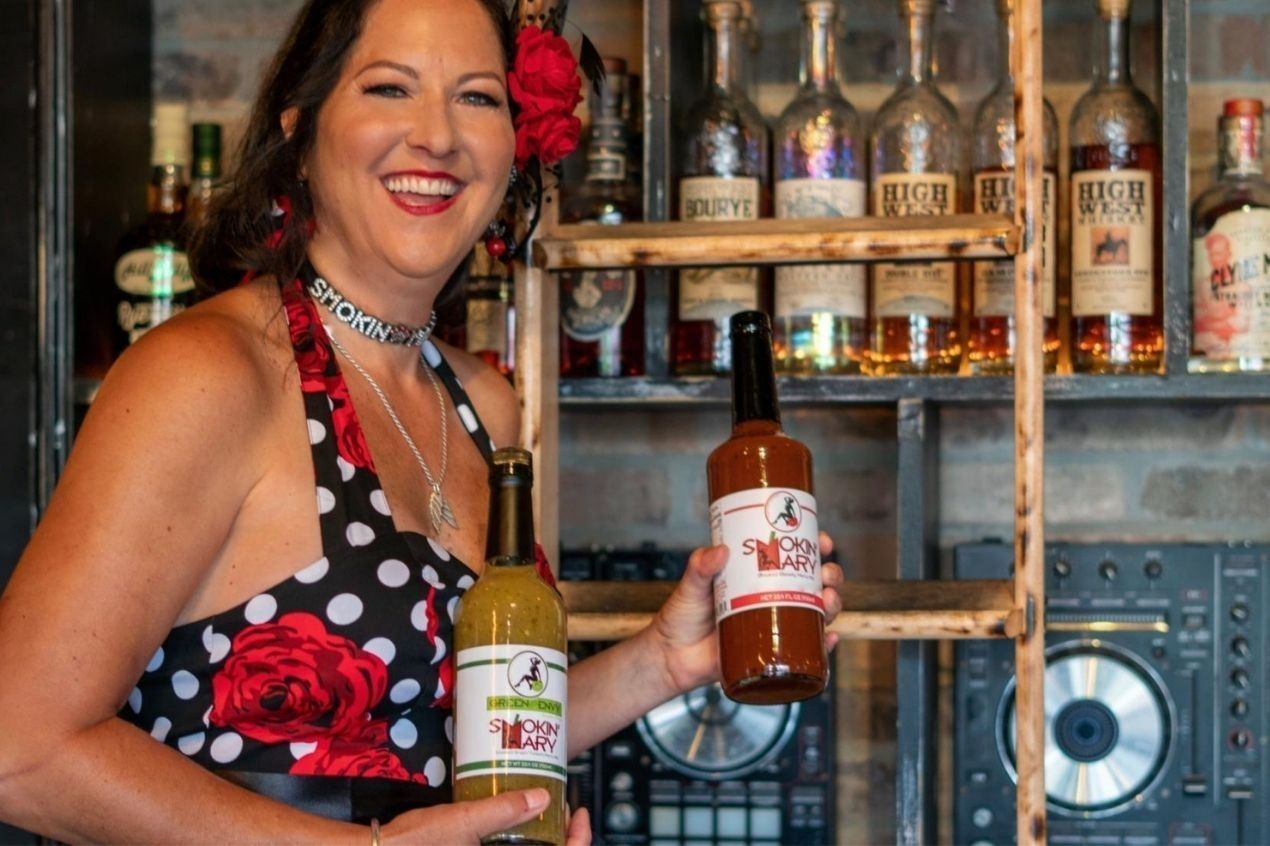 There was a garden full of tomatoes and Laurie wanted to celebrate her love for them with the world. That's how she created Smokin' Mary, an award-winning Bloody Mary mix that you can pick up to create a perfect margarita at home.
It all began as a farmer's daughter, I was the grand finale of 6 kids. My mother always had the best gardens with LOTS of tomatoes. That rubbed off on me. Having an abundance of tomatoes one year, I created Smokin Mary, by accident, in my quest for 'there's got to be a better way'. Meaning I knew I could create a better Cocktail mixer than what was on the market and served in many bars/restaurants. One that wouldn't water down and lose its flavor because I was talking to my friends. I began the mission...5 yrs later, 16 revisions later, I took it to market.
Smokin' Mary won a silver medal at the 2020 Bartender Spirits Awards, with one of our creations L'il Tart scoring 83 points out of a possible 100 at the competition held in San Francisco.
The difference you wonder...we start with fresh produce and the finest ingredients available and we add a hint of smoke. The flavors are tantalizing and will make you keep coming back for more. You can taste every ingredient. You can taste the difference!
Smokin Mary originally starts with fresh tomatoes, fresh horseradish, fresh lemons and limes and is hickory smoked. Play wells with all kinds of spirits and beer.
The Story...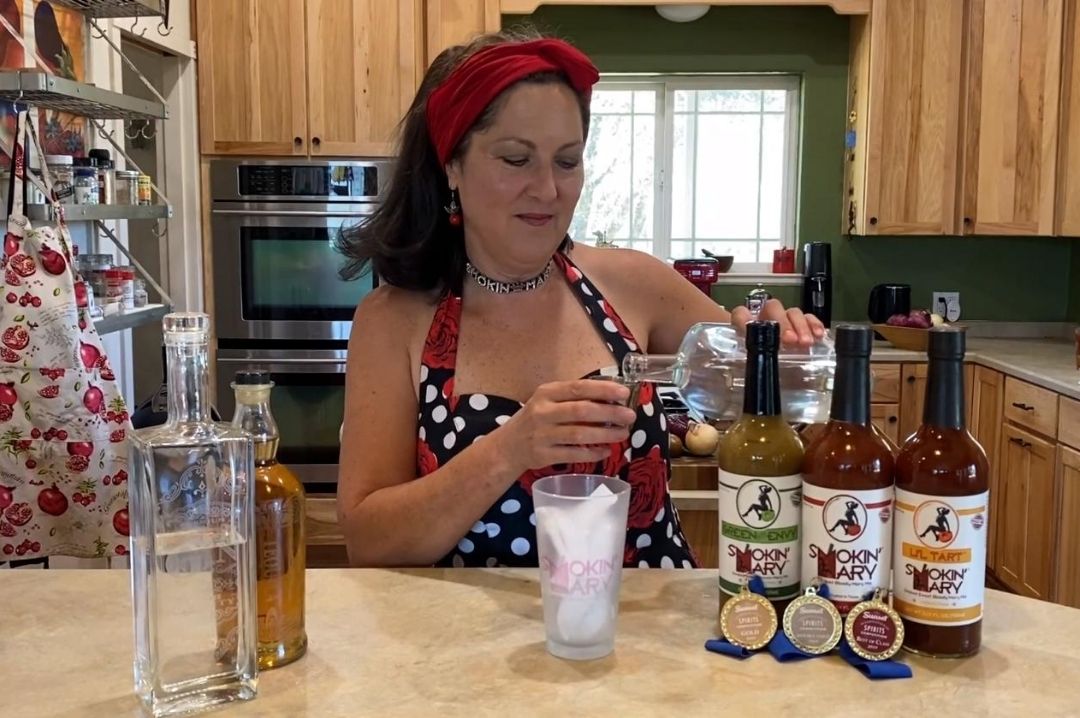 Once upon a time, there was a wholesome girl growing up on a dairy farm in Northern California. Her name was (and still is) Laurie. She remembers her mom tending a vibrant tomato garden. Those earthy days of ripe red fruit are among the best memories of her childhood.
That garden is where this saucy tomato learned many of her best practices. A love of fresh produce leads to a love of gourmet foods—dishes crafted with flair for flavor and a love for the friends and family enjoying them.
Eventually, Laurie married a guy named Marc. A man who is skilled in the ways of professional kitchens, Marc also has a smoker. And one day, Laurie turned up with way too many tomatoes.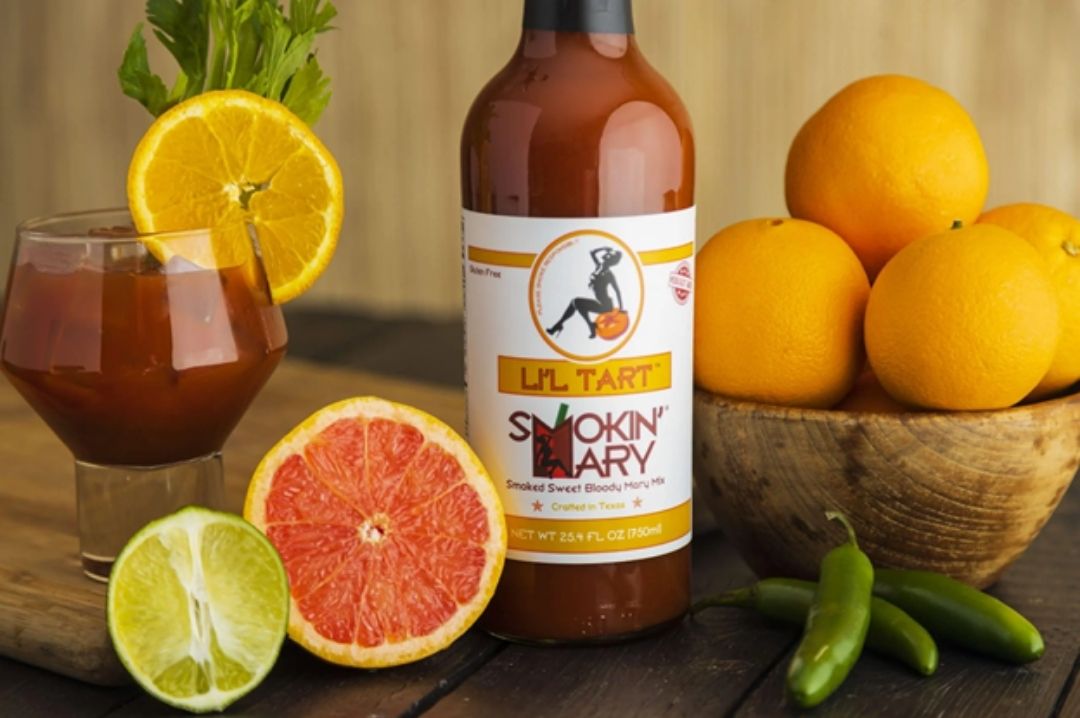 They looked at the tomatoes, looked at the smoker, and something clicked. Laurie and Marc began working on a recipe for smoked tomato goodness. As big fans of sharing fabulous food and lively libations, it was natural that this pair would devise a killer Bloody Mary mix.
Passion, craft and a dedication to flavor unite. The result is Smokin' Mary, which you can share with your friends for fun and festivities.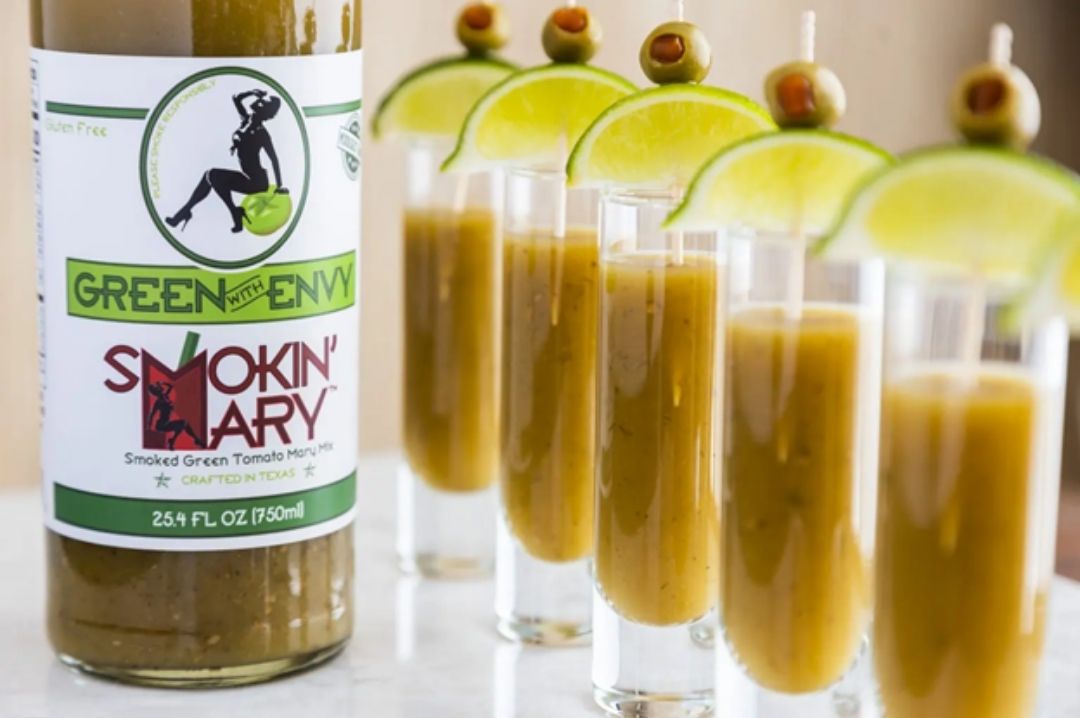 Green with Envy is made with vine-ripened green tomatoes, limes, Serrano peppers and is mesquite smoked. Great with Tequila, Gin, Vodka and beer.
Li'l Tart is our version of a traditional Mexican Sangrita with a hint of smoke. Absolutely amazing with a Blanco Tequila!
Smokin Mary (original), Green with Envy and Li'l Tart, all won Silver Medal at the 2020 Bartenders Spirits Awards.
Los Angeles consumers can buy Smokin' Mary online.