Ritual Zero Proof Gin Alternative - A Game-Changer for Non-Alcoholic Cocktails
Savour the Flavors, Embrace the Sobriety.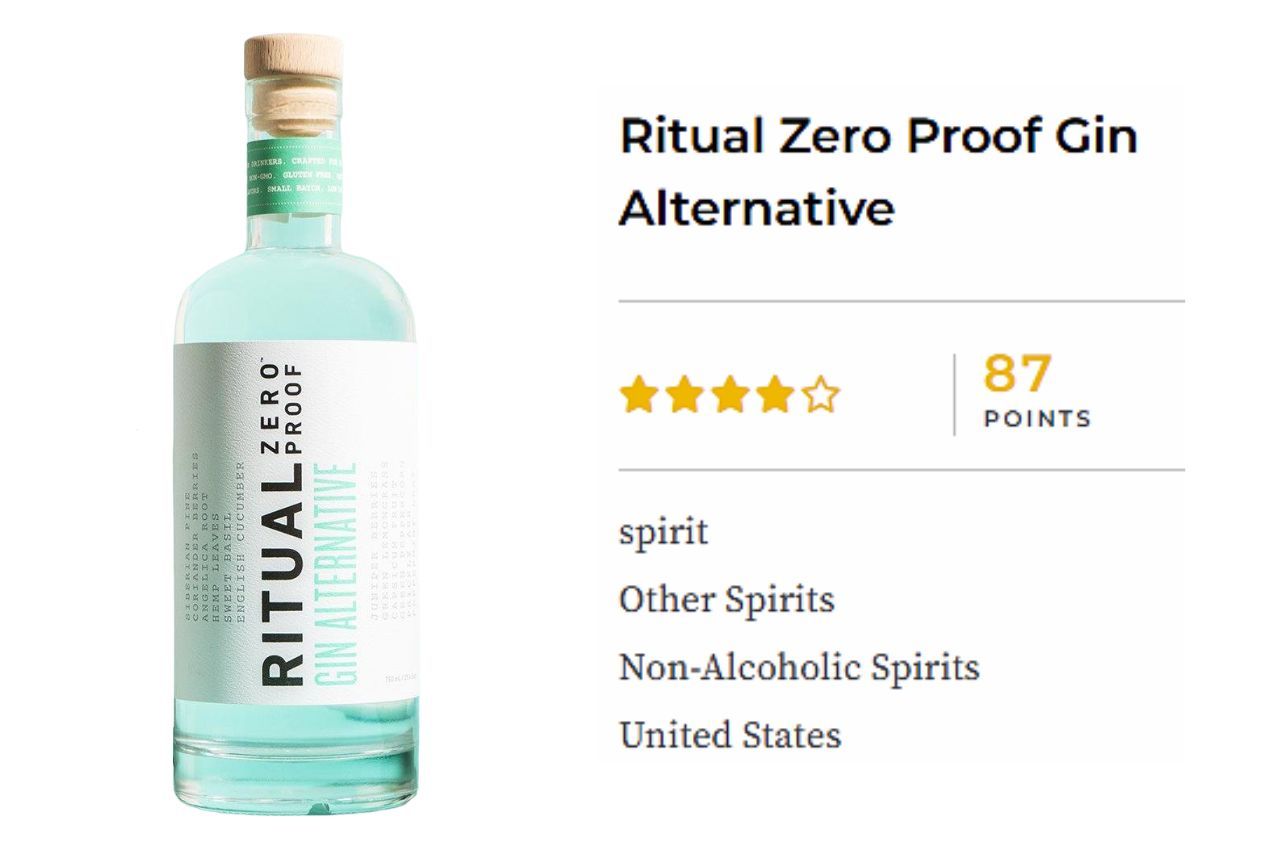 This exquisite non-alcoholic gin alternative transports your senses to a place where botanical intricacies and the soothing notes of woodsy elements harmonize as described by Judge Nora Furst. With each sip, you'll be captivated by the complex layers of flavor, evoking the familiarity and excitement of a traditional gin, without the alcohol content.
Ritual Zero Proof Gin Alternative with a score of 87 points, has been ranked #10 at the Global Drinks Guide Ratings, 2023. Mix it in cocktails, or enjoy it as a refreshing mocktail, the drink offers enticing options that never compromise on taste or quality.
Facts To Know
ABV %: 0
Beverage Type: Spirit
Category: Other Spirits
Sub-Category: Non-Alcoholic Spirits
Producer: Ritual Beverage Company, LLC
Country: United States
Tasting Notes
Lively botanical notes are accented by cucumber and sharpened by juniper. Crisp and bright. Versatile enough to stand in for vodka in many cocktails.
Production Process
The production process of Ritual Zero Proof Gin Alternative begins with the careful selection of premium botanicals, such as juniper berries, coriander seeds, citrus peels, and herbs. These botanicals are then macerated in a base liquid, allowing their flavors and essential oils to infuse.
Next, the macerated mixture undergoes distillation to extract the desired flavors while removing the alcohol content. After distillation, the liquid is skillfully blended with additional botanical extracts, natural flavors, and ingredients to achieve a complex and satisfying taste profile. Rigorous quality control measures are implemented throughout the process, ensuring consistency and adherence to the desired flavor profile.
Here is what drinks experts have to say
Shirley Brooks (Bartender at Madrone Art Bar)
"Refreshing and light", says Shirley. She also mentions, "Banana and mint on the nose. Thin crispy mouthfeel. Notes of mint, bark, and coriander. The mint stays throughout. There's a slight lingering pepper/spice left on the tongue."
Nora Furst (Beverage professional with roots in SF and The PNW)
Nora describes the gin alternative as, "Celery and lemon peel, wet bark, juniper, redwood and cedar".
About The Brand
Ritual is a non-alcoholic alternative to liquor, crafted with natural flavors, botanicals, and spices. Launched in 2019, this award-winning brand was created by co-founders Marcus Sakey and David Crooch, who sought to provide a healthier and more conscious option for those who love the taste of rum, but not necessarily the effects of alcohol.
Unlock the Complete Ritual Zero Proof Gin Alternative by Global Drinks Guide Ratings, 2023 - Click Here!
Global Drinks Guide is quietly making an impact on those drinks enthusiasts who are keen to find out more about the wines, spirits, and beers they like to drink – and then go out and discover more in the right bars, and restaurants in their cities.
South San Francisco Conference Center, 255 South Airport Boulevard, South San Francisco, CA 94080, United States.
Register Now
South San Francisco Conference Center, 255 South Airport Boulevard, South San Francisco, CA 94080, United States
Register Now