Judas Priest 50 Heavy Metal Years: A Tribute in Whisky
Crafting a Unique Single Malt Whisky to Celebrate a Half Century of Heavy Metal Excellence.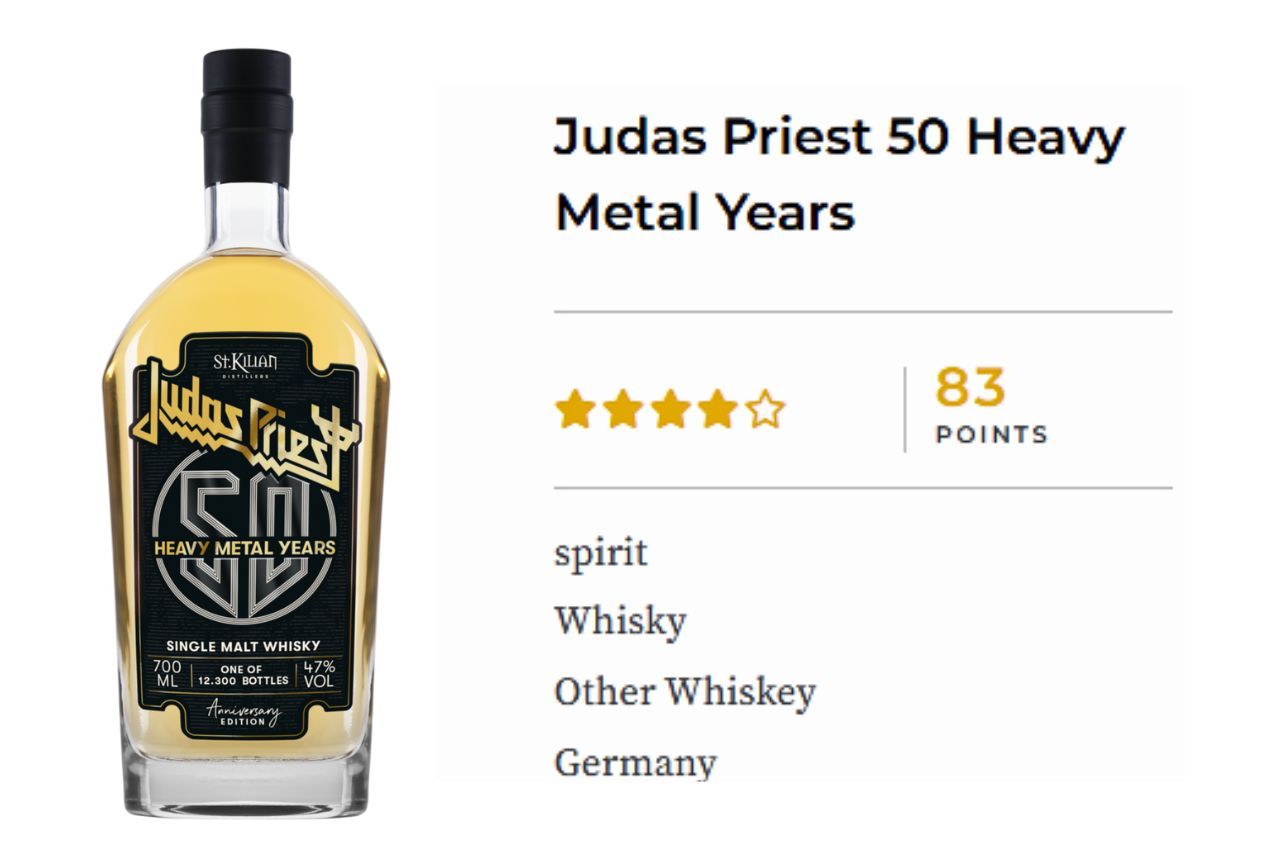 Judas Priest 50 Heavy Metal Years Whisky is an exceptional single malt that combines the power of heavy metal with the finesse of a fine whisky. This extraordinary spirit offers a blend of fruity notes and a long finish that captivates the palate as described by Judge Lorenzo Piscitello.
The whisky has been ranked #13 with a score of 83 points at the Global Drinks Guide Ratings, 2023. Indulge in the perfect harmony of heavy metal and whisky, as this remarkable blend takes you on a journey through half a century of rock and roll excellence.
Facts To Know
ABV %: 47
Beverage Type: Spirit
Category: Whisky
Sub-Category: Other Whiskey
Producer: St. Kilian Distillers GmbH
Country: Germany
Appearance: Light Gold
Tasting Notes
Aroma: Delightfully fruity notes of juicy apricot, underpinned by sweet vanilla, a hint of barley malt and finely spicy oak, are perfectly enveloped by warming wood smoke notes.
Taste: Creamy-sweet and immediately pleasantly warming with grilled apricot, vanilla cream and malty sweetness accompanied by a subtle peppery note with a touch of oak spice and dry wood smoke.
Aftertaste: Pleasantly warming with creamy light fruit, roasted malt as well as dry ash notes and a fine spicy oak structure that lingers long.
Production Process
The innovative production process of Judas Priest - 50 Heavy Metal Years Single Malt Whisky begins with barley malt that undergoes gentle smoking over beech wood, infusing a subtle smokiness into the whisky. Crafted in Germany, the whisky is aged for more than four years in ex-Bourbon, ex-Rye, and ex-Brandy Jerez casks, allowing it to develop a complex array of flavors. By incorporating beech smoked malt, the whisky acquires a soft-peated character, capturing the essence of the band's iconic sound and delivering an exceptional drinking experience that is truly unforgettable.
Here is what drinks experts have to say
Michele Becatti (Bar Manager at Ginza St. James)
"Interesting Label", says Michele. He adds, "Very light in the beginning with apricot and a vanilla flavor. Finished with roasted malt.''
Lorenzo Piscitello (Bartender at Artesian Langham Hotel London)
Lorenzo describes this timeless spirit as, "Creamy, sweet, warm, grilled apricots, vanilla cream, malt, Finish: Long lasting, warm, fruit, roasted malt."
About The Brand
St. Kilian Distillers, located in Rüdenau, Germany, is a renowned distillery known for its exceptional single malt whiskies. With a focus on craftsmanship and quality, they employ traditional methods and state-of-the-art equipment. Their whiskies are crafted from carefully selected barley, malted and smoked with peat for distinct smoky flavors. St. Kilian emphasizes long maturation periods using ex-bourbon and sherry casks, resulting in rich and complex flavors. Each bottle is meticulously produced, showcasing their commitment to excellence. St. Kilian Distillers' dedication to traditional techniques and exceptional whiskies has made them a respected name in the industry.
Unlock the Complete Judas Priest 50 Heavy Metal Years by Global Drinks Guide Ratings, 2023 - Click Here!
Global Drinks Guide is quietly making an impact on those drinks enthusiasts who are keen to find out more about the wines, spirits, and beers they like to drink – and then go out and discover more in the right bars, and restaurants in their cities.
South San Francisco Conference Center, 255 South Airport Boulevard, South San Francisco, CA 94080, United States.
Register Now
South San Francisco Conference Center, 255 South Airport Boulevard, South San Francisco, CA 94080, United States
Register Now