Bootstrap for an Insane Rush
A dream that needed brewing produced 5 award-winning low gluten beers.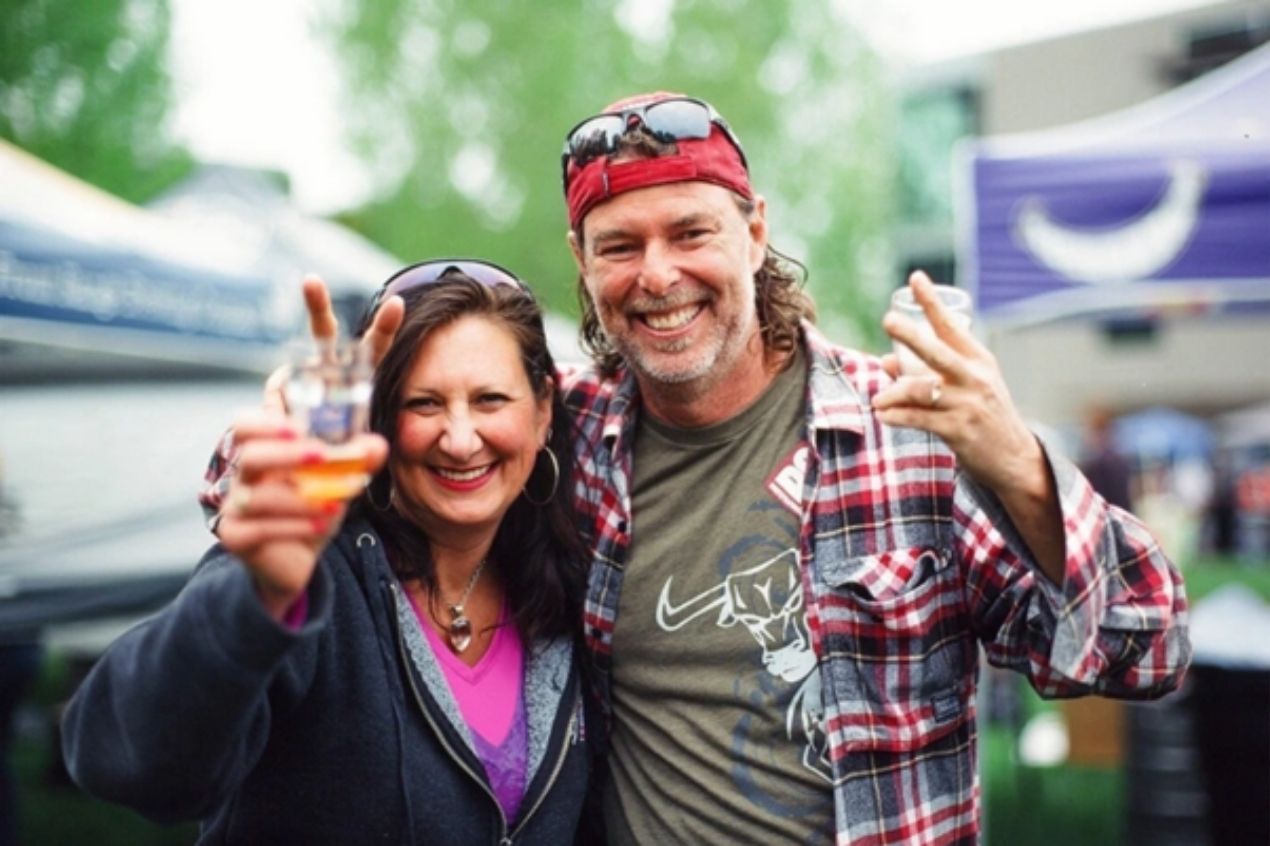 The high-tech industry had everything to offer them but they wanted to follow their vivid dream of making ales and lagers good enough for the world to drink. It was something neither the high-tech industry nor their lucrative jobs in the industry could fulfil and it was then that Steve and Leslie Kaczeus decided to quit their jobs and embark on a rollercoaster journey that brought Bootstrap Brewing into the world.
Steve, a mechanical engineer and program manager was always a homebrewer before he took up the hobby as a profession and completed a course from the American Brewers Guild in 2011. Leslie was into marketing and it is something she still does for Bootstrap Brewing. Together, they dreamed of making excellent beer that would have people coming back for more. A passionate selection of ales and lagers, seltzers and non-alcoholic drinks have been added to the Bootstrap Brewing family over the years.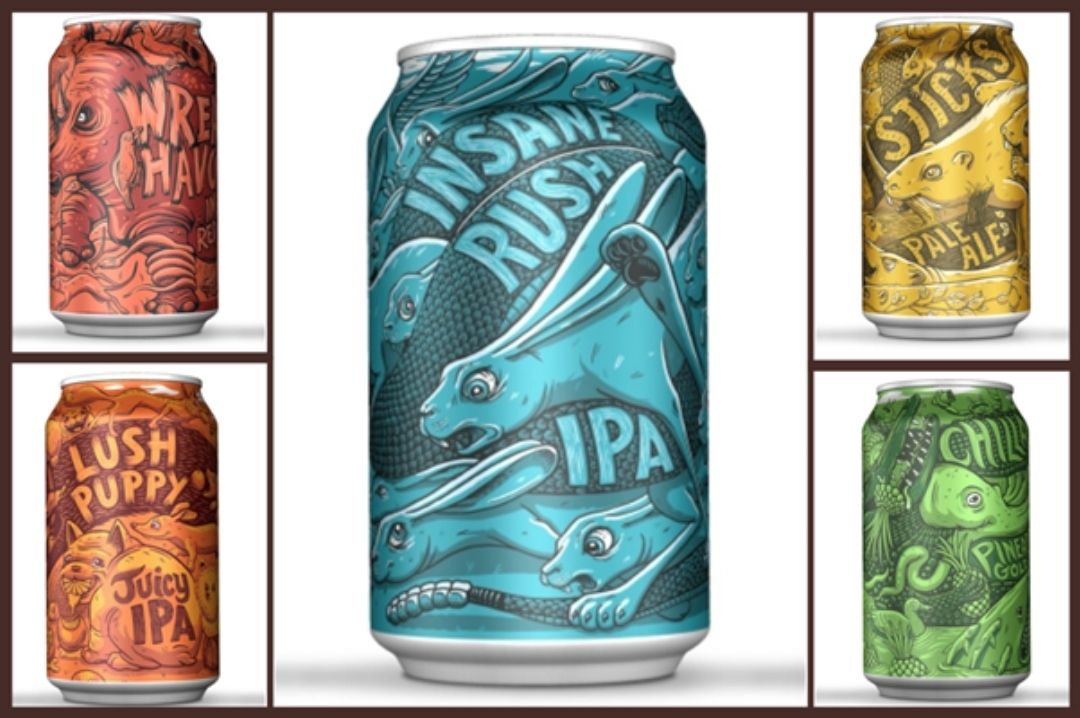 Bootstrap Brewing, Source Website
At the 2020 USA Beer Ratings, Bootstrap Brewing's beers had a field day as five of their beers won medals based on their fantastic quality, value and packaging.
Wreak Havoc: Gluten reduced and a massively hopped red ale, Wreak Havoc scored a massive 92 points at the competition and a resultant gold medal. The perfect mix of malts along with an addition of seven hops gives this beer a unique flavour and aroma. At the mouth, it is smooth and delicious and sets you in the mood for songs like Thunderstruck, Riders on the storm playing in the background.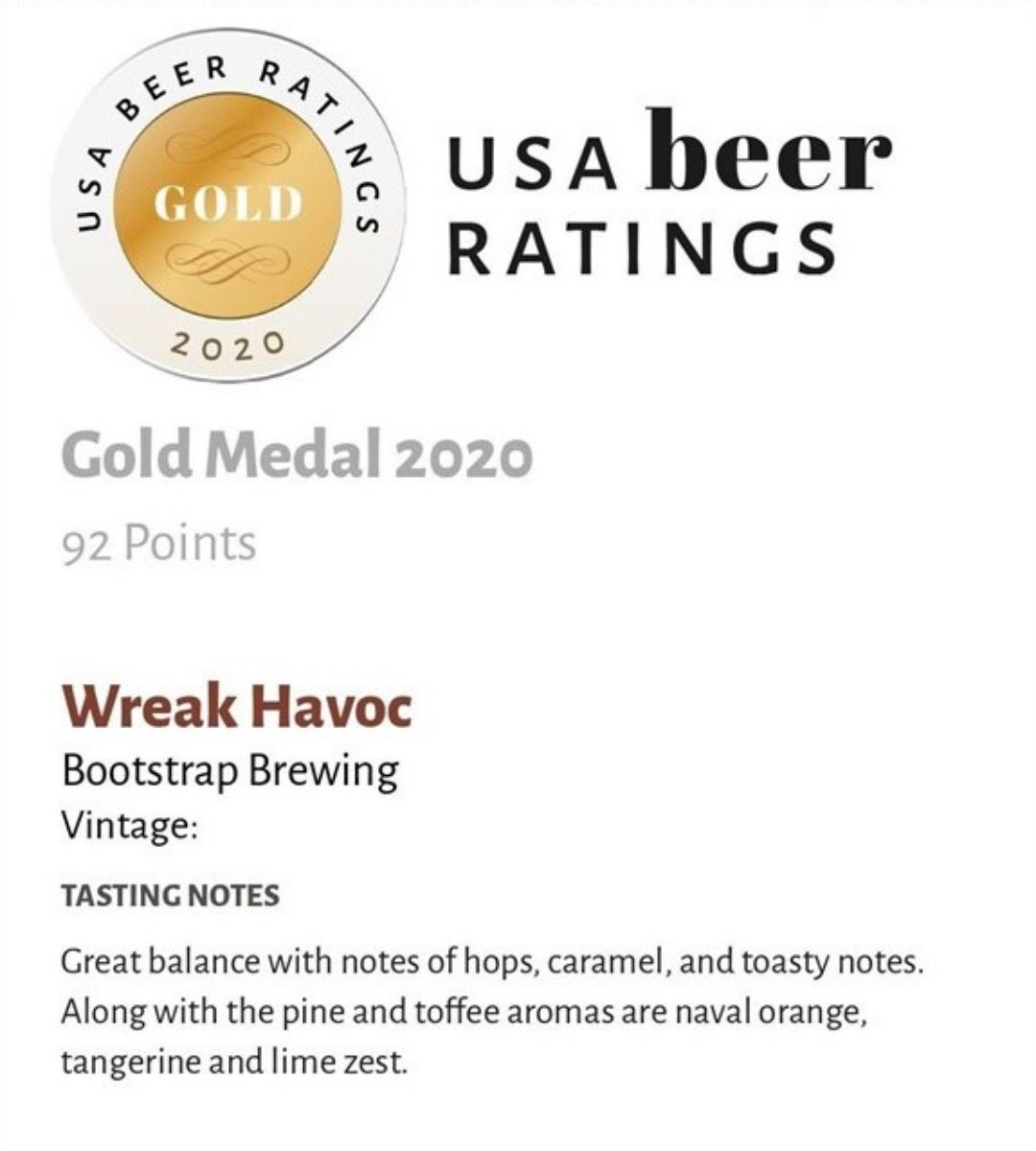 Insane Rush: This Indian Pale Ale has a unique blend of citrus and pine that dominate its aroma and flavour. It has a mix of malts and five hops that give Insane Rush its edge. Apart from the gold medal and 90 points, Insane Rush was also crowned the 'Best Beer by Value' and the 'Best Beer by Packaging' at the 2020 USA Beer Ratings. You would be insane not to try this brilliant beer!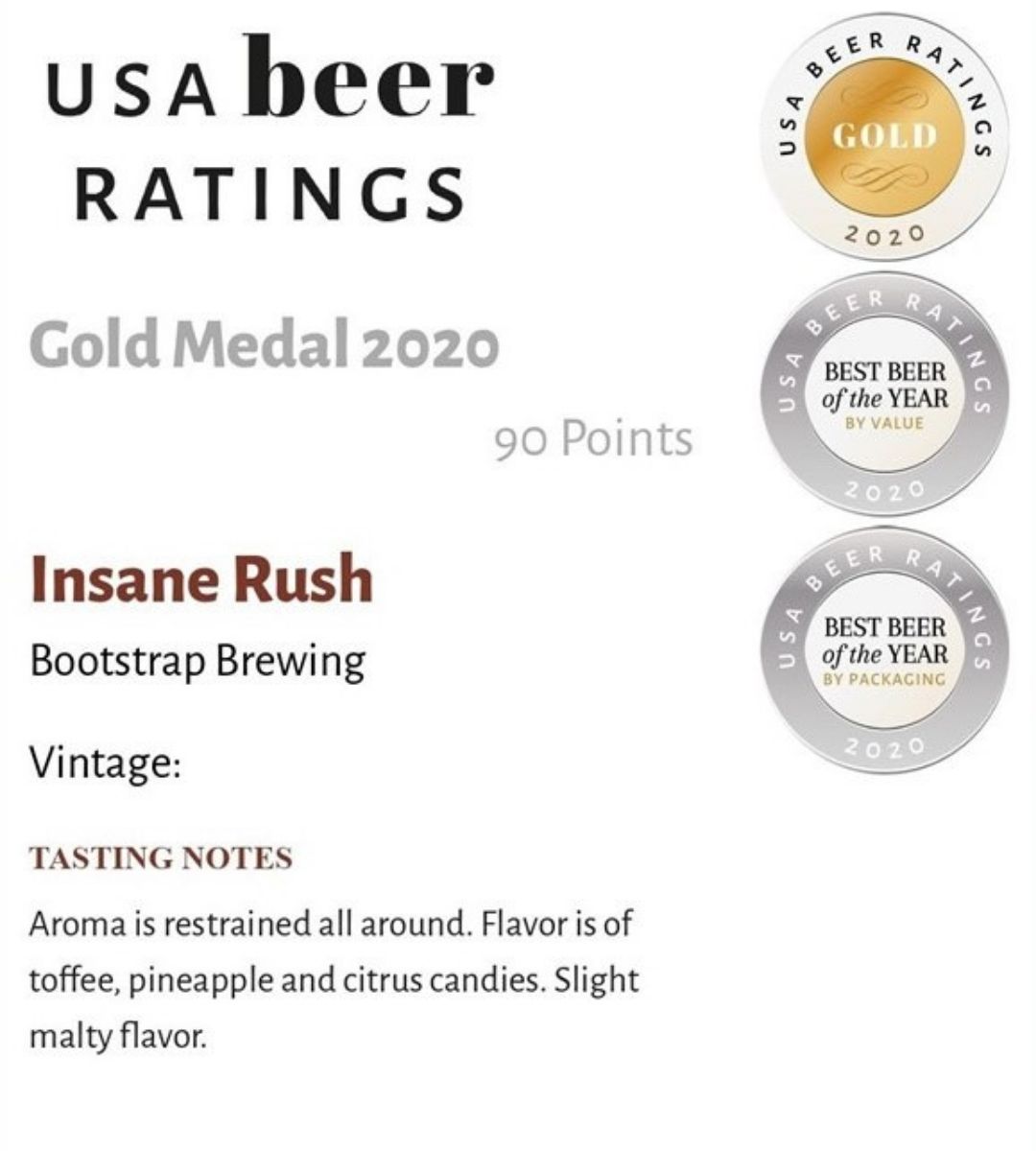 Lush Puppy: Made with a massive amount of hops, Lush Puppy has a citrusy flavour and aroma that dominates and makes it a very tropical beer to have. At 6.3% ABV and 40 IBU's, Lush Puppy was awarded a silver medal with a score of 89 points at the competition. Another juicy IPA to savor.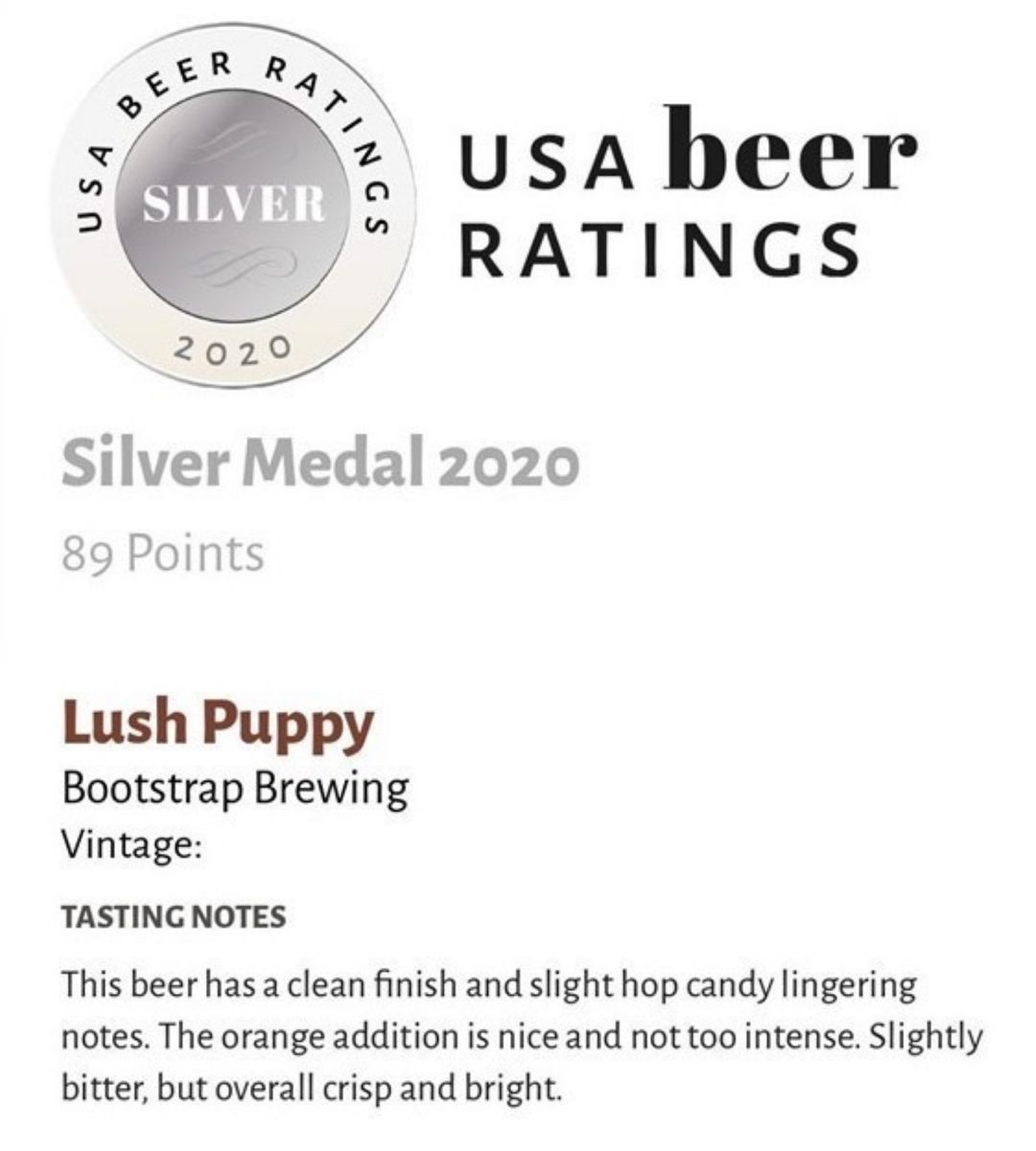 Stick's: This American Pale Ale from Bootstrap Brewing is dry-hopped with Mosaic hops which results in it getting a smooth and delicious finish. A gluten-reduced beer just like its contemporaries, Stick's also has a nice, citrusy flavour.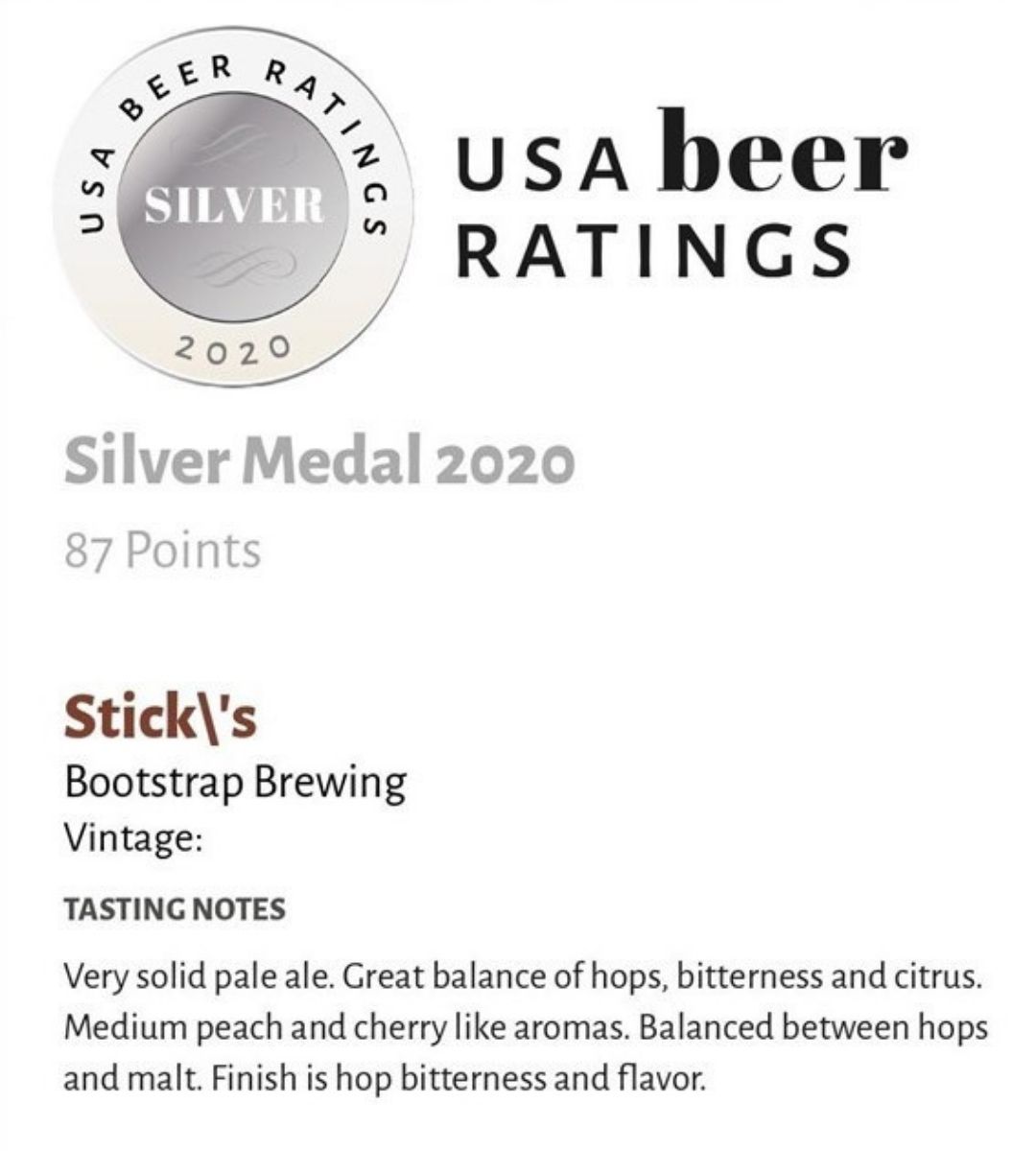 Chillax: Infused with real pineapple, Chillax is a golden ale with the subtle and sweet taste of the tropics. A tangy and refreshing beer that can be had all year round, Chillax has an ABV of 4.5% and goes well with some Kenny Chesney.
Along with these award-winning beers, the house of Bootstrap Brewing is also home to:
• Sparkalicious (hard seltzer)
• Strapless (non-alcoholic)
• 1956 Golden Ale
• Czech-Mate Bohemian Pilsner
• Cherry Gose
• Cabana Boy
• Flagstaff Amber
• Worthog Stout
• Backfire Chili
• Boomer Brown
Aside from their award-winning beers, Bootstrap Brewing is also home to some great events, from food trucks to quizzes and trivia to enjoy a day out at their brewery. Brewery tours can also be given out based on staff availability and upon request. Bootstrap Brewing takes Covid protocols very seriously which make it a safe place for you to visit, whether the taproom or the tour.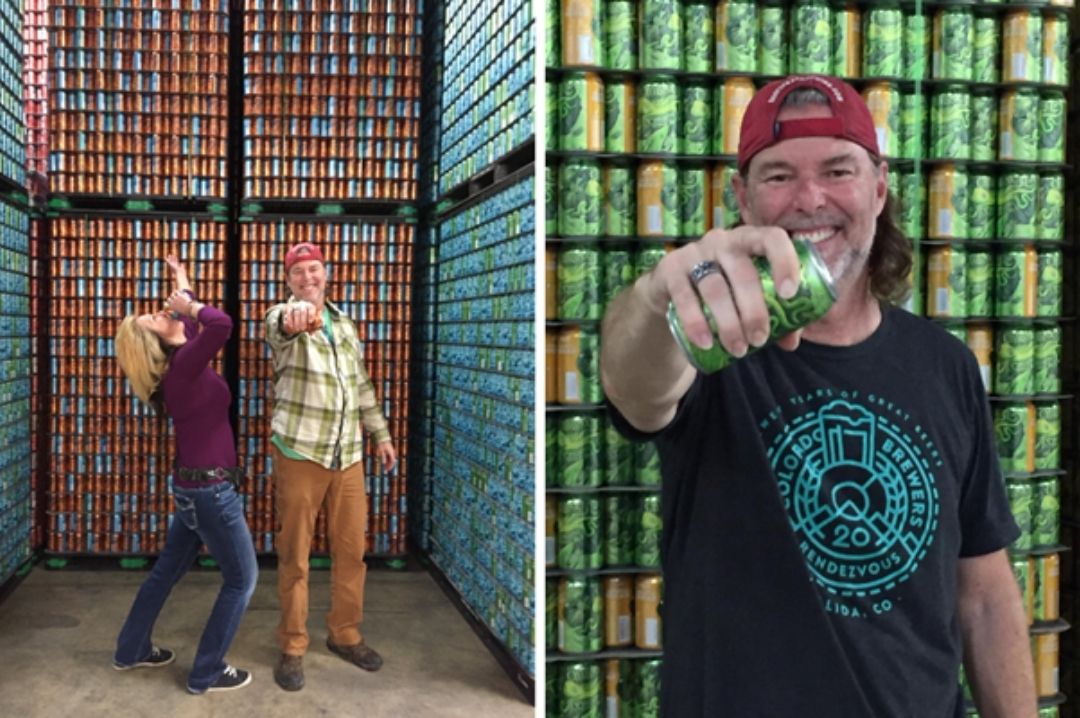 Bootstrap Brewing, Source Facebook
At the taproom, they serve Lorenzo's Burritos along with a variety of other snacks. There is a great lineup of local restaurants that form the food offerings at Bootstrap's taproom, along with food trucks coming in on occasion. Don't miss any of their fun events and keep checking back to see the food trucks parked here that day. Buy Bootstrap Brewing online (Strapless IPA and Party Pack available) or in Colorado through Coors Distributing, Mountain Beverage, RMC Distributing.
A feel-good story of a couple wanting to follow the path of their dreams, Bootstrap Brewery has consistently served up amazing beers through their dedication and hard work. The goal right from the beginning has been to make excellent beer and they have delivered with one award-winning beer after another. To follow the story of this amazing brewery, make sure you follow them on Facebook, Instagram and Twitter.
Bootstrap Brewing, Source Website